Want to make it official in Punta Cana? First of all, congrats on the engagement! Secondly, you've come to the right place to both tie the knot in paradise and save money in the process. Prospering on the southeastern tip of the Dominican Republic, Punta Cana features some of the finest wedding resorts and destination wedding packages in the Caribbean.
At this point in the blog already, you might assume, "Well, it's another tourist hub that's way too expensive for my wedding budget and simply overcrowded." Worry not, your dream luxury retreat is actually cheaper than you think. Without further ado, let's take a look at our Top 5 Affordable Punta Cana Destination Wedding Packages:
Hard Rock Punta Cana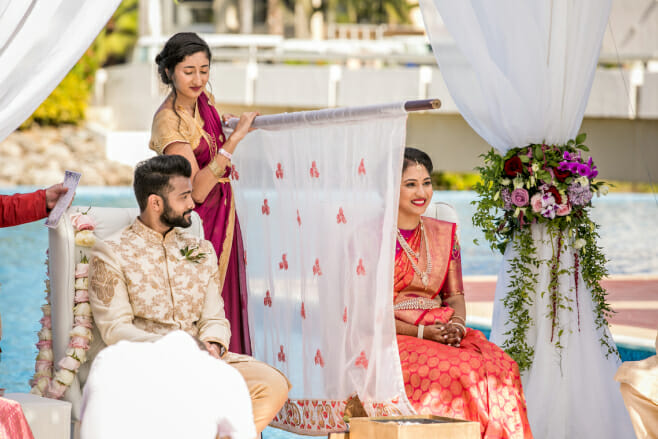 The Hard Rock Punta Cana is a one-of-a-kind wedding venue in Punta Cana, serving couples from all over the Dominican Republic. Beautiful beaches, spacious guest rooms, fascinating resort amenities, and personalized wedding packages are all things they take pride in. For both their ceremony and reception, couples will have a variety of indoor and outdoor sites to choose from. Hard Rock Punta Cana looks forward to being a part of your special day and helping you realize your unique vision.
This gorgeous setting can accommodate up to 1,000 people for weddings. They have 65,500 square feet of conference and event space that you may tailor to your needs. You can say your "I do's" on their white sand beach beneath a lovely driftwood arch for your ceremony. Your backdrop will be the magnificent, blue Caribbean sea. You can also choose from one of their floating wedding gazebos. As you exchange vows, you will be surrounded by swaying palm trees. You can either continue your celebration outside or dance the night away in one of their spectacular ballrooms for your reception.
Hard Rock Punta Cana has collaborated with Colin Cowie, a celebrity event designer, to develop seven wedding collections from which to choose. His exquisite, uber trendy packages will ensure that your big day is flawlessly styled from beginning to end. You can contact the hotel directly for a complete list of their services.
Complimentary Wedding Package:
Wedding ceremony location
White ceremony structure
White ceremony podium with a golden manzanita branch and a gold mirrored vase filled with white roses
32 white avant-garde chairs
Themed one-tier wedding cake for 32 persons
Bridal bouquet
Groom's boutonniere
Justice of the Peace or minister to perform legal, symbolic, or vow renewal ceremonies
Honeymoon Wishes wedding website and wedding registry
CD system available during the ceremony
Hard Rock Punta Cana wedding planner
Witnesses, if required
Complimentary Honeymoon Package
Dreams Onyx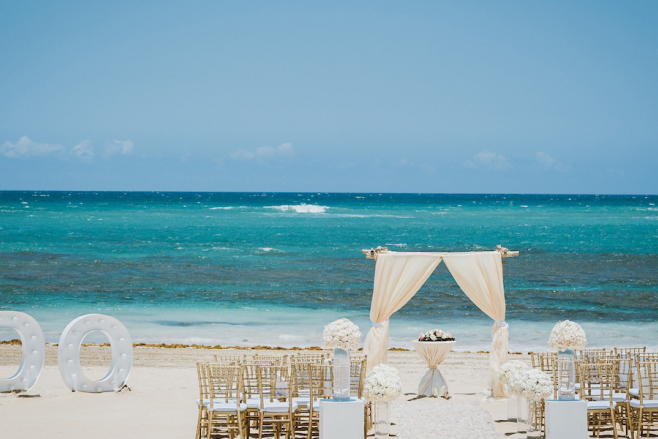 Offering a beautiful, tropical setting for destination weddings in Punta Cana, Dominican Republic, Dreams Onyx (formerly Now Onyx Punta Cana) is a spectacular place to tie the knot. The all-inclusive resort boasts an absolutely stunning beach with sugar white sand, sparkling turquoise water, and swaying palm trees; say "I do" in this breathtaking beach setting and it's sure to be nothing short of magical! To celebrate, plan a simple party with sparkling wine and cake or enjoy a cocktail hour and private dinner reception with up to 25 loved ones.
Finish up your evening on a high note with a romantic turndown service that includes a rose petal-drawn bath, a bottle of sparkling wine, and chocolate-covered strawberries. With luxurious rooms, gourmet dining options, and exceptional service, Dreams Onyx Punta Cana is an incredible place to spend a weekend (or an entire week!) celebrating your once in a lifetime event!
Your Moments Wedding Package:
Symbolic ceremony
Dedicated on-site wedding coordinator
Preparation and ironing of couple's wedding day attire
Bouquet(s) and boutonniere(s) for wedding couple
Wedding cake and sparkling wine (up to ten guests)
Romantic turndown service night of ceremony with rose petal-drawn
Jacuzzi bath, bottle of sparkling wine and chocolate-covered strawberries
20% off spa treatments
Late checkout for the couple (upon request and availability)
Majestic Elegance Punta Cana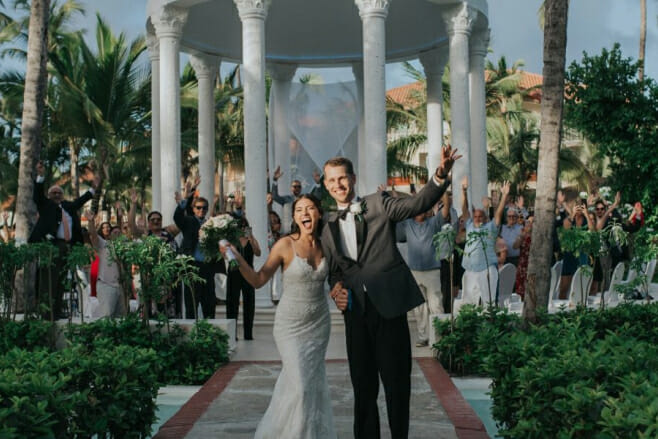 This stunning 5-star deluxe hotel, located on the idyllic Bavaro Beach and offering all-inclusive service, provides a one-of-a-kind experience for guests seeking a sophisticated Caribbean vacation. The Majestic Elegance Punta Cana, nestled in a lush natural setting of beauty, offers the ideal combination of comfort, nature, beautiful beaches, unique amenities, and individualized high-quality care. If you want to experience the warm Caribbean environment, the best national and international cuisine, and one of the world's best beaches, this is the perfect choice for your Caribbean holiday.
Majestic Elegance Punta Cana is ideal for couples, families, and groups who want to relax, enjoy a privileged environment, participate in sports, relax in the Spa, savor excellent gastronomy, watch spectacular Caribbean rhythm shows, play golf on one of the many courses in the area, go shopping, and host private and corporate events. It also features an exclusive Elegance Club for adults, which offers lodging and specialized services to its visitors.
Free Wedding Package:
On-site wedding planners
Several ceremony locations
Room upgrade for the Bride & Groom
Early check-in & late checkout for the Bride and Groom
Special bracelet for the Bride and Groom with exclusive access to all 3 resorts
Services of a Civil Judge
Beautiful wedding cake
1 tropical flower table arrangement
Tropical bouquet for the Bride and boutonniere for the Groom
Ironing of Groom's tuxedo and Bride's gown
Sound system and simultaneous translation of the ceremony if needed
Marriage certificate in Spanish delivered by DHL
Champagne for the group after the ceremony
Romantic candlelight dinner with champagne for the couple
Romantic breakfast in your suite
Complimentary massage for the couple and use of water circuit
Basket of fruit in your room during your stay
Bottle of champagne in the room, twice during your stay
Room service included for the couple
Grand Palladium Punta Cana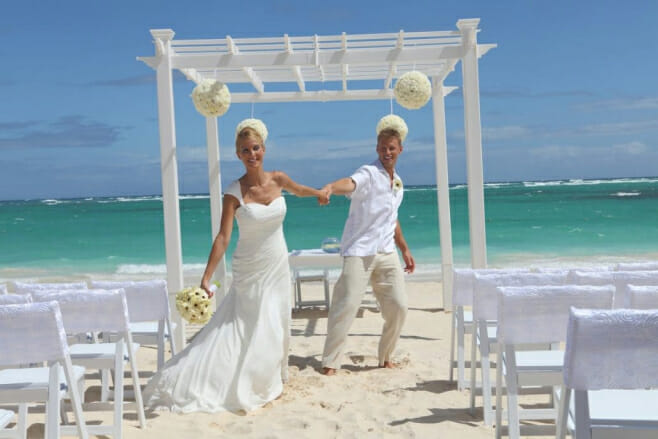 Imagine exchanging vows on a quiet beach with dazzling white sand and shimmering turquoise sea as a backdrop. At the Grand Palladium Punta Cana, an all-inclusive resort on the Dominican Republic's Bávaro Beach, your dream will become a reality. This luxury resort, with its picture-perfect tropical beach environment, provides an unequaled backdrop for everything from romantic elopements to lavish parties. To make organizing a wedding as simple as possible, the Grand Palladium Punta Cana offers numerous customizable wedding packages from which to choose.
It also includes the services of a professional wedding organizer who will handle all of the logistics so you can enjoy your once-in-a-lifetime occasion! Whether you stay for a few days or a week, the Grand Palladium Punta Cana Resort & Spa has everything you need to make your wedding day unforgettable!
Lovebirds Wedding Package:
Wedding Coordinator
Room Upgrade (subject to availability)
Symbolic Ceremony officiant
Assigned Wedding Scenery for the ceremony
"Love Birds "Personal Flowers for the Couple
White Tiffany Chairs and Signing Table Decorated with a Floating White Blossom
Ceremony sound system (music device compatible system with microphone and speaker for duration of ceremony)
Sparkling toast immediately following the ceremony
Special turn down service
One-tiered Wedding Cake in Your Choice of "Naked" or "Butter swept" Icing with fresh flowers
Breakfast in bed for the wedding couple
Romantic Moonlight Dinner for the wedding couple during their stay
Complimentary Access to the Hydrotherapy Area at Zentropia Palladium Spa &Wellness and 15% Discount on spa treatments (not applicable to hair and makeup)
Honeymoon amenities
Dinner reservation at one of our fabulous restaurants (non-private, restaurant subject to availability and group size)
RIU Palace Punta Cana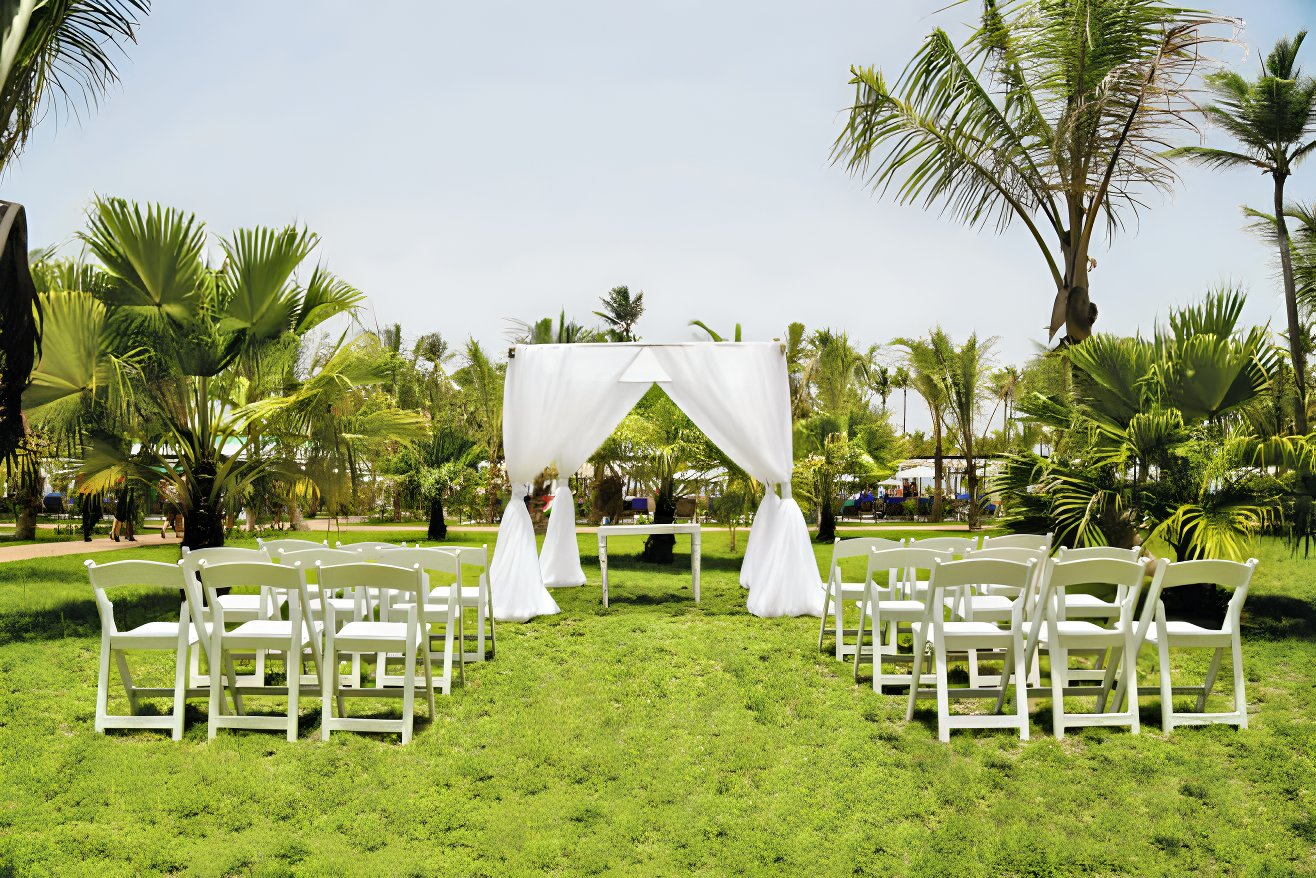 The RIU Palace Punta Cana, located on the gorgeous Arena Gorda beaches, would be excellent for a vacation wedding along the Atlantic Coast. The vast resort garden courtyard and expansive pool complex, inspired by British colonial influence, are so well kept that you'll feel as if you're staying in a palace fit for royalty, ideal for a classically stunning wedding ceremony. You'll be surrounded by coconut trees and sugarcane fields outside the resort, or perhaps your RIU Palace Punta Cana wedding guests would enjoy a visit to the mangrove-covered Saona Island.
A wedding at the RIU Palace Punta Cana is ideal for guests of all ages. They'll appreciate the fact that each accommodation is a suite with its own private living area, and that every stay includes complimentary admission to Splash Water World. Guests can plan group excursions such as visits to the Higuey sugar fields, Isla Saona island, or even horseback riding in the Caribbean Cachondeo during the destination wedding. In order to attend the evening reception, your wedding guests must be staying at the RIU resort where it is being held.
Classic Wedding Package:
Wedding coordinator
Decoration set up for the ceremony location
Bridal Bouquet
Matching boutonniere
Recorded music during the ceremony
Semiprivate dinner at one of our specialty restaurants (just for the couple)
Wedding cake (just for the couple)
Sparkling wine during the main toast (just for the couple)
Special decoration in the room
Witnesses if required
Minister/Judge service
Marriage Certificate
Spa Surprise gift
10% discount in all Spa treatments for the Wedding Couple
Want to discover more all-inclusive properties? Follow the button below and view our Destify Top Resorts: