Marrying the love of your life and want the whole world to see it? First of all, the more the merrier. Second of all, you're in luck. Welcome to Punta Cana: the pride of the Dominican Republic. Situated on glorious white sands overlooking crystal seascapes, this beachfront gem offers the pinnacle of luxury destination weddings for 50 guests. Whether you're in the secluded paradise of Cap Cana, or walking the aisle on the world-famous Bavaro Beach, these Top Punta Cana Wedding Resorts will guarantee you spacious venues and accommodations – the essential ingredients to the large-party ceremony of a lifetime:
Hyatt Ziva Cap Cana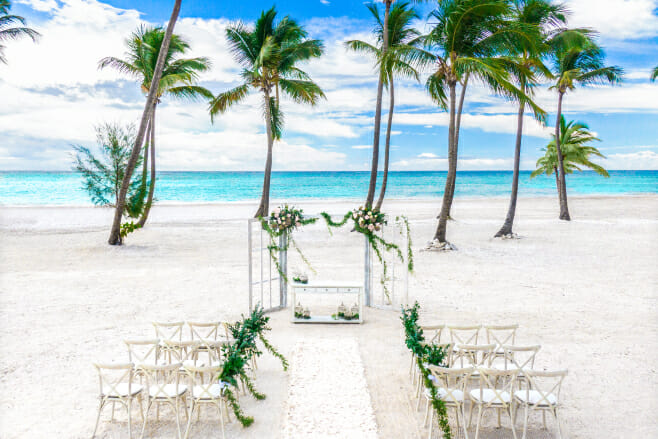 Looking out over the white sands of Juanillo Beach, Hyatt Ziva Cap Cana is an expansive hotel immersed in the surrounding natural beauty. Couples planning their destination wedding here can envision waking up on the morning of their big day and going for a sunrise swim before sitting in the beauty chair. Tropical paradise abounds in every direction. Couples can exchange vows in the oceanfront gazebo or an intimate beach venue before enjoying an open bar at cocktail hour.
Future newlyweds can escape here for a few days before their wedding, soaking up the sunshine and lounging by the pool to unwind after months of planning. Every detail is overseen by the hotel's professional staff, who pride themselves on providing high-quality experiences for all their guests. Make sure to look out for complimentary jet skis and kayaks, as well as zen-inducing hydrotherapy spa programs!
Dreams Onyx Punta Cana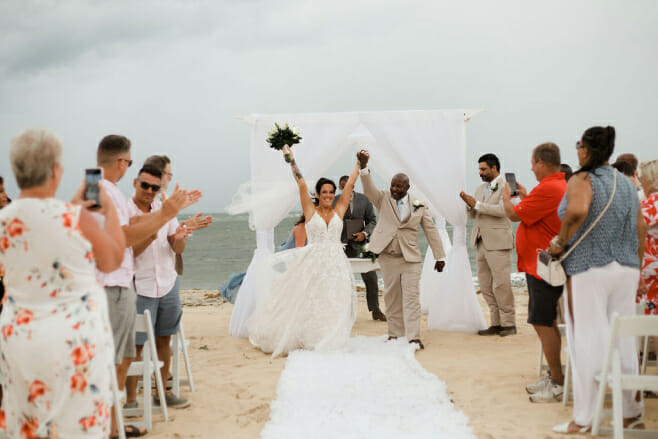 The Dreams Onyx Punta Cana brings luxury to the next level. Situated on the Dominican Republic's most northeastern coast, it's no question this all-inclusive Caribbean oasis features popular amenities. From private rose petal baths to direct swim-up bar access, Dreams Onyx provides an atmosphere of passion and elegance for wedding guests of all ages. Couples looking for a modern ceremony in a lavish tropical setting should consider a Dreams Onyx Punta Cana wedding.
It's attached to the adults-only Breathless Punta Cana, so guests can stay in the adults-only atmosphere next door or at the modern digs of the Dreams resort. The beach makes for the perfect ceremony or private reception venue, and with so many beautiful pools and restaurants to explore, there's no shortage of entertainment around every corner.
Royalton CHIC Punta Cana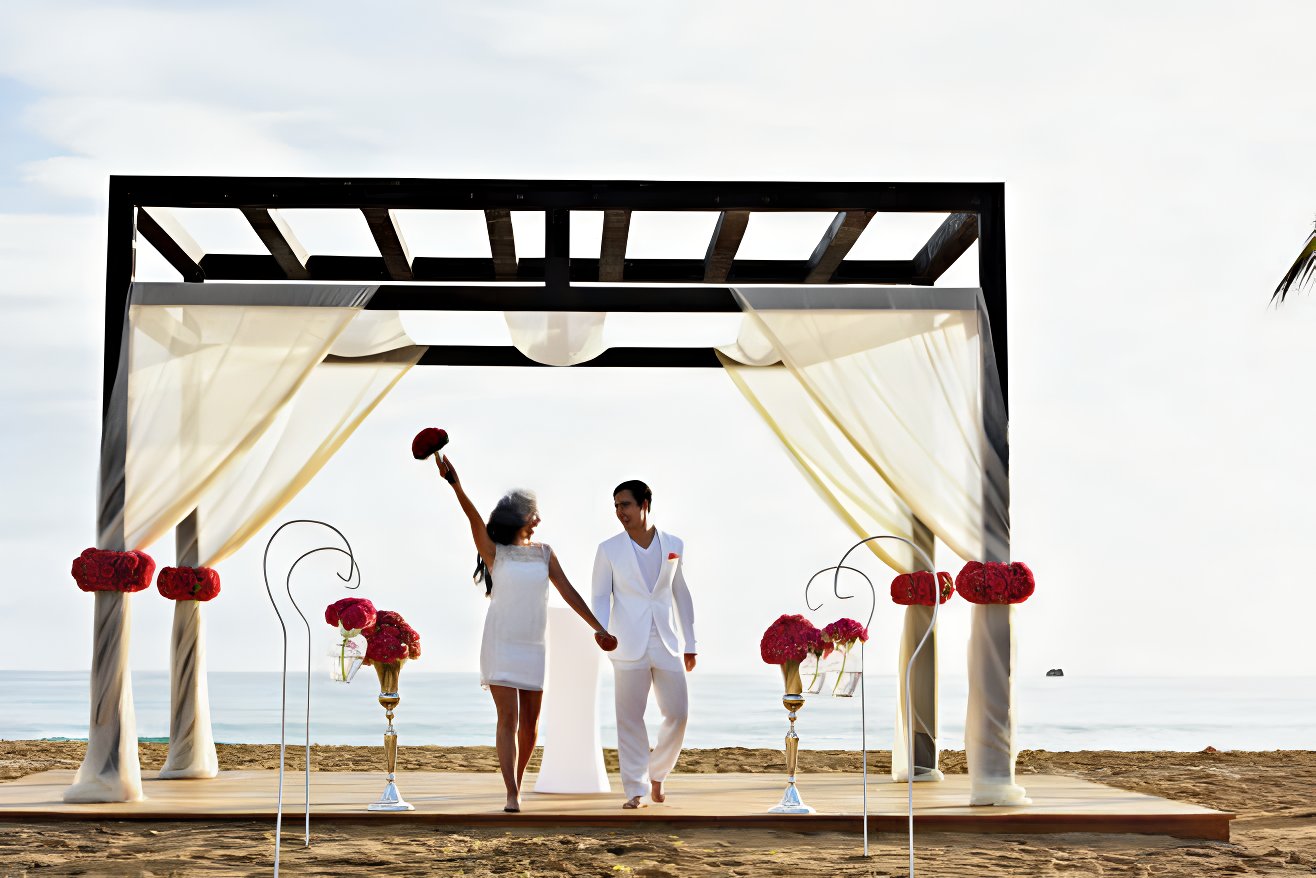 Welcome to the Punta Cana star treatment! On the golden sands of Uvero Alto beach, the Royalton CHIC Punta Cana adults-only all-inclusive resort offers unlimited fun in a contemporary setting. Guests will love the lively atmosphere, stylish architecture, and the amazing pool complex. Need a more exclusive getaway for you bridal party out of your large guest list? For a unique destination wedding book the CHIC Mansion, the resort's luxury 6-bedroom house – a pad built for privacy and lifelong memories.
The party vibes are abundant which could make this an ideal resort for Royalton CHIC Punta Cana guest lists full of younger couples. Royalton CHIC Punta Cana weddings feature the happening scene and modern decor, complete with an unforgettable ceremony along the pristine beachfront.
Hard Rock Punta Cana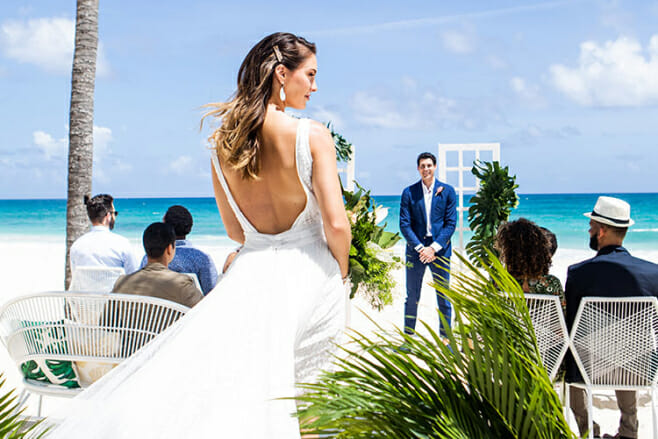 For couples who need a resort that can please everyone, especially if everyone means a large guest list, then look no further than the Hard Rock Punta Cana all-inclusive resort. The activities and restaurant options are long and enticing, and the huge resort has everything a person could want.
Whatever you desire for your wedding ceremony, Hard Rock has it, from over-water canals to beachfront gazebos capable of accommodating over 100 guests. Depending on the number of guests attending, you'll also gain access to special perks, like free cocktail hours and private functions where everyone can celebrate! Let's take a look at how you can score these lavish benefits:
According to Hard Rock Punta Cana, ​​ 50 – 89 rooms or 150 – 269 room nights equates to two private functions for four hours. Even better? Couples can receive one complimentary room night for every ten room nights paid up to a maximum of seven complimentary room nights. Got that guest list ready to go? Great! With over 13 pools and a large beach, you'll never run out of places to swim and relax.
Besides the pride of the Dominican Republic, Destify has amazing resorts throughout Mexico and beyond! Interested in seeing more of our top properties? Follow the form below to connect with a Destify Couple Experience Specialist: