"Hold it right there! Good!" and "Can the groom please smile a bit more?" are a few phrases that you'll hear while taking destination wedding photos. No matter which photographer you book, you will receive a bevy of knowledge and expertise that'll make your pictures sensational. But here's the catch: location research and scouting are essential to a successful couples' photo session.
It's not easy to choose. There are a plethora of gorgeous global destinations that will most certainly do the job, however, how does one narrow down the options? Fortunately, we have developed a Top 10 of locations that we believe can both break the mold of classic beach venue sessions, and deliver unique wedding pictures that will last for years to come. In no particular order, here are our Top 10 Spots for Destination Wedding Photos.
Dunn's River Falls
Ocho Rios, Jamaica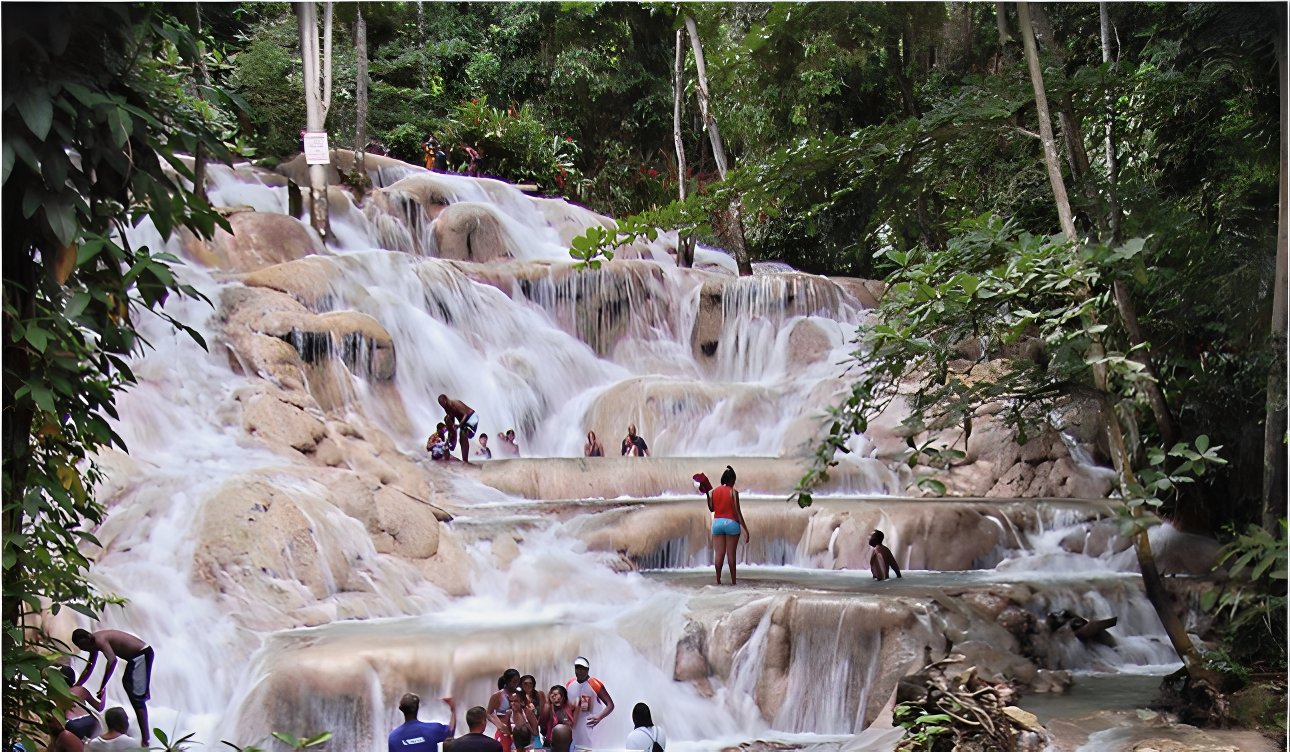 Ocho Rios, Jamaica
Looking for a majestic set of waterfalls and springs as a backdrop for your destination wedding photos? Dunn's River Falls has the solution, multiple solutions at that. Just a few miles away from the bustling resort village of Ocho Rios, Dunn's River Falls continuously regenerates itself from deposits of travertine rock, the result of precipitation of calcium carbonate from the river, as it flows over the falls. Although the falls receive hundreds of tourists daily as one of Jamaica's national treasures and most popular tourist attractions, the location itself is perfect for couples seeking a unique environment filled with lush foliage and beautiful cascading waters.
Recommended Resort: Moon Palace Jamaica; 10 min drive
Rick's Cafe
Negril, Jamaica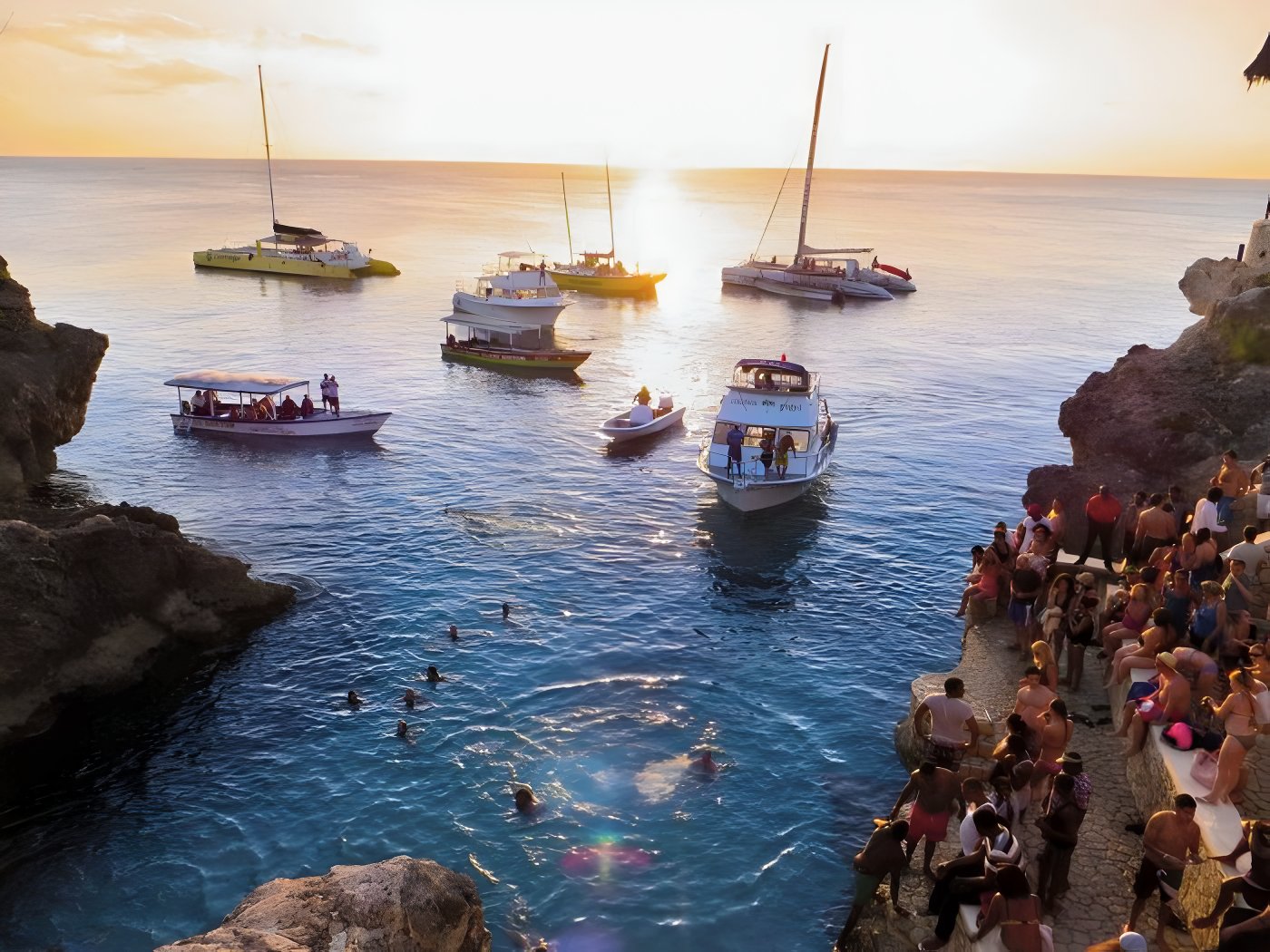 Negril, Jamaica
Famous for its 30-foot cliffs and accompanying cliff divers, Rick's Cafe offers more than a Negril dining option. With stunning views of azure waters and golden sunsets, Rick's Cafe possesses a front-row seat to perhaps the best oceanfront views in Jamaica. What makes this beachside eatery and cliffside so attractive isn't just the close proximity to neighboring resorts; rather, Rick's provides a glorious seascape that strays from the classic beach set-up. Along with its towering cliffs, Rick's also features a raised stone stage covered by a thatched roof that offers more photo opportunities. Our favorite photo opp? Trashing the dress via a graceful cliff dive.
Recommended Resort: Royalton Negril; 15 min drive
Cenotes
Riviera Maya, Mexico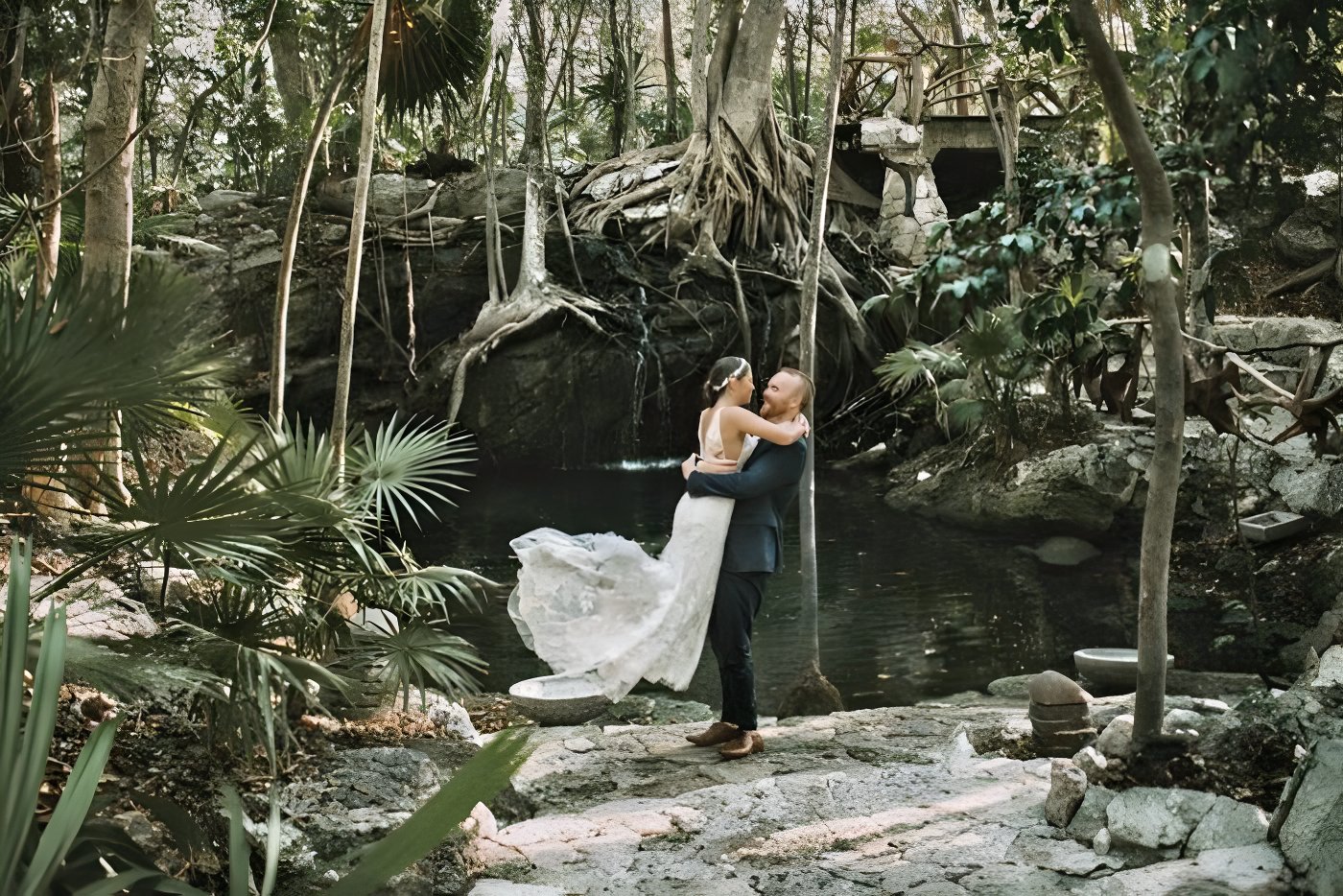 Riviera Maya, Mexico
Dip your toes in a selection of calming cenotes while posing with your spouse just 30 minutes from Riviera Maya. Cenotes, or natural pits resulting from the collapse of limestone bedrock that exposes groundwater underneath, are perfect for couples seeking a tranquil backdrop surrounded by emerald vegetation, turquoise waters, and in some locations, extraordinary limestone caverns. Scattered throughout Yucatan and Quintana Roo, cenotes offer secluded environments that'll enable you to take pictures undisturbed by random tourists. Ideal for those desiring a non-beach venue, a few selected cenotes can also double as ceremony spaces. Work with your photographer ahead of time to schedule your session, and you just may luck out with a private swim at a local cenote.
Recommended Resort: Dreams Tulum; 25 min drive
Chichen Itza
Riviera Maya, Mexico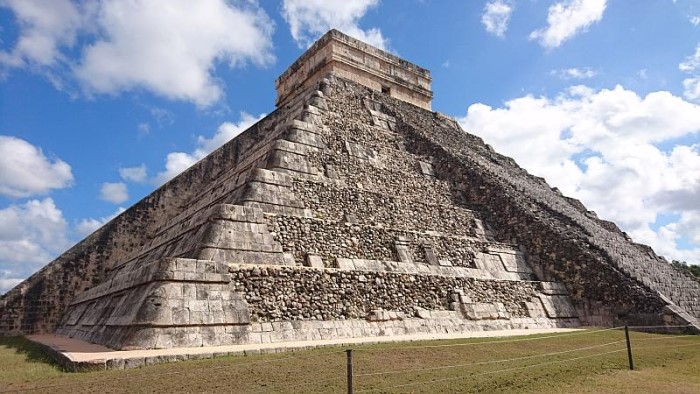 Riviera Maya, Mexico
Our Top 10 Spots for Destination Wedding Photos list takes us to a location that embodies the concept "off the beaten path." A ruined ancient Maya city occupying an area of 4 square miles, Chichen Itza is one of Mexico's most cherished heritage sites. Known for its globally-recognized step-pyramid Temple of Kukulcan, the Maya city provides any wedding picture session with a grounding touch of history and various architectural gems. Every photo, regardless of where you pose, will feature the same breathtaking landscapes that the Maya also reaped the benefits of centuries ago. If you can't fit a visit into your wedding photo schedule, you should still consider booking an excursion for your entire wedding group to visit this iconic site. You can even request excursions as part of your gift registry should you choose to have one. And although travel time is long, you can book a shuttle directly from your concierge or the hotel-zone.
Recommended Resort: Hyatt Ziva Cancun; 2 hr, 35 min drive
Bavaro Beach
Punta Cana, Dominican Republic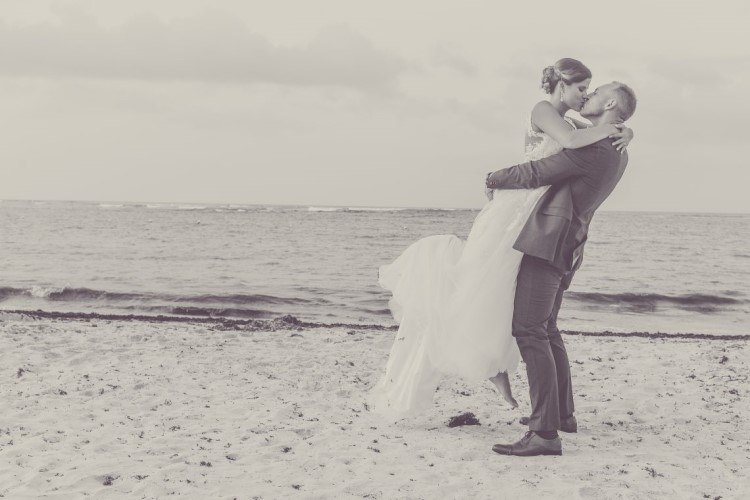 Punta Cana, Dominican Republic
Okay, we couldn't leave out every single beach location. A sweeping range of pure white sand, Bavaro Beach already has a reputation as one of Punta Cana's top wedding venues. With a variety of resorts connected to this fine stretch of Caribbean paradise, Bavaro Beach features a picturesque seascape of calm waters and sturdy palm trees heavy with coconuts. Although the area is shared by several hotels, this scintillating region of Punta Cana is quite exclusive, with some portions enforcing adults-only policies. Because of its serene environment and relatively private space, Bavaro Beach should be your first choice when deciding on Punta Cana wedding photo locations.
Recommended Resort: Iberostar Grand Bavaro; 0 min drive
Spitting Cave Overlook
O'ahu, Hawaii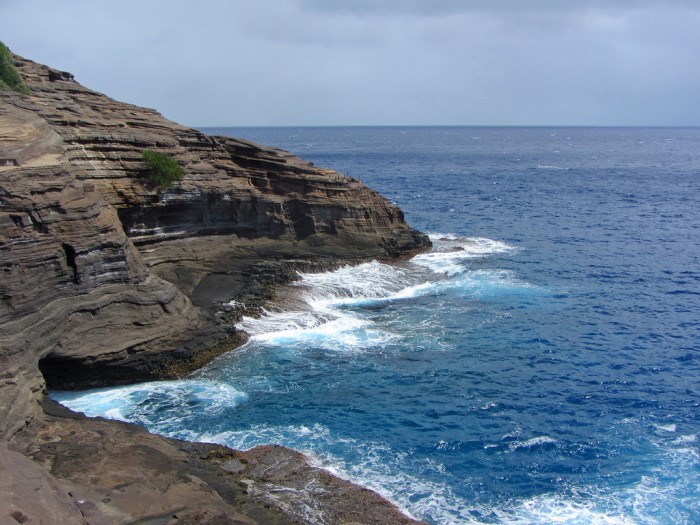 O'ahu, Hawaii
Revered as a common proposal site, Spitting Cave already has a reputation as one of the most romantic areas in O'ahu. With a beautiful overlook of Hanauma Bay, the cave provides the perfect fusion of cerulean Hawaiian waves and majestic flora. Frequented by couples and travelers alike, Spitting Cave is an idyllic oceanfront slice of paradise for those looking for some of the best seascape views that Hawaii has to offer.
Recommended Resort: The Royal Hawaiian; 30 min drive
Wailea Beach
Maui, Hawaii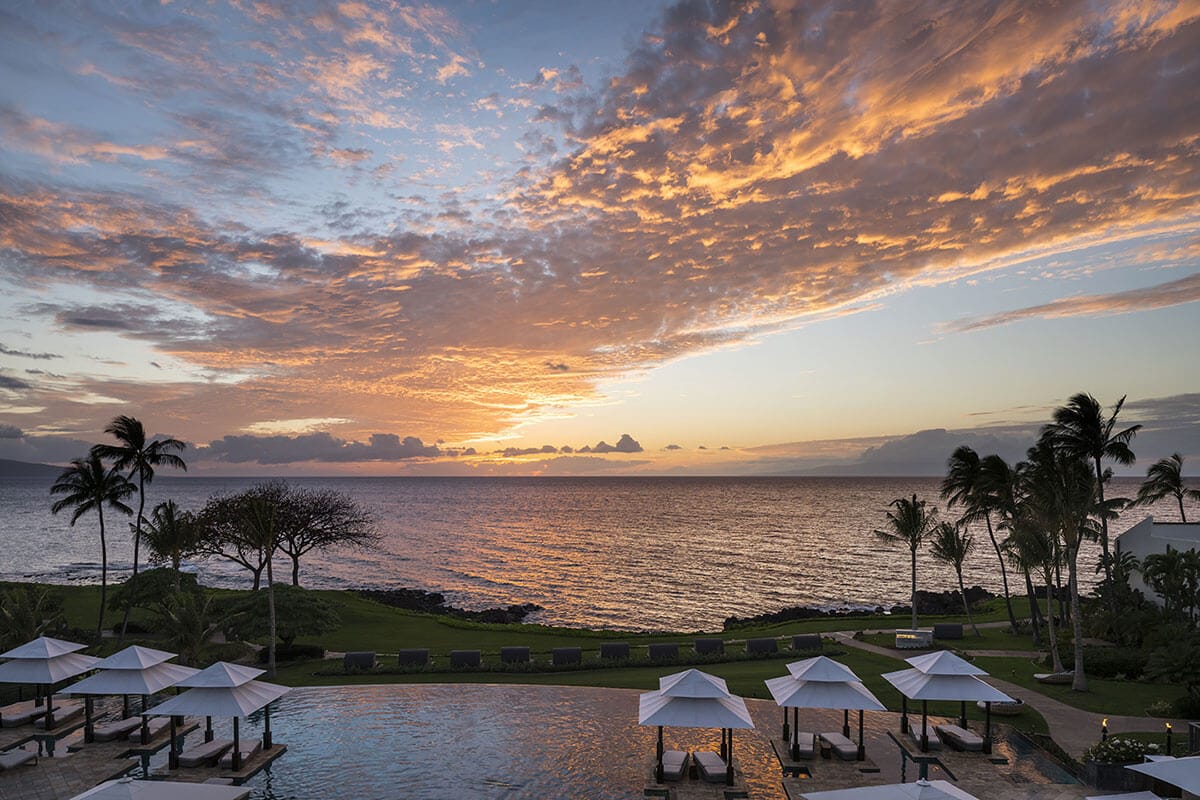 Maui, Hawaii
Although Wailea Beach is an often crowded public beach, this stretch of Hawaiian excellence features immaculate panoramas of the neighboring islands of Lanai and Kaho'olawe. Despite its constant tourist traffic, Wailea Beach provides a placid landscape of towering palm trees and calm waters perfect for those seeking stunning oceanside pictures. If you're looking for a classic beach session space, consider this palatial area.
Recommended Resort: Wailea Beach Resort; 0 min drive
Papagayo Pensinsula
Papagayo, Costa Rica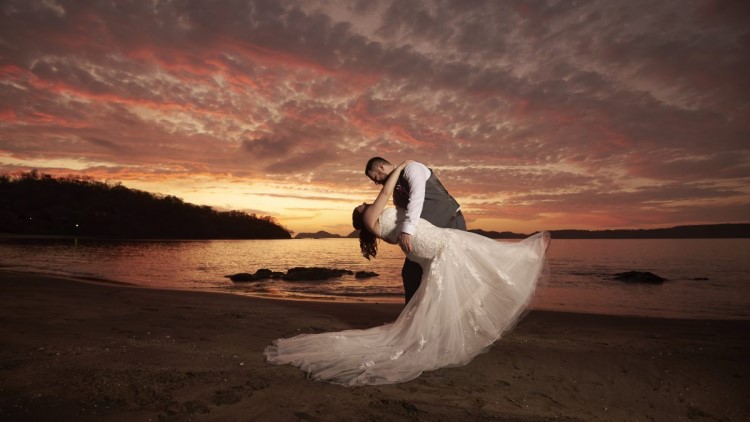 Papagayo, Costa Rica
Our list now takes us back east towards the lush region of Costa Rica. A country bursting at the seams with natural beauty, Costa Rica and wedding venues are globally-recognized as some of the most pristine locations in the world, spaces effortlessly tailored for photography sessions. Leading the pack of ravishing wedding picture landscapes, Papagayo Peninsula features a variety of charming oceanfront towns and their accompanying delightful beaches. Whether you're holding hands in Playa Hermosa or embracing in Nacascolo, a glorious backdrop of the peninsula's lofty cliffs or aquamarine sea will grace every photo you and your spouse take.
Recommended Resort: Occidental Papagayo; drive varies per town along peninsula
Hard Rock Rooftop
Panama City, Panama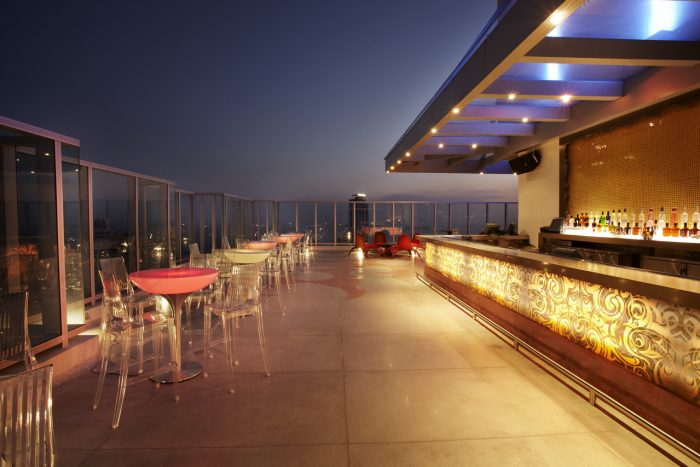 Panama City, Panama
The Hard Rock Panama Megapolis' BITS Rooftop embodies the resort's mission: it truly rocks. Situated atop the rock n' roll-themed resort, the Hard Rock's rooftop bar features stunning views of the teeming Panama City skyline. Although the area is often occupied by other hotel guests, the rooftop provides the quintessential ideal of a romantic city wedding photo session, including unparalleled vistas of bustling Panama City and the enchanting Panama Bay. At night the venue turns into one of the hottest nightclubs in the city, perfect for dancing the night away.
Princess Juliana International Airport
St. Maarten-St. Martin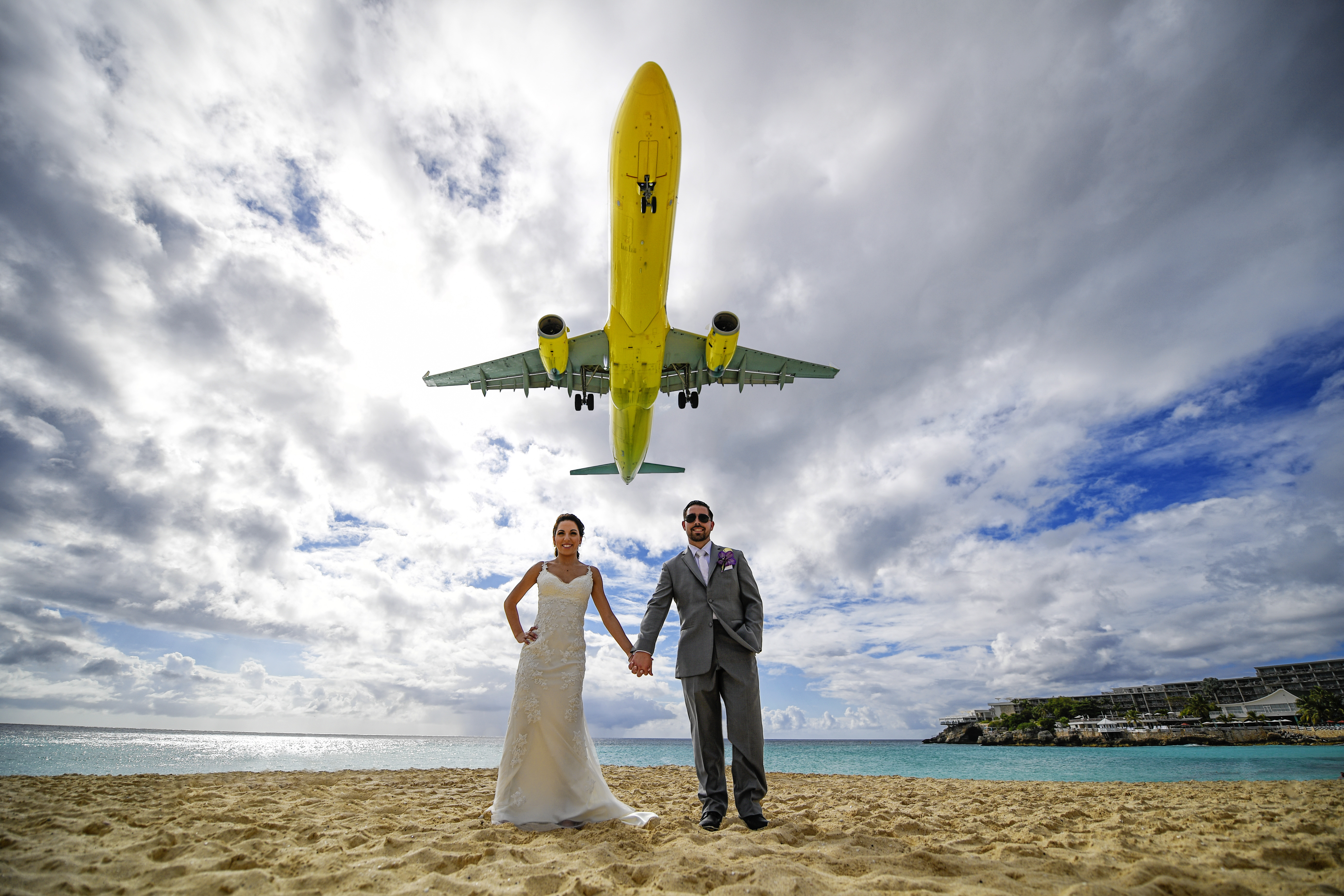 St. Maarten-St. Martin
Brace yourselves and prepare to be swept from your feet at St. Maarten International Airport. And no, we don't mean by your spouse. One of the hottest and most recognizable photo locations in the world, Princess Juliana International Airport's beachside runaway literally forces airplanes to land AND take off merely a stone's throw from the sea. The result? Flights are often pictured perfectly suspended in mid-air above beachgoers below. So, if you want to spice up your destination wedding photos, visit this adrenaline-laden Caribbean airport and add a dash of adventure to your album.
Recommended Resort: Sonesta Maho Beach Resort; 2 min drive
At a glance, planning your destination wedding pictures can seem stressful. With a plethora of locations to choose from, it's difficult to settle on "the one." Although every gorgeous seascape or landscape may seem like the perfect choice, there is a selection of regions that, due to their natural beauty, go above and beyond. We hope that our Top 10 Spots for Destination Wedding Photos has assisted you in the planning stages, and wish you luck on finding your perfect vista.
Interested in learning more about our gorgeous resorts? Follow the button below to see all of our destinations: