Planning your destination wedding, and wanting to invite all of your guests to come along with you to Jamaica? As daunting as it seems, large destination weddings in Jamaica are easily possible and can fit within a variety of budgets. You have chosen: a gorgeous island steeped in laid-back vibes, with access to authentic jerk and Island dishes, and perhaps the bluest waters in the world. Combine accommodating, all-inclusive options in this prospering slice of the Caribbean, and you get an extraordinary destination wedding that'll have your guests saying, "I want to get married here too."
Jamaica's many elegant resorts and their accompanying wedding packages are specifically tailored for wedding parties of 20 plus travelers. Without further ado, let's take a tour around Jamaica's pristine seascape towns and discover our top choices for large destination wedding resorts and venues.
Hyatt Ziva Rose Hall
Montego Bay, Jamaica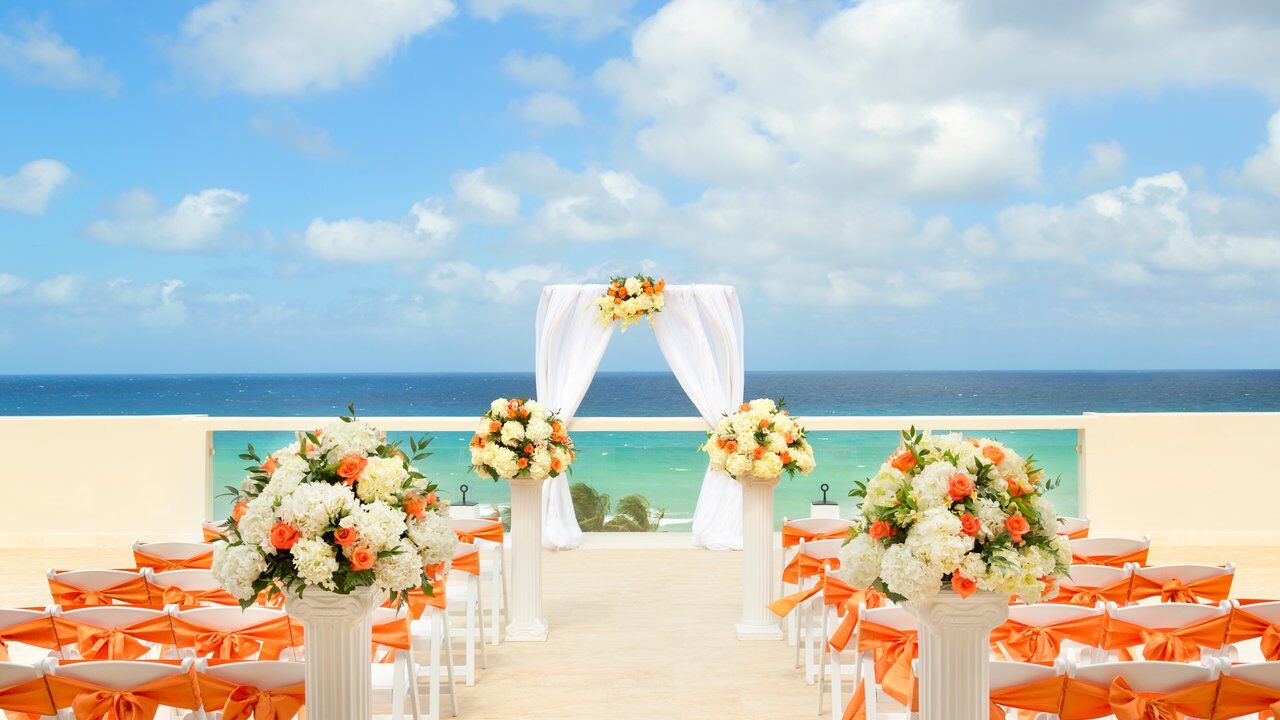 Hyatt Ziva Rose Hall
The first stop of our tour takes us to Montego Bay, the second-largest city of Jamaica situated in the northwest side of the island. Located on the outskirts of Montego Bay, the lavish Hyatt Ziva Rose Hall is an impeccable resort to host your dream wedding and guests of all ages. Younger travelers can enjoy a variety of games and activities at the KidZ Club, while adults can play a round of golf at one of the resorts 2 golf courses.
There are several venues sprinkled throughout the resort perfect for large weddings of 20 or more travelers. With 10 exquisite venue options with capabilities of accommodating upwards of 700 guests, you are guaranteed a luxurious space to share with your extended family and friends. From a selection of Ocean Gazebo Decks to the Ballroom Terrace, ceremonies and wedding packages can also include fireworks and signature wedding cakes to spice up your experience.
Royalton Blue Waters
Montego Bay, Jamaica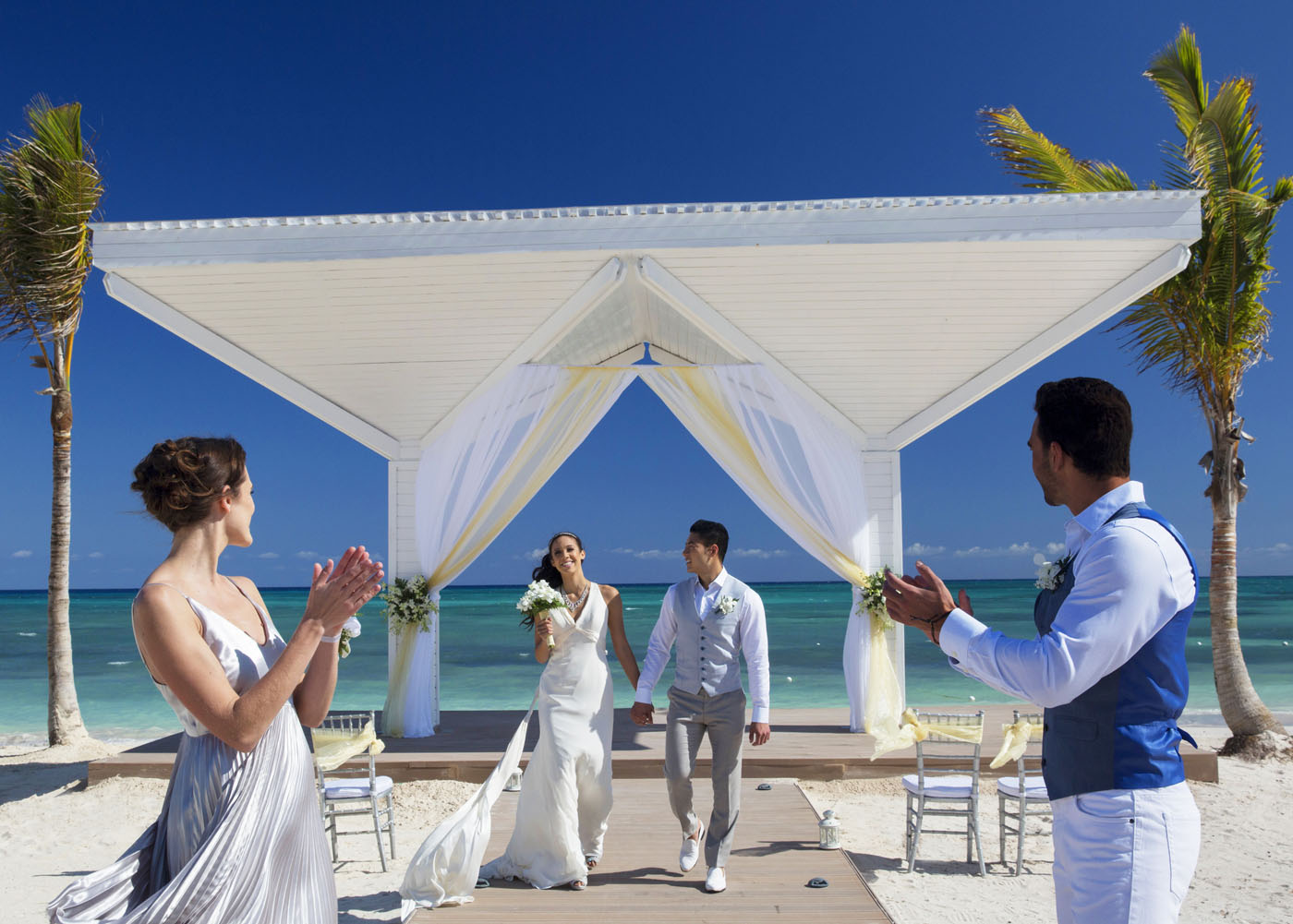 Royalton Blue Waters
Just down the road from the Hyatt Ziva Rose Hall rests the luxurious Royalton Blue Waters. Touting an expansive array of water parks, swim-up bars, and infinity pools, the resort is ideal for guests old and young. Mindful of younger guests, the Royalton hosts the innovative Kids' Adventures program and Hangout Teens Club for children ages 4-12 and 13-17, respectively. Adults can unwind with a cool beverage and view at the Diamond Club Beach Bar just steps from the ocean.
Have you ever wanted to host your wedding ceremony on a private island? Royalton Blue Waters has just the thing. The resort offers a private man-made island for a unique and secluded wedding ceremony location. Other venues include the Gazebo, Beach, and Ballroom that can host large wedding parties of 20 or more travelers. Ergo, large groups are more than welcome and encouraged to consider this all-inclusive resort.
Sandals Ochi
Ocho Rios, Jamaica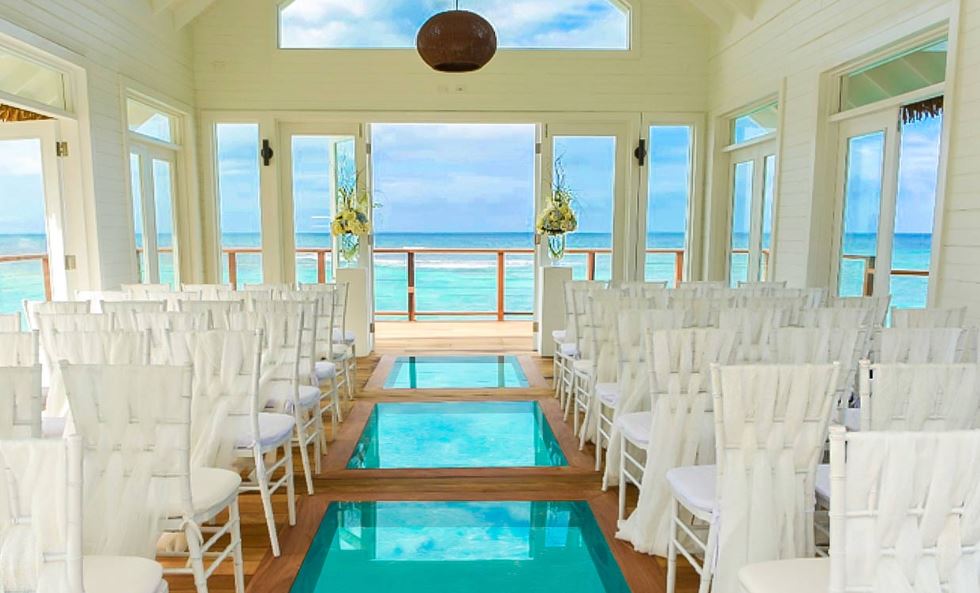 Sandals Ochi
Our large Jamaica destination wedding tour now guides us an hour east of Montego Bay to Ocho Rios, a former fishing village turned contemporary resort town. Located 10 minutes from the world-famous Dunn's River Falls, Sandals Ochi is an architectural masterpiece with villas and luxury suites that'll provide unforgettable service for your special day. With scuba lessons offered for free and a variety of water sports available, you and your guests can explore the tantalizing waters of the Caribbean and its marine ecosystem.
Sandals Ochi offers one of the most unique wedding venues in Jamaica: the Over-the-Water Chapel. Built with sections of transparent glass flooring, the panels provide glorious views of Jamaica's pristine waters. With 3 other breathtaking venues capable of hosting between 100-200 guests, Sandals Ochi is a luxurious option for large wedding groups looking for an elegant, jaw-dropping ceremony.
Azul Beach Resort Negril
Negril, Jamaica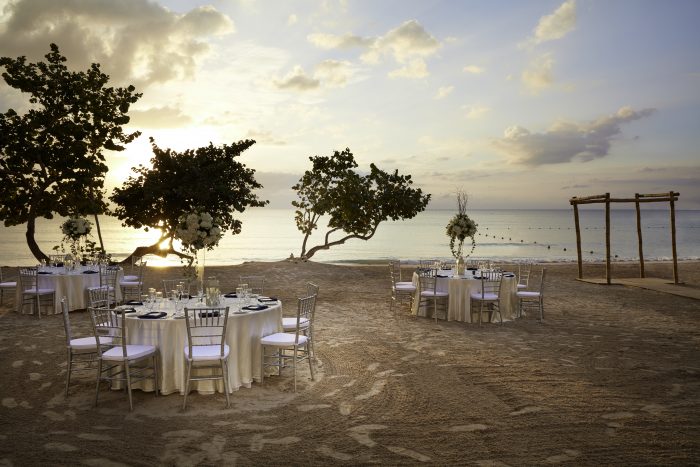 Azul Beach Resort Negril
Alas, the last stop on our Jamaican tour brings us 3 and a half hours back through Montego Bay and towards Negril. One of the less populated regions of Jamaica, the town is nestled against Long Bay and houses Azul Beach Resort Negril, a dazzling resort located on the world-famous Seven Mile Beach. Guests will be delighted with an incredibly family-friendly beach hotel. Azul Beach hosts the Azulitos program, where children of all ages and their families can enjoy exclusive group activities and cuisine.
Showcasing a mix of oceanfront gazebos and terraces, Azul Beach wedding venues are smaller in comparison to other resorts. However, all 4 venues are still suited to accommodate large groups of 20 or more guests. Along with top-notch all-inclusive ceremonies, the resort offers additional perks to couples including complimentary suite upgrades, spa treatments, and romantic oceanside dinners.
Large destination weddings can be hard to coordinate. With massive, impeccable services needed for an influx of guests, the process may sound intense. However, Jamaica and its many all-inclusive wedding resorts can guarantee the success of your special day. No matter which beachfront town you choose, you will discover an oasis fit for royalty and readily capable of providing each member of your wedding party an unforgettable Caribbean experience.
Curious about building your dream Jamaican wedding? Follow the button below for more resort options and to view the many available wedding packages: