Cancun, one of the finest gems of the Caribbean. Teeming with historic natural beauty and contemporary luxury, this Mexico destination should be at the top of your wedding planning list. Why, you may ask? Planning a wedding in Cancun ensures the finest all-inclusive wedding resorts, making the coordination process both smooth and rewarding. Let's find out how to plan your dream Cancun wedding, with all of the perks and none of the fuss:
Step 1: Find a travel expert (that knows Cancun)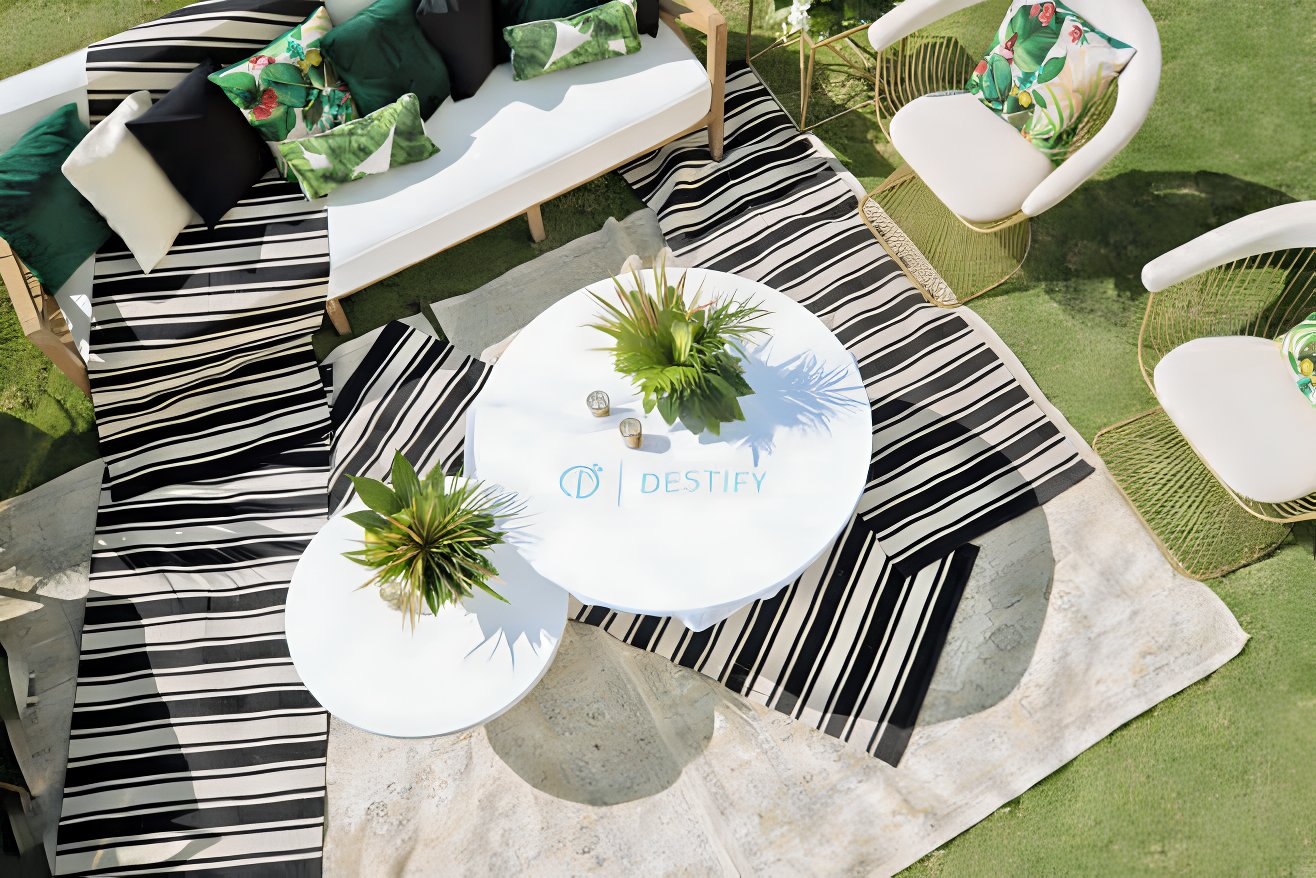 We can't stress this enough: find a destination wedding planner that actually knows the area. There's nothing worse than encountering a planner that doesn't have the 411 on the best all-inclusive resorts. That's where Destify steps in. For the past decade, we've worked with hundreds of award-winning brands and their properties, building a solid lexicon of reliable and flawless Cancun wedding resorts.
Step 2: Choose Your Resort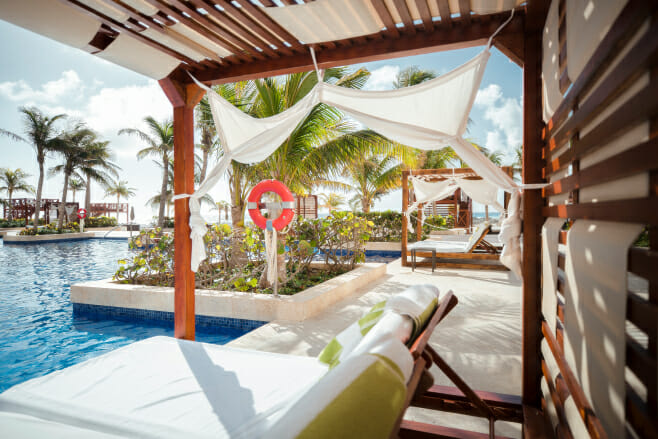 When it comes time to pinpoint a Cancun wedding resort, it's hard to go wrong with closing your eyes and choosing a random property. There are many things to take into consideration when choosing your resort. Where are most of your guests traveling from? Which locations will have the most resort options? Which destinations will have the best prices? If you want the cream of the crop, we recommend the following hotels:
Majestic Elegance Costa Mujeres
Step 3: Decide When to Have Wedding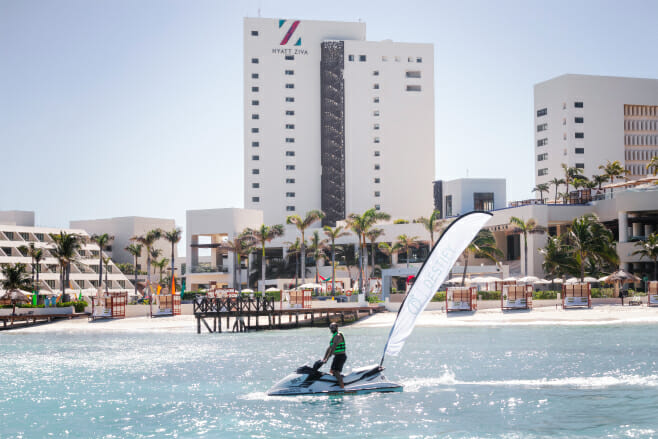 While planning a wedding in Cancun, consider the fact that you're hosting a ceremony on the Caribbean side of Mexico. The optimum time to hold your wedding in Cancun depends on which time of year you want to tie the knot. Let's explore the wedding seasons Cancun, and the popularity of each time period:
Low Season: Between the end of October and the beginning of December. Weather is both pleasant and occurs during a low-travel period of time.
High Season: January through June: This is where you get your classic sun-soaked Mexico weather. Nearlyweds and travelers alike clamor for dates within this range.
Rainy Season: July through September: You want a Cancun wedding in the rain? That's adventurous. While it doesn't rain every day during this time of year, you still run the risk of hosting a wetter ceremony. Enjoy the low rates and perhaps add personalized umbrellas to the wedding favors list?
Step 4: Choose Your Wedding Package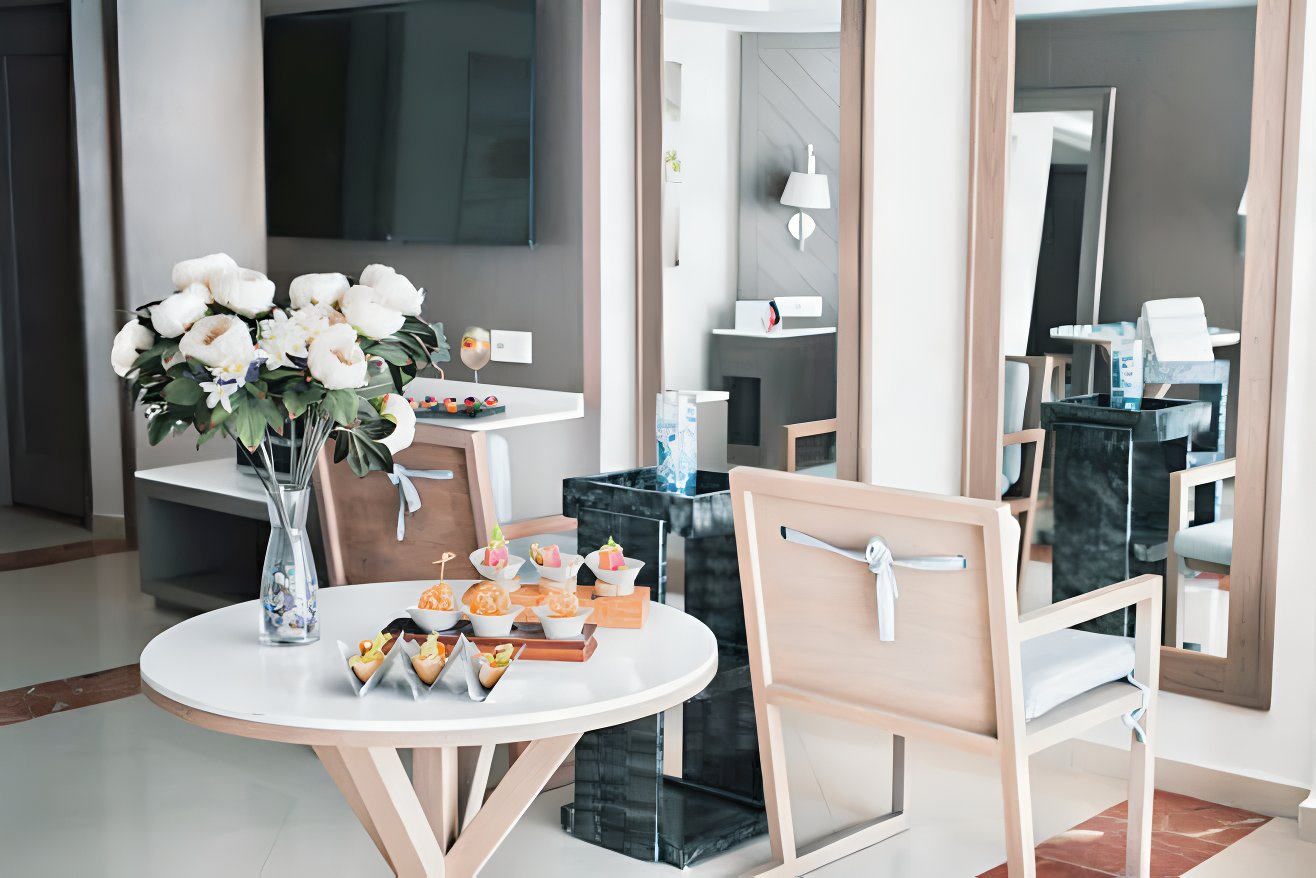 It's now time to pick a wedding package. At all-inclusive resorts, Cancun destination wedding packages are designed to provide couples as little or as much as they want. You get a lot with an all-inclusive resort, from design and food to a wedding department that will handle everything for you. Some resorts even offer gratis wedding packages, which you may learn about by visiting our FREE Wedding Packages website. A typical example of tiered packages found at most resorts is shown below.
Here are a few examples of luxury all-inclusive Cancun wedding packages:
Hyatt Ziva Cancun: Lavish & Opulent
Symbolic marriage Ceremony and certificate, performed by a Secular Bilingual Wedding Officiant
Bridal floral Bouquet and Boutonnière for the Groom
Signature Wedding Cake
Sparkling wine toast after the Ceremony
Special decoration of the couple's room, complimentary sparkling wine and chocolate dipped strawberries the night of the Wedding
Massage for the Wedding Couple (25-min each one)
Romantic dinner for the Couple
Late check-out up to 3:00 p.m.
Onsite services of a professional Wedding Specialist
Complimentary online bridal registry and Wedding website
Ceremony table with white linen and folding Wedding chairs
Sound system for the Ceremony
Natural floral centerpiece for the altar at the Ceremony
Updo, makeup, manicure and pedicure for the Bride
15% discount on spa services for the Couple
10% discount on spa services for the Wedding guests
Private one-hour cocktail party after the Ceremony, which includes standard set-up, open bar and 3 hors d'oeuvres
A private three-hour Wedding reception, which includes a three-course meal, open bar, tables, chairs, white linens, white place setting and waiting staff
RIU Palace Las Americas: Classic Wedding Package
Wedding coordinator
Decoration set up for the ceremony location
Bridal Bouquet
Matching boutonniere
Recorded music during the ceremony
Semiprivate dinner at one of our specialty restaurants (just for the couple)
Wedding cake (just for the couple)
Sparkling wine during the main toast (just for the couple)
Special decoration in the room
Witnesses if required
Minister/Judge service
Marriage Certificate
Spa Surprise gift
10% discount in all Spa treatments for the Wedding Couple
Step 5: Choose Your Ceremony Type and Venue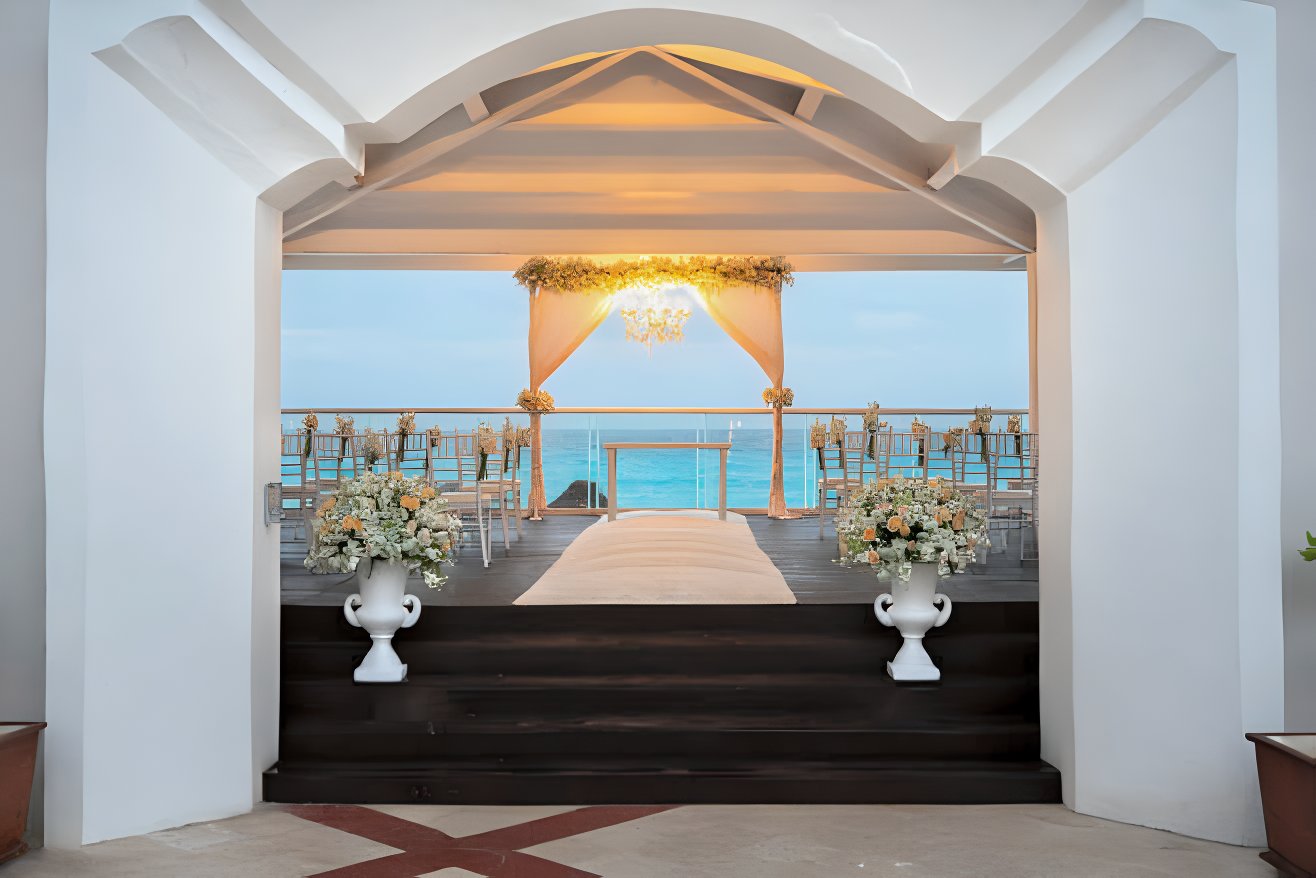 You struck gold, planning a wedding in Cancun automatically guarantees a wondrous view of the Caribbean for your ceremony. That's not all. Our Cancun wedding resorts feature a variety of venues that offer unique takes on the classic oceanside aisle. From sturdy pergolas to intricately-designed gazebos, choose from a selection of spaces that'll cater to your needs.
Step 6: Plan Your Ceremony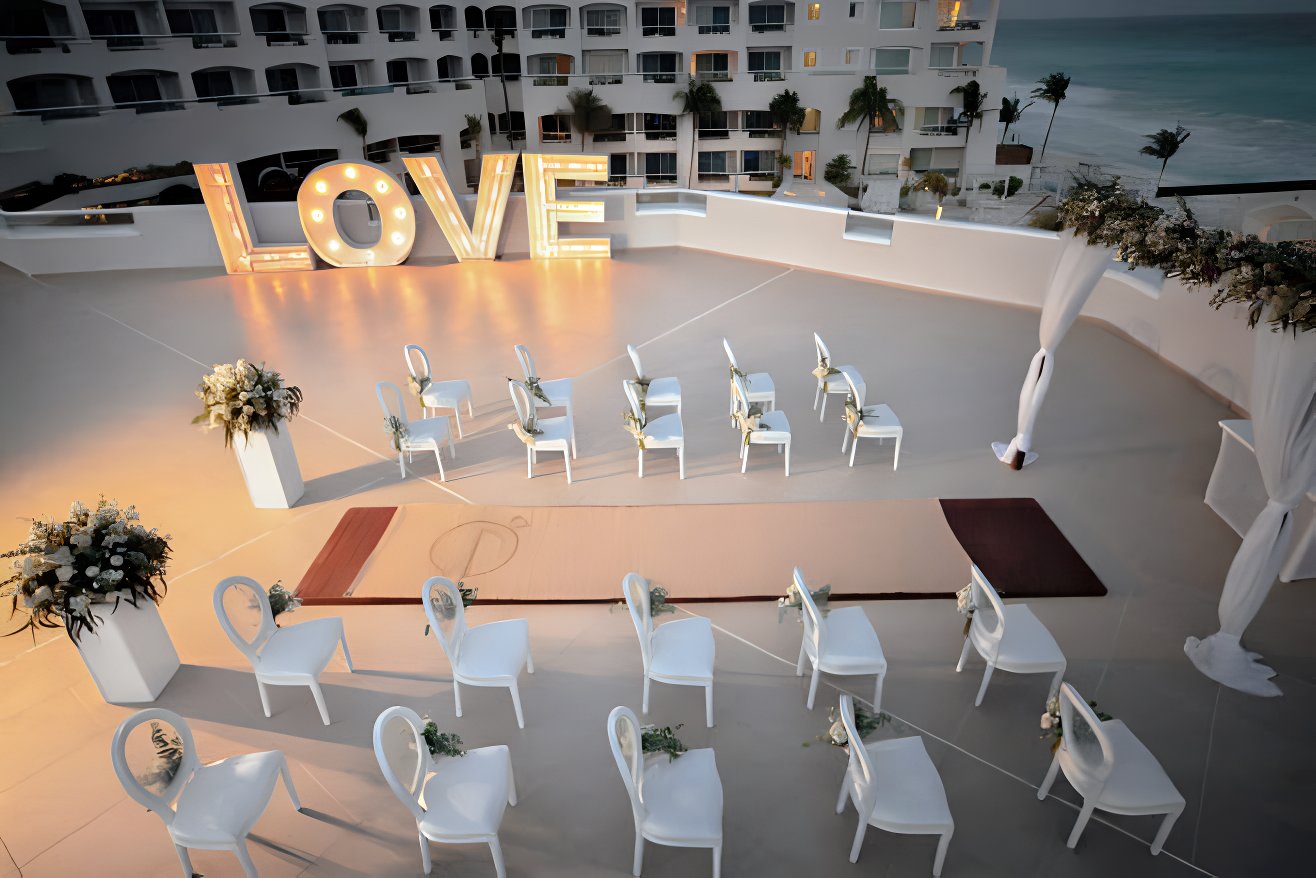 Unlike a regular stateside wedding, much of the actual planning for your ceremony for a destination wedding doesn't begin until around the 3-month point. That's because resorts have it down to a science, and wedding departments won't have as much time to work with you until your wedding date approaches. For some couples, this may be a plus or a minus, but you can rest assured that your wedding planner knows what they're doing.
Want to learn more about our top Mexico wedding resorts? Follow the link below to tour our five-star properties: