Nestled in the thick of every oceanfront resort lies mystical sections of land dedicated to the refined garden wedding experience. Imbued with tropical flora (and yes, sometimes fauna!), these ceremony spaces offer every newlywed the opportunity to tie the knot in a truly unique and nature-infused setting. Without further ado, let's trek through 7 of the most gorgeous and captivating garden venues to consider for your destination wedding:
Dreams Tulum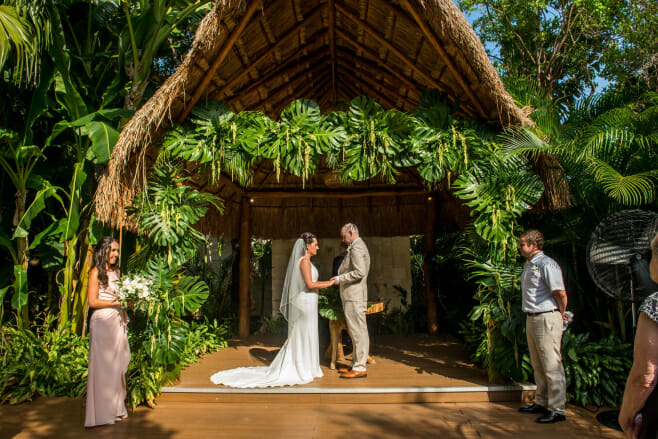 Location: Riviera Maya, Mexico
Venue Title: Secret Garden Gazebo
Max Capacity: 150
Located deep in the Dreams Tulum grounds, the Secret Garden Gazebo features a multi-faceted space capable of accommodating your full wedding day. From ceremony to reception, and everything in between, this Riviera Maya oasis offers a unique blend of natural beauty and impressive craftsmanship. Just take a look at that gazebo!
Dreams Punta Cana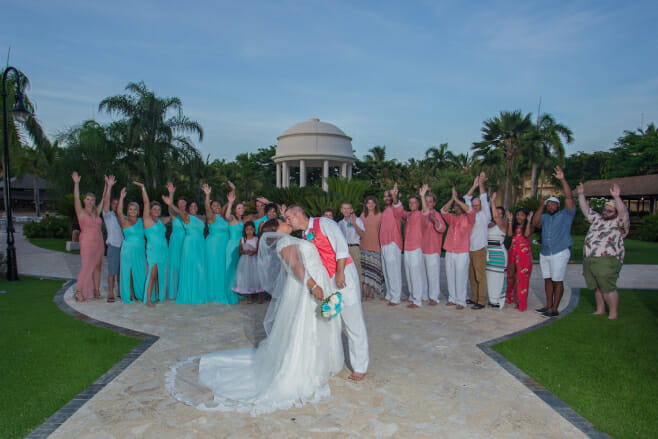 Location: Punta Cana, Dominican Republic
Venue Title: Gazebo/Garden
Max Capacity: 125 Guests/60 Guests
Let's take a tour of your Dreams Punta Cana garden wedding. You may have noticed the added "Gazebo" in the Venue Title. That's because this Dominican Republic resort's Gazebo and Garden venues complement each other via wonderfully accented tropical flora and awe-inspiring architecture. We recommend the following itinerary: marry your love under the handcrafted Gazebo, then host a dazzling cocktail reception with the sweet aromas of lush foliage at the Garden.
Hard Rock Los Cabos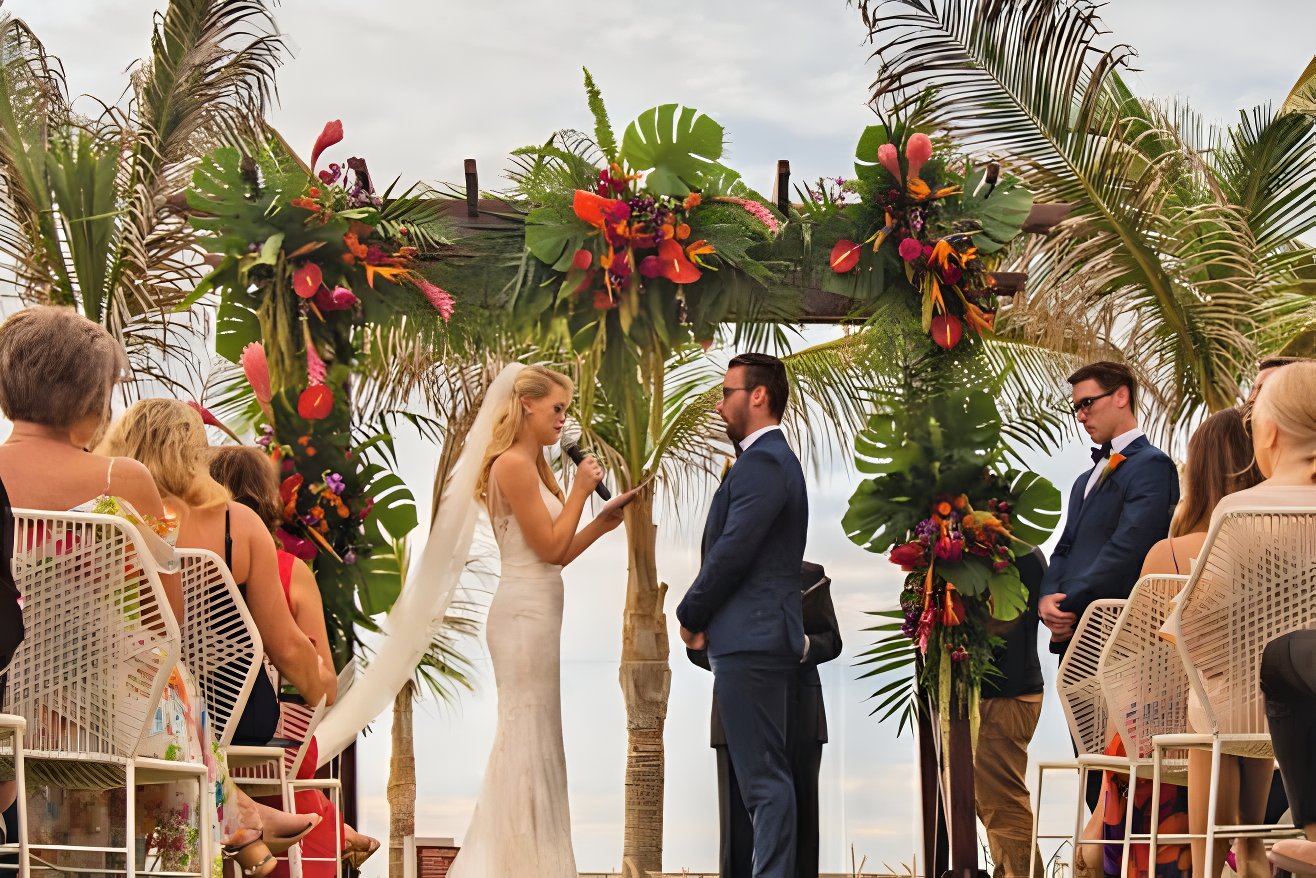 Location: Los Cabos, Mexico
Venue Title: Coda Garden
Max Capacity: 200 Guests
It's time to sing the praises of our next lush garden venue. While named after a stretch of notes that brings a song to an end, the Coda Garden at Hard Rock Los Cabos offers an optimal location to begin your marriage. Adorned with breathtaking views of the cerulean Pacific and customizable garden decor, this venue channels the harmonic influence of music into every celebration.
Royalton Bavaro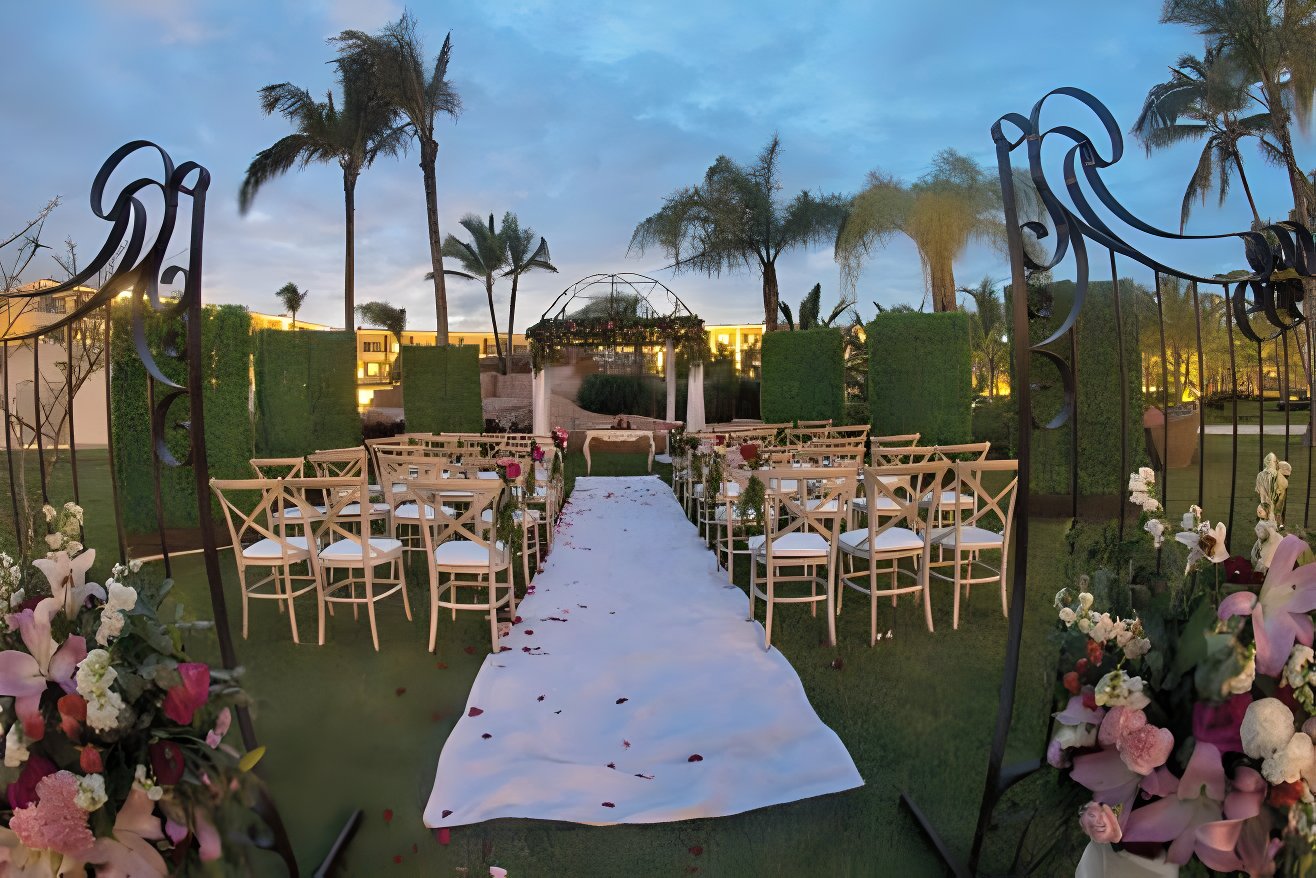 Location: Punta Cana, Dominican Republic
Venue Title: Garden Gazebo
Max Capacity: 40 Guests
Intimate, elegant, and imbued with the finest shades of chartreuse, Royalton Bavaro's Garden Gazebo is perfect for couples seeking secluded garden venues. Complete with fabulous Punta Cana panoramas, this space features intricately designed gates and unique furnishings that bring a Garden of Eden vibe to your ceremony.
Sandos Playacar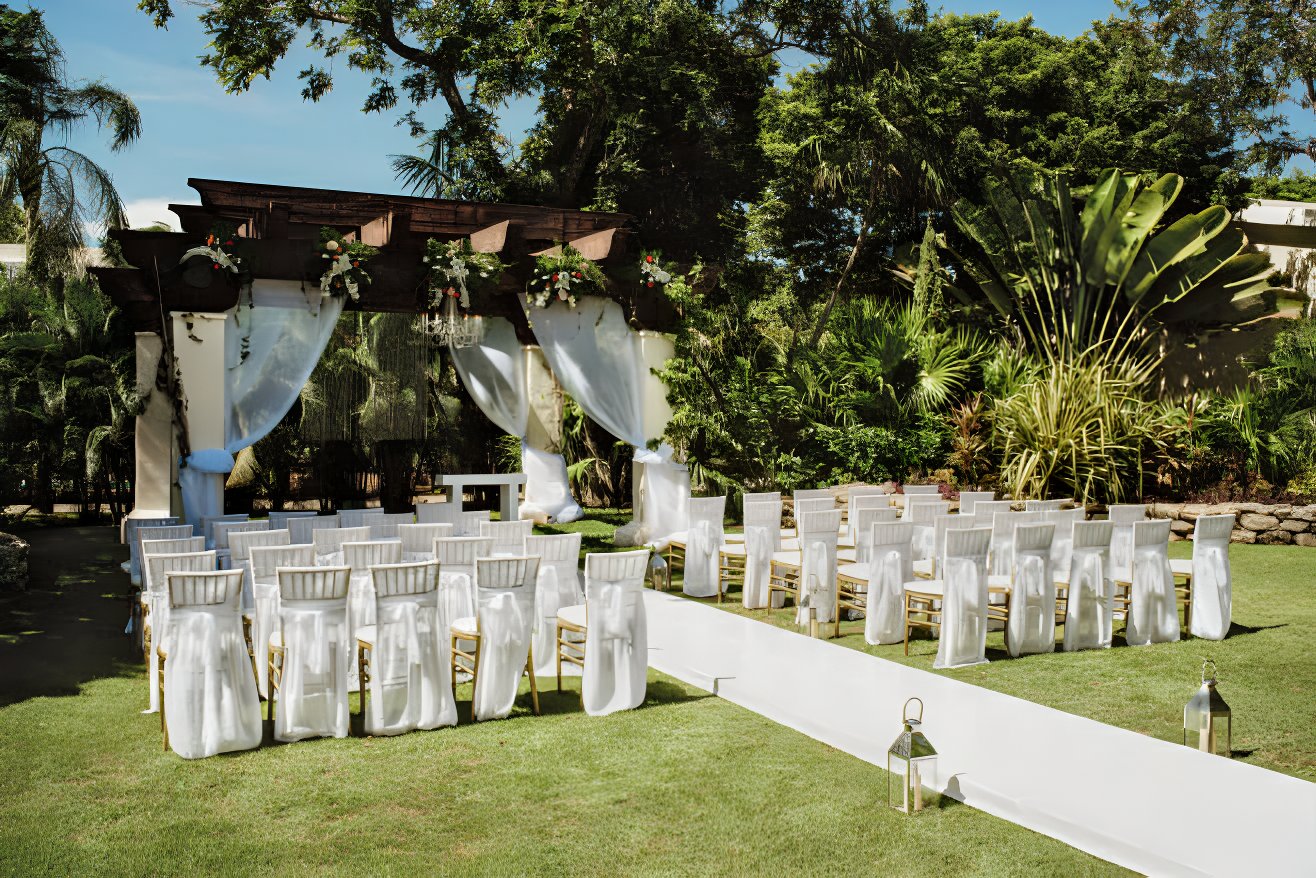 Location: Riviera Maya, Mexico
Venue Title: Garden
Max Capacity: 100 Guests
Sandos Playacar is set on a gorgeous white-sandy beach within a private enclave. There are wedding venues all across the resort, as well as cat motels, à la carte restaurants, discos, and much more. Check out the garden venue above, which has direct access to the beach and offers views of the blue ocean.
RIU Ocho Rios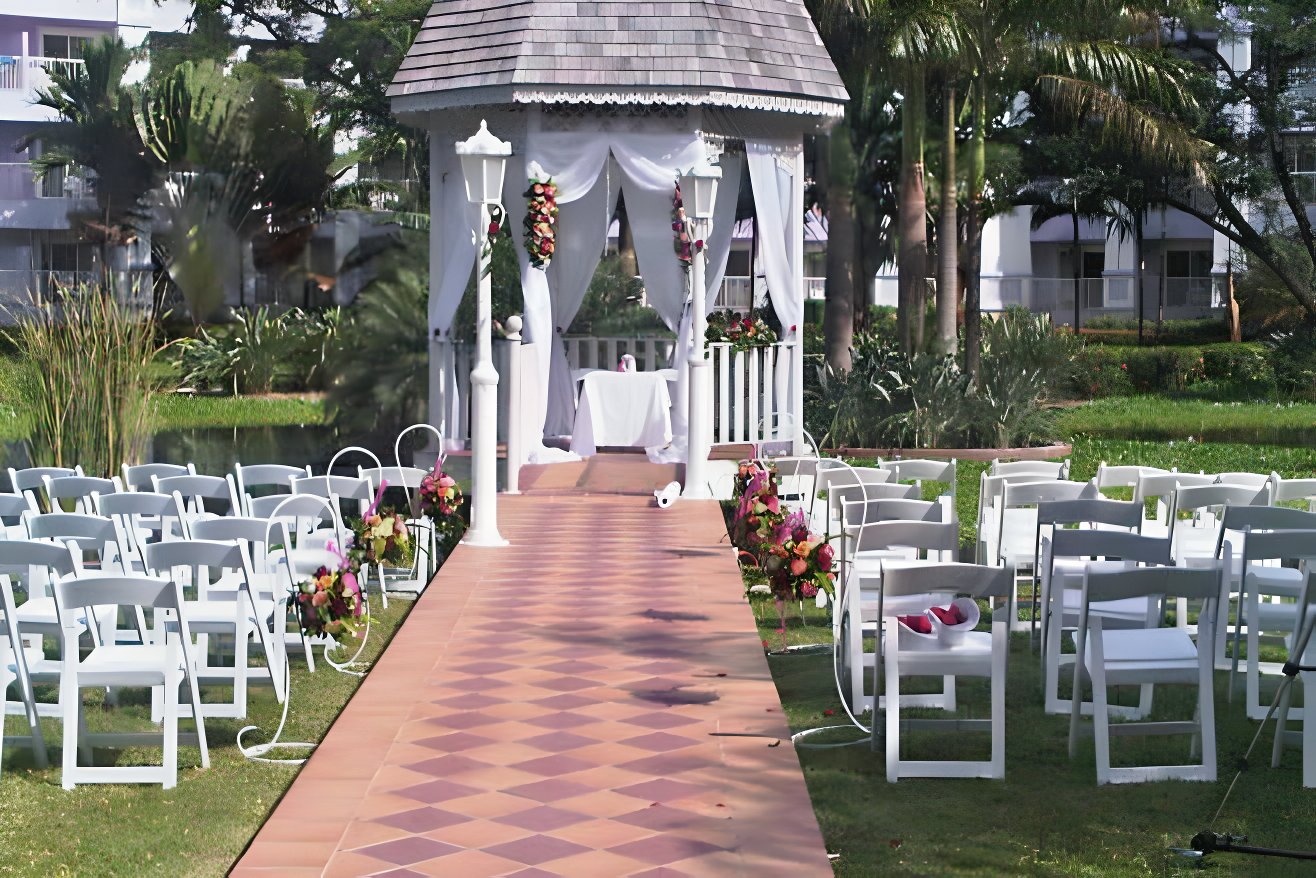 Location: Ocho Rios, Jamaica
Venue Title: Lagoon Gazebo
Max Capacity: 150 Guests
We're pretty certain that this is the same lagoon from the Little Mermaid. So, it has to be magical right? Okay, it might not be the real Little Mermaid lagoon, but RIU Ocho Rios' Lagoon Gazebo gives it a run for its money. Accompanied by a wide variety of Jamaica foliage, the venue invites you to add whimsical, bright colors to your destination wedding. While you probably can't take a rowboat out into the middle of the lagoon, you can still take advantage of the photogenic surroundings and create an unforgettable photoshoot.
Dreams Onyx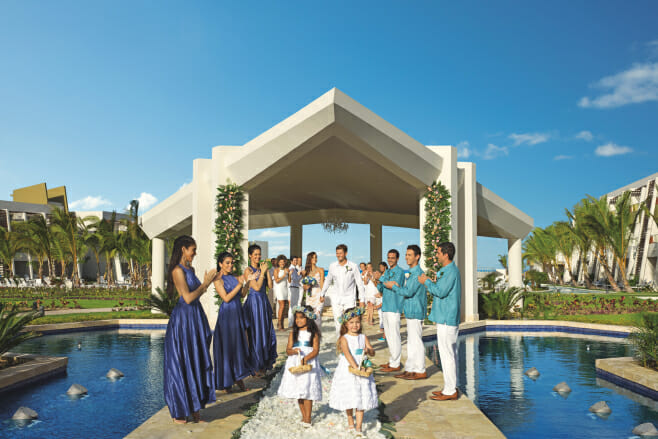 Location: Punta Cana, Dominican Republic
Venue Title: Fountain Gazebo
Max Capacity: 120 Guests
Listen, the Bellagio Fountain is great but Dreams Onyx's Fountain Gazebo? Absolutely stunning. Undergoing a recent rebranding, Dreams Onyx has continued its luxurious ways via this effervescent venue. Yes, the word "garden" isn't in the Venue Name. But the Fountain Gazebo cracks the garden venues specifically due to the way in which it utilizes the earthly scenery around it. That kind of collaboration deserves some credit, as it has become one of the most requested venues amongst our Destify Couples.
Want to view more five-star properties? Follow the button below to discover our Destify Top Resorts: