Cancun's hospitality scene has been significantly bolstered with the recent opening of a new all-inclusive Secrets resort, Secrets Playa Blanca Costa Mujeres.
This luxurious property aims to provide guests with an unforgettable vacation experience in the tropical paradise of Costa Mujeres, an exciting tropical getaway that's quickly earning the title of "New Cancun."
Unveiling its grand debut at the beginning of November 2023, Secrets Playa Blanca Costa Mujeres resort beckons travelers and destination wedding couples with 346 rooms, and an eclectic array of restaurants, bars, and services. A serene and vast expanse of immaculate white-sand beach cradles the landmark resort. This idyllic haven boasts convenient access to Mexico's breathtaking natural wonders, including the enchanting islands of Isla Mujeres and Isla Contoy National Park.
Secrets Playa Blanca Costa Mujeres is bursting at the seams with all-inclusive delights. Guests can indulge in the splendor of four large swimming pools, including two oceanfront infinity pools offering breathtaking views of the turquoise Caribbean Sea, an activities pool, and a jungle-inspired pool exclusively for Preferred Club members. Additionally, there are ten smaller pools solely reserved for guests staying in swim-out suites.
The culinary delights are unparalleled with nine dining options, encompassing six exquisite à la carte gourmet restaurants, a buffet, a café, a grill, and a French restaurant boasting one of the most exclusive and extensive wine cellars. Savoring delectable meals is complemented by seven bars and lounges, ranging from a swim-up bar to a music lounge, where top-shelf spirits and premium domestic and international beverages are served.
Immerse yourself in unique culinary experiences, including captivating kitchen tours to meet talented chefs, engaging cooking classes, and delightful tequila or wine tastings. The resort also houses a state-of-the-art Spa by Pevonia® facility spanning over 36,000 square feet, scheduled to open in March 2024, promising a rejuvenating sanctuary.
With its idyllic location, the resort presents an ideal setting for various thrilling activities. Guests can partake in snorkeling, kitesurfing, whale shark swimming experiences, scuba diving, and sport fishing. The allure continues with the world's second-largest barrier reef near the resort's shore, offering unparalleled underwater exploration.
Daytime and nighttime entertainment options abound, with the resort's theater scheduled to open in March 2024, promising captivating performances and shows. Furthermore, the resort boasts more than 8,000 square feet of dedicated meeting and event space, set to open in March 2024, providing a perfect venue for various gatherings and occasions.
Mark November 2023 on your calendars because you don't want to miss out on this exciting new property!
Another Exciting New Secrets Property: Impressions Isla Mujeres by Secrets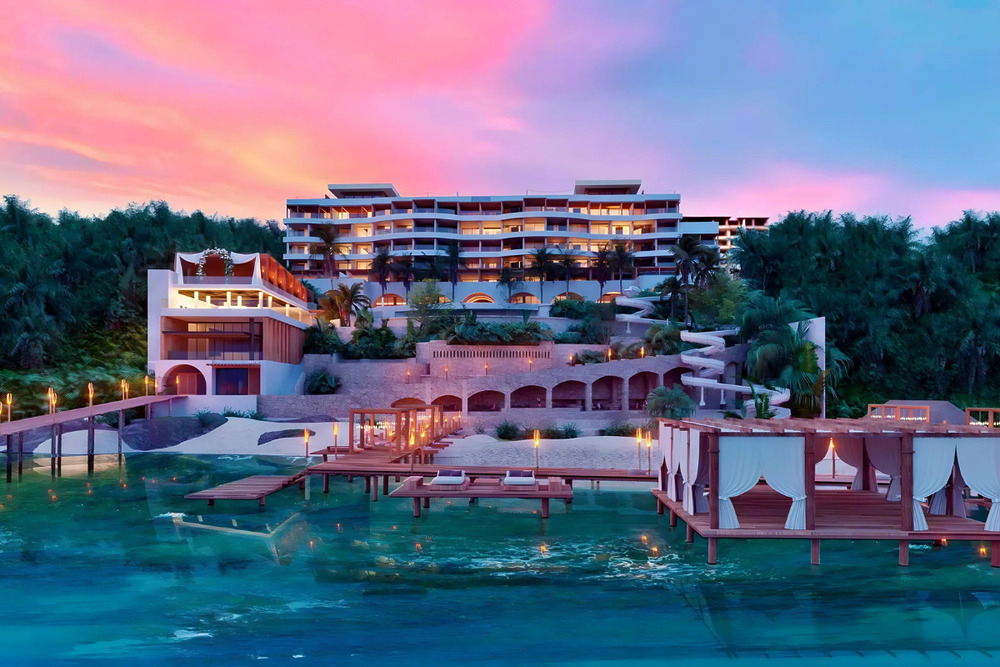 Hyatt's highly anticipated Impressions Isla Mujeres by Secrets property finally opened its doors on May 26, 2023. Initially planned for a March opening, the resort's postponed debut doesn't diminish our enthusiastic recommendation for this new addition to the Hyatt portfolio.
Guests have the option to reach the resort by taking a boat directly from the Cancun mainland. Once there, they will have access to a variety of amenities, including eight restaurants, nine bars, a rooftop restaurant, and 125 guest rooms situated along the waterfront.
Conveniently located just 25 minutes away from Cancun, Secrets Impression Isla Mujeres offers a quick and easy getaway to sandy shores and serene surroundings. The property is dedicated to providing an intimate, luxurious experience accompanied by world-class guest service.
As an extra perk, guests staying at the resort will receive a complimentary golf cart, allowing them to explore the lush jungles, vibrant coral reefs, pristine white sands, and picturesque rocky coastlines that characterize the area. The property also boasts a unique Secrets Spa, ensuring that wedding couples and their guests can enjoy a stress-free retreat, aligning with Hyatt's focus on traveler well-being and health.
Featuring torch-lit overwater cabanas and rooftop terraces offering breathtaking 360-degree views, Secrets Impression Isla Mujeres offers unforgettable experiences. Guests can also enjoy a four-story waterslide that plunges into the ocean and an outdoor movie theater on the sea.
Notably, sustainability is a key focus for Secrets Impression Isla Mujeres. The resort showcases beautiful architectural works of art created by local artists, implements initiatives to preserve marine life, utilizes solar panels for water heating, eliminates single-use plastics on the property, and even houses an on-site glass bottling factory.