For today's blog post, we've put together a list of the best Playa del Carmen wedding packages available in Riviera Maya. Playa del Carmen has become one of the most sought after wedding destinations in all of Mexico and the Caribbean for a number of compelling reasons. Its prime location along the Northern Caribbean Sea yields breathtaking views and breezes as well as unforgettable sunsets. The incredible amount of superb shops, restaurants, and vibrant nightlife are more than enough to entertain and please any group, wedding or otherwise.
Follow our list below to get a sampling of what Playa del Carmen wedding packages can include. Your destination wedding could feature bouquets as an inclusion, ceremony, and wedding reception decor setups, and free perks like romantic turndown service after your wedding. Plus, you'll already have a stunning location, as resorts in Playacar and Playa del Carmen have some of the most beautiful beaches in the world.
Hilton Playa del Carmen Wedding Packages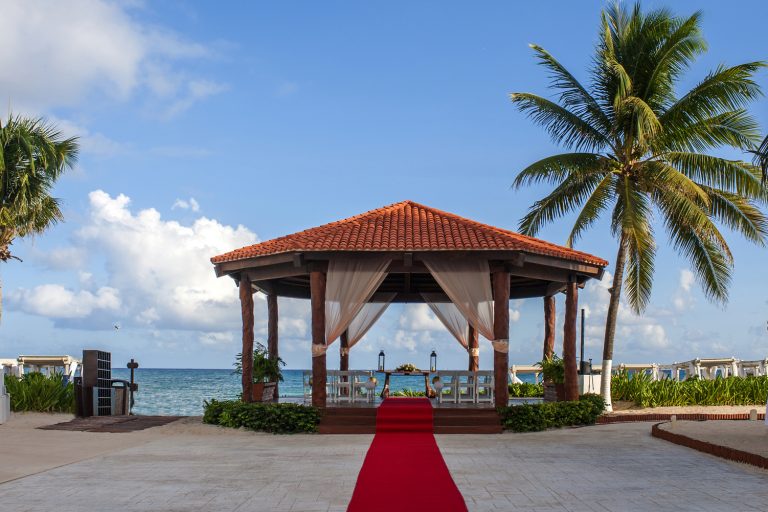 Hilton Playa del Carmen
Starting off our list of terrific Playa del Carmen wedding packages is Hilton Playa del Carmen. This awesome property of a reputable and trustworthy name sits on pristine white sands in Riviera Maya and is exclusive to adults only. The premier standard of facilities, services, and amenities are upheld, and the central location of the property in Playa del Carmen makes it simple for guests to hit the town and explore. Hilton Playa del Carmen is geared to maximize romance and intimacy, and you'll experience this from the moment you get there. Every suite is outfitted with dark wood and red-themed romantic accents and includes a two-person jetted tub.
There are 8 different wedding packages to select from as well as plenty of customization options for each. You and your partner will appreciate the tireless efforts of a professional Playa del Carmen wedding coordinator who will listen to your vision and ideas, and help you bring it to life too. The base wedding package can be complimentary when meeting simple booking requirements and includes room decoration with fresh flowers and wine, pre-planning with an online wedding tool, in addition to a gorgeous ceremony gazebo either on the beach or the terrace overlook. There is also a chapel on site for those seeking a Catholic ceremony. All together, Hilton Playa del Carmen has everything you might need for a complete adults-only destination wedding celebration.
Allegro Playacar Wedding Packages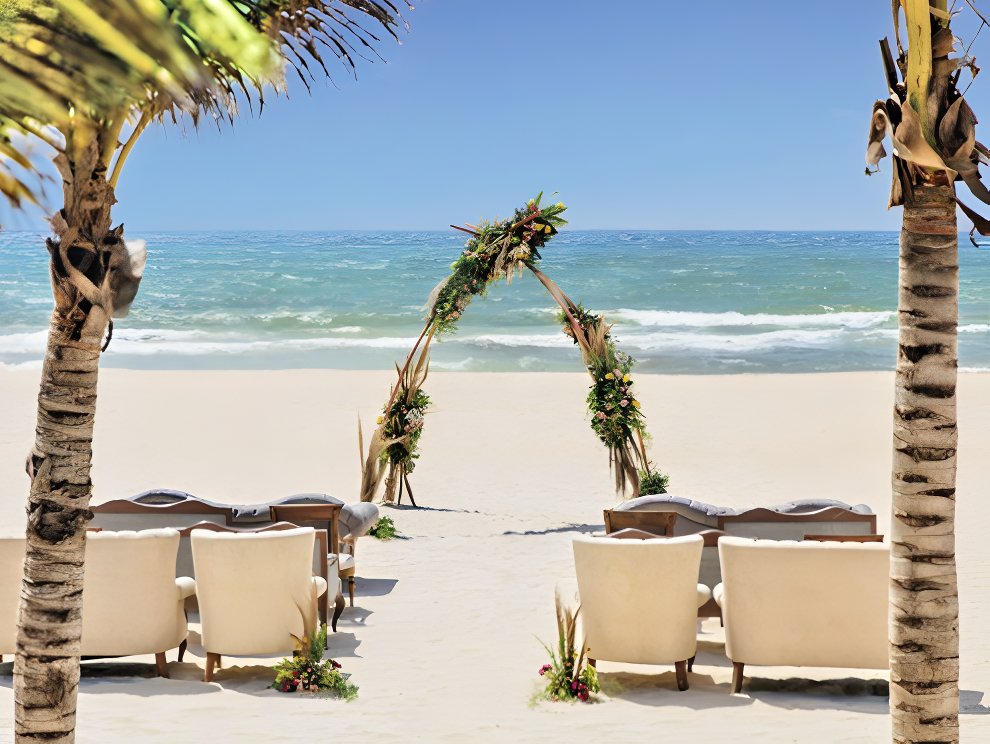 Allegro Playacar
Next on our list of the best wedding packages in Playa del Carmen is Allegro Playacar. A short distance south of Playa del Carmen, this budget-friendly resort offers Polynesian-style villas on a flawless beach. There are several luxurious pools and a range of terrific dining and entertainment options. This resort offers a more quaint wedding experience and is perfect for those seeking intimacy and comfort in their destination wedding.
Wedding options are superb at Allegro Playacar, with customizable packages that can be complimentary when booking the right number of room nights. Package upgrades incur elegant decor, reception options, and special amenities for the couple. Their wedding ceremony venues are terrific, as well, and include the beach, private gardens, and cenotes. The gardens are ideal if you're looking for the most tranquil and affectionate of wedding ceremonies. Allegro's wedding packages may include ceremony music, a wedding cake, sparkling wine toasts, and late checkout for the wedding couple. There is not another wedding experience quite like Allegro Playacar's, which is why it joins our list of the best packages in Playa del Carmen.
Sandos Playacar Wedding Packages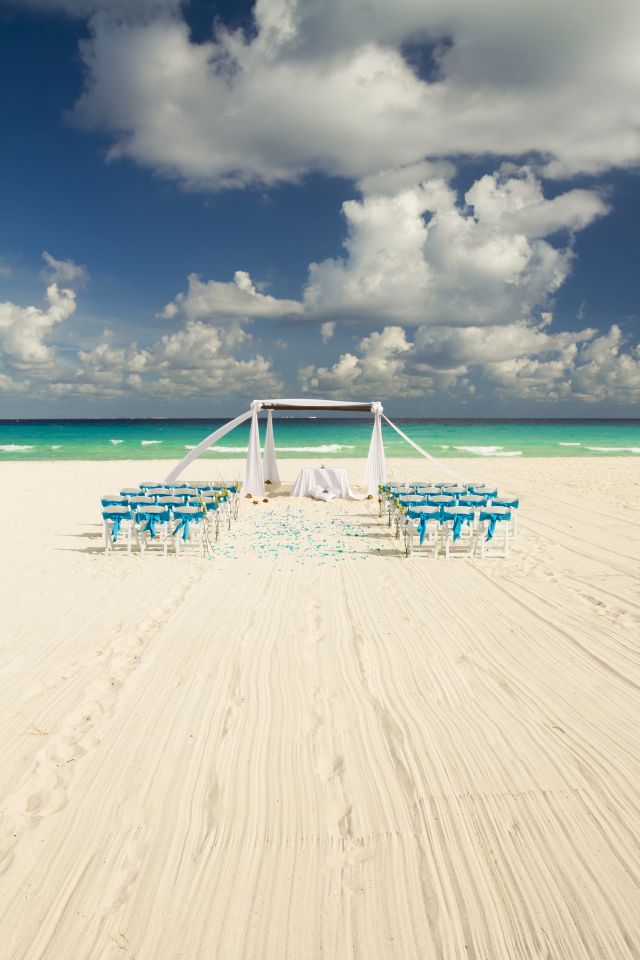 Sandos Playacar
Guests will love the eco-friendly Sandos Playacar resort, featuring tiered rooms that can meet any budget. Set across a jungle compound, with rolling hills, wedding couples will find numerous wedding ceremony venues throughout the property, from secret gardens to the pure beachfront. The ocean is truly picturesque here and appears as different colors throughout the day as the sun rises and sets. There are four major resort areas across the grounds, including one that's adults-only, and there are over 9 pools to explore.
For a reception or dinner rehearsal, you can book a dining experience at the Brazilian Rodizio restaurant. The base wedding package includes a romantic ceremony setup, a flower arrangement, rose petals on the aisle, a violinist or saxophonist and a private dinner for up to 3 hours, starting at $2990. Just don't be surprised if some local wildlife shows up in your wedding photos, like a monkey, or one of the resort's peacocks.
Playacar Palace Wedding Packages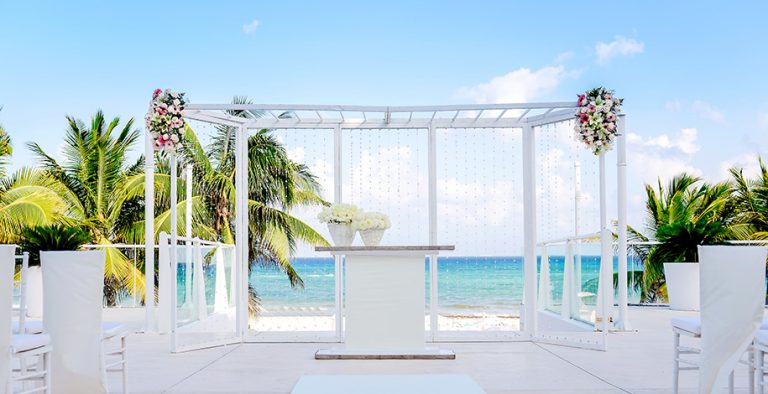 Playacar Palace
Feel the joy of white sand under your feet, for your wedding package at Playacar Palace. Take a swim in the warm Caribbean waters, and say, "I do" on one of the finest beaches in Mexico. There's everything needed here to make your Playa del Carmen wedding unforgettable, and add-ons can include fireworks, horse-drawn carriages, and some of the most lush scenery you can experience.
The entry-level Playa del Carmen wedding package includes a complete decor setup, preparation of the wedding attire, a dinner reservation, a wedding cake with 3 carnation stems, and even breakfast in bed for the wedding couple the morning after your ceremony. Your Playacar Palace wedding specialist will do everything necessary for your ceremony, while your Playa del Carmen wedding package fits a large number of inclusions at a fraction of the price of a stateside wedding.
Panama Jack Playa del Carmen Wedding Packages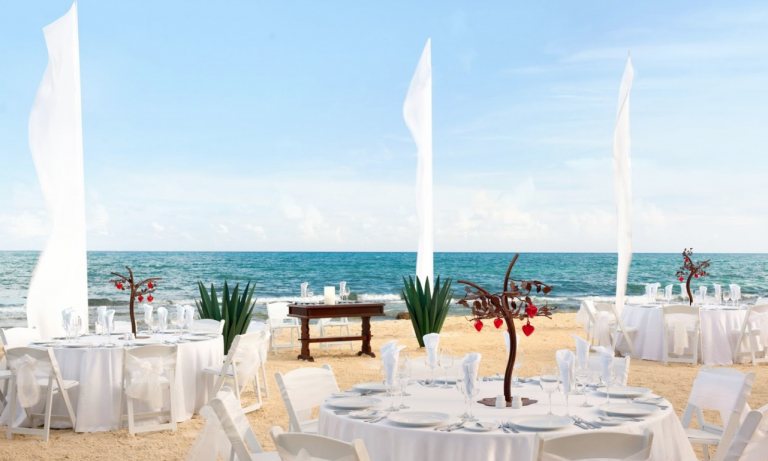 Panama Jack Playa del Carmen
In the heart of Playa del Carmen rests the family-friendly Panama Jack, the perfect getaway for guests who want to explore downtown while still having access to a beautiful beach. The small resort offers a variety of rooms, from hotel-style double beds rooms to large and in-charge suites, so guests working with any budget can attend your destination wedding. But just because the resort is small, it doesn't mean there isn't plenty to do, from the fabulous pool complex to a 24-hour diner, to taco trucks and wine tastings.
The Playa del Carmen wedding packages at Panama Jack offer a number of wonderful inclusions, like ceremony locations, a couples massage, a wedding cake, and even a romantic dinner on one night of your stay. Wedding packages range from free to $4,000 and up, and you can qualify for the free wedding package by meeting a certain amount of room and night requirements for your wedding group.
Want to see all of our Playa del Carmen wedding packages? Hit the button to explore more of our resorts: