Earlier this week with explored Mexico destination wedding locations on the Caribbean Coast, and now we're following it up with insights into areas and resorts on the Pacific Coast. This includes the beautiful cities of Puerto Vallarta, and Los Cabos, and also includes the off-the-beaten-path choice of Huatulco. To see part 1, click here.
Mexico is a stunning location to have your wedding. The country is known for granting couples the destination wedding they've always dreamed of, without breaking the bank.
Puerto Vallarta, Mexico Weddings
Puerto Vallarta is among some of the most popular Mexico destinations, because of the intense beauty of the sky. If you get married in‌ Puerto Vallarta, make sure to plan for sunset pictures. Of course, there are also beach venue options, mountain surroundings, and even garden venues. Puerto Vallarta is the perfect combination of quiet and quaint and loud and fun – you'll be able to get the best of it all. It's also a truly ideal destination for LGBT-friendly and gay weddings.
Recommended Resort: Hard Rock Hotel Vallarta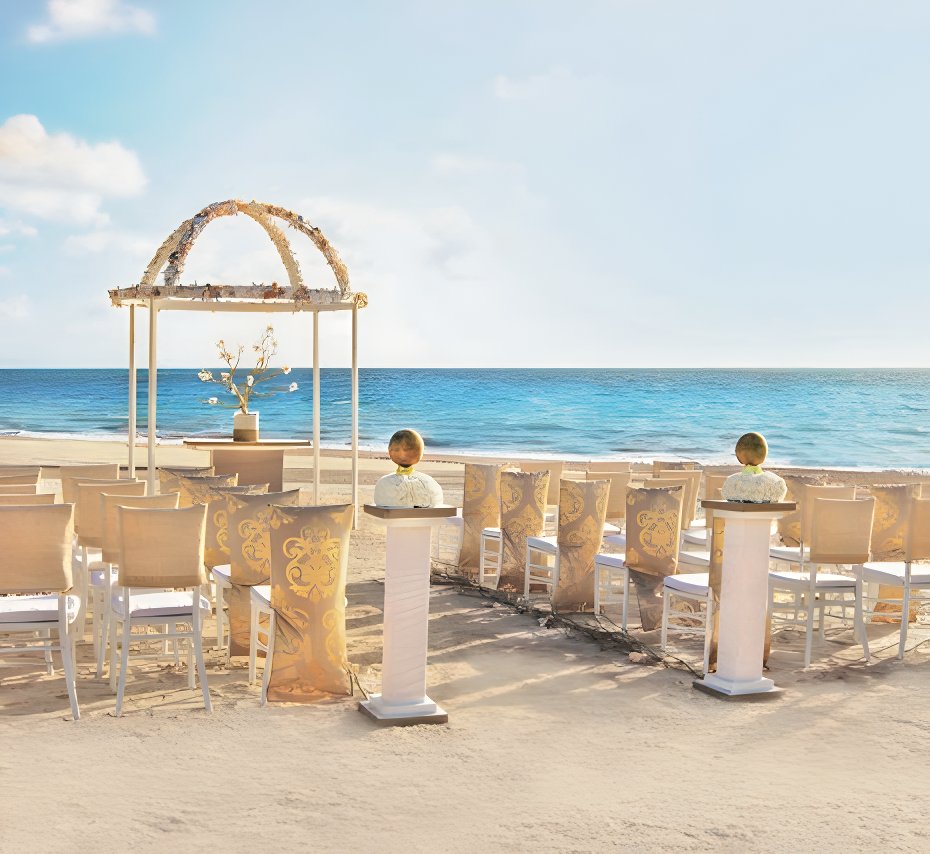 Hard Rock Vallarta
The Hard Rock hotels are designed for your inner rockstar, and the one in Puerto Vallarta will transport you and your wedding guests straight to paradise. Located in one of the most private areas of the city, you will have access to pools and oceans that don't share as much foot traffic as others. Your guests will love all of the amenities, and delicious a-la-carte restaurants on offer.
For your wedding, you can have either the beach venue, which has unlimited capacity, or the Wedding Gazebo, which holds 50 guests. You will have access to decorations, a two-tier wedding cake, a complimentary honeymoon package, sparkling wine, an event consultant, flowers, and a white hanging ceremony podium.
Recommended Resort: Barcelo Puerto Vallarta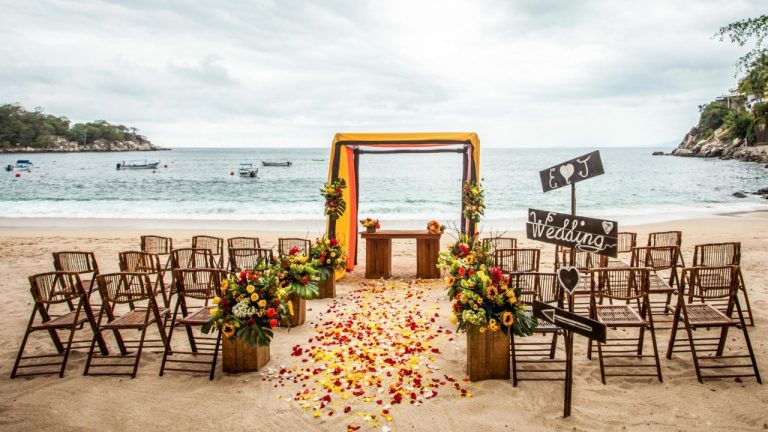 Barcelo Puerto Vallarta
Located on the Mismaloya beach, the tropical feeling of Barcelo Puerto Vallarta is one that cannot be replicated. The Mexican-inspired hotel reminds people that they are abroad and can relax and have fun. With something for everyone, it is hard to find a better option that is this budget-friendly.
For your stay, you'll get a massage session, open bar, live music, and more if you meet certain room and night requirements. For the ceremony, you'll get breakfast in bed the day after the wedding, special room amenities, a wedding cake, flowers, dinner, decor, and a sparkling wine toast. There are three wedding venue options:‌Los Acros, the beach, and La Placita (100 guests). Even better – this resort typically only holds one wedding per day.
Los Cabos, Mexico Weddings
Los Cabos weddings are insanely popular thanks to El Arco, a rock formation that makes for unique photos. Wedding guests should note that many of the beaches are not swimmable here:‌ there are very strong currents that make going into the ocean difficult. Still, for those who enjoy just walking along the surf and sitting on the beach, it is perfect.
Still, if you are going to be on the beach, you want to choose the perfect location. Here are our top picks:
Recommended Resort: Grand Velas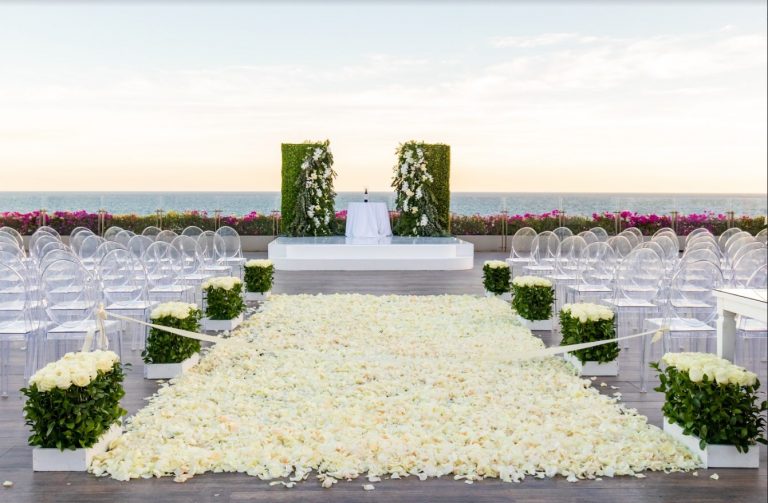 Grand Velas Los Cabos
Widely regarded as one of the most luxurious locations in all of Mexico, the Grand Velas has some of the most beautiful rooms in all of Los Cabos. The resort staff here does everything that they can to make this a perfect option for every type of wedding party.
Every wedding package is tailored to your needs. You'll get massages, dinners, photography, cakes, a wedding toast, flowers, and private transportation as you need it. Choose from the Terraza del Mar, which holds 800 guests, the Azul beach or Azul garden, which holds 200 each, or the Velas 10 Beach, which holds 120 guests. Your wedding will be the only one held that day – making it that much more special.
Recommended Resort: Casa del Mar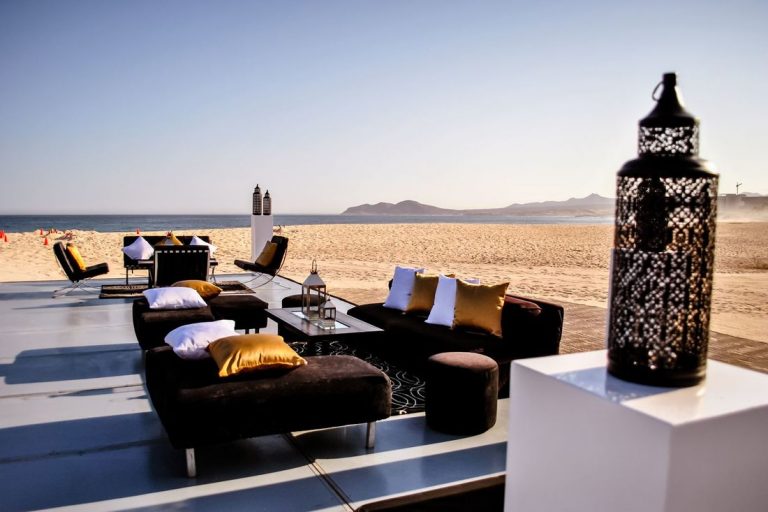 Casa del Mar
If you are looking for a more boutique experience, the San Jose del Cabo beach hotel Casa del Mar is one of the best choices that you can make. Decorated with fountains, trees, and flowers, there are many beautiful locations to take in. For those who love water, there are quite a few pool options and of course the luxurious, Los Cabos beach.
There are some great perks and add-ons for your Mexico wedding package. Get the most beautiful flowers you have ever seen, draping, a solo violinist, furniture, a massage, tiki torches, a DJ, photographer, one-hour open bar, appetizers, buffet, and a wedding cake. There is only one wedding per day and same-sex marriages are welcomed here. Choose from great wedding venues like the beach club or one of the elegant terraces.
Huatulco, Mexico Weddings
Huatulco isn't the most well known Mexican wedding destination, but it is perfect for those that want a smaller, more tranquil wedding. There are many natural elements here that make it a reprieve from the cities. There are untouched beaches, preserves, and rivers as well. This destination is a bit harder to get to than some of the other Mexican wedding destinations, but the journey is well worth it.
Recommended Resort: Dreams Huatulco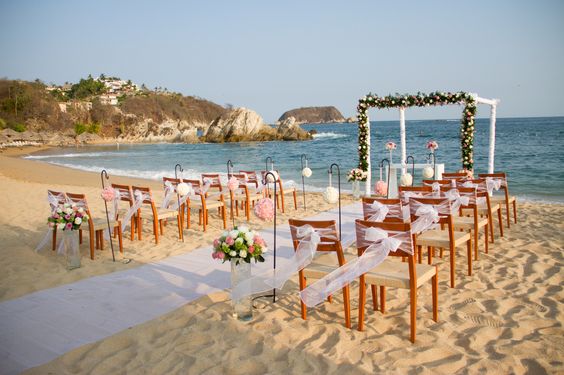 Dreams Huatulco
Set amongst the mountain and jungle, Dreams Huatulco is perfect for those that love to explore and be surrounded by nature. There are nearby coral reefs, adventures, and plenty of local cultures to keep you busy throughout your wedding.
For your wedding, expect flowers, wedding attire prep, a wedding cake, spa discounts, a sparkling wine toast, and free anniversary nights. Choose from three venue options:‌ the Rendezvous Terrace (100 guests), the beach (100 guests), or the Gazebo (50 guests). To make your wedding even more special, they only host one wedding per day and only up to five per week.
Recommended Resort: Secrets Huatulco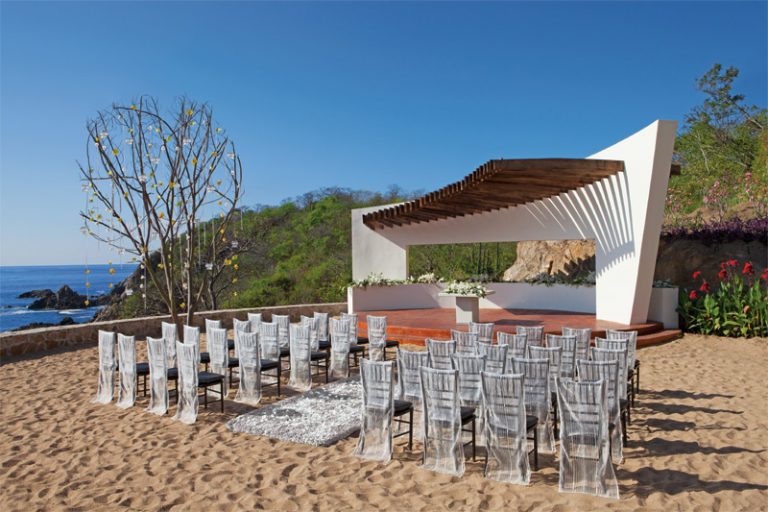 Secrets Huatulco
Located on the golden sands along Conejos Bay, this adults-only location is perfect for those who want luxury. There is nightly entertainment, great dining, and activities all day long. You can adventure outside of the resort or stay in it – you make the call.
For your wedding, except sparkling wine, attire prep, turndown services, flowers, spa discounts, and a wedding cake. Choose from the beach (200 guests), the garden (100 guests), the gazebo (80 guest max) or the Sugar Reef Terrace for your venue.
Want to see all that Mexico has to offer? Click the button below to learn more about Mexico destination weddings and our resorts: