The beautiful portfolio of Karisma resorts spread far and wide across the Caribbean and Mexico, along some of the most stunning beaches in the world. With Karisma, you can find the perfect backdrop for your destination wedding, at altars on the beach, gazebos with ocean views, or even along piers that extend across the waters. Memorable Moments by Karisma Weddings promises an unforgettable journey, from start to finish, so you can say "I do" seaside, without the stress of planning.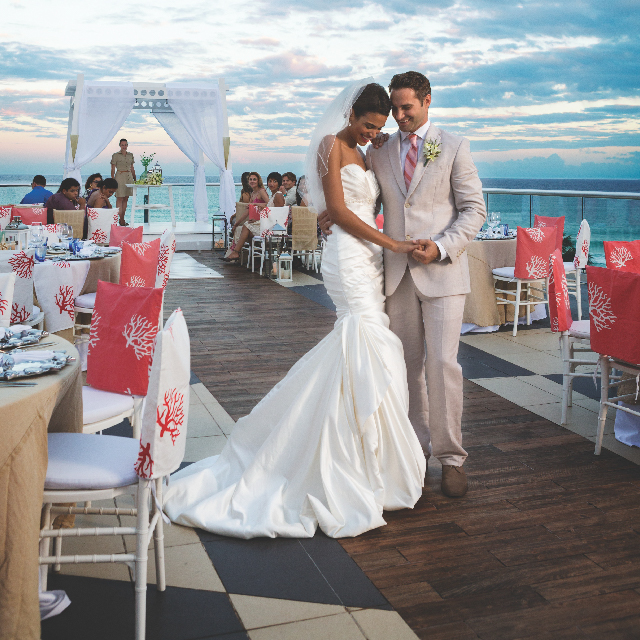 A sky wedding at The Fives AZUL Beach Resort
The Gourmet Inclusive Experience
Hosting a wedding with Karisma means your guests will be totally immersed in the experience. Luxury details are standard, lavish accommodations are readily available, and everything else is included too; like gourmet cuisine and top-notch service. The Gourmet Inclusive experience allows your ceremony to be surrounded by beauty, with scenery that reflects how you'll feel inside.
The venue options are endlessly serene, from chic rooftops to secluded beaches. Whichever setting you picture yourself in, Karisma can make it happen. You're in the capable hands of experts too, as each Karisma wedding receives their own Signature Wedding Designer, who can walk you through the limitless options, and navigate you towards helpful planning tools to make your big day perfect.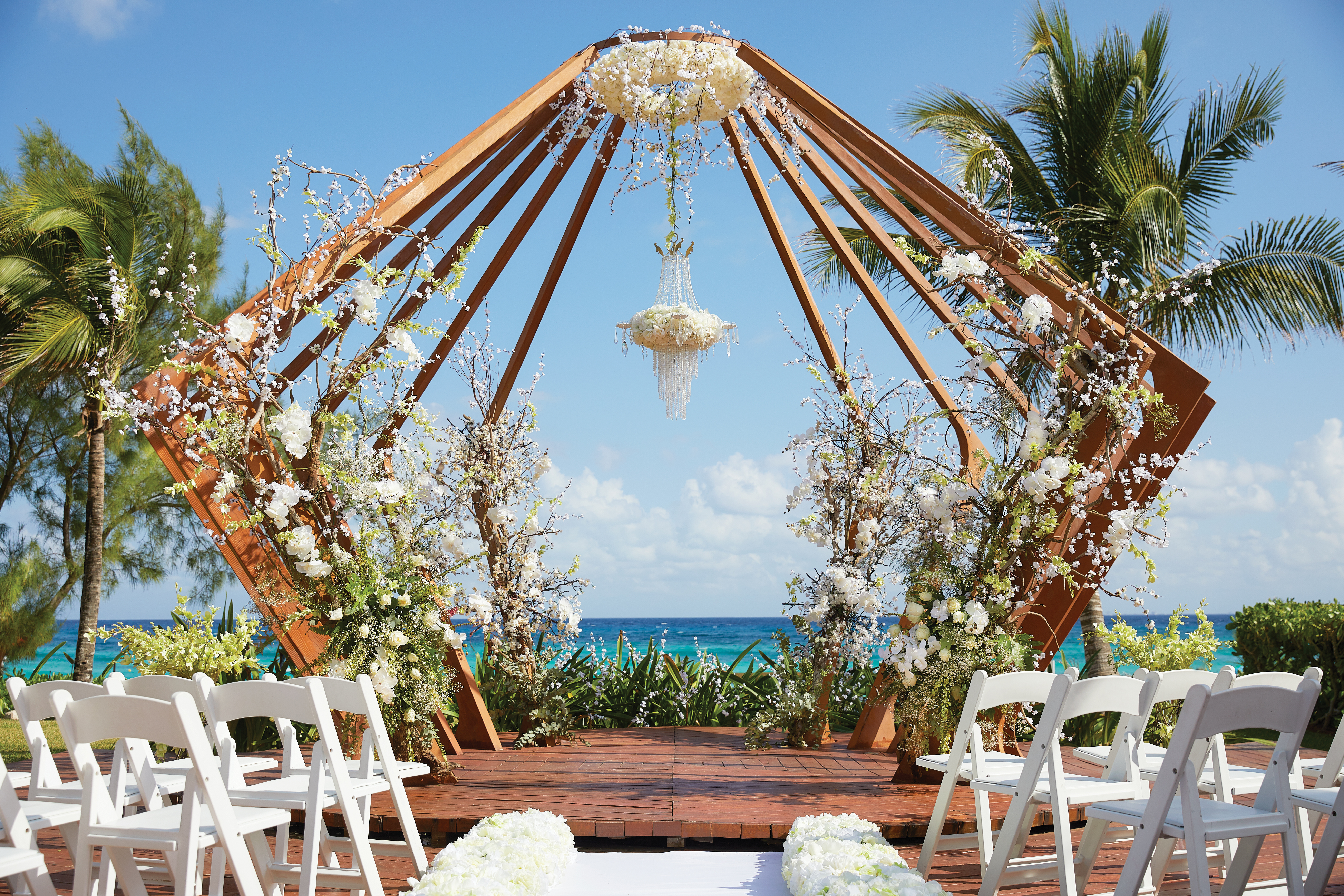 An oceanfront gazebo at The Fives AZUL Beach
Wedding Packages and Decor Options
Wedding couples will be able to find a wedding package that fits seamlessly with their vision. There are an endless amount of inclusions to explore. The Always and Forever package extends beyond your basic wedding ceremony package, including a romantic location, ceremony decor, a groom's room for attire preparation (and delicious food) and even a semi-private dinner reservation at one of Karisma's many stylish gourmet restaurants. There are many other packages to choose from too, of course.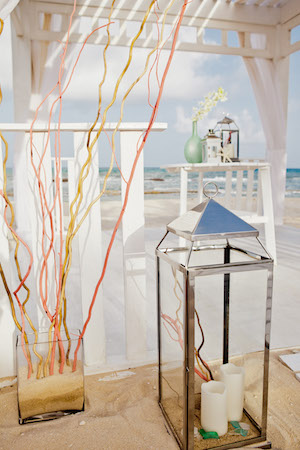 Accessories from the Coastal Bliss Collection
Choose from collections that inspire you, and each collection can be customized to reflect your style. The Coastal Bliss collection offers contemporary beachside decor, and the Sophisticated Soiree presents cosmopolitan chicness by the sea. From the old Hollywood allure of the Pure Glamour collection to the regal and vibrancy of the Majestic Flair, there's sure to be a color scheme and design option that fits you.
It's your day, your way. With Karisma's Signature Accents you'll have everything needed, and much more. If you can dream it they can do it, from customized signs to personalized table settings, wedding lounges, and chef-inspired menus. The floral options are extravagant, and you can draw from local inspiration or choose any sort of elegant bouquet or centerpiece that will go perfectly with your wedding.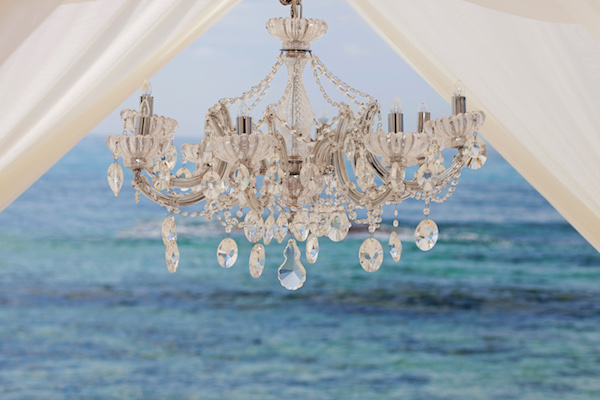 A chandelier from the Pure Glamour Collection
The Party Don't Stop
Pull out all the stops, and then some, for your reception. With Gourmet Inclusive options you can expect the absolute best in chef created food for your reception. Choose between delectable menus, like BBQs, Asian sushi platters, churro stations, or 4-course plated meals using classic dishes guests will never forget. Choose from open bars, wine pairings, champagne toasts, or even create your own signature cocktails as a couple.
Utilize unique entertainment options that will leave your guests in awe. Full DJs and light up dancefloors are available, and so are live musical acts like steel drummers and classically trained cellists. Offer unique entertainers that you won't be able to find stateside, like fire performers, cigar rollers, or even a transfixing water drums show.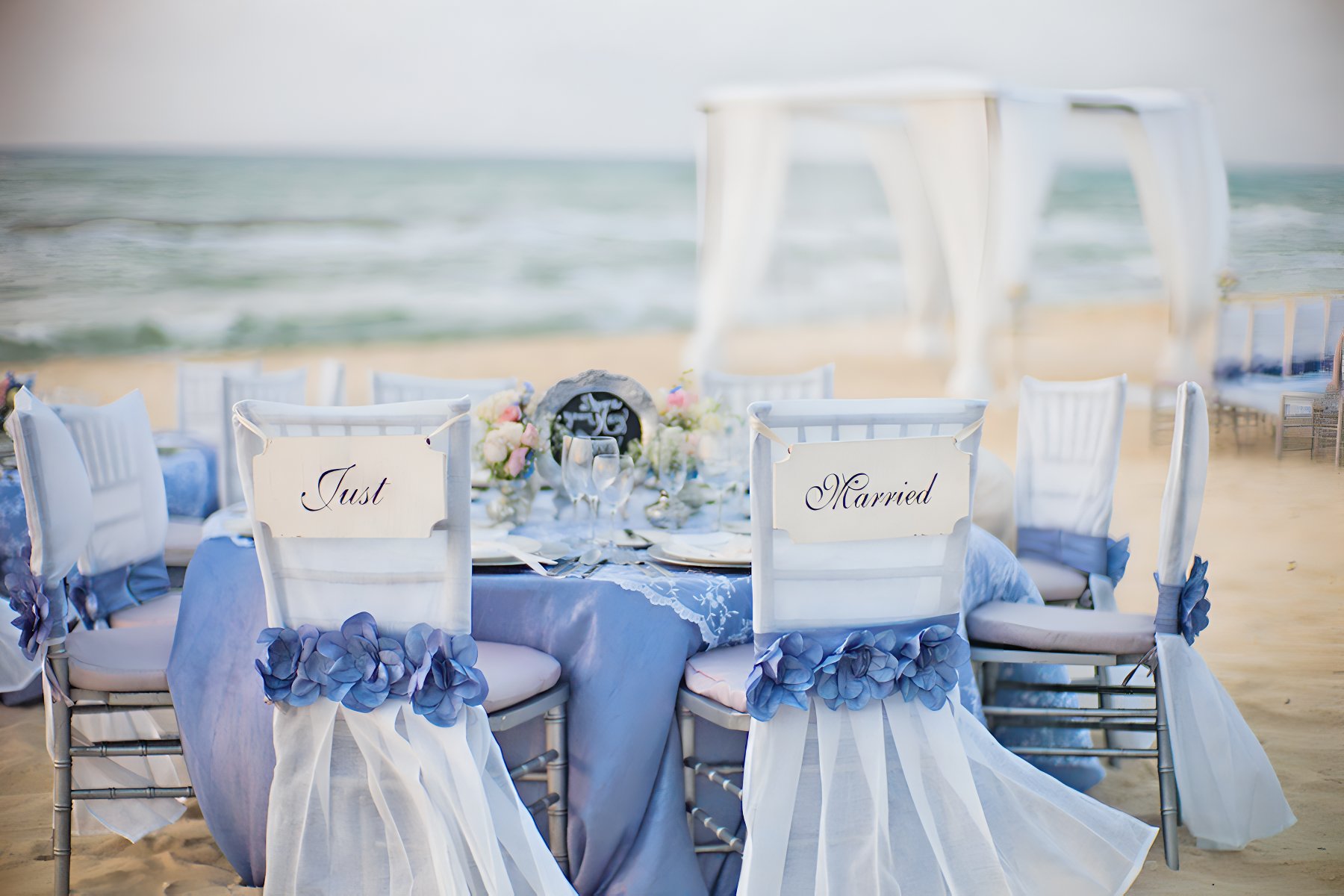 An example reception setup on the beach.
Ready to Create Your Memories?
The Karisma wedding departments are ready to walk you through every step of the way. And the Memorable Moments wedding website is even equipped with all the inspiration you'll need, from real weddings and real moments to mood boards and wedding planning advice from the pros.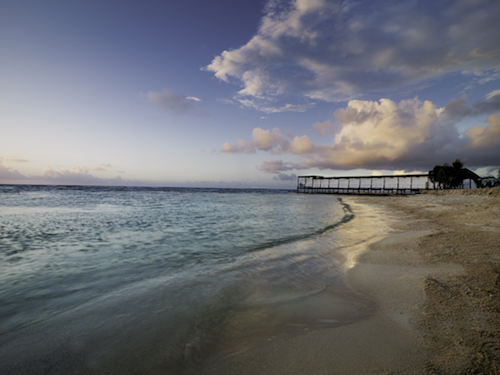 The pier at El Dorado Seaside Suites
Contact one of our agents today, so we can provide you with more information on Karisma's amazing portfolio of Gourmet Inclusive resorts!