Today on the blog we're featuring Destify Couple, Jacqueline and Troy, and their gorgeous wedding at Dreams Playa Mujeres all-inclusive resort in Mexico. The couple wed on February 20th, 2019 at the beautiful resort near Cancun. Follow the post below to learn more about Jacqueline and Troy's destination wedding, and more information about the resort and about their love story as a couple.
Jacqueline was a single mother, and both her and Troy were in their 40s and had never married earlier in life. They had met years prior when the time wasn't right to be together, but fate would bring them together again between flights, 7 years later in Boise. After some time dating, Troy proposed during a Venetian gondola ride during a trip to the Pacific Northwest, where he's from.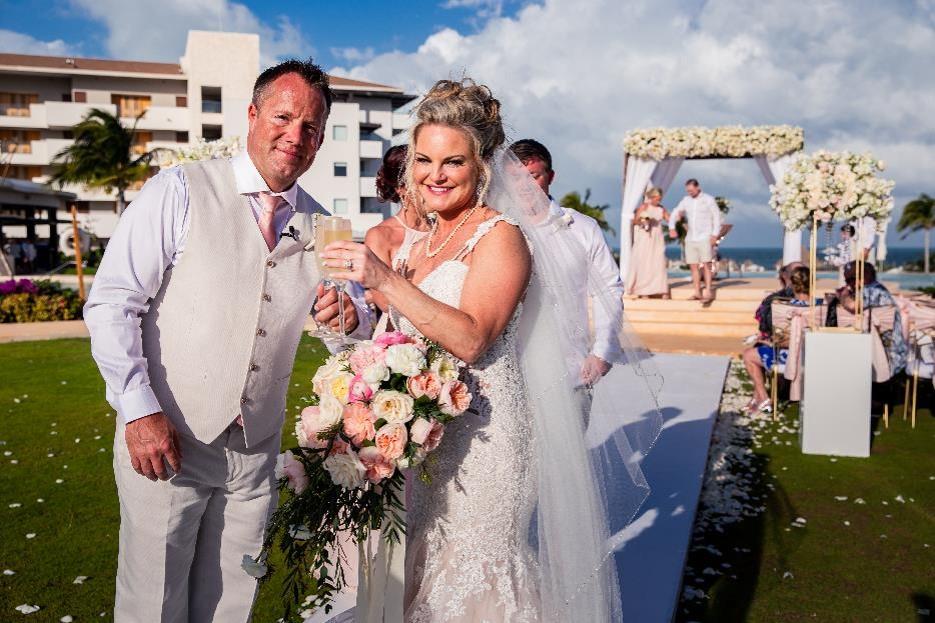 The couple chose the Dreams Playa Mujeres resort for their destination wedding. They liked that it featured adults-only areas but was still family-friendly for her child. The resort is located in a private gated community, features a waterpark and lazy river, includes the French L'Etoile adults-only restaurant, and is near the famous Playa Mujeres Golf Course. The Dreams' wedding department is equipped to help you design the destination wedding of your dreams.
One of Jacqueline's favorite moments from the trip was the long pathway that started from a grand staircase, leading to her wedding ceremony. Her father walked her down the aisle, and she said, "It was one of the most memorable moments, I couldn't have ever imagined such an elegant walk in." A monsoon nearly threatened to ruin their reception, but they took cover to finish their formal dinner, while the staff worked overtime getting the decor dried and fixed for after the shower. The reception continued with music, and live entertainment from fire dancers and water drummers.
To catch the full interview, and to see more of their photos, follow the link below: