Cancun is famous for its lively Hotel Zone and vibrant nightlife, which makes it a wonderful destination wedding location for couples looking to party the night away with their guests. The urban scene includes cutting-edge resorts with unique wedding options, but you can still find quiet getaways with tropical palms and sunny beachfronts. With a variety of atmospheres to choose from, here are our picks for the 5 best Cancun resorts for destination weddings.
Hard Rock Cancun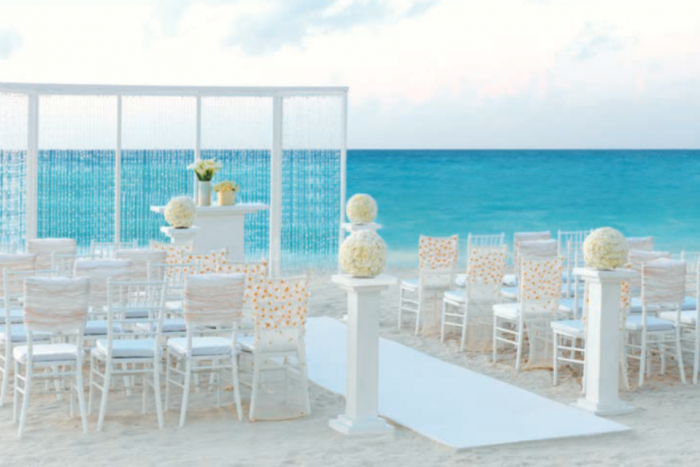 Hard Rock Cancun
The stylish
Hard Rock Cancun
is perfect for couples looking for a little something different. While exquisite luxury suites and a convenient beachfront location are certainly a big draw, what makes this resort one of the best Cancun resorts for destination weddings is its modern design and rockstar theme that appeals to kids and adults alike. Couples will love the exclusive adults-only Rock Royalty upgrade, which comes with a personal assistant, and the available wedding decor options are truly amazing. One of this resort's unique features is the Sound of Your Stay Experience, a collection of rock-oriented activities perfect for wedding groups, including jam sessions with rented Fender guitars and immersive vinyl listening parties.
Beloved Playa Mujeres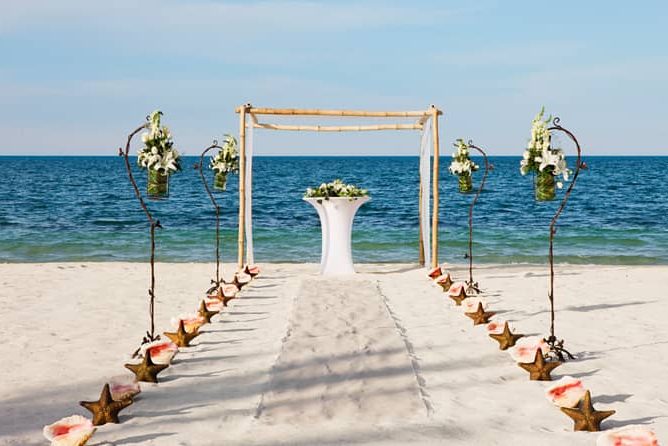 Beloved Playa Mujeres
A stay at the
Beloved Playa Mujeres
promises stunning views in a secluded, adults-only paradise. With its contemporary design and attractive grounds, you'll find plenty of spots to take romantic wedding photos. Despite the resort's small size, the rooms and suites are spacious and luxurious, and there are a variety of categories offering extras such as swim-ups and private pools or gardens. The indulgent spa services for couples at this resort are a must-try, and, to top it all off, the beach venue for wedding ceremonies is sensational. For modern design lovers, who want to incorporate style into their destination wedding, this is one of our best Cancun resorts.
Mystique Blue Holbox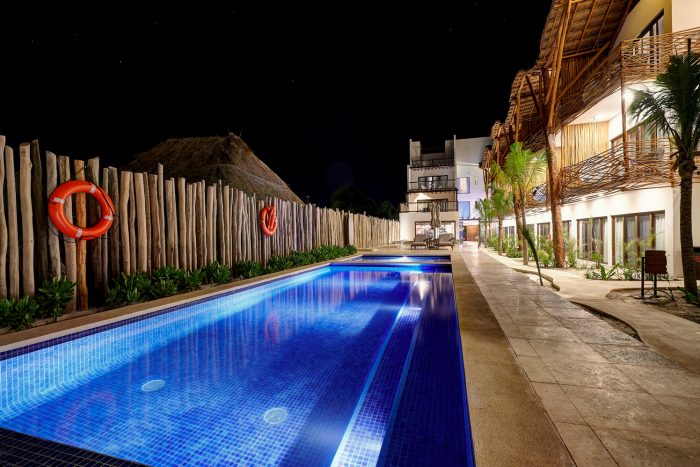 Mystique Blue Holbox
If you're looking for a real getaway, you can't get much more secluded than a destination wedding at a boutique resort on a private section of Holbox island. The Mystique Blue Holbox defines personalized attention, offering custom wedding packages that allow the couple to create their own unique ceremony and reception. Minimalist decor allows the natural landscape to shine, while comfortable suites are equipped to accommodate couples and families alike. Keep an eye out for local wildlife, and enjoy every moment of this uplifting experience.
Reflect Grand Cancun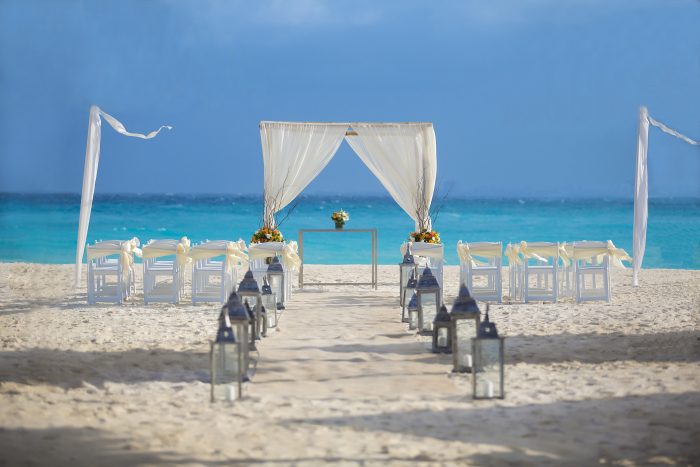 Krystal Grand Cancun
The
Krystal Grand Cancun
makes the most of its central location. Comprised of two exquisitely modern towers, this Cancun resort invites you to enjoy its chic bars and contemporary, urban vibe for your destination wedding. One of the towers is family-friendly, while the other contains the luxury suites and private lounge of the adults-only Altitude Club. Weddings at the Reflect Krystal Grand Cancun are luxury affairs; even the entry-level packages provide the couple with royal treatment, such as chocolate-covered strawberries, sparkling wine, and spa discounts. Whether you choose to keep it simple or go all out, this resort has everything you need to make your wedding day extra special.
Grand Fiesta Americana Coral Beach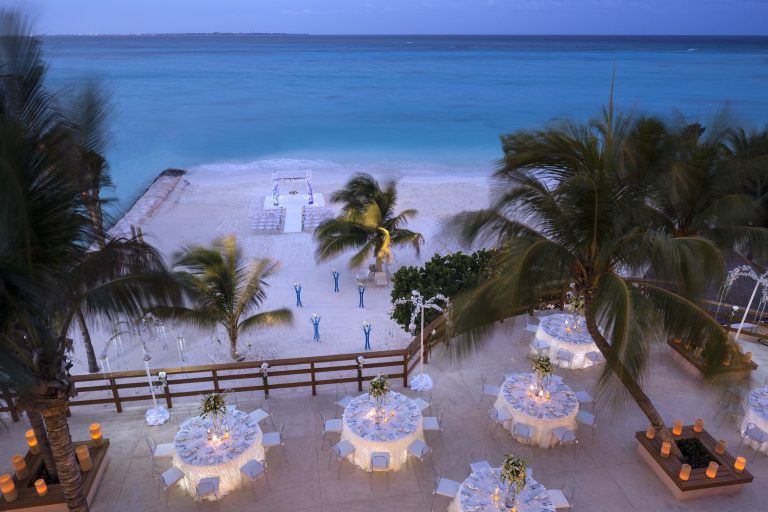 Grand Fiesta Americana Coral Beach
Overlooking a spectacular white sand beach, the Grand Fiesta Americana Coral Beach promises you and your wedding guests endless entertainment throughout your stay. There are plenty of opportunities to explore local coral reefs and immerse yourself in Mayan culture. A unique dining experience awaits you at La Joya: The Table, with an 8-course dinner that takes you through a historical culinary journey of the Yucatan Peninsula, perfect as a group activity to enjoy with your wedding party. Couples will enjoy the ease of planning a wedding at this resort, from the generous package inclusions to the aid of romance experts who are ready to accommodate a wide variety of religious beliefs and special requests.
Want to see more of the best Cancun resorts for destination weddings? Click the button below to learn more.