Recent studies have confirmed the popularity of Los Cabos travels for American travelers in February.
Los Cabos has become one of the top 3 locations for international travel and destination weddings!
Beach-seeking travelers flock to Los Cabos' sunny beaches and those in Puerto Vallarta and Cancun for a much-needed relaxing getaway. It has been reported that the most popular dates for vacations to this destination are between February 2nd and 13th. This means that many lovebirds are flying south for the winter and spending their Valentine's Day in Los Cabos!
However, Valentine's Day is one of many reasons February is a popular month for tourists. Many tourists book Los Cabos travel in February as a  chance to spend a week or two in the sun during the coldest months!
February offers a unique opportunity for those visiting the Mexican destination of Los Cabos. 
While peak season typically sees increased visitors from November through January, those who stay in February will find fewer crowds and (relatively) lower prices than at other points during the high season. Whale-watching trips are still popular until April, though reservations should always be made early to avoid high costs! 
Valentine's Day, Christmas, and Independence Day are huge draws for tourists when it comes to visiting Los Cabos. So booking flights and accommodations well in advance is highly recommended for potential travelers if they want to partake in any of these occasions. Finally, we can expect hotels to reach a nearly 70% occupancy rate over Spring Break – time to plan your trip!
Though the cost of a room in Los Cabos could, for some, be considered prohibitive, there are still ways to save on vacation expenses. Packaged deals, booking off-season dates, or selecting a hotel outside the central tourist zone can all yield savings. Additionally, tourists exploring away from national holidays might find slightly reduced rates on tour operators' services.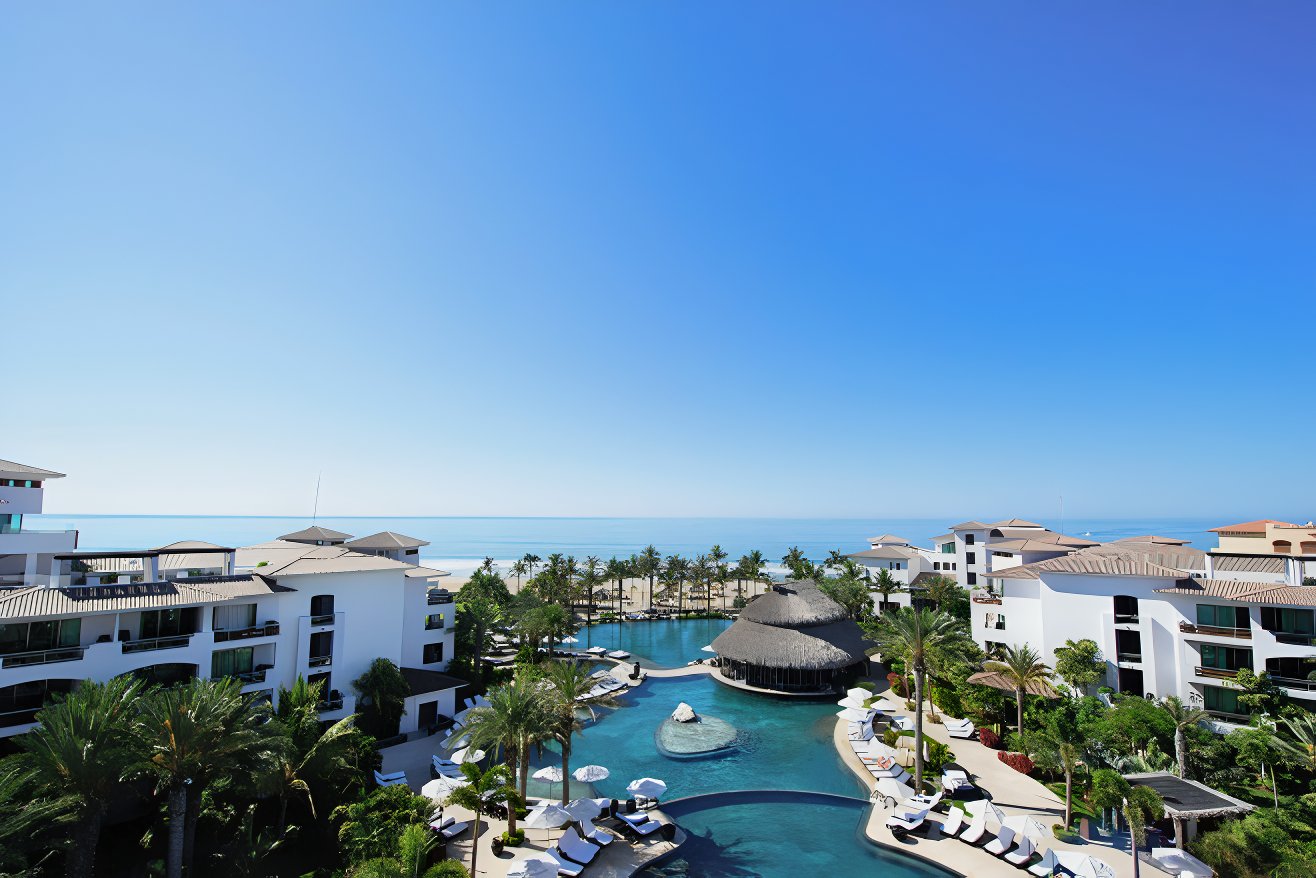 Before visiting any area of Los Cabos, it's crucial to consider the differences between Cabo San Lucas, San Jose del Cabo, and the residential tourist corridor concerning hotels, restaurants, and activities available. However, no matter which area you choose to stay in, all three locations are easy to access from one another – expanding travelers' opportunities further.
Forecasts for the end of 2023 are increasingly positive, and officials in Los Cabos expect a record-breaking year with an increase of travel at least 15% compared to 2022. Both air and cruise visitors drive this boom; over one hundred ships have been scheduled to arrive in the region this year.
Los Cabos authorities are reportedly transitioning away from mass tourism, instead focusing on premium offerings and high-end experiences. For example, Cabo San Lucas is now well-known for its luxurious spa options and outdoor activities such as yoga, surfing, hiking, and fitness retreats. With this shift in market focus, Los Cabos stands to become a premier destination for travelers seeking wellness holidays, as well as those seeking out a destination wedding under the sun!
Lovely Los Cabos Resorts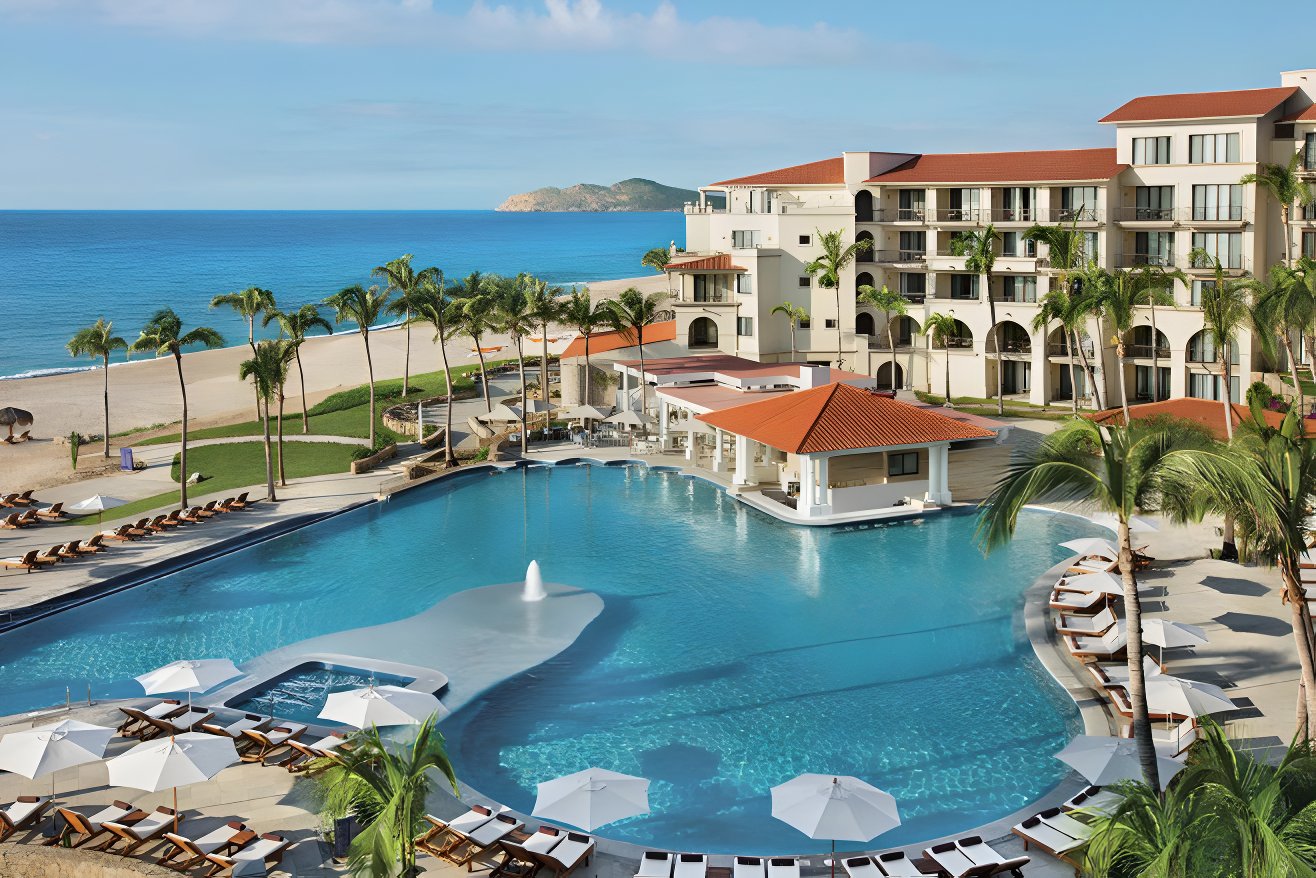 Dreams Los Cabos is a luxury beachfront resort situated on the southern tip of Mexico's Baja California peninsula in Cabo San Lucas. The resort features stunning views of the Sea of Cortez and the famous El Arco landmark.
The resort boasts 308 elegantly appointed suites, each featuring a private balcony or terrace with views of the ocean, garden, or pool. The rooms have modern amenities such as air conditioning, flat-screen TVs, Wi-Fi, and minibars.
Guests can indulge in various dining options at the resort's six gourmet restaurants, including international cuisine, Mexican specialties, and seafood. The resort also has several bars and lounges where guests can enjoy drinks and cocktails.
The resort offers a variety of activities and entertainment options, including a full-service spa, fitness center, and multiple swimming pools, including an infinity pool and a children's pool. Guests can also participate in daily activities such as yoga, beach volleyball, and dance lessons or enjoy water sports such as kayaking, snorkeling, and windsurfing.
Dreams Los Cabos also features a dedicated children's club with supervised activities and a teen club with video games, music, and sports. The resort also offers wedding and event services, with multiple indoor and outdoor venues.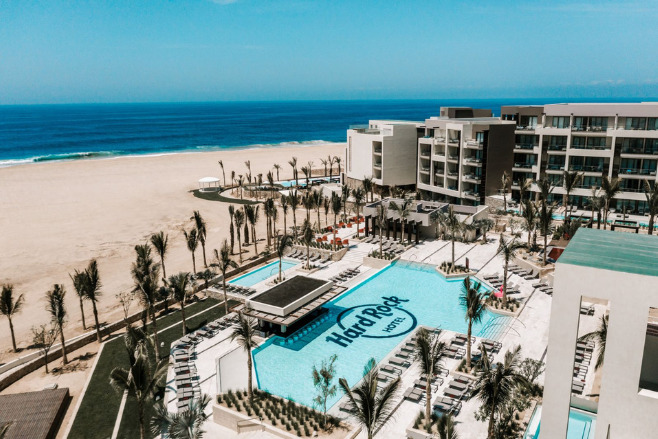 Hard Rock Los Cabos is a luxury resort situated on the southern tip of the Baja California peninsula in Mexico, overlooking the stunning Pacific Ocean. The resort offers a unique combination of rock and roll vibes and the beauty of the natural surroundings.
The resort features 639 guest rooms and suites, all elegantly decorated with modern furnishings and state-of-the-art amenities, such as flat-screen TVs, complimentary Wi-Fi, and premium bedding. Guests can choose from various room types, including luxe suites, oceanfront rooms, and suites, each with distinct styles and amenities.
Hard Rock Los Cabos boasts a wide range of dining options, from casual cafes to classy, upscale gourmet restaurants, all serving a diverse range of international cuisine. The resort also features several bars and lounges, including a rooftop bar with panoramic ocean views.
For those looking to relax and unwind, the resort offers a full-service spa with a hydrotherapy circuit, steam room, sauna, and a range of therapeutic treatments. There are also several outdoor swimming pools, including an infinity pool, a family pool, and a private beach.
For those looking for entertainment, Hard Rock Los Cabos offers a variety of activities, including live music performances, beach parties, and water sports, such as paddleboarding and kayaking. The resort also features a fitness center, tennis courts, and a kids' club, making it a great destination for families, couples, and solo travelers.