The window for United States' First Responders to enter for 1 of 2 trips has ended, and today we'll be reaching out to our randomly selected winners. Together with La Coleccion Resorts, we're giving away a 3-night stay at either the gorgeous Grand Fiesta Americana Puerto Vallarta resort on Mexico's Pacific Coast, or to the Fiesta Americana Condesa Cancun resort in the Mexico-Caribbean.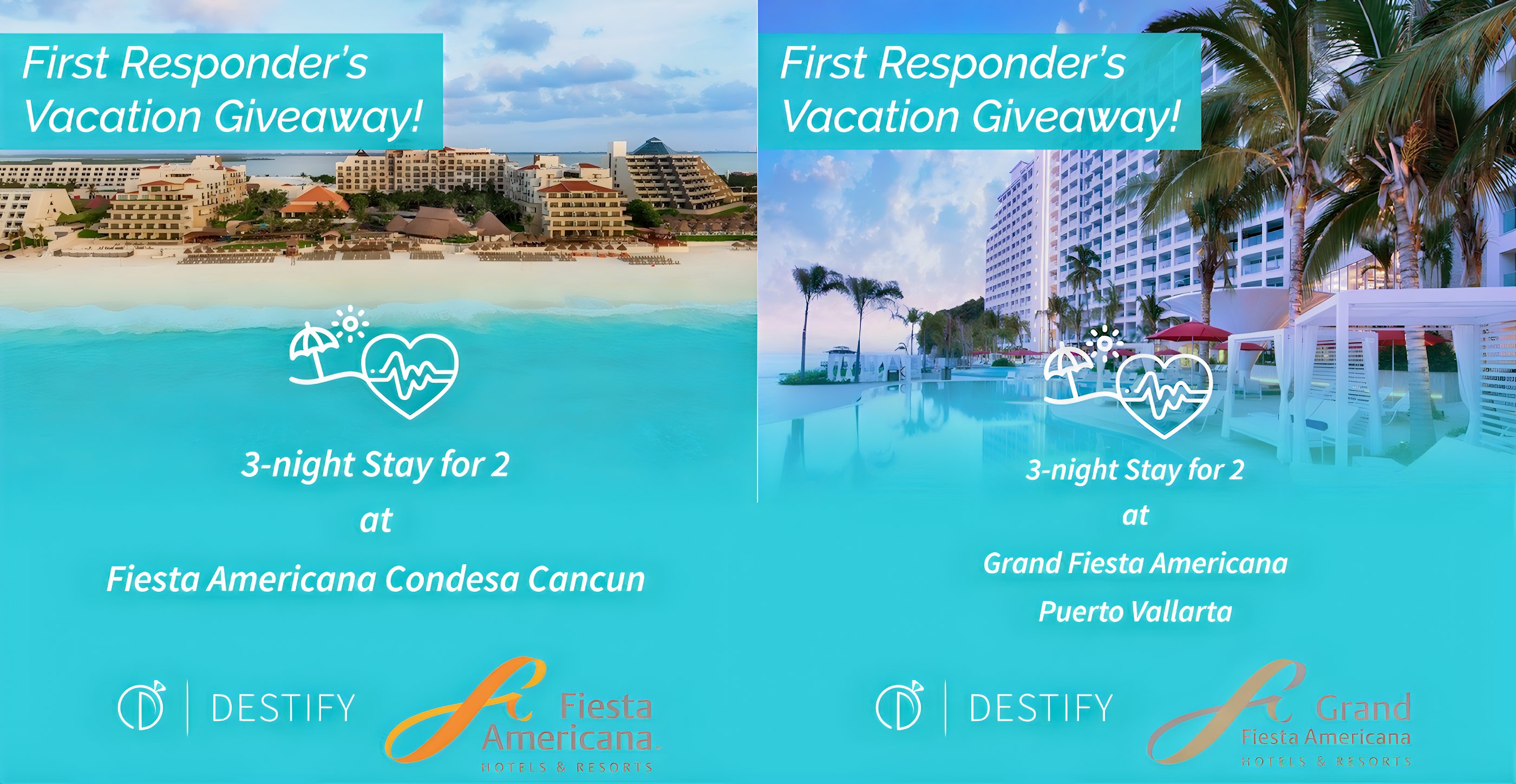 To enter, our first responders had to share what it's been like working in fields or communities directly affected by COVID-19. After determining that every entry is valid, we'll then draw the winning names from the selected pool of qualified submissions.
These are some of the most heartfelt quotes we've read so far:
"I was growing a human in my body while caring for others. My hands touched and cared for the sick. It held those passing from the virus and it held those who survived it. I was scared of getting COVID as some of the nurses that worked in my hospital did get and I taking care of them. But the questions I always get, why? The answer is simple, I am not only a nurse by profession, but it is also who I am. I am a nurse, a wife, and a mother. "
"I immediately felt called to help. I quit my job and within days I had left my family and farm behind and flew to New York to help. I was there for four months, during which I saw nursing as I have never seen before. I tested positive for COVID within two weeks of my arrival and almost four months later I'm still dealing with side effects."
"Caring for these patients is difficult due to their severe lung condition. Also, family members cannot come and visit so it is an emotional rollercoaster for everyone involved. We ZOOM or FaceTime families so they can at least see their intubated loved ones and sometimes say goodbye. This is a really tough time but I'm thankful I can contribute and care for these patients."
"Work during the COVID-19 pandemic is hectic.. from constantly changing protocols and regulations from the CDC and the hospital command center, while trying to protect ourselves and our patients while at the same time making parents and families feel both cared for and confident. It has been a taxing environment mentally and physically."
"I am an RN on the COVID unit at a hospital in downtown Dallas where we have been hit HARD. We have been fighting since March and continue to stand strong even when I feel defeated. I am also the swab squad leader at my hospital, we are a very large hospital and I go around to all the COVID units to test the patients for coronavirus. I have been exposed to the max but I continue to serve faithfully. I live with my parents and brother so I have been living out of a hotel room to minimize exposure to them. I have sacrificed a lot of time away from my loved ones, friends, and family and it has been super hard and emotional. "
"I started work just as my unit was converted to the designated Covid19 unit. I have worked through ever-changing rules, policies, and procedures. My coworkers and I have taken care of many positive patients and many patients waiting to find out their results. It has been an ever-changing situation with few answers for staff or patients. Often times, patients only had the same few staff caring for them for days, being their only real contact. It has been both a terrifying and incredibly fulfilling time to begin the next chapter of my nursing career."
Throughout each giveaway, it has become such a humbling process to read the stories of those helping out our country the most during this pandemic.
We're not done yet, please stay tuned as we announce our winners and reveal our next giveaway soon!
——
La Coleccion Resorts by Posadas hotel group features a number of properties in Mexico and now Punta Cana of the Dominican Republic. Guests can expect luxury stays at either adults-only or family-friendly properties, on some of the most beautiful beaches in the world. You can see more of the La Coleccion resorts in our preferred partner section here.