All-inclusive wedding packages are all the rage!
We've sent thousands of clients to gorgeous destination weddings, where their every want and need is provided for.
But maybe you've got a few questions. What are destination wedding packages? What's included, and what isn't?
We've got the skinny on the tremendous perks of all-inclusive Jamaica wedding packages!
What is an All-Inclusive Wedding Package and What's Included?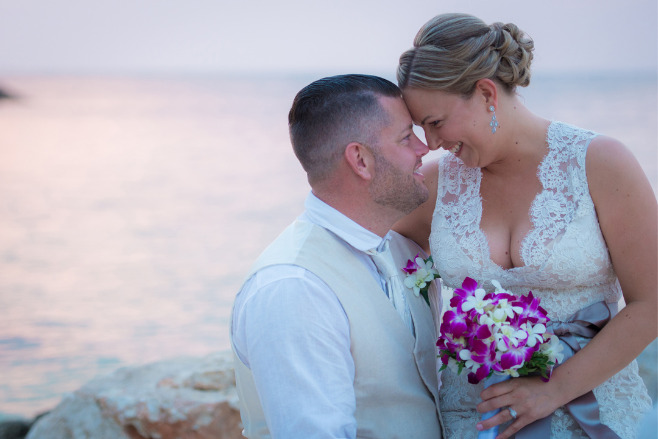 All-inclusive Jamaica wedding packages tie together everything you need for a destination wedding in one easy, convenient price.
A destination wedding package saves you hours you'd have spent making calls, sending emails, and comparing prices of photographers, venue spaces, caterers, floral arrangement companies, and several other services you need for your dream wedding.
With weddings in Jamaica, the costs a couple will pay are broken down into three simple categories instead of a dozen: airplane tickets, an all-inclusive suite, and the wedding package.
From there, guests will pay for their transportation and lodgings.
Wedding packages typically include the following major categories!
Wedding Planner and Coordinator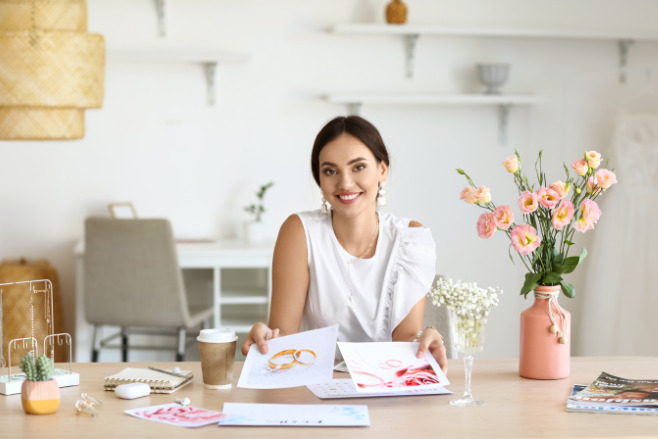 Most basic wedding packages will come with an onsite wedding planner and coordinator.
Once you've selected your all-inclusive resort, your wedding planner will work with you to finalize your wedding package selection and any additional add-ons you'd like to select. They work high level, helping you decide on color schemes and design aspects of your ceremony setup and reception.
Your wedding coordinator will ensure tactical concerns are handled, such as vendor deliveries, venue setup, and much more.
Furniture and Decor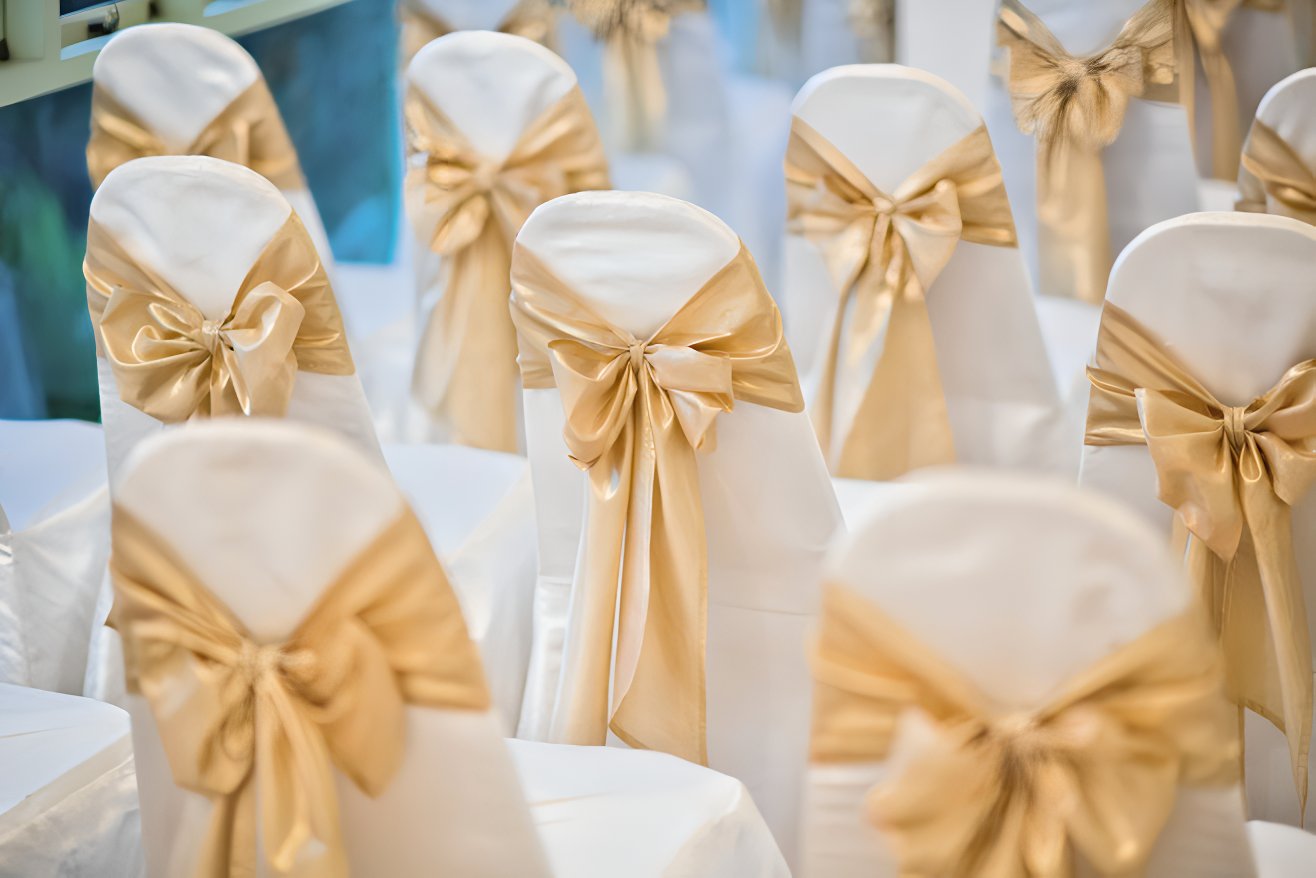 All-inclusive wedding packages provide basic furniture set up for your ceremony and reception.
This varies package by package, but typically includes chairs, tables, linens, and stylish decor accents.
Food and Alcohol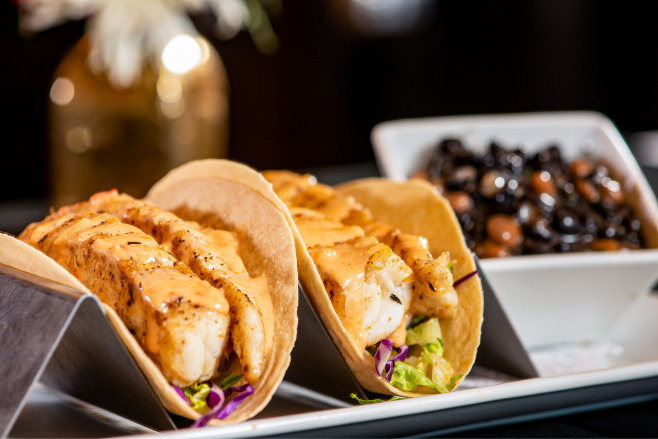 All-inclusive resorts are home to numerous gourmet restaurants and bars, so you can rest assured that you and your guests will be well-fed.
Restaurants vary resort property by property, and some packages will come with higher-tiered, premium food choices, like a nacho bar or a chocolate fountain.
Your package will also determine the quality of alcohol provided for you and your wedding party.
Typically, lower-priced packages will come with beer and wine, while premium packages will come with open bars and custom cocktails.
Work with your resort's wedding planner to determine the wedding package and food/drink packages appropriate for you and your guest list!
Are All-Inclusive Packages in Jamaica Expensive?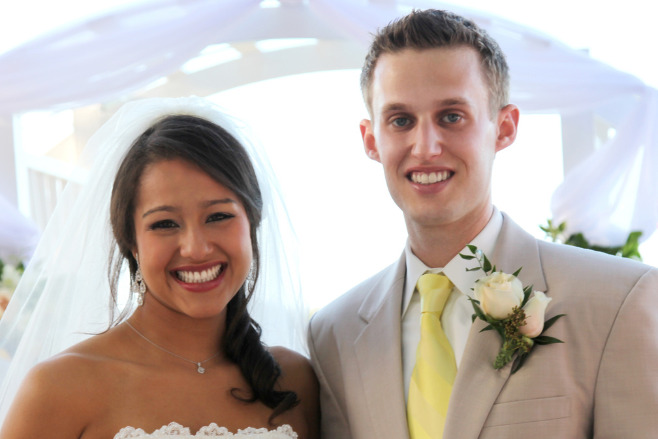 A destination wedding usually costs less than one held within the United States!
Depending on the number of amenities and extras that you choose, a destination wedding typically costs between $5,000 and $10,000.
A 2021 study found that the average cost of a wedding in the US is $28,000.
And that 2021 data did not include a honeymoon in the final cost of a US-based wedding.
One of the many benefits of a destination wedding is that it bundles a wedding in a tropical location with an intimate honeymoon and an unforgettable vacation.
What's Not Included in a Jamaica Wedding Package?
Wedding Photographer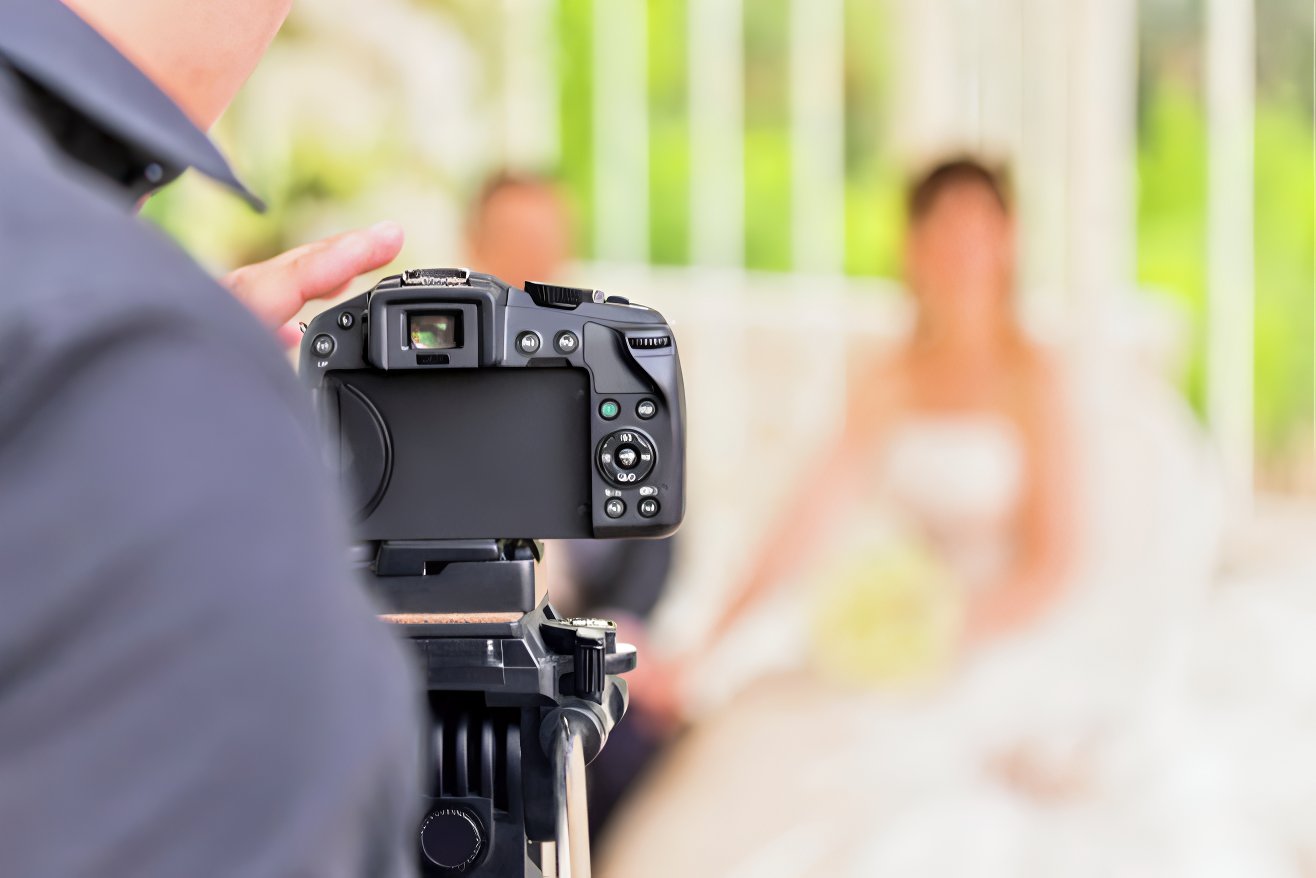 Your all-inclusive Jamaica wedding package doesn't usually include a specialized photographer.
Some packages include a certain amount of images, such as 10-30 pictures, although the majority of packages charge extra for a photographer.
Majestic Elegance Costa Mujeres, for instance, charges $600 for photographic vendor fees.
Although a professional photographer may not be a "must" for every couple, Destify and your on-site wedding planner will make sure to arrange this additional service for you if you are certain you want someone to capture all the meaningful moments of your special day.
Package Extras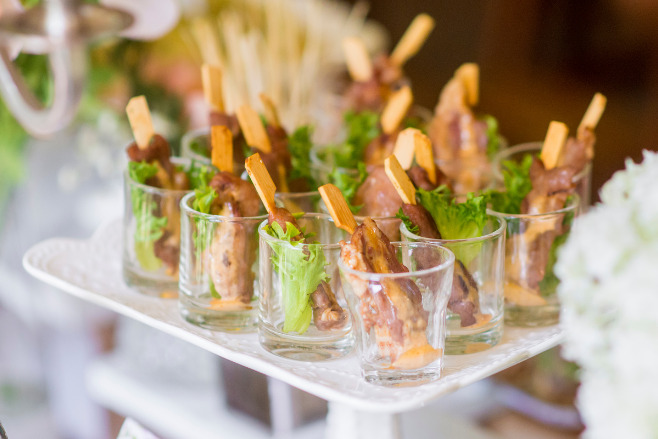 Most wedding packages do not include a photographer or any of the other high-end wedding add-ons.
As we said before, all  basic Jamaica wedding packages include the fundamentals and requirements.
But for some people, getting married abroad is an opportunity to go all out. Some of our couples have in the past added extras like 4-hour celebrations with open bars, fireworks, live music or DJs, premium liquor, gourmet food stations, and even fire dancers.
Your wedding planner will make sure to provide these extras if you and your partner desire them!
Best Jamaica All-Inclusive Destination Wedding Packages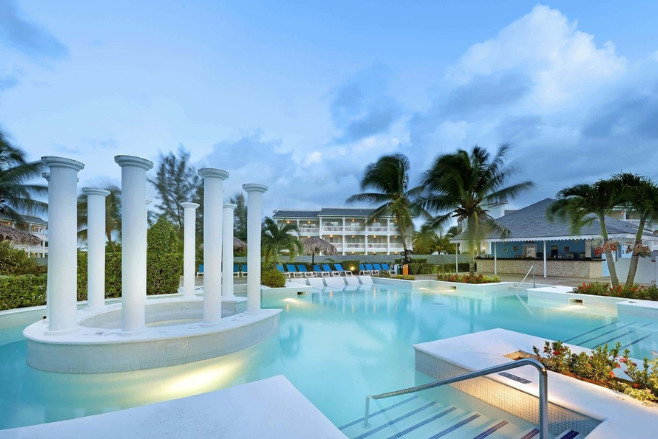 Grand Palladium Jamaica Resort & Spa is a tranquil haven far away from the bustle and noise of Montego Bay's central business district.
Greco-Roman-inspired architecture was used in the construction of this all-inclusive resort. The gleaming white pillars and angular designs sit in stark contrast with the roiling blue waters and the white sand.
The Palladium hotels provide some of the most comprehensive and affordable priced wedding packages for couples planning destination weddings.
Award-winning event designer Karen Bussen thoughtfully created these packages to offer a fantastic place to start for couples considering destination weddings.
These stylish packages come in various designs, looks, and moods so couples can pick the one that suits them best.
'Evermore' Package 2023 Price: $2,690+
Wedding Package Inclusions:
25 guests included (additional guests can be included with extra cost)
Dedicated Wedding Coordinator
Private Check-In
Room upgrade (subject to availability)
Ceremony location
Ceremony sound system
Sparkling toast immediately following the ceremony
Late check-out
Wedding gift
Dinner reservation at one of the on-site restaurants
Special turn down service
Breakfast in bed for the wedding couple
Complimentary Access to the Hydrotherapy Area at Zentropia Palladium Spa & Wellness
15 % Discount on spa treatments
Honeymoon package
Ceremony Décor of Hanging Ivy and Dendrobium Orchids in White or Fuchsia
Signing Table Accent: Birdcage with Faux Blossom
Evermore Personal Flowers for the Couple
White Folding Garden Chairs or Tiffany Chairs
Couture Chair Caps and/or Chair Scarves in Your Choice of Colors
Two-tiered Wedding Cake with 'Naked' or 'Buttersweet' Icing and Fresh Flowers
Resort Features:
24/7 room service
10 Bars
10Restaurants
5 Pool
Zentropia Spa
Kids/teen clubs
Nightly entertainment
Fitness center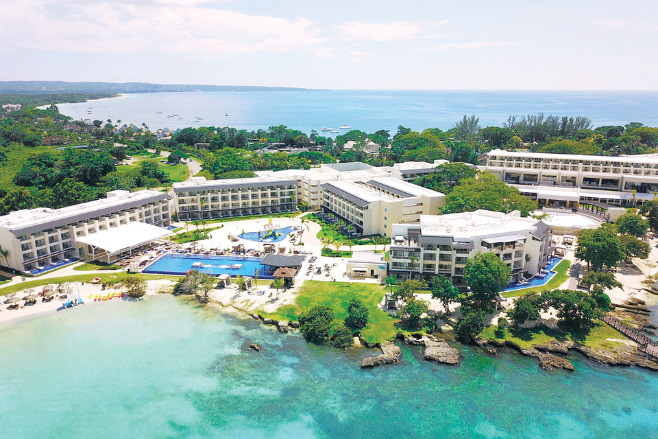 For soon-to-be newlyweds who want their destination wedding to be more about "Rest and Relaxation" than "party-all-night," the adults-only "Hideaway" area of the larger Royalton Negril resort is a laid-back oasis perfect for them.
Hideaway at Royalton Negril ups the ante on solitude by offering visitors a remote section of beach with bridal-gown-white sand. This small setting ensures you and your guests will experience a fairytale beach wedding ceremony. Speaking about romanticism
You've come to the correct destination if your ideal honeymoon involves sipping cocktails while gazing at the calm Jamaican skyline, intimate meals for two at the vibrantly flavorful Dorado, and romantic morning strolls along the quiet seashore.
Hideaway at Royalton Negril's affordable wedding package prices creates beaming brides, happy grooms, and delighted wedding parties!
'Luxury Wedding' Package 2023 Price: $999+
Wedding Package Inclusions:
Personal wedding planner & onsite coordinator
VIP welcome & late checkout for bride & groom (based on availability)
Bride & groom room upgrade (based on availability)
"Getting Ready" refreshments & fruit platter for the bride & groom on the wedding day
10% discount on spa services for entire wedding group
Ceremony location
Symbolic ceremony
Chairs included
Sound system for ceremony
1 tropical bridal bouquet
1 tropical groom's boutonniere
Ceremony table with linen & tropical centerpiece
Sparkling wine toast
Semi-private dinner at one of our restaurants (2 hour)
Personalized menu cards
1-tier wedding cake
Resort Features:
24/7 room service
13 Bars
11 Restaurants
4 Pools
Royalton Fit: a modern fitness center with instructor-led classes
The Royal Spa ($) with hydrotherapy
Personalized check-in/check-out in the Hideaway Lounge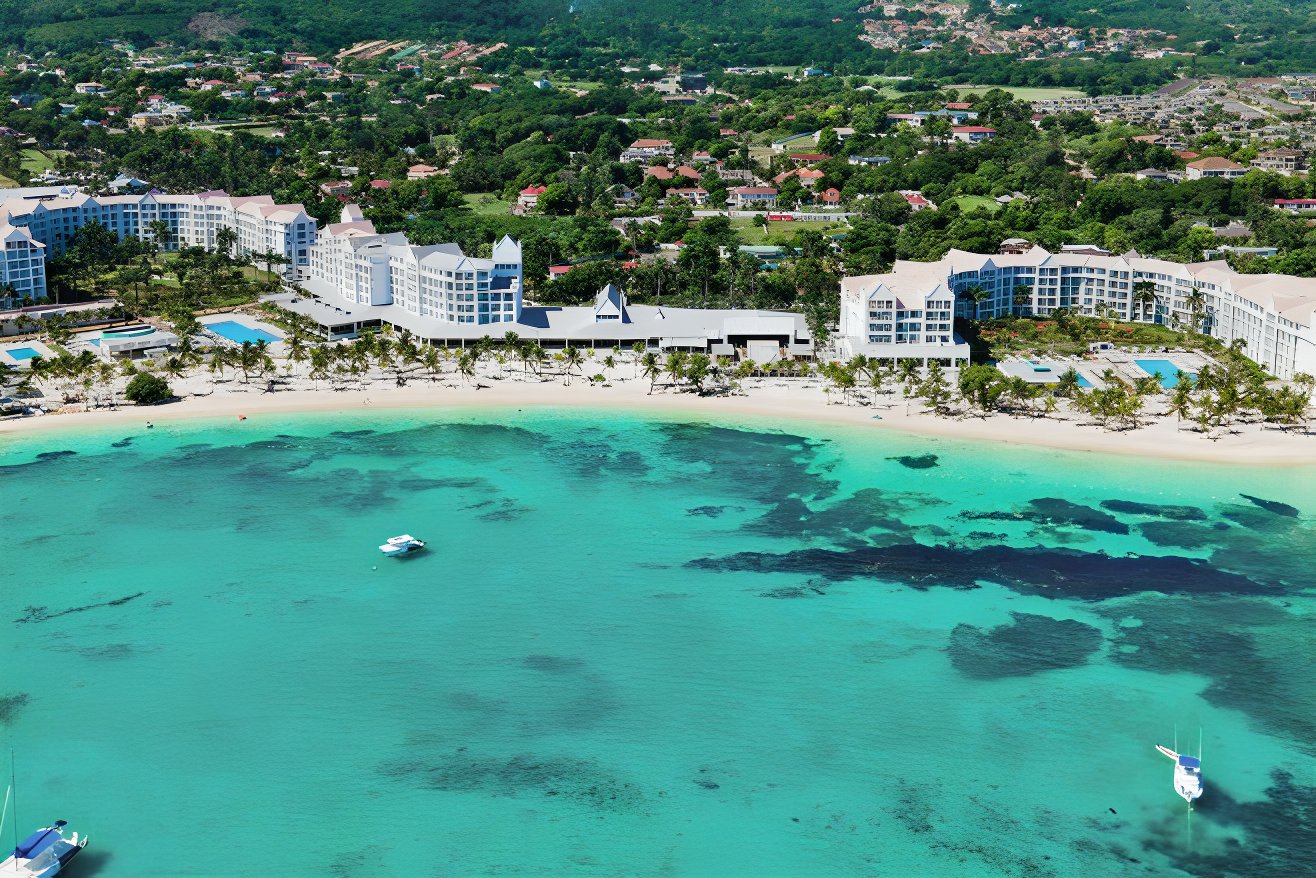 Riu hotels provide reasonable wedding packages and accommodation prices without sacrificing style, refinement, or destination wedding extravagance.
No surprise Destify likes Riu hotels so much!
Riu Ocho Rios is brimming with attractions, including on-site waterparks, live entertainment choices, and some stunning wedding sites.
One of Riu's most expensive packages costs $4,999 and is called the "Caprice Wedding Package."
A few of the included amenities that make the $5K price tag well worth it are a semi-private supper at one of the resort's specialty restaurants, a late check-out for the happy couple, a manicure and pedicure for one of the bridal couple's members, and so much more.
Caprice Wedding Package: $4,999
Wedding Package Inclusions:
Wedding coordinator
Decoration set up for the ceremony location
Bridal Bouquet
Matching boutonniere
Recorded music during the ceremony
Semi private dinner at one of our specialty restaurants (30 people)
Wedding cake (30 people)
Sparkling wine during the main toast (30 people)
Special decoration in the room
Witnesses if required
Minister/Judge service
Marriage Certificate
Complimentary room upgrade to the next category, subject to availability upon arrival
RIU T-Shirts for the Wedding Couple
Surprise gift
Romantic Massage for the Wedding Couple (50 min)
Hairstyle for one member of the Wedding Couple
Manicure for one member of the Wedding Couple
Pedicure for one member of the Wedding Couple
10% discount in all Spa treatments for the Wedding Couple
10% discount in all Spa treatments for the guests
Late check out for the Wedding Couple (subject to availability)
Breakfast in bed the morning after the Wedding
Fruit with chocolate & bottle of sparkling wine
Two bags of petals
Resort Features:
24/7 room service
6 Bars
8 Restaurants
3 Pools
Beautiful beach, less crowded than at many all-inclusives
Free in-room mini-bar includes quality liquor and beer.
10-15 minutes ($5-$10 cab ride) to the attractions in Ocho Rios.
Book Your Dream Destination Wedding Package Today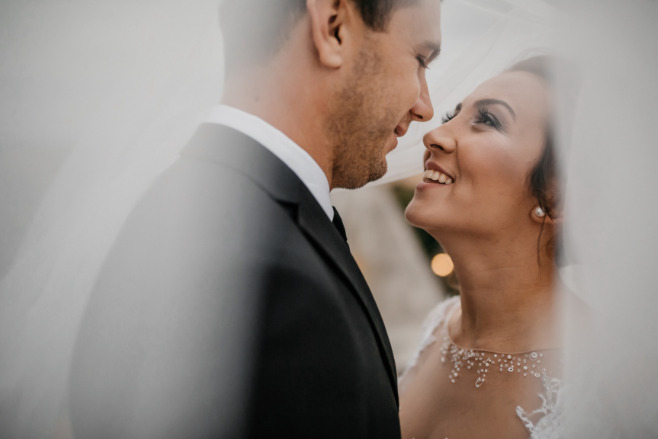 Feeling inspired to pick your favorite all-inclusive Jamaica destination wedding package?
We knew you would! 🥰