When it comes to planning low-cost beach weddings, the key is being confident in where you want to hold them and what to expect. The good news is that beach weddings are actually beginner-friendly options for couples who want a less stressful planning process.
We'll answer all of your burning questions, provide precise data, and feature award-winning venues to help you organize the beach wedding of your dreams.
Where Is the Cheapest Place to Have a Destination Wedding?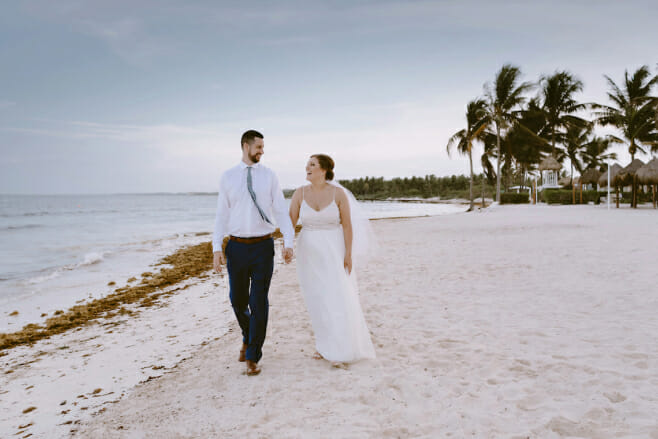 When it comes to wedding venues, the term "cheapest" can be quite relative. What is considered "inexpensive" for a beach wedding venue may not be the same for a garden wedding.
The key is to decide which aspects of your wedding will receive larger expenditures. Perhaps you limit your guest list or opt for a hors d'oeuvres-heavy reception rather than a sit-down meal. Whatever you decide, remember, no matter what your budget is, there are plenty of ways to make your wedding beautiful.
Tip of the Day:
Wedding resorts are on your side! With a variety of all-inclusive destination wedding packages available for every budget, your tropical oasis and its wedding department will ensure that your wedding is both affordable and unforgettable.
Are Destination Weddings Cheaper?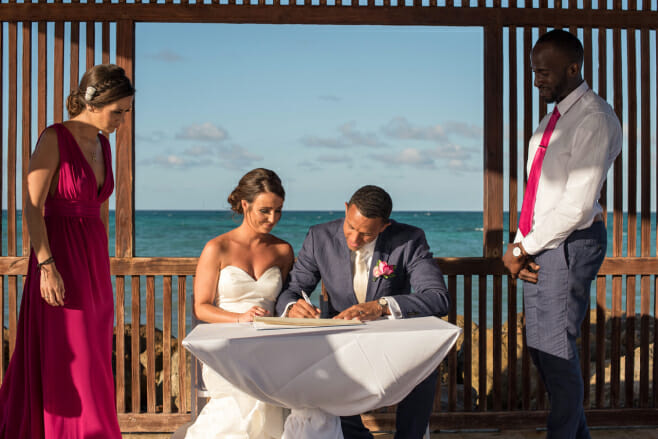 It all depends on how you plan it, just like any other wedding. Depending on where you reside, destination weddings might be a relatively economical alternative to local weddings if your wedding party is small. When you're looking for a location to stay, keep your overall number of guests in mind and hunt for package discounts.
The decor is one of the areas where destination weddings will save you money because the location itself serves as your backdrop. This is especially true for beach weddings, when all that is required for the ceremony is a few seats and an archway or platform.
Because of the relaxed atmosphere of a beach wedding, the rest of your wedding selections (such as food, clothes, and reception activities) will be more casual, saving you money on the more traditional and expensive options.
Is It Free to Have a Wedding on the Beach?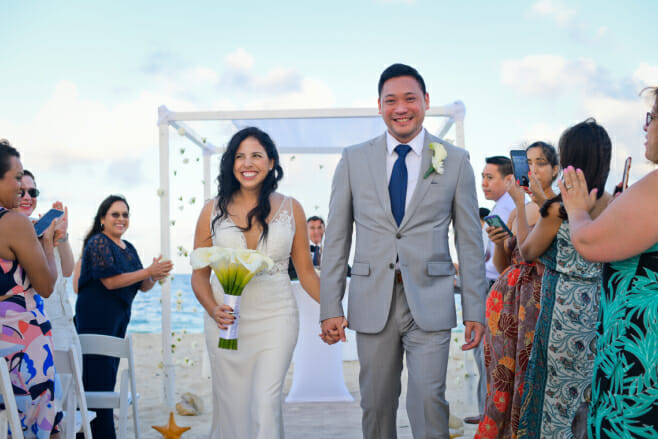 The nicest part about a beach wedding, unlike typical wedding venues, is that all you need is your wedding package and yourselves. Seriously! At any one of our Destify Top Resorts, you'll find beach ceremony spaces just steps away from your luxury suite. Pair that professionally-maintained golden sand with an all-inclusive package? Your beach wedding can cost you anywhere from FREE to $11,999.
Yes, $11,999 is quite a number, but don't be alarmed. While it isn't free, beach venues are unquestionably one of the most cost-effective locations for a wedding.
How Much Does It Cost to Have a Wedding on the Beach?
Getting psyched about planning your beach destination wedding? Well, we've got just the thing for you. Let's take a look at one of the most popular wedding packages our Destify Couples book: Dreams Tulum's Wedding in Paradise Package.
Resort: Dreams Tulum
Location: Riviera Maya, Mexico
Package Cost: $999, complimentary with room booking requirements
Symbolic ceremony
Wedding organization and personal touch of on-site wedding coordinator
Preparation and ironing of couple's wedding day attire
Complimentary room for one member of the wedding couple the night
before the wedding (based on availability and upon request)
Bouquet(s) and/or boutonniere(s) for the wedding couple
Wedding cake and sparkling wine toast (for up to ten guests)
Special turndown service the night of the wedding
15% discount on all spa treatments (Spa boutique purchases not included)
Newlywed Package
Welcome letter
Fresh fruit
Bottle of sparkling wine
Breakfast in bed with mimosas (reservations must be made in
advance with concierge)
Late checkout for the couple (based on availability and upon request)
Free anniversary nights