Thinking of tying the Jamaica knot? We're happy to report that your dream Montego Bay wedding is more budget-friendly than you think. Many of our resorts offer affordable Jamaica destination wedding packages, with some of them being free if certain booking requirements are met. You'll be surprised and excited to know that we have packages and recommendations across the spectrum from those looking to escape-for-less, all the way to those couples looking to go full-bore-luxury.
There are several lovely resorts that offer thoughtful and practical amenities in attractive places and are tailored to fit any budget. Your Jamaica destination wedding expenditures will be the last thing on your mind, as you'll be soaking in the culture with friends and family, while Destify takes care of all of your lodging and travel arrangements.
Jewel Grande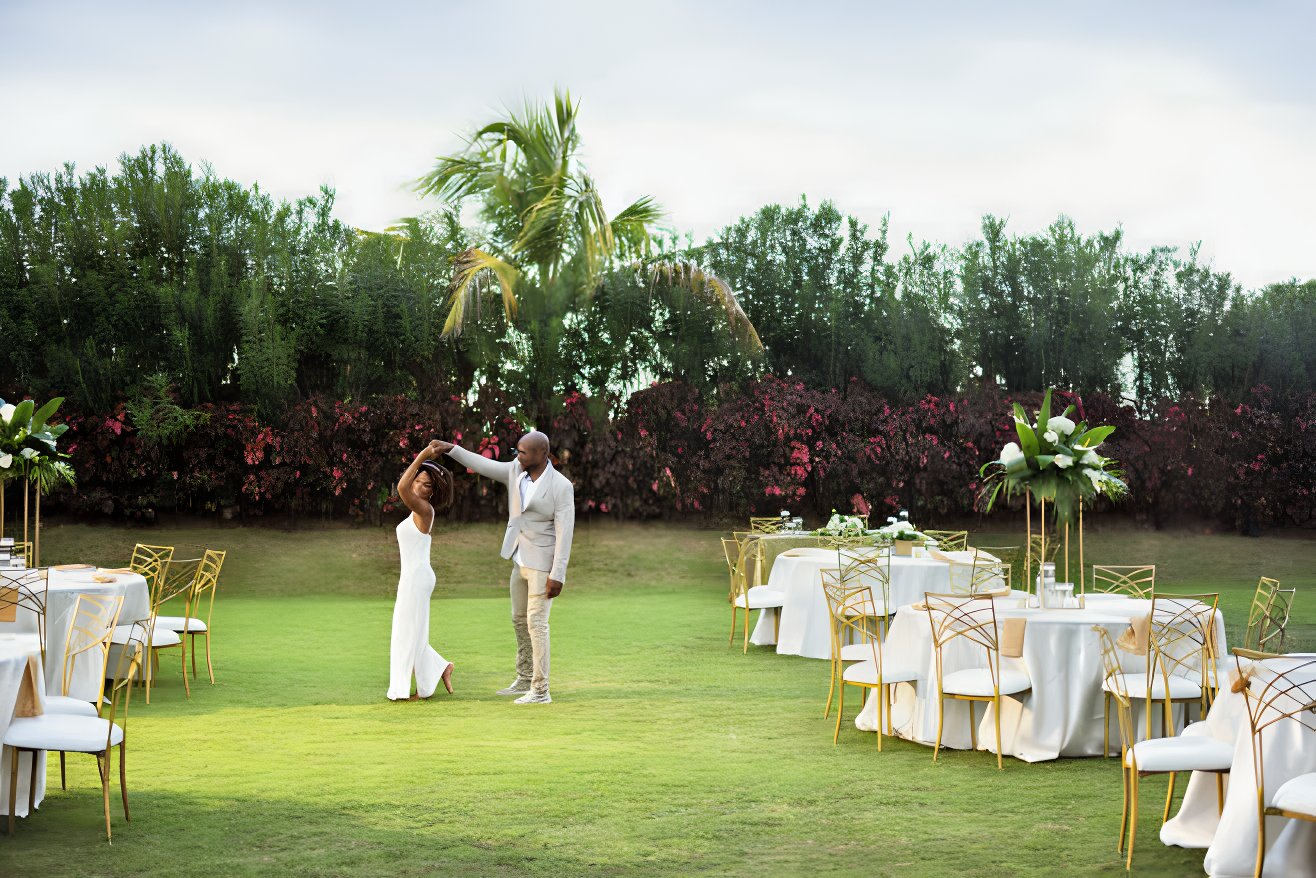 Wedding Packages Cost: $490 – $6,380
Room Rate: $190 – $230
Jewel Grande weddings in beautiful Montego Bay, Jamaica, have everything you need for a once-in-a-lifetime destination wedding. This all-inclusive resort in the Caribbean sun will cater to your every need and desire while you relax and enjoy the numerous amenities, laugh with the friendly employees, and take in the captivating Jamaican culture.
Iberostar Rose Hall Beach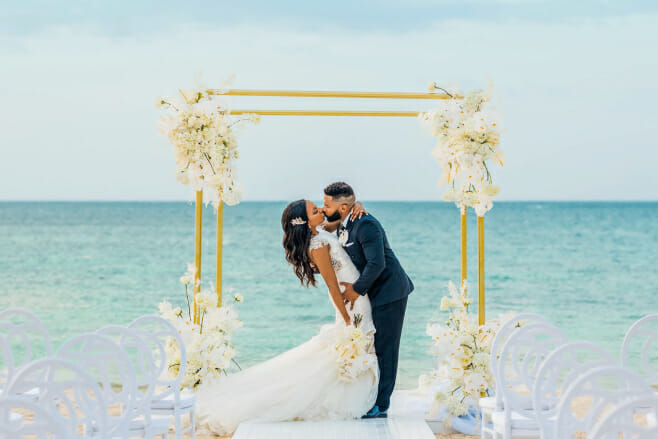 Wedding Packages Cost: $999 – $2,899
Room Rate: $120 – $190
Iberostar Rose Hall Beach is surrounded by beautiful gardens and the gorgeous waters of the Caribbean Sea. No matter where you want to hold your ceremony, your Iberostar Rose Hall wedding promises to be magical. The resort has a unique charm with authentic colonial decor. Bring your entire family and all your loved ones for your destination wedding, as this resort offers something for guests of every age, with amenities that cover everything from casinos to a movie theater.
Breathless Montego Bay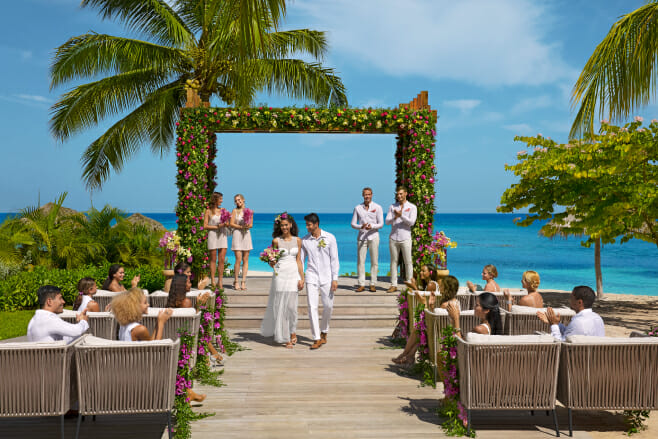 Wedding Packages Cost: Free – $11,999
Room Rate: $215 – 365
Breathless Montego Bay weddings provide something for everyone, with beachside cabanas, quiet pools, and butler services that allow you to experience ultimate degrees of relaxation, as well as countless activities, lounges, and parties. Make your dreams come true by planning a Montego Bay destination wedding that is as colorful and exciting as you want it to be, or as small and personal as you want it to be.
Royalton White Sands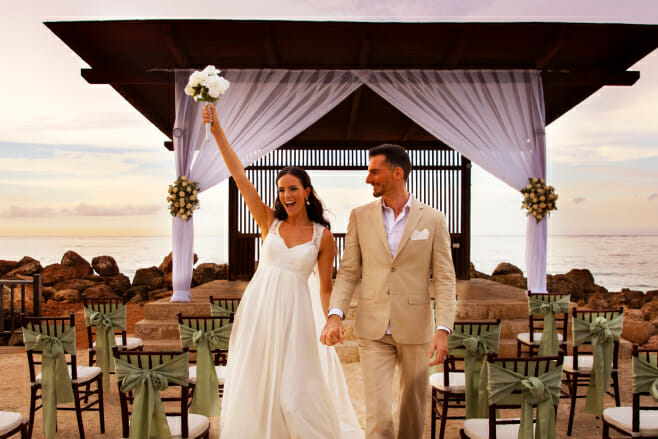 Wedding Packages Cost: Free – $10,900
Room Rate: $165 – $275
The Royalton White Sands all-inclusive resort in Montego Bay combines contemporary decor with the culture of its tropical surrounds. The resort provides exceptional customer care, and the stunning beaches that overlook White Bay make it a true destination wedding. Whether visiting the water park or grabbing a bite to eat at the genuine jerk hut, Royalton White Sands Wedding guests of all ages will have enough to do.
Secrets St. James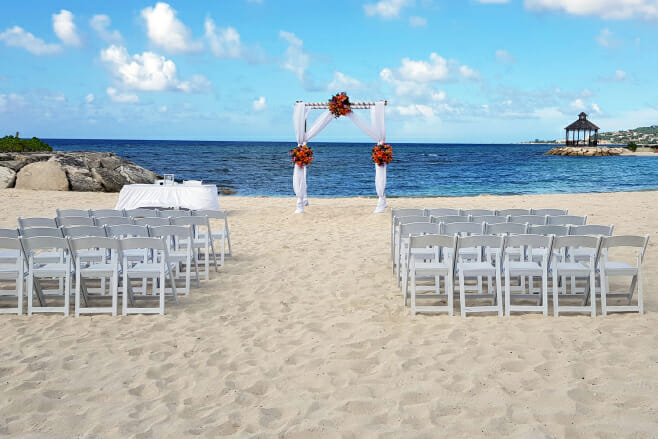 Wedding Packages Cost: Free – $11,999
Room Rate: $215 – $315
Secrets St. James is a private peninsula in gorgeous Montego Bay that was originally held by the British Empire, with colonial-inspired design that is ideal for a traditionally themed wedding ceremony. The resort is surrounded by crystal clear Caribbean waves and would be ideal for a romantic destination wedding for a group of friends. Secrets St. James weddings offer a tranquil setting and are one of Jamaica's finest luxury resorts for adults-only.
Ready to save money on your Montego Bay matrimony? Follow the button below to connect with a Destify Booking Coordinator today: