Now that's a tough question, but fun question to answer. Which is great! When one chooses to get married in Punta Cana, you gain immediate access to an expansive selection of award-winning wedding resorts. However, it's easy to get lost in the all-inclusive splendor of each property, making it difficult at times to discover the perfect location. That's where we come in. From the stunning adults-only Juanillo Beach to the gorgeous sands of Bavaro Beach, here is the cream of the crop when it comes to Punta Cana wedding resorts:
Dreams Macao Beach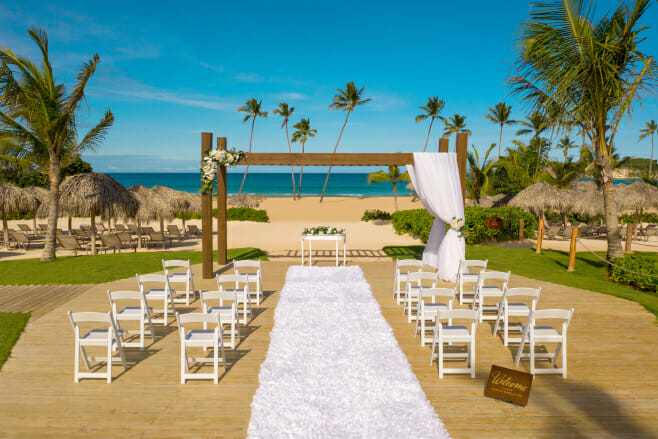 Dreams Macao Beach Punta Cana is located on the Dominican Republic's northeastern coast, situated in the gorgeous sand and turquoise waters of Playa Macao, one of the nicest beaches in the country. Dreams Macao Beach is a beautiful retreat for families and couples, with tastefully designed apartments, endless gourmet à la carte dining, and trendy lounges pouring top-shelf spirits.
With an enormous water park for the whole family and the Explorer's Club for Kids or Core Zone Teens Club, the fun never stops. Guests can also enjoy theme parties, live entertainment, a nightclub, and Pevonia's world-class spa.
The Kicker
It's hard to beat an all-inclusive resort specialized in fun for all ages. Considering the wide range of amenities for both adults and children, Dreams Macao Beach is perhaps one of the most versatile options when it comes to accommodating any guest list.
Royalton Punta Cana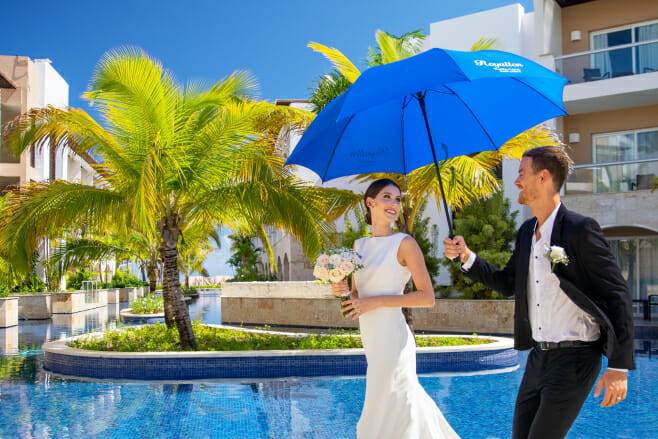 A Royalton Punta Cana wedding provides you the ceremony of your dreams, set along the beautiful Caribbean coast. Any destination wedding will be elevated by the beautiful decor and crystal clear views of the turquoise ocean. Your guests will have enough to do, whether it's visiting the Caribbean's largest waterpark or lounging on the beach with a cocktail in hand.
The Kicker
This resort radiates elegance. From seemingly endless in-suite luxuries such as the hypoallergenic DreamBed to nearby complimentary tee-times at the Punta Blanca Golf Course, Royalton Punta Cana guarantees a truly pampered Caribbean experience. On top of that, the property delivers wedding venues that'll satisfy your preferred environment and vibe, whether you're eyeing a lush Ecogazebo ceremony or classic beachfront aisle.
Hard Rock Punta Cana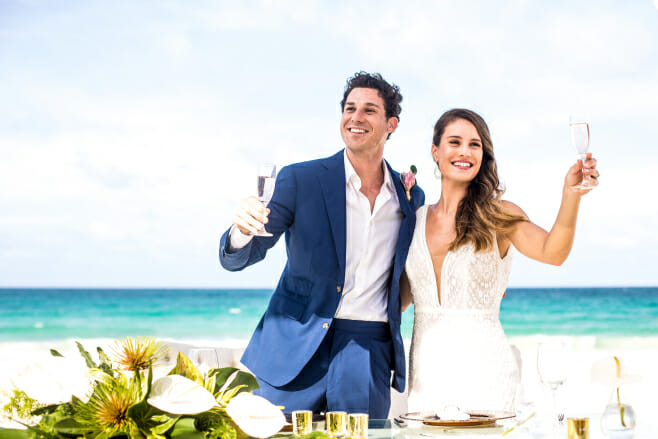 The Hard Rock Punta Cana combines uncompromising, all-inclusive luxury to the Caribbean's most picturesque beachfront site, where you can get married on the lovely sandy beach with the blue water as the perfect backdrop. Choose from nine Hard Rock wedding collection packages created by Colin Cowie, the guru on living a good life who has helped celebrities such as Kim Kardashian and Tom Cruise plan memorable occasions.
The Hard Rock Hotel & Casino, located on one of the most beautiful beaches in the Dominican Republic, has 1,790 decadently appointed rooms and suites, all with double Jacuzzi® tubs, LCD TVs with satellite, balconies, and an incredible array of exciting resort amenities, ranging from ultimate relaxation at the spa to adrenaline-pumping casino and club scenes.
The Kicker
Good news…you won't have any trouble finding a wedding venue here. With decades of perfecting romantic luxury under its belt, Hard Rock Punta Cana represents the cream of the white-sand crop. While Royalton Punta Cana and other resorts on this list offer nature-filled ceremony spaces, this five-star gem features an impressive 12 venue options – all with their own majestic landscapes and elements of Punta Cana perfection.
RIU Palace Macao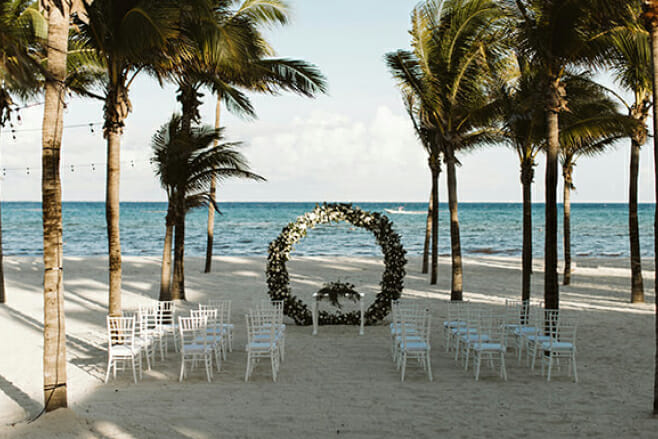 The RIU Palace Macao is a mature adults-only retreat tucked away from the clamor and bustle of it all at the RIU resort complex in Punta Cana. The resort has an elite feel that is ideal for a stunning wedding ceremony against a backdrop of all-white architecture or on the bustling beach along the Atlantic Coast. With a stunning fresh-water pool surrounded by cabanas and a solarium terrace to explore, your RIU Palace Macao wedding guests will have everything they need to rest and unwind during your destination wedding.
The Kicker
Ready to get married in Punta Cana budget-friendly bliss? In comparison to the aforementioned wedding resorts, RIU Palace Macao features an economical adults-only experience – letting you and your guests live out your Caribbean getaway dreams while saving a few bucks!
Planning your dream Punta Cana destination wedding? Follow the button below to get connected with a Destify Booking Coordinator today: