Cancun is a paradise when it comes to planning your wedding abroad. With stunning beaches, azure waters, and world-class resorts, this Mexican gem provides a dreamy backdrop for your special day. To help you plan your wedding, we've picked six of our favorite spots in Cancun that are sure to make your love story shine.
1. Breathtaking Cancun Soul Resort & Spa: Where Urban Chic Meets Luxury
Experience a blend of urban chic and luxurious excellence at Breathless Cancun Soul Resort & Spa. This adults-only resort offers a vibrant and energetic atmosphere to create an unforgettable wedding celebration. Choose from eight incredible venues.
Exchange vows on our stunning rooftop terrace overlooking the sparkling sea, or dance the night away in a modern Caribbean terrace venue. Packages range in price from $999 to $11,999, so there's sure to be one that fits your budget.
2. Dreams Vista Cancun: Stylish Architecture and Breathtaking Views
Cancun Weddings

Ensconced in the luxury of the Puerta del Mar gated community, this all inclusive Mexican resort offers stylish architecture and breathtaking scenic views — these green grounds lie waiting for freshly married honeymooners to tee off their serene getaway.

Dreams Vista Cancun:

Read more

Venues: 7
Family Friendly
35 Minutes

Package Costs:

$

999

–

$

11,999
Located in the gated community of the famous Puerta del Mar, Dreams Vista Cancun is a luxurious all-inclusive resort that blends stylish architecture with breathtaking views. Choose from 7 enchanting locations, say "I do," and live happily ever after.
Whether you opt for a beachside venue, a rooftop infinity pool, an ocean deck, or a ballroom, this resort won't disappoint. Afterward, relax and enjoy a quiet honeymoon and a round of golf on one of the resort's beautiful golf courses. At Dreams Vista Cancun, you can bring your unique wedding vision to life with package rates ranging from $999 to $11,999.
3. Hyatt Zilara Cancun: An Adults-only Retreat on the Yucatan Coast
Cancun Weddings

This adults-only resort is located along the pristine beaches of the Yucatan coastline and in the heart of Cancun's hotel zone.

Hyatt Zilara Cancun:

Read more

Venues: 7
Adults-Only
20 Minutes

Package Costs:

$

1,239

–

$

6,409
Located on a pristine beach on the Yucatan Coast, Hyatt Zilara Cancun is an adult-only destination that exudes elegance and sophistication. The stunning resort features seven outstanding venues that effortlessly blend contemporary architecture with nature-inspired spaces.
Imagine a ceremony in a clifftop gazebo overlooking the endless horizon, followed by a gourmet reception amid tropical beauty. Delight in the Zilara ballroom, a rooftop terrace overlooking the beach, or say your vows right on the ocean shore with sand under your feet. Wedding packages range in price from $1,239 to $6,409, ensuring an unforgettable experience for you and your valued guests at an affordable price.
4. Grand Palladium Costa Mujeres: Affordability Meets Decadence
Venues: 4
Family Friendly
40 Minutes

Package Costs:

$

3,700

–

$

6,000
For an all-inclusive seaside haven that combines affordability with luxurious decadence, look no further than Grand Palladium Costa Mujeres. This sprawling resort offers four stunning venues to cater to your wedding needs.
Exchange your vows on a pristine beach with the gentle sound of the waves as the soundtrack, or choose an elegant Catholic chapel for your dream church wedding. Other great venues include a beautifully decorated deck in the village center or a tropical beachside deck with scenic views in all directions. Packages at the Grand Palladium Costa Mujeres range from $3,700 to $6,000 and offer an idyllic setting without breaking the bank.
5. Hard Rock Cancun: Rock and Roll Vibes for your Dream Wedding
Cancun Weddings

For those couples looking for a rock and roll wedding, where the entire wedding party can let their hair down, look no further than Hard Rock Cancun.

Hard Rock Cancun:

Read more

Venues: 1
Family Friendly
20 Minutes

Package Costs:

Included –

$

5,000
For couples wanting a wedding filled with rock 'n' roll vibes and non-stop fun, the Hard Rock Cancun is the ultimate destination. This family-friendly, 12-story resort offers a singular yet exceptional venue that guarantees a memorable celebration. You'll find rockstar memorabilia and a modern design aesthetic that's perfect for music lovers and romantics of all kinds.
Imagine getting married on the sandy beaches of Cancun overlooking the Caribbean Sea and partying all night with your loved ones. The best part? Their gorgeous beachside wedding venue is part of their all-inclusive and affordable package. That said, if you're willing to pay extra, many different wedding venue setups and customizations are available. Considering that themed wedding venues are so trendy today, it's easy to see why Hard Rock Cancun promises an unforgettable wedding experience.
6. Sandos Cancun Lifestyle Resort: A Tranquil Oasis for Unforgettable Moments
Cancun Weddings

Encircled by winter-white sands and translucent tides, Sandos Cancun is both a deluxe destination wedding resort and a serene oasis ready to evaporate every bead of stress in your body.

Sandos Cancun Lifestyle Resort:

Read more

Venues: 3
Family Friendly
20 Minutes

Package Costs:

$

4,150

–

$

5,750
Surrounded by pristine white sand beaches and translucent tides, Sandos Cancun Lifestyle Resort is the perfect fit for luxurious destination weddings in a resort and tranquil oasis. This idyllic venue has three stunning locations designed for special occasions, each more charming than the last. Imagine taking your wedding vows under a gazebo on the beach with the gentle breeze caressing your face and the rhythmic sound of waves in the background.
Alternatively, opt for the panoramic rooftop terrace, where you can watch the breathtaking sunsets with your guests while celebrating your wedding. Sandos Cancun Lifestyle Resort pays attention to every detail, from exquisite cuisine to lavish spa treatments, to make your wedding a truly remarkable experience. The package costs range from $4,150 to $5,750, offering options to suit your preferences.
Conclusion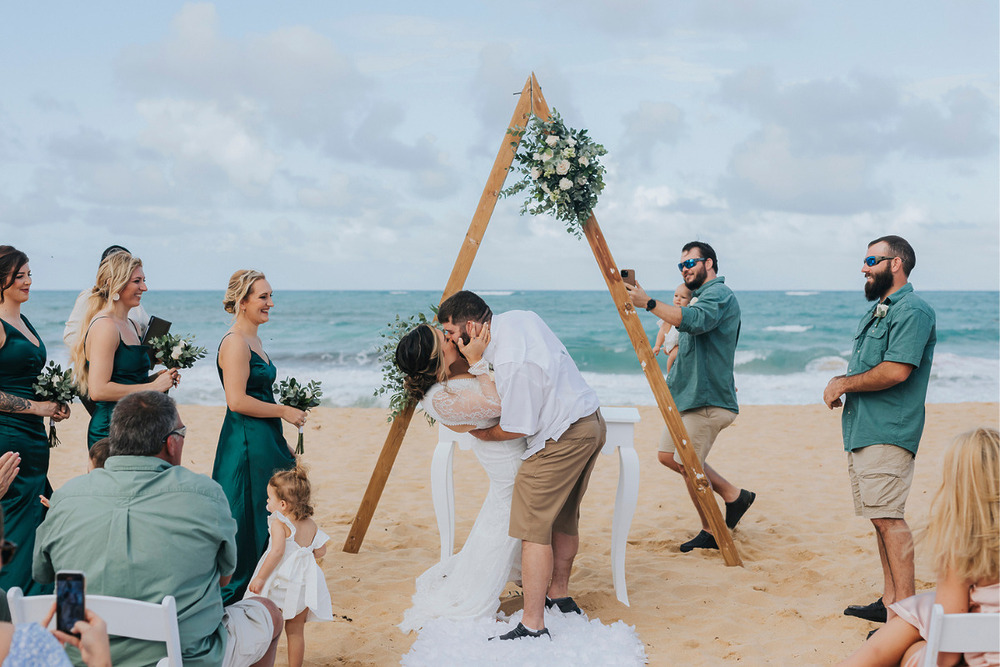 To sum up, Cancun is a spot that effortlessly combines natural beauty, luxury, and romance, making it an ideal choice for your dream wedding. Whether you prefer the vibrant atmosphere of Breathless Cancún Soul Resort & Spa, the stylish elegance of Dreams Vista Cancun, the adults-only haven of Hyatt Zilara Cancun, the affordability and decadence of Grand Palladium Costa Mujeres, the rock and roll vibes of Hard Rock Cancun, or the serene oasis of Sandos Cancun Lifestyle Resort, each venue has its own unique charm and offers an enchanting backdrop for your special day.
Imagine walking down the aisle with the turquoise waters and powdery white sands of Cancun as your backdrop, surrounded by your loved ones. From intimate beachfront ceremonies to grand ballroom receptions, these handpicked venues ensure that your wedding day reflects your unique love story. With amazing scenery and world-class amenities, Cancun has everything you need to create memories that last a lifetime. Say 'yes' with Cancun's enchanting beauty. Love, celebration and magic come together to create the wedding of your dreams.
When choosing your ideal Cancun wedding venue, remember to consider factors such as ambiance, package costs, venue options, and the specific needs of your wedding party. Whether you're looking for an adults-only getaway, a family-friendly celebration, an LGBTQ-friendly destination, or a combination of both, Cancun has venues that exceed your expectations.
Start planning your special Cancun wedding today and make your dreams come true with the magic of this tropical paradise. Your love story is nothing short of breathtaking so embrace the warm hospitality Cancun has to offer. Toast to a lifetime of love and happiness at one of the world's most enchanting wedding venues!