Destination weddings aren't just about the day you say 'I do.' They're adventures! That means kayaking, jungle hiking, and scuba diving!
Get your scuba gear on, because we're about to dive into our favorite scuba diving spots and the all-inclusive resorts near them!
Our Favorite Scuba Diving Destinations
The Bahamas is known for its crystal-clear waters, which provide excellent visibility for scuba divers, making it easier to spot marine life and explore the underwater landscape.
The Bahamas is home to diverse marine life, including sharks, rays, turtles, dolphins, and colorful fish. Some of the most popular dive sites in the Bahamas include the Andros Barrier Reef, the Dean's Blue Hole, and the Exuma Cays Land and Sea Park.
The Bahamas is also known for its shipwrecks, which provide a unique opportunity for scuba divers to explore sunken vessels and their ecosystems. One of the most famous wreck dives in the Bahamas is the SS Sapona, a concrete-hulled cargo ship that ran aground during a hurricane in 1926.
The Bahamas is home to several underwater caverns and blue holes, unique geological formations that can provide a thrilling diving experience. One of the most famous blue holes in the Bahamas is Dean's Blue Hole, the world's second-deepest underwater sinkhole.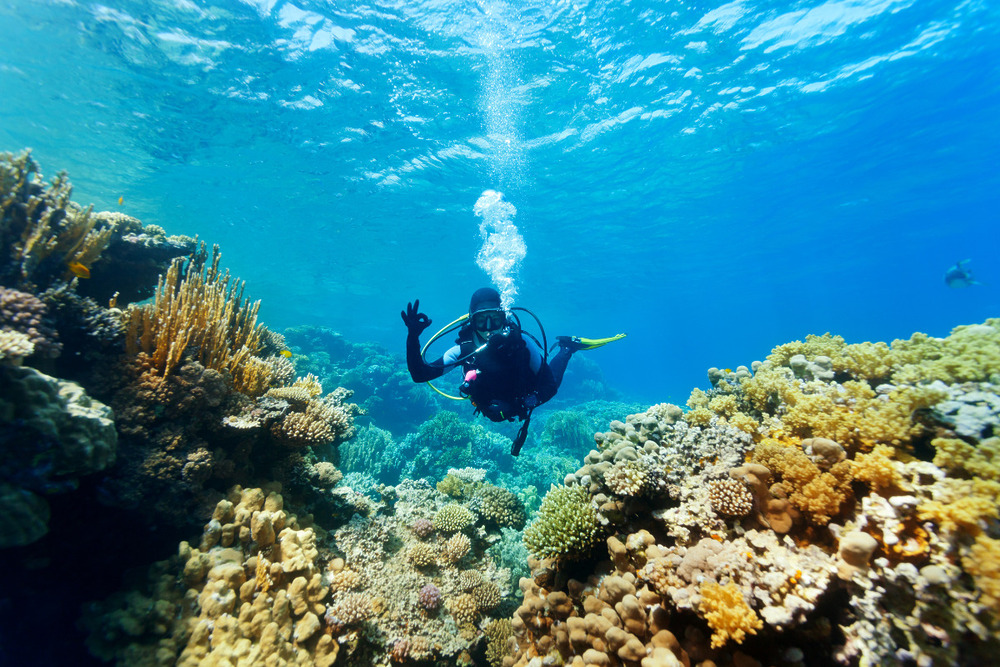 Cozumel is situated along the Mesoamerican Barrier Reef, the second-largest barrier reef system in the world. This reef system is home to an incredible array of marine life, including colorful tropical fish, sea turtles, and even sharks.
The waters around Cozumel are clear blue, with visibility often exceeding 100 feet. This makes for incredible underwater photography and allows divers to spot marine life from a greater distance.
Cozumel is known for its drift diving, where divers let the current carry them along the reef. This allows for longer dives, as divers can cover more ground without using up their air supply.
Cozumel's underwater topography is unique, with dramatic drop-offs, swim-throughs, and caverns. These formations provide a stunning backdrop for divers and are home to various marine life.
Cozumel is firmly committed to conservation, with several marine protected areas and a ban on spearfishing. This has helped preserve the area's incredible biodiversity and creates a more sustainable and responsible diving experience.
Playa del Carmen is known for its cenotes, natural sinkholes filled with crystal-clear freshwater. These unique formations allow divers to explore underwater caves and tunnels only accessible by scuba diving.
The waters around Playa del Carmen are home to diverse marine life, including sea turtles, nurse sharks, rays, and colorful fish species. Divers can also explore the coral reefs teeming with life, such as schools of fish, sponges, and other fascinating creatures.
Playa del Carmen has several shipwrecks that are popular dive sites. These wrecks offer a glimpse into the area's maritime history and provide a unique and challenging diving experience.
The waters of Playa del Carmen offer excellent visibility, with some sites boasting up to 100 feet of visibility. This allows divers to appreciate the stunning underwater landscapes and marine life fully.
Playa del Carmen is easily accessible from many major cities in North America, making it a popular scuba diving destination. There are also numerous dive shops and experienced instructors in the area, making it easy for divers of all skill levels to explore the underwater world.
Negril, Jamaica, is known for its crystal-clear waters and stunning coral reefs, making it an ideal destination for scuba diving. Its diverse underwater ecosystem, including vibrant coral formations and abundant marine life, makes scuba diving in Negril unique.
One of Negril's most popular dive sites is the Throne Room, a deep underwater cave with a natural skylight that illuminates the turquoise waters below. Inside the cave, divers can observe a variety of marine creatures, such as eels, lobsters, and schools of colorful fish. Another popular dive site is the Coral Gardens, where divers can explore a colorful coral reef teeming with sea fans, sponges, and an array of tropical fish.
Negril also offers a unique diving experience for wreck enthusiasts. The MV Princess Ann, a 140-foot-long former Canadian coastal freighter, was intentionally sunk in 1993 to create an artificial reef. Now, divers can explore the sunken ship's hull and discover the marine life that has made it their home.
The warm waters and excellent visibility make scuba diving in Negril a year-round activity. With so many unique and exciting dive sites, scuba diving in Negril is a memorable experience for divers of all skill levels.
Scuba diving in Aruba is a unique experience due to the island's warm and crystal-clear waters, diverse marine life, and stunning underwater landscapes. Here are some specific reasons why scuba diving in Aruba is unique:
Aruba has an abundance of shipwrecks that have become artificial reefs for marine life. The most famous of these is the Antilla shipwreck, one of the largest wrecks in the Caribbean and home to a wide variety of fish, coral, and other marine life.
Aruba has diverse coral reefs, home to many marine creatures, including turtles, stingrays, and sharks. Some of Aruba's most famous coral reefs include Mangel Halto, Baby Beach, and Arashi.
The visibility in Aruba's waters is exceptional, with an average of 100 feet (30 meters). This makes it easy to spot marine life and appreciates the underwater landscapes.
The water temperature in Aruba is warm and comfortable, with an average temperature of 82°F (28°C) year-round. This makes it an excellent destination for scuba divers who prefer warmer waters.
Many of Aruba's dive sites are easily accessible from shore, making it convenient for scuba divers to explore underwater without a boat.