To celebrate an excellent 2022, Destify brought the entire team together for an annual holiday party at the all-inclusive Hilton Playa del Carmen.
We can't possibly thank Hilton Playa del Carmen for the amazing weekend we all had, but we're going to try out best to convey just some of the fun we had under the sun.
Hilton Playa del Carmen Overview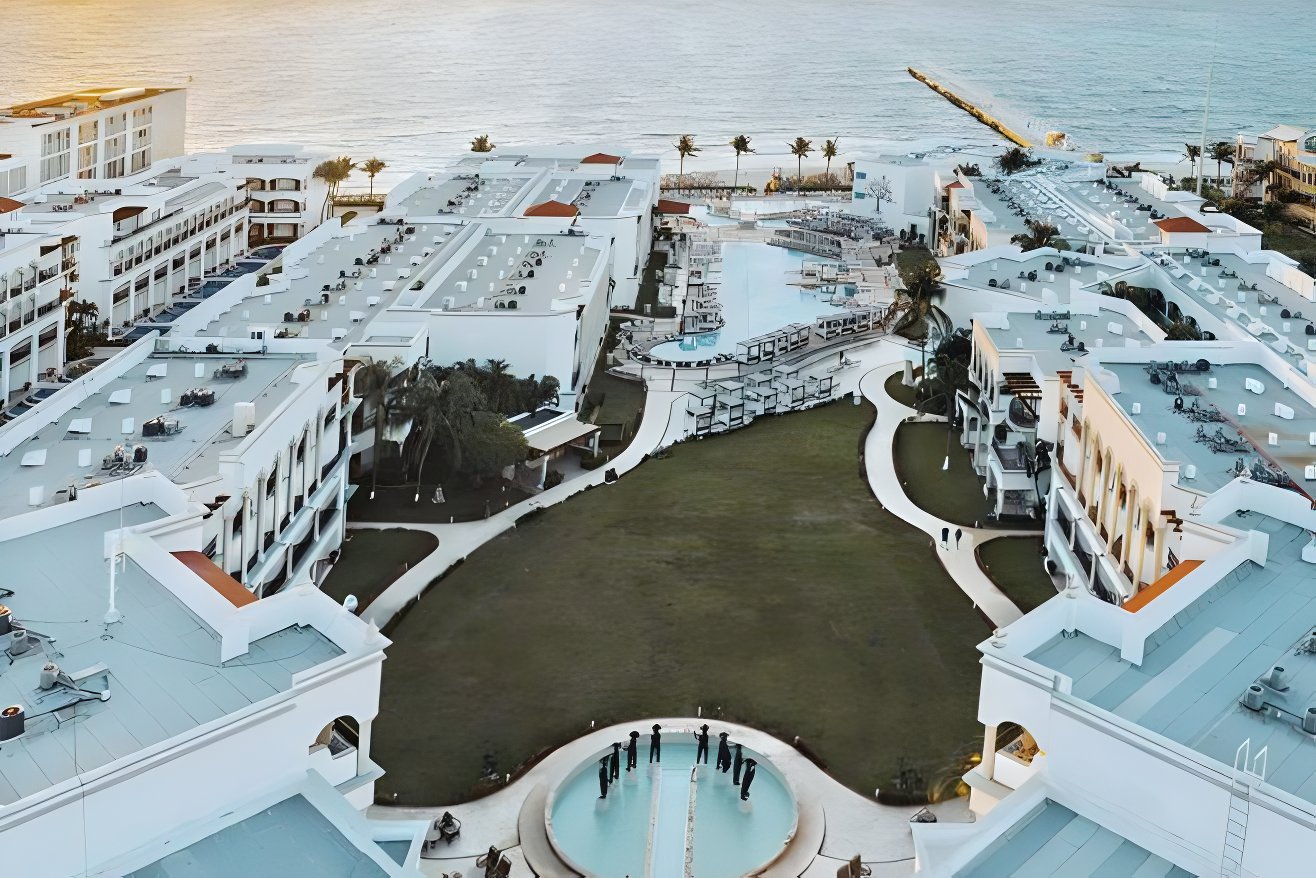 Hilton Playa del Carmen is simply stunning. The stylish, gleaming white architecture seems to shimmer under the Caribbean sunshine.
This adults-only property is pristine, clean, and vast.
Their suites are newly renovated and fantastic. They feature polished stone floors, floor-to-ceiling windows, daily restocked minibars, and even private balconies.
Hilton Playa del Carmen offers daytime and nighttime entertainment for guests, wedding couples, and each member of their wedding party. Modern workout facilities, gourmet restaurants with beachside dining, dancing workshops, cooking demonstrations, live music and entertainment, and even a tequila bar are available to guests.
Even just lounging by the pool feels like a luxurious experience, thanks to the attentive, friendly staff. Attending to their guests with warm, genuine smiles and trays of snacks, Hilton Play del Carmen's staff made our stay unforgettable.
For our wedding couples, we recommend Hilton Playa del Carmen for its stylish wedding venues and affordable, high-value wedding packages.
The price of their entry-level "Intimate Elegance" package is $1,399. It offers the wedding pair a 25-minute massage, a sound system for the wedding ceremony, room décor, and tons more.
Low costs, sky-high luxury?
We like the sound of that 😎
Resort Features:
24/7 room service
2 Pool
5 Bars
7 Restaurants
Private Balconies
Double Jetted Tubs
Zumba & Dance Classes
Thursday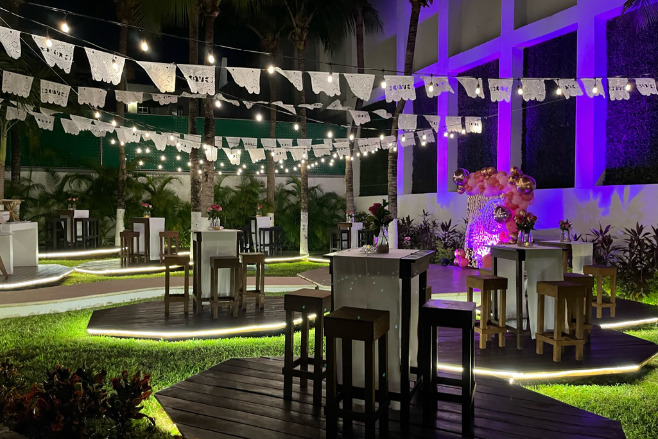 Our first day was casual, as we flew in from all over the country (and, in some cases, from all over the world!)
The transfer shuttles ferried us all, group by group, to the welcoming arms of Hilton Playa del Carmen.
After settling in our luxe suites, we met at the lovely Kalamata Gardens at 8 pm for a Welcome Cocktail.
That night's theme was 'Bride to Be,' and we wanted to experience our welcome cocktail hour as our Destify couples would experience it!
The decor and style of Kalamata Gardens was a fun pink, and we all toasted to the beginning of an amazing weekend.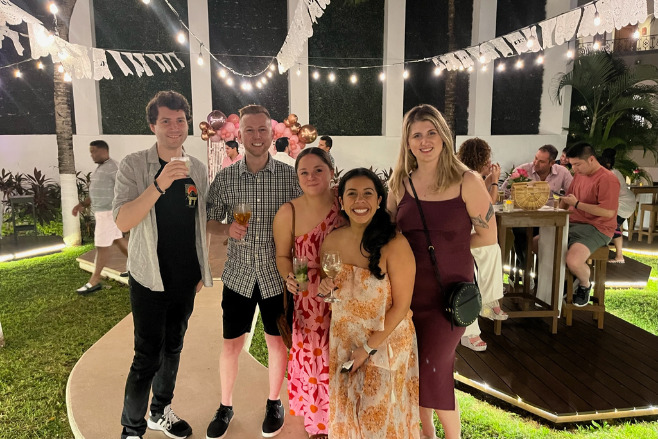 Friday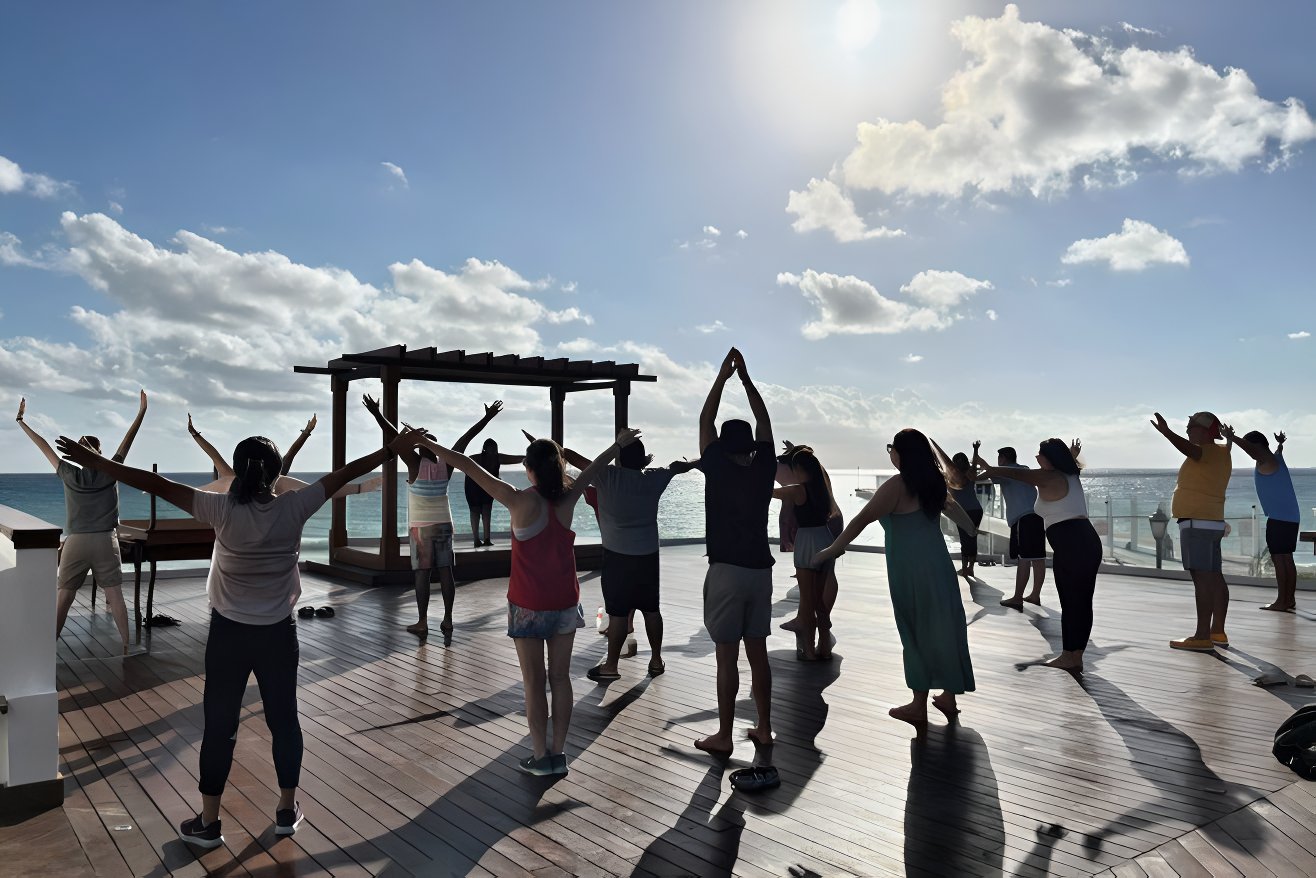 After an evening spent hitting up some of the resort's late night bars, those feeling frisky enough woke up for an 8 am bodyweight yoga session by the beach.
The yoga sculpt class was taught by one of our Destination Wedding experts Alison (who teaches yoga classes on the side). She got our bloom pumping as we watched the cascading tides crash onto the shoreline under the midmorning sun.
After splitting up into our department teams for a tasty team breakfast, we spent the late morning hours playing some coordinated games, like our Photo Challenge Scavenger Hunt!
From there, we all had lunch and enjoyed 6 hours of unscheduled leisure time.
Some of us spent time on the beach, others by the pool, some took an afternoon nap in their suites, and a few workaholics jumped on their laptops to get in a few hours of work!
At 6PM. and for the first time ever, we had our annual Holiday party in 80-degree weather!
The party took place on the stylish Infinity Deck. We had amazing food and an open bar serviced by the lightning-quick resort staff, coupled with an amazing show thanks to our 'Destify's Got Talent!'
This talent show was hosted by the hilarious duo of Dave and Andrew and showcased that not only are we experts at planning destination weddings, but our team was comprised of incredibly talented individuals.
With cocktails and karaoke, we toasted to a fantastic 2022 and partied the night away.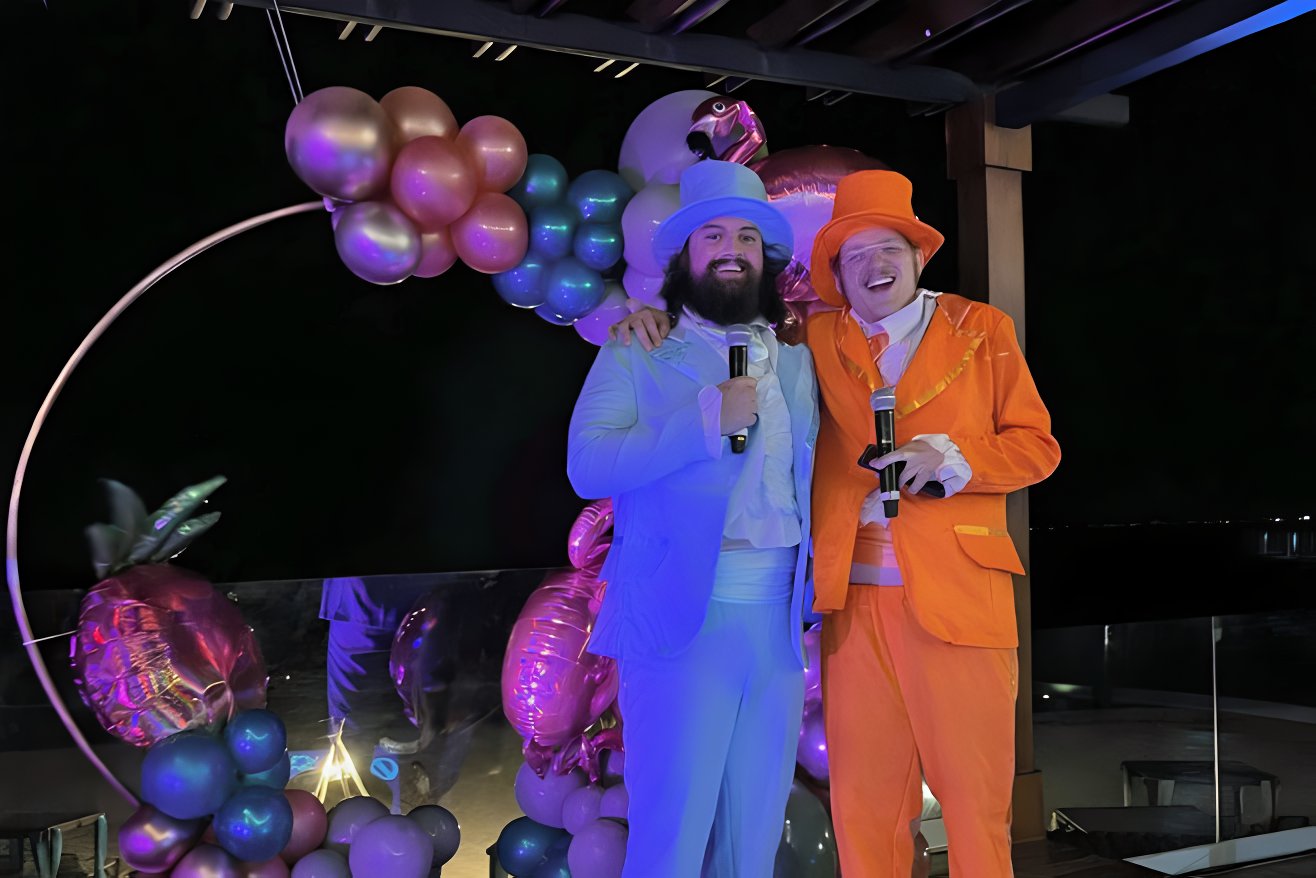 Saturday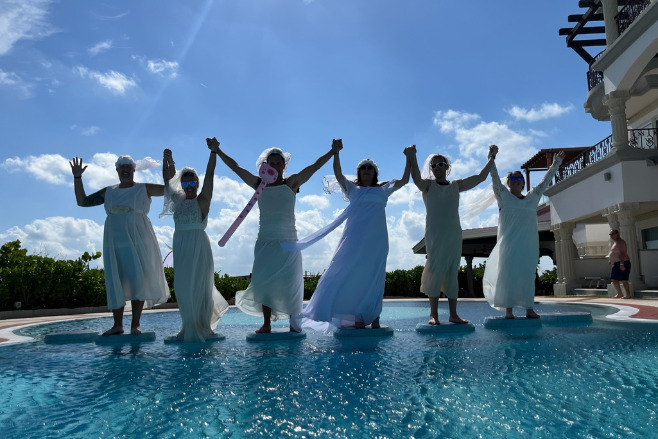 Saturday was another action-packed day full of fun, team bonding, and of course, pampering from the resort staff.
We spent the early half of our day poolside for a Destify Pool Party. We had drinks, snacks, and even some games!
After a few hours of wandering the resort, sampling the tasty treats at a few restaurants and lounges, and again, being treated like royalty, we capped off our night with a Farewell Dinner at the lush Uxmal Garden.
There were laughs, happy tears, toasts to the new year, and a lot of love.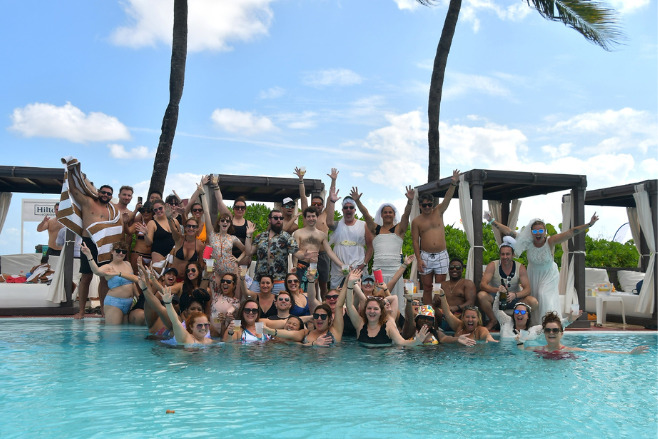 Sunday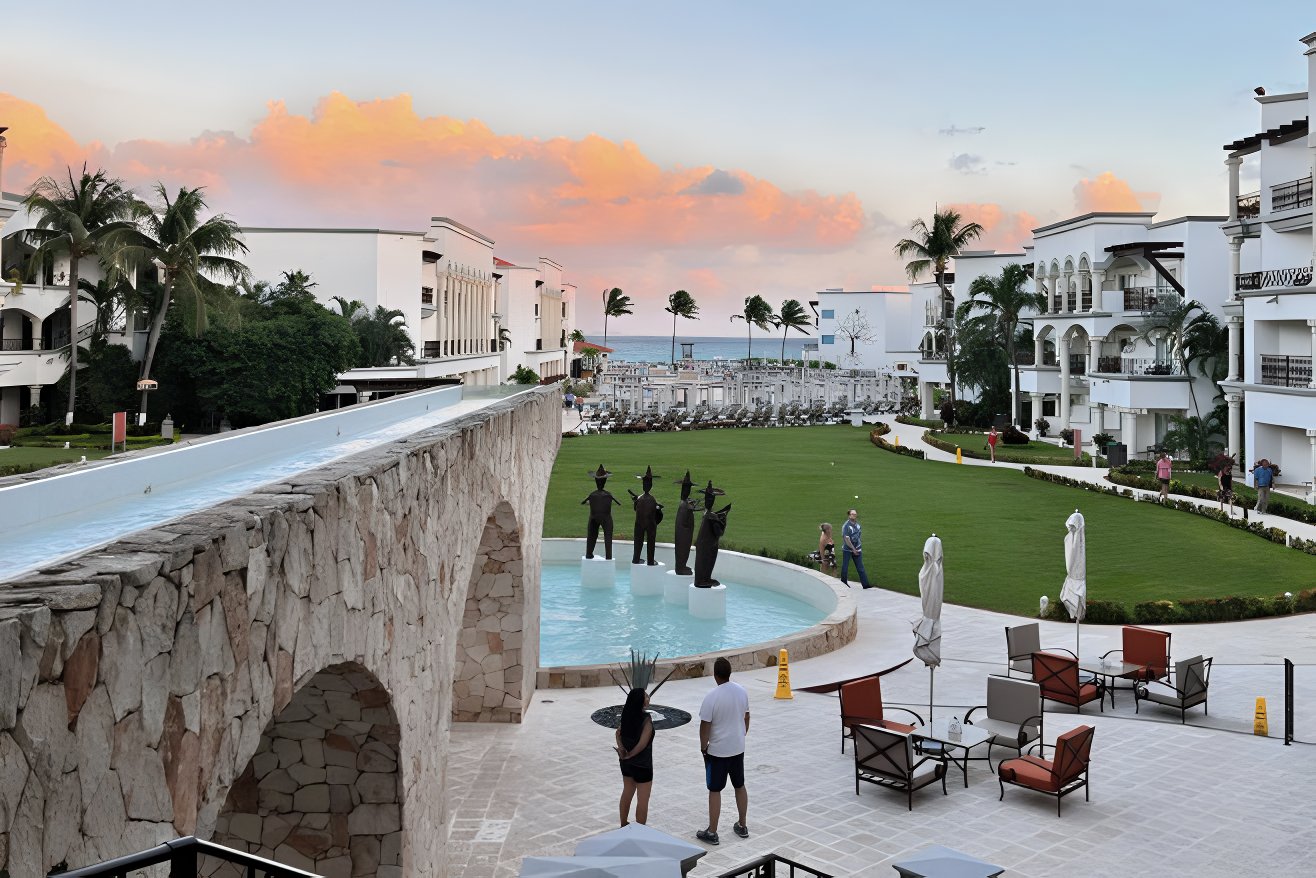 We said goodbye to Hilton Playa del Carmen on Sunday with one last breakfast.
Just like that, our amazing weekend at Hilton Playa del Carmen was over.
But we left that retreat feeling closer as a team than ever. We left the retreat with a more concrete idea of the experience that our Destify couples have at all-inclusive resorts like Hilton Playa del Carmen.
We left that retreat already counting down the days to our next all-company retreat.
From the bottom of our hearts, thank you Hilton Playa del Carmen!
Until next time. ❤️ See more of our Destify reviews here.