Boho-chic is one of the hottest trends in weddings right now. If you're looking for a boho-chic venue for your own bohemian celebration, you're in luck! There are a growing number of beautiful, bohemian-inspired venues popping up at nearly all of our wedding venues.
From rustic gardens to chic rooftop lofts, a boho-chic venue suits every taste and budget. Keep reading for a roundup of some of the best boho-chic venues in Mexico and the Caribbean!
What Does Bohemian Wedding Style Mean?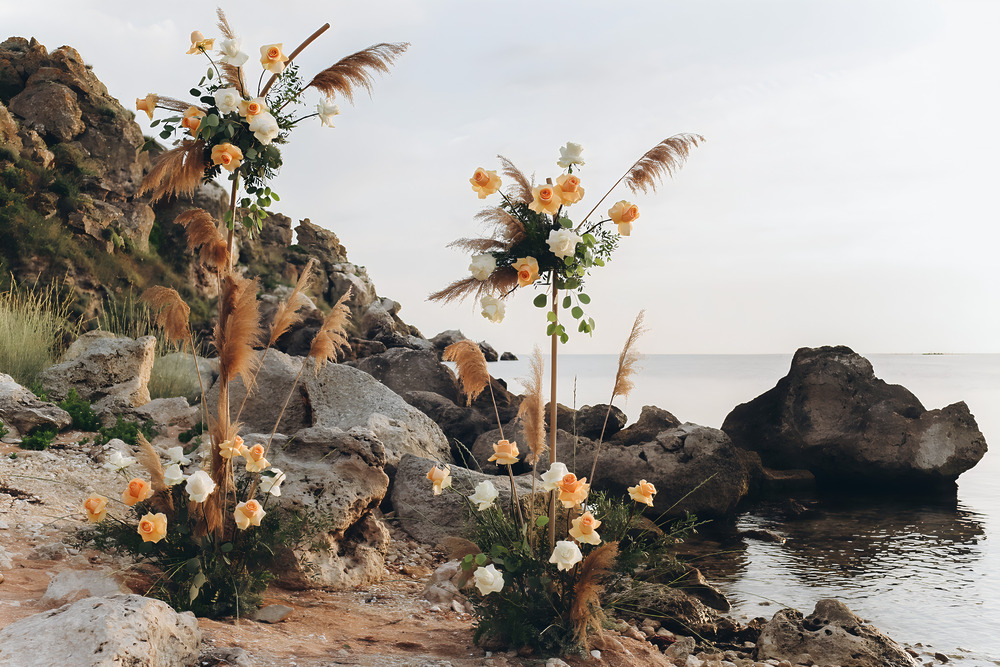 Bohemian wedding style, also known as boho-chic or boho wedding, is an unconventional and free-spirited wedding style. It incorporates elements of nature, whimsy, and individuality. It usually features eclectic combinations of textures, patterns, colors, and vintage finds.
The bohemian wedding style also emphasizes natural and organic materials like wood, lace, feathers, flowers, and plants. These natural elements are often used as decoration for the ceremony and reception.
The bride's dress, accessories, and floral arrangements usually reflect a relaxed and bohemian aesthetic, with loose or flowing silhouettes, floral crowns, and naturalistic makeup and hair. Overall, a bohemian wedding style celebrates the couple's unique personalities, creativity, and love for nature, art, and culture.
Selecting A Boho-Chic Venue for Your Destination Wedding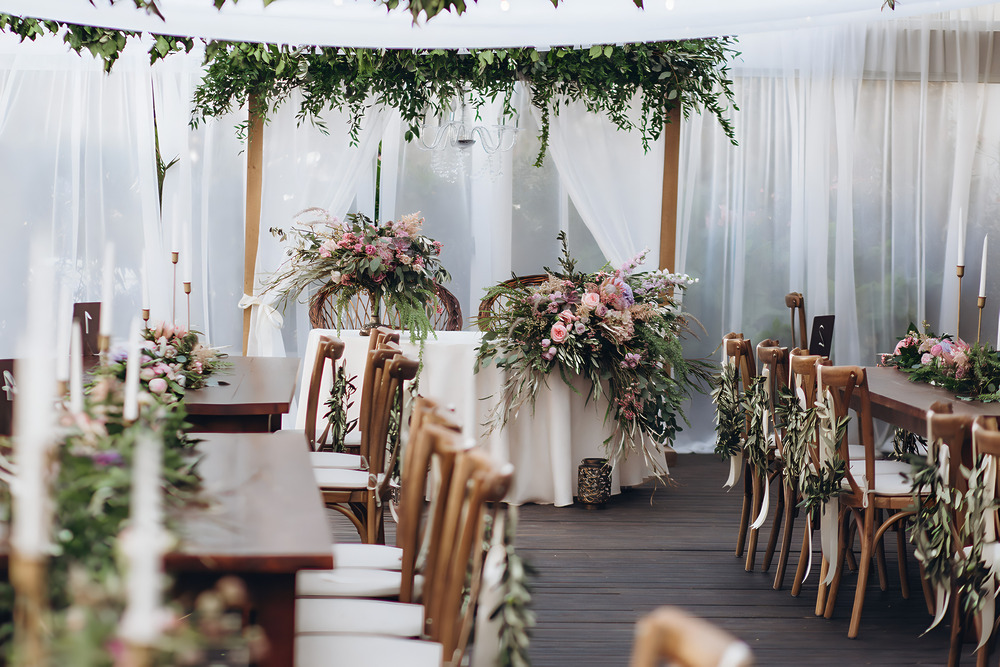 Bohemian wedding styling is becoming an increasingly popular choice for nuptials, as it reflects the timeless elegance of effortless romanticism and dried florals. If you're looking to embrace a bohemian aesthetic for your venue, this will help you capture that tropical vibe.
The location of your big day plays a large role in complementing your wedding theme. While you can turn any venue into a bohemian oasis with intentional design and decoration, some spaces have an effortless feel. Many of our resort's outdoor locations often have beautiful natural elements like trees, flowers, and ponds that can seamlessly blend into your boho-chic venue aesthetic.
When it comes to indoor boho-chic venues, look for spaces with plenty of natural light and large windows, such as lofts, warehouses, and industrial spaces. These spaces offer a blank canvas that can be transformed into a wonderland with the right design elements.
Ultimately, the location you choose should reflect your personal style and preferences. Whether you opt for an outdoor or indoor space, make sure it aligns with your overall vision for your big day. With the right location, your wedding can be the ultimate boho celebration.
Need some more help? Here are some of our favorite ceremony locations:
Dreams Natura – Wedding Gazebo
Cancun Weddings

With architecture inspired by the surrounding lush jungles, nature themed suite decor and design styles, and gorgeous views of the dense mangroves, a destination wedding at Dreams Natura sees you married where modern luxury marries natural wonder.

Dreams Natura:

Read more

Venues: 5
Family Friendly
20 Minutes

Package Costs:

$

999

–

$

11,999
Couples seeking a natural, yet luxury wedding experience will feel right at home in Dreams Natura. This hotel perfectly combines modern amenities and the gorgeous Mayan-jungle atmosphere.
From its architecture crafted to blend with the surrounding jungle, to its nature-themed suites, to views of dense mangroves, this resort celebrates all things wild and wonderful – like the multiple picturesque pools, lush vegetation both indoors and out, and a river running through it! Choose the wedding gazebo and rustic deign packages to make for the perfect boho-chic wedding venue.
Grand Palladium White Sands
Riviera Maya Weddings

Nestled between two zones of tropical paradise, this luxury resort sits offers access to both Tulum and Playa del Carmen. Traditional Mayan décor and architectural accents imbue the resort with a distinctive local flair, while the white sand beaches of its namesake seem to glow and radiate relaxation.

Grand Palladium White Sand:

Read more

Venues: 8
Family Friendly
90 Minutes

Package Costs:

$

3,700

–

$

6,500
The palapa-clad Grand Palladium White Sands offers an authentic experience to the Riviera Maya-area. The resort, located between two stunning tropical destinations – Tulum and Playa del Carmen – features a unique blend of Mayan architectural influences and décor with white sand beaches. Relaxation radiates from its tranquil Caribbean waters while the luxury amenities promise a truly bohemian experience.
Hyatt Zilara Cap Cana
Punta Cana Weddings

One of the most opulent all-inclusive adults-only resorts in the Caribbean, Hyatt Zilara Cap Cana features the finest amenities and consistent access to the breathtaking Juanillo Beach.

Hyatt Zilara Cap Cana:

Read more

Venues: 5
Adults-Only
15 Minutes

Package Costs:

$

1,499

–

$

16,999
Hyatt Zilara Cap Cana is one of the most luxurious all-inclusive resorts located in the Caribbean. Guests will enjoy unmatched amenities as well as access to the stunning Juanillo Beach. At this resort, you can create your perfect destination wedding with customizable packages – tailored to provide you and your guests with an amazing experience. May we recommend the rooftop terrace for a boho-nightclub setting guests won't soon forget?
Secrets Papagayo
Papagayo Weddings

Secrets Papagayo weddings in Costa Rica sets the scene for a lavish destination wedding, with two stunning areas of Arenilla Beach to explore along the Gulf of Papagayo.

Secrets Papagayo:

Read more

Venues: 7
Adults-Only
22 Minutes

Package Costs:

$

999

–

$

3,799
The dark sandy beaches of Spa Beach and the surrounding gardens are calling out as signature boho-chic venues at Secrets Papagayo. Secrets Papagayo is a luxurious, adult-only resort located in the Gulf of Papagayo, Costa Rica. It offers breathtaking views, a serene nature setting, and excellent services, making it an ideal wedding destination. The resort offers multiple wedding packages catering to couples' various needs and budgets.
Dreams Tulum
Tulum Weddings

Constructed near Mayan ruins, flanked on all sides by winding green foliage, and just minutes away from the breathtaking natural waterpark Xel-Há, this resort offers newlyweds and their guests the ideal setting to unplug and connect with the local culture — and with each other.

Dreams Tulum:

Read more

Venues: 12
Family Friendly
90-120 Minutes

Package Costs:

$

999

–

$

11,999
Dreams Tulum Resort & Spa is a popular destination for weddings in Mexico, located on the Caribbean coast just south of Cancun. The resort offers a variety of wedding packages, including both symbolic and legal ceremonies with a range of wedding services and amenities. One of the features of the resort that can make it an attractive choice for those seeking boho-chic venues is the secluded and exclusive garden venue, practically designed from the ground up for this wedding aesthetic.
In Closing
Selecting your ideal boho-chic wedding venue should be easy, but here are some last tips to help you further:
Look for venues with gardens, or have wildflower options for decor. This gives you the freedom to incorporate natural elements like flowers and greenery that are staples of the bohemian style.
Bohemian style is all about embracing the unconventional. Look for venues with unique architecture, such as old buildings with lush gardens surrounded by nature.
Boho-chic weddings typically incorporate lots of natural light. Ensure your venue has plenty of windows or skylights to let the natural light in indoors.
A boho-chic wedding is all about personal style. Ensure that the wedding venue allows for flexibility in decor, so you can add your own unique touch.
Lastly, look for a venue that is close to natural landscapes like mountains, forests, or beaches. This complements the bohemian style perfectly, emphasizing the natural beauty of your surroundings.