In this blog post, we'll take a look at some of the best places to elope in 2023, and also why we think the Caribbean is the best place overall. We'll consider cost, ease of access, and romantic atmosphere. So whether you're looking for a budget-friendly option or a truly luxurious experience, we've got you covered.
The Caribbean is a popular destination for weddings, and for a good reason. Its stunning beaches, clear waters, and laid-back atmosphere make it the perfect place to say "I do." But if you're looking for a more intimate experience, consider eloping in one of the Caribbean's many hidden gems.
Table of Contents:
What Does Elopement Mean?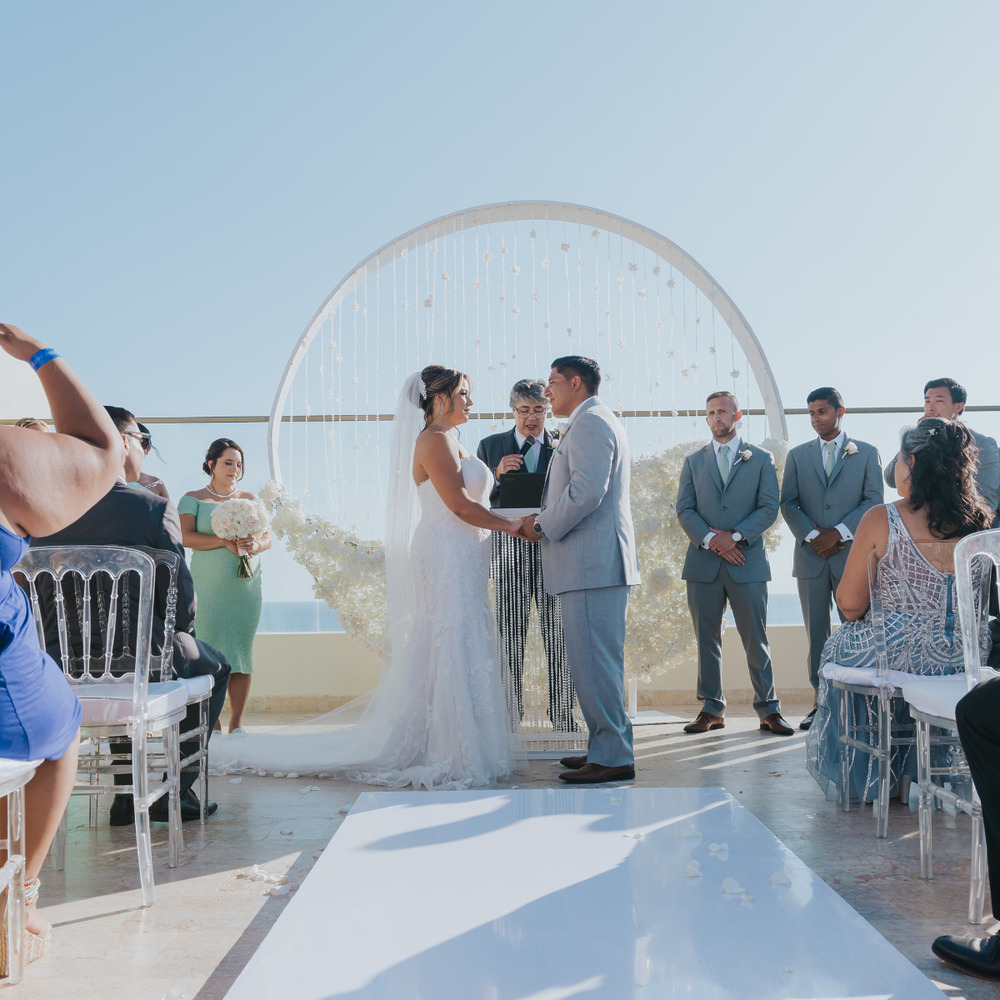 Elopement is a term used to describe a type of wedding ceremony that typically involves an unannounced and secret marriage between two people. This type of ceremony is usually conducted without the knowledge and permission of the couple's family, friends, or community.
The term elopement has evolved over time, and traditionally it referred to a couple running away together to get married, without their parents' permission. It was seen as a taboo and risky way to get married, as it was typically done in secret to avoid disapproval or social stigma.
However, in modern times, an elopement often refers to a more intimate and spontaneous wedding plan. A smaller guest list, a simple ceremony, and a lack of traditional wedding trappings, such as elaborate decorations or reception parties usually characterize it.
For some couples, the best place to elope simply features a romantic and adventurous way to celebrate their love, without the stress and expense of organizing a full-scale wedding. Others may choose to elope due to personal or cultural reasons, such as religious restrictions or a desire to avoid family conflict.
Overall, an elopement is a way for a couple to celebrate their love and commitment to each other in a way that is meaningful and authentic to them, whether it is conducted in secret or with the participation of a few close loved ones.
Why Do Couples Choose to Elope?
Couples choose to elope for many reasons, all personal and unique to each couple. Here are just a few common reasons why couples opt to elope instead of having a traditional wedding:
Financial reasons: Weddings can be expensive, and not every couple can afford to have a big, traditional wedding. Eloping often means saving money on venue rental, catering, and other wedding-related expenses. The best places to elope keep this in mind.
Avoiding family drama: Weddings can be stressful, especially when it comes to family members butting heads or causing drama. Eloping ensures that the couple only has to deal with each other and can avoid any potential family conflicts.
Keeping it intimate: Some couples prefer to keep their wedding day small and intimate; the best places to elope allow them to do just that. It's often just the couple and a few close friends or family members, which can make the day feel more personal and special.
Prioritizing adventure: Some couples choose to elope in a unique location, such as a mountaintop or beach. This allows them to combine their wedding day with a fun adventure.
Avoiding tradition: Some couples simply don't want to follow traditional wedding customs, and eloping allows them to break the mold and create a wedding day that is more spontaneous.
Ultimately, the decision to elope is a personal one that should be made by the couple based on their own wants and needs. While eloping may not be for everyone, it can be a great option for couples who want a more intimate and personalized wedding experience.
Elopement Trends of the Past Few Years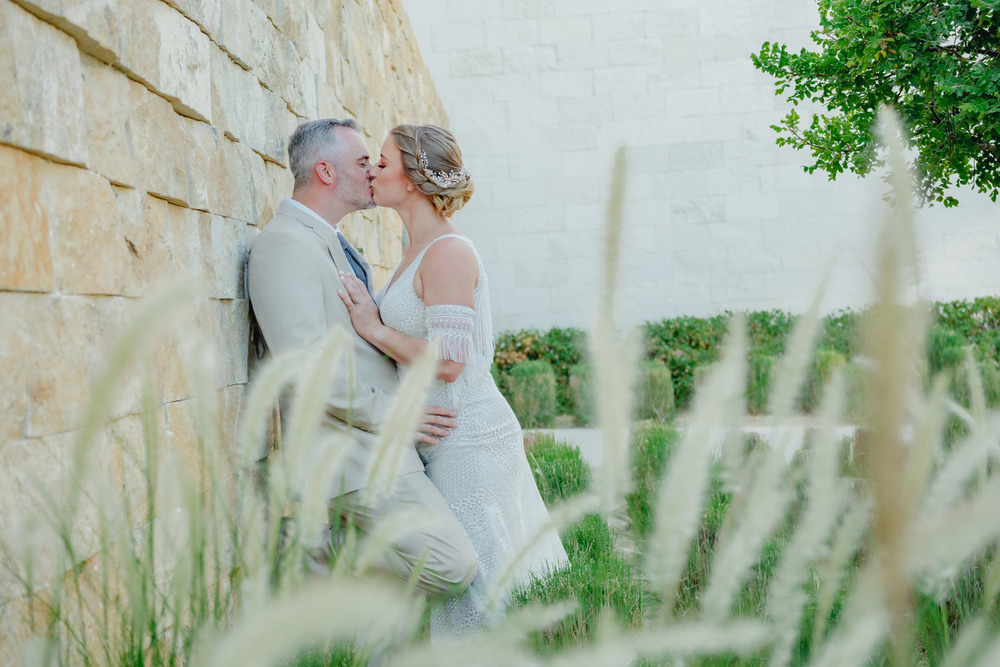 Eloping, or getting married without a formal wedding ceremony, has become increasingly popular over the past few years. Couples have been opting for intimate, personal ceremonies instead of big, traditional weddings. With the rise of social media, more and more couples are sharing the best places to elope and their elopement stories online, inspiring others to follow suit.
In particular, destination elopements have become trendy. Couples are traveling to picturesque locations around the world to exchange their vows in front of breathtaking backdrops. Popular destinations include beaches, mountain tops, forests, and even remote islands. Many destination wedding resorts now offer elopement packages that take care of all the details, making it easy for couples to plan their special day.
Another trend that has emerged in recent years is the "micro wedding." These are small weddings with less than 50 guests that still have all the elements of a traditional wedding, just on a smaller scale. Couples are opting for micro weddings as a way to save money while still having a beautiful ceremony and celebration.
The COVID-19 pandemic has also had an impact on elopement trends. With restrictions on large gatherings and travel, many couples had to downsize their wedding plans and opt for elopements instead. This has further fueled the rise of destination elopements and intimate ceremonies, along with a growing list of the best places to elope around the world.
Over the past few years, elopement trends have emphasized the importance of intimacy and personalization available. Couples prioritize their love and commitment to each other over traditional wedding expectations and embrace the freedom and creativity eloping allows.
What Makes For the Best Places to Elope?
There are no strict rules when it comes to the best places to elope, as it often depends on the couple's preference and style. However, here are some factors that may make a location ideal for elopement:
1. Scenic Views: A breathtaking backdrop sets the tone for a romantic elopement.
2. Privacy: An area with fewer crowds and fewer distractions can help create an intimate atmosphere.
3. Minimal Travel Requirements: Reducing travel requirements can keep stress levels low.
4. Legal Requirements: A location that is easy to obtain a marriage license can be helpful.
5. Accommodations: A location with comfortable and seductive lodgings can set a perfect tone.
6. Activities: Opportunities to explore and create meaningful memories can enhance the elopement experience
7. Professional Services: Access to experienced professionals like wedding planners, photographers, and officiants can ease the planning process.
Ultimately, the best place to elope is a location that resonates with the couple, provides the desired ambiance, and allows for a stress-free experience.
Travel and Logistics Made Easier
Larger weddings require more logistical planning, such as transportation and accommodation for guests, vendors, and the bridal party. This can be challenging, particularly if the wedding is held in a remote or unfamiliar location. Conversely, elopements usually involve only the couple and possibly an officiant and photographer, making planning simpler and less stressful.
Moreover, traveling for an elopement can be more affordable than a larger wedding, particularly if the couple selects a destination that is easy to get to and opts for budget-friendly accommodations. The best places to elope also allow the couple to save on catering, decor, and other expenses that come with hosting a larger event.
Another advantage of eloping is the freedom and flexibility it offers. The couple can plan their ceremony at any time and place, depending on their preferences and schedule, making it easier for them to incorporate the ceremony into their travel plans. If you wanted to elope with Destify, we bet we could coordinate it and plan it within a week if you really wanted to.
Beaches Have Become the Most Popular Choice
Beaches are the most popular choice for elopements for several reasons. Firstly, beaches offer a stunning natural backdrop for an intimate wedding ceremony. You don't have to pay for this backdrop either.
The scenery of the ocean, the sand dunes, and the palm trees create a perfect setting. Couples can exchange vows with the sound of the waves crashing in the background, which adds to the romantic ambiance.
Secondly, eloping to a beach destination can be more affordable than a traditional wedding. Beach weddings usually require fewer guests, smaller arrangements, and a simpler setup. As such, couples can save money on venue fees and decoration costs.
Beach elopements allow couples to prioritize their intimacy and romance. They can focus solely on each other and the relationship they share, without the distractions and obligations of a large wedding. This can create a more meaningful and authentic experience that will be cherished for a lifetime.
Lastly, beach destinations are frequently chosen for elopements because they offer a perfect blend of relaxation, adventure, and entertainment. Apart from the wedding itself, couples can enjoy a variety of activities such as surfing, snorkeling, sunbathing, and stargazing. These activities will help create lasting memories during the equally important honeymoon period.
Wedding Resorts Designed for Elopements
Many of our favorite resorts already have wedding packages designed for couples who just want to elope. These allow for intimate weddings with a limited number of guests. These destination wedding packages may include a wedding coordinator, wedding ceremony, floral arrangements, wedding cake, and even a small reception.
Some all-inclusive resorts may also offer more elaborate wedding packages for larger weddings or more customized options for an additional fee. It is important to check with the resort beforehand to understand what is included in the package and what additional costs may be incurred, such as marriage license fees, outside vendor fees, or upgraded amenities.
Some of Our Favorite Caribbean Destinations for Elopements
Anguilla
Anguilla is a small island located in the northeastern Caribbean Sea. It's known for its beautiful beaches, crystal-clear waters, and laid-back atmosphere. Anguilla is a great place to elope if you're looking for a romantic and intimate experience.
With its stunning natural beauty and luxurious resorts, Anguilla offers couples a perfect combination of relaxation and romance. Some popular spots for an Anguilla elopement include Shoal Bay East, Meads Bay, and Maundays Bay, all of which boasts pristine white sand beaches and clear turquoise waters. Couples can exchange their vows in a secluded beachfront setting, surrounded by lush tropical foliage and stunning ocean views.
In addition to beach elopements, Anguilla also offers a range of other venues and experiences for couples and the best places to elope include elegant resorts which provide scenic views for a wedding ceremony or reception. Couples can also enjoy snorkeling or diving trips to explore the island's vibrant coral reefs, take a sunset cruise, or indulge in a couples' spa treatment.
Whether you're looking for a laid-back beach wedding or a more luxurious and indulgent celebration, this stunning island has something to offer every couple.
Mexico
Planning a wedding requires a lot of time, effort, and planning. This is why Mexico is one of the best places to get married. Elopement takes away the stress and hassle of planning a wedding.
Many resorts and hotels in Mexico offer elopement packages that include everything from the ceremony to the honeymoon. This makes it easier for couples to plan their wedding without worrying about making arrangements.
Mexico is known for its exploration opportunities, such as swimming with dolphins, exploring ancient ruins, or zip-lining over the jungle. An elopement in Mexico allows couples to combine their wedding experience with an exciting adventure, creating a memorable and fun-filled experience.
Couples choose to elope in Mexico for many reasons. It's an affordable destination, provides a beautiful setting, is hassle-free, and offers excursion opportunities.
Jamaica
Jamaica is known for its island scenery, from white-sand beaches to lush tropical forests. Imagine taking your vows with the Caribbean Sea as your backdrop, or exchanging rings under the shade of a palm tree with the sound of waves crashing in the distance.
Jamaica is an affordable destination for weddings, with plenty of options to fit any budget. As one of the best places for elopements, you can choose from all-inclusive resorts, boutique hotels, or even rent a private villa.
Lastly, Jamaica has a well-developed wedding industry, and many venues and vendors are experienced in hosting international weddings. Many resorts offer wedding packages that include everything from the venue to the flowers, making planning your big day a breeze.
Bahamas
The Bahamas is another popular pick for the best places for elopements. It's home to some of the most beautiful beaches in the world, as well as a chill atmosphere. The Bahamas is a great place to elope if you don't mind spending a little extra on travel and accommodations.
The Bahamas offers a truly magical locale for a wedding ceremony. Whether you choose to exchange vows on a secluded beach or aboard a private yacht, you're sure to create amazing memories.
The Bahamas is home to a number of world-class resorts that offer a range of wedding packages and services, from elegant beachfront ceremonies to lavish receptions with live music and gourmet cuisine. You can choose from intimate settings for just the two of you, or larger venues to accommodate family and friends. But not too large, this is an elopement after all.
In addition to its stunning natural beauty, The Bahamas is known for its warm and friendly people who will go out of their way to make your special day unforgettable. From the wedding planners to the catering staff, everyone will be there to ensure your dream wedding becomes a reality.
Aside from the wedding celebrations, The Bahamas offers a wide range of activities to enjoy, from snorkeling and scuba diving to exploring historic landmarks and shopping in local markets. Whether you're looking for a relaxing getaway or an action-packed honeymoon, The Bahamas has something for everyone.
Turks and Caicos Islands
The Turks and Caicos Islands are a group of islands located in the northeastern Caribbean Sea. They're known for their beaches, clear waters, and 5-star luxury resorts. The islands are also popular for diving and snorkeling as their coral reefs are teeming with marine life.
The largest island in the group is Providenciales, where you can find Grace Bay Beach, considered one of the best beaches in the world. On this island, you'll also find the island's main town, Providenciales, which offers shopping, dining, and nightlife options.
Another island worth visiting is Grand Turk, which is the capital of the Turks and Caicos Islands. Its main attraction is the Grand Turk Lighthouse, which offers stunning views of the surrounding island and ocean. The island is also known for its historic buildings, such as the 19th-century St. Mary's Anglican Church and the Turks and Caicos National Museum.
If you're looking for a secluded and peaceful experience, head to North Caicos or Middle Caicos, where you can explore nature reserves, kayaking, and bird-watching in the lush mangrove swamps.
St. Lucia
St. Lucia is an emerald island located in the eastern Caribbean Sea. It's known for its stunning beaches, lush rainforests, and active volcanoes. St. Lucia is a great place to elope if you're looking for a destination that's both exotic and romantic.
One of the most iconic spots on the island is the Pitons, two majestic volcanic spires that rise dramatically from the sea. A hike up Gros Piton is a must-do activity for adventurous couples, while the breathtaking views from Anse Chastanet Beach make it a popular spot for wedding ceremonies.
St. Lucia also has plenty of luxurious resorts and spas that offer wedding packages, catering to both intimate gatherings and grand celebrations. Imagine exchanging vows with the Caribbean Sea behind you, followed by a candlelit dinner under the stars.
For those who love nature, St. Lucia's rainforests offer a picturesque setting for elopements. The Diamond Falls Botanical Gardens is a popular spot for weddings, featuring serene waterfalls, colorful flowers, and natural hot springs.
Regardless of where you choose to say "I do" on St. Lucia, the island's natural beauty and warm hospitality are sure to make your elopement unforgettable.
Ready to Elope?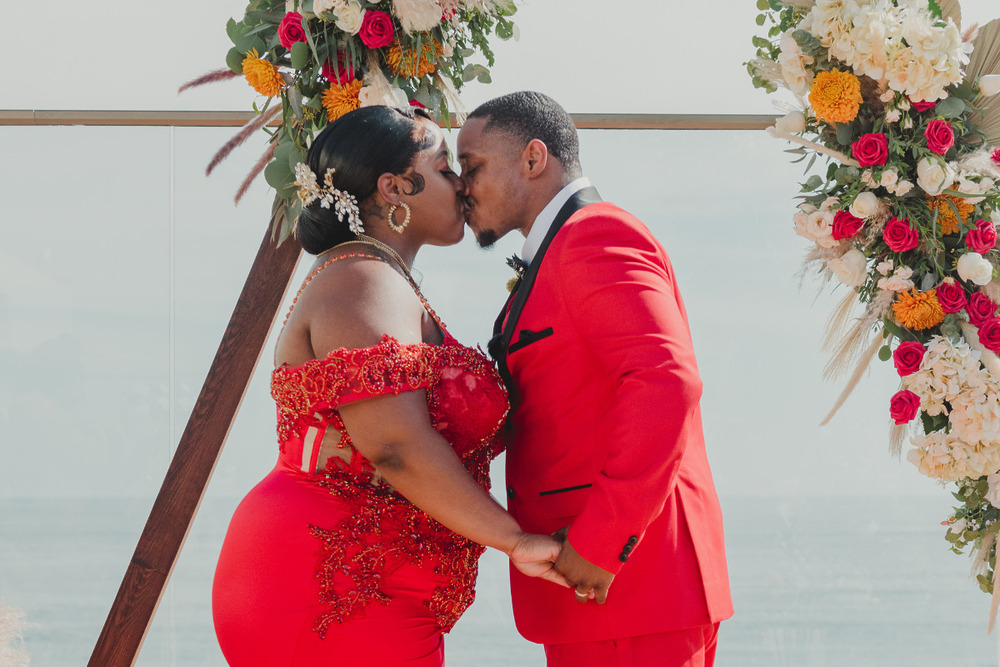 The best places to elope are the places that are most meaningful to you and your partner. It could be a place where you had your first date, where you fell in love, or where you feel most at peace. It could be a place that is remote and secluded or a place that is full of life and energy. It could be a place that is traditional and formal or a place that is casual and informal. No matter what your criteria are, there is a place out there that is perfect for you and your partner.
The most important thing is to choose a place that you will cherish for years to come. Eloping is a unique and special experience, and the best places to elope allow you to choose will play a big role in your special day.