A brand-new hotel under Hyatt's opulent Andaz name has just debuted in Mexico City.
The existing Andaz Mayakoba, located on Mexico's Caribbean shore, and the new Andaz Mexico City Condesa are both Andaz hotels.
The new Mexico City hotel is located in one of the city's trendiest districts and features a hip rooftop with a beach club vibe, a spa, and one of the tallest outdoor decks in the area.
The exciting neighborhood of Condesa is Andaz Mexico City Condesa's home. It's known for its trendy, bohemian vibe and beautiful, tree-lined streets. Located in the Cuauhtémoc borough, Condesa is known for its Art Deco architecture dating back to the 1920s and 1930s.
Condesa is a popular destination for young professionals, artists, and intellectuals. It has a vibrant nightlife scene with many bars, cafes, and restaurants. The area is also home to several parks, including the Parque México and Parque España, which are popular spots for jogging, picnicking, and dog-walking.
The hotel's 213 rooms, 20 of which are apartments, were constructed using a style that Andaz refers to as being "residentially inspired."
Every room has Byredo toiletries, workspaces, minibars stocked with Mexican snacks and beverages from nearby businesses, local artwork, and even a record player with a selection of contemporary and vintage vinyl records to listen to.
The culinary centerpiece is the Cabuya Rooftop, what the hotel calls a "Tulum-inspired beach club," with 360 degrees of Mexico City's skyline, weekend DJ sets and a seasonal menu featuring Mexican flavors like grouper "zarandeado," a 500-year-old grilling technique from Mexico's Pacific coast.
Dog lovers look no further than the "Wooftop Beer Garden & Canine Club." This scenic rooftop bar allows travelers to clink drinks while their furry friend meets new dog friends and enjoys their own treats.
This pet-friendly attitude extends to the resort of the resort, allowing your fuzzy companion to accompany you on your trip for $100 per pet!
There's also a heated rooftop pool and a spa called Pasana.
The property additionally has 12,674 square feet of meeting and event space.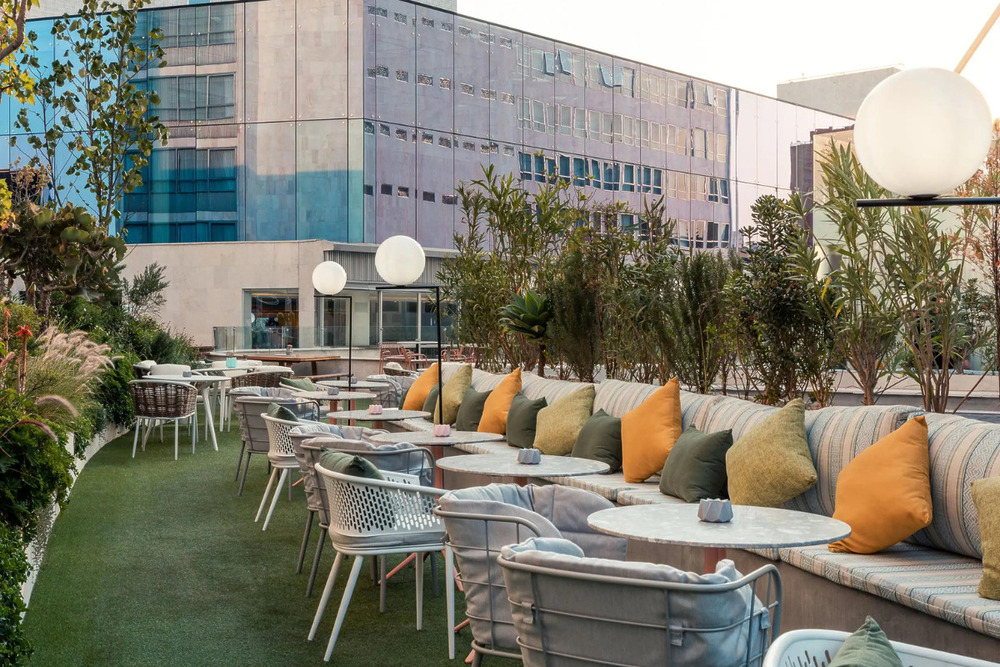 What's Mexico City Like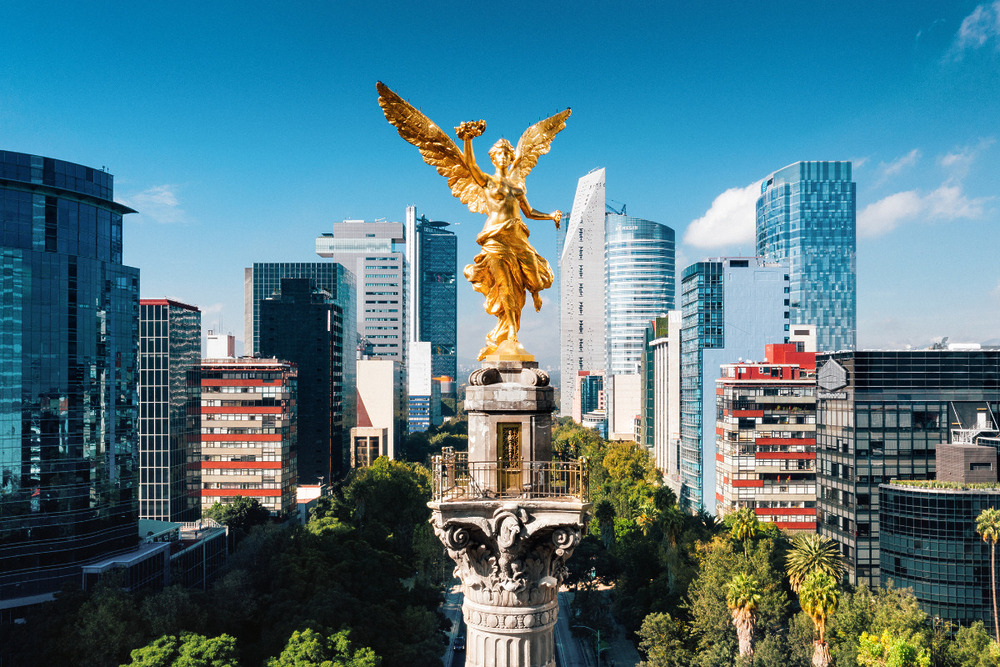 Mexico City, also known as Ciudad de México, is the capital and largest city of Mexico, located in the central part of the country. It is a vibrant, bustling metropolis with a rich history, culture, and cuisine.
The city sits in a valley surrounded by mountains, which can often trap smog and pollution, leading to poor air quality. However, the city is known for its beautiful colonial architecture, colorful neighborhoods, and historic landmarks such as the Zocalo (main square) and the National Palace.
Mexico City is a city of contrasts, with modern skyscrapers and shopping centers existing alongside ancient ruins and traditional markets. The city is home to numerous museums, including the National Museum of Anthropology, which houses an impressive collection of artifacts from Mexico's pre-Columbian civilizations.
The food in Mexico City is renowned worldwide, with a wide variety of street food, restaurants, and markets offering delicious and authentic dishes such as tacos, tamales, and chilaquiles.
Another Great Hyatt Resort
Punta Cana Weddings

One of the most opulent all-inclusive adults-only resorts in the Caribbean, Hyatt Zilara Cap Cana features the finest amenities and consistent access to the breathtaking Juanillo Beach.

Hyatt Zilara Cap Cana:

Read more

Venues: 5
Adults-Only
15 Minutes

Package Costs:

$

1,499

–

$

16,999
Hyatt Zilara Zap Cana is situated in the heart of Cap Cana, a gated community with pristine beaches, golf courses, and a marina. The resort's location provides guests access to some of the most beautiful natural attractions in the Caribbean.
Hyatt Zilara Cap Cana is an adults-only resort that caters exclusively to guests aged 18 and over. This makes it an ideal destination for couples, honeymooners, or anyone looking for a peaceful and romantic getaway.
The resort is all-inclusive, meaning that guests pay one price for their entire stay and have access to all of its amenities, including meals, drinks, and activities. This makes it easy for guests to relax and enjoy their vacation without worrying about additional expenses.
Hyatt Zilara Cap Cana features spacious and elegant suites, many offering stunning ocean views. All suites are designed with comfort and luxury in mind, featuring high-end amenities and modern decor.
The resort offers a variety of dining options, including several restaurants serving international cuisine. Guests can enjoy everything from traditional Dominican dishes to Italian cuisine to Asian fusion.
There are plenty of activities to keep guests entertained at Hyatt Zilara Cap Cana. The resort features several swimming pools, a spa, a fitness center, and a variety of water sports. There are also plenty of opportunities for exploring the natural beauty of Cap Cana, including hiking, horseback riding, and boating.