Montego Bay offers some of the best all-inclusive wedding hotels. Between affable vibes, a lively downtown scene that features superb dining and nightlife, and stunning natural scenery, this city has just about everything to make wedding celebrations a time to remember. There are plenty of charming and accommodating properties that offer terrific venues for commemorating your momentous occasion. We know it can be difficult to decide on just one, so we've put together our list of the 5 best all-inclusive wedding hotels in Montego Bay, Jamaica.
Half Moon Montego Bay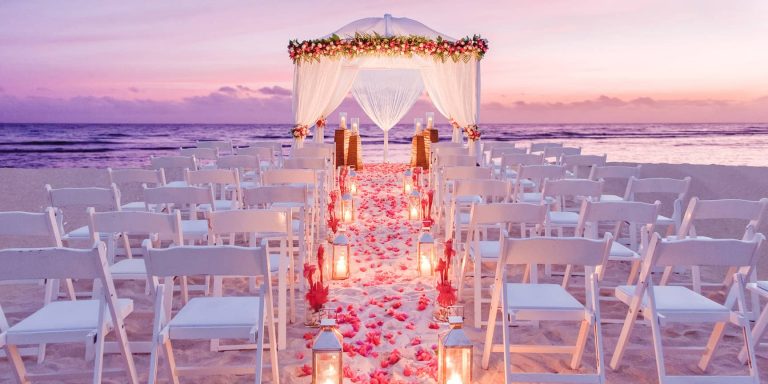 Half Moon Montego Bay
Starting off our list of Montego Bay's best all-inclusive wedding hotels is Half Moon Resort, which sits on two miles of soft white sands just outside the city. The hotel itself is luxurious and elegant, featuring pillared arches, lush tropical plants and flowers, and classy furnishings. Their specialty restaurant, Sugar Mill, is a guest favorite as well as a recent winner of Jamaica's Best Restaurant Award. There are amenities to suit travelers of all interest, from relaxation and indulgence to water sports and more active pursuits. There are four different Montego Bay wedding packages at Half Moon Resort and their costs are all determined by the number of guests, add ons, upgrades, and other preferences of the wedding couple. Half Moon tailors every wedding experience to the couple themselves to provide the best actualization of how they envision it. Wedding ceremonies at Half Moon are stunning, accentuated by fresh flower petals, a brilliant wedding gazebo with linens and floral decor, and charming aisle lamps.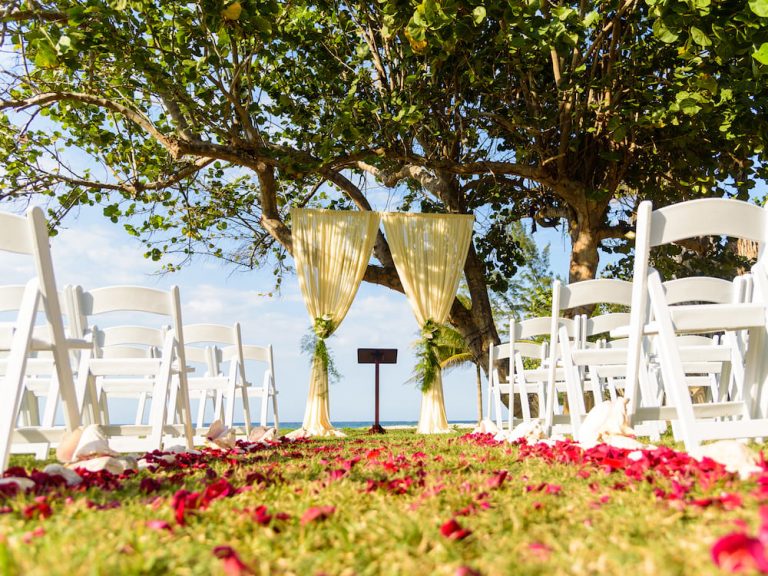 Half Moon Montego Bay
Half Moon Resort has every accommodation you and your partner might need to enjoy the wedding celebration of your dreams. It easily makes our list of the best all-inclusive wedding hotels in Montego Bay.
Hyatt Ziva Rose Hall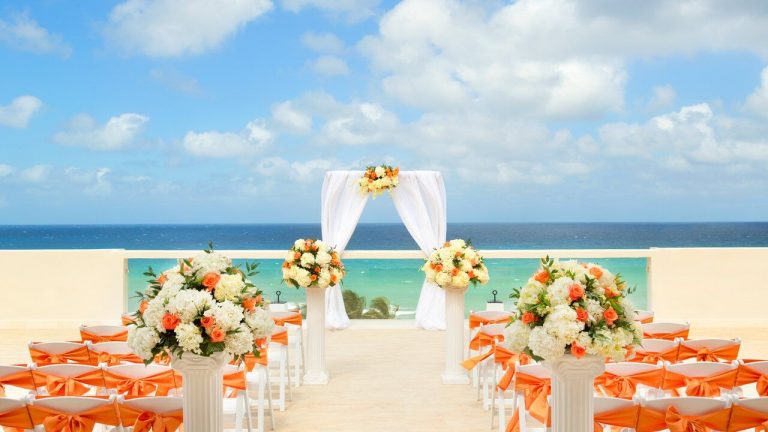 Hyatt Ziva Rose Hall
Next on our list of Montego Bay's best all-inclusive wedding hotels is Hyatt Ziva Rose Hall. Also located near the edge of the city, this resort sits upon beautiful turquoise waters and boasts some of Jamaica's finest beaches. At this hotel, you can expect the very best in amenities and services and for your experience to live up to the Hyatt brand's reputation in terms of room comfort, dining, and spa services. There are also delicious jerk chicken and sausage being prepared nearly all day long at the hotel's private jerk shack so you and your guests can indulge throughout your stay. You and your partner will have the option of a barefoot ceremony on the beach or a more intimate experience in the grand ballroom or terrace. With a staggering 10 different ceremony venues and upgradeable packages, this hotel really allows you to take control of your wedding vision and bring it to life with the help of professional coordinators. Also, your wedding package can be complimentary when meeting some easy booking requirements. Between the reliability of the Hyatt name and the range of terrific amenities and wedding services, Ziva Rose Hall is another no-brainer among our best wedding hotels in Montego Bay.
Royalton Blue Waters
Continuing our list of the best all-inclusive wedding hotels in Montego Bay is a Destify best-seller, Royalton Blue Waters. A recently built resort on a private peninsula, Royalton Blue Waters offers brand new amenities and accommodations as well as contemporary decor which will appeal exceptionally to a couple who is seeking a more elegant destination wedding. Rooms include a luxury jetted tub and all new, pristine bedding and bath. This resort is the height of contemporary luxury.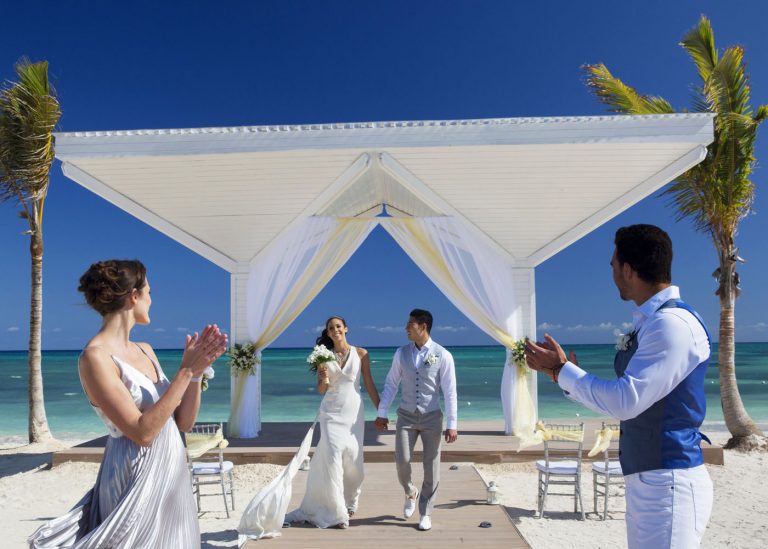 Royalton Blue Waters
Weddings at Royalton Blue Waters are up to and most often, beyond every standard of Caribbean destination weddings. The entry-level wedding package is thoughtful and covers nearly every aspect of an intimate yet jovial commemoration. In addition to inclusions that one might expect, Royalton Blue Waters offers a VIP welcome and late checkout and a 10% discount on spa services for the entire wedding group. We recommend the private island wedding ceremony, which seats 40 on an isolated manmade island off the coast and is simply one of the most beautiful ceremony locations we offer in the Caribbean, let alone Montego Bay. The wedding package can become complementary when meeting booking requirements that are easily met with just over 10 guests for a weekend. The combination of new, opulent architecture and designs with the superb wedding package, as well as the private island, makes it easy for us to include this resort in our top 5 best wedding hotels in Montego Bay.
Sandals Royal Caribbean
Next on the list of best wedding hotels in Montego Bay is Sandals Royal Caribbean. There are few resorts in the country that showcase the insane views of the aquamarine sea, pristine sands and, local flora and fauna of Jamaica. Rooms are uniquely designed and feature natural wood accents, warm colors, and of course top-tier furnishings and bath amenities. There are also over-the-water bungalows available which are oriented specifically for couples. They feature glass floor panels that reveal marine life below, an outdoor tranquility soaking tub, and walk-in rain showers.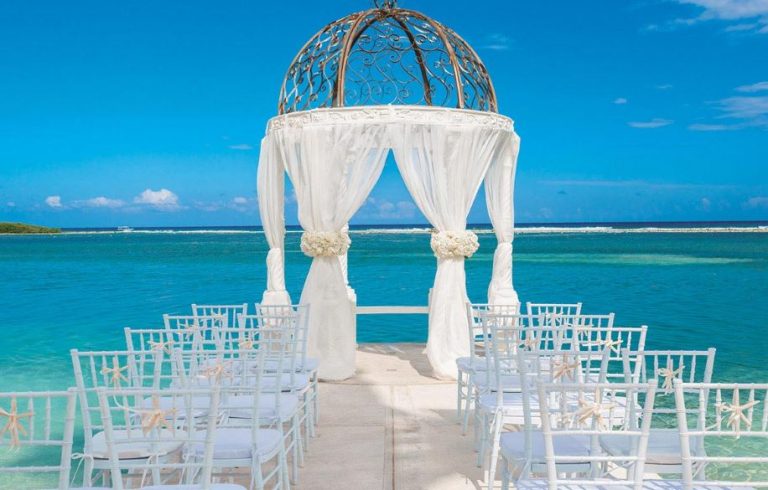 Sandals Royal Caribbean
The four Oceanview Gazebos at Sandals Royal Caribbean extend over the waters of the bay and catch the light of sunset in the most breathtaking fashion. The free wedding package is available with booking just 3 room nights and includes a 30-minute couples massage, cocktail reception, breakfast in bed, honeymoon dinner, and more on top of the expected inclusions. With the choice of 6 total gazebos at your disposal and the services of the most experienced wedding coordinators in the country, it's impossible for Sandals Royal Caribbean not to make our list of the best wedding hotels in Montego Bay.
Zoetry Montego Bay
Our final hotel, Zoetry Montego Bay, concludes our list of the 5 best wedding hotels in the city. This boutique property sits in the upscale Ironshore neighborhood and offers an experience that is quite distinguished. Zoetry Montego Bay might have the best kitchens of any hotel in the country, as they use only locally grown organic ingredients for every single dish. They accommodate every dietary restriction as part of their standard menu, as well. The beach is private, the mountains are majestic, and you'll find all sorts of fascinating areas to explore here from as the pier that juts out from the beach to the Rastafarian influence in the designs and decor.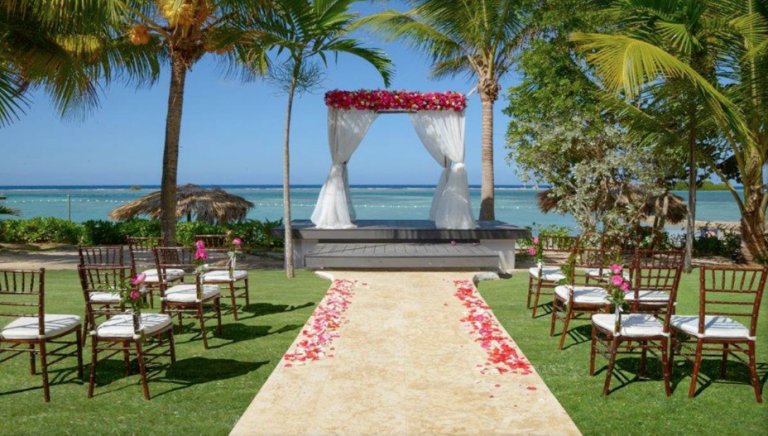 Zoetry Montego Bay
With wedding options between the lush gardens, the pristine beach, and the isolated pier, you can't go wrong no matter how you choose to commemorate your special day at this hotel. The base package is free when booking 10 rooms for 3 nights each, and includes a room upgrade for the couple, nightly turndown service, and complimentary anniversary nights on top of the brilliant wedding ceremony inclusions. As a preferred partner of Zoetry Resorts, Destify can offer even more inclusions for your wedding, from romantic dinners on the beach to spa treatment discounts. Through its distinguished offerings and culinary inclusions, Zoetry Montego Bay rounds off our list of the best all-inclusive hotels in Montego Bay
Still interested in learning more about the best wedding options in Montego Bay? Click the link below to explore: