If you've got your heart set on having your big day in Riviera Maya, Mexico or are merely considering it as an option – well who can blame you? With its pristine beaches, lush jungle canopies, enchanting wildlife, and even Mayan architecture, Riviera Maya is a slice of paradise in a most beautiful region of Mexico.
This article covers a variety of Riviera Maya wedding package levels in order to make your decision that much easier. The sheer number of surpassingly pristine resorts in the region is dizzying, even a little overwhelming, but after reading this article, you'll have a better idea of the wedding packages available in Riviera Maya and Mexico in general, along with their prices and an idea of what's included.
Riviera Maya wedding package prices fall into three tiers: those that are considered economical, those that are intermediately prices, and those considered luxury packages. Let's get started with the economical resorts:
Economical Riviera Maya Wedding Packages
Barcelo Resorts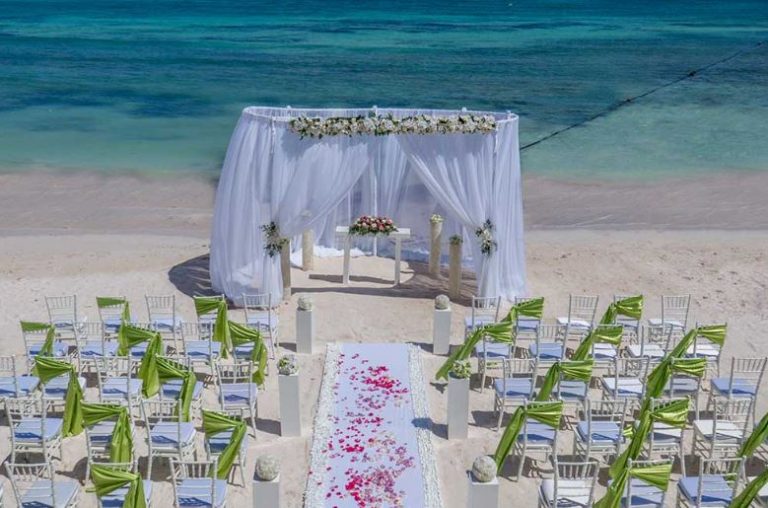 Barcelo Maya Caribe
The first venues we're going to take a look at are 4 resorts operated by Barcelo, all of which offer reasonable Riviera Maya wedding package prices that allow your budget to stretch further. These 4 venues can actually be separated into pairs, with the first being Maya Beach and Maya Caribe and the second pair being the Maya Colonial and Maya Tropical – with each pair offering shared spaces between them.
Each resort features a number of amazing facilities and entertainment options: Maya Beach boasts it's very own nightclub, Jaguar's, which is ideal for an after-party. Maya Caribe, by contrast, offers the Barcy club, for kids between the ages of 4 and 12. The Maya Colonial has a water park, bowling alley, and sports bar, while you can indulge and pamper yourself at one of the Maya Tropical's spas. And all that's just for starters.
Whichever of Barcelo's beautiful resorts proves to be the perfect venue for your big day, each offers the same entry-level wedding package, which starts at $750 for 25 guests. This includes a symbolic ceremony, cake, semi-private dinner, sparkling wine toast, and other perks. You'll have your choice of multiple wedding venues, with the largest, on the beach, able to accommodate 200 guests.
Catalonia Resorts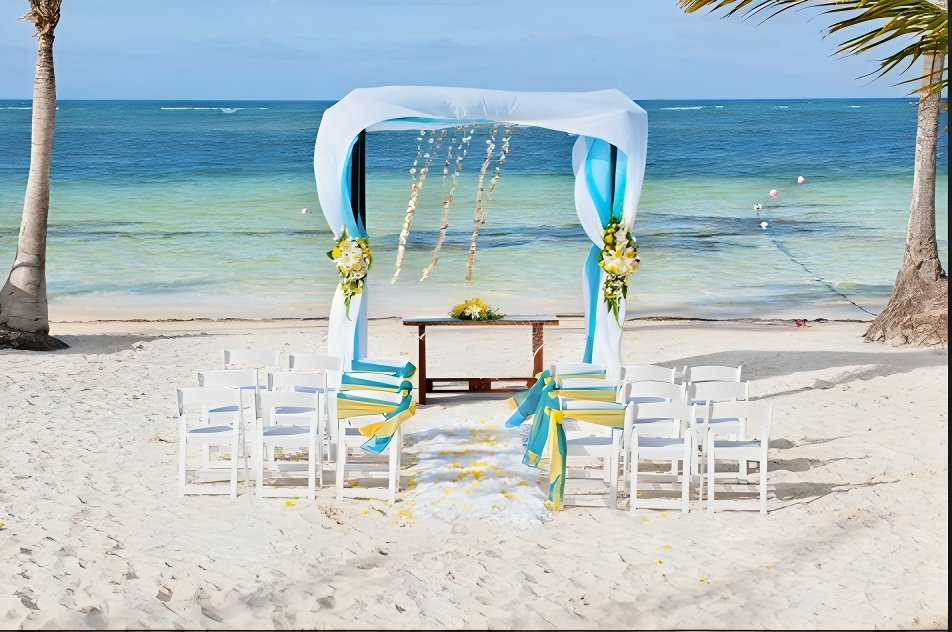 Catalonia Playa Maroma Weddings
Like Barcelo, Catalonia has a number of gorgeous resorts in the region, with the Catalonia Playa Maroma and Catalonia Riviera Maya locales offering the most attractive wedding package prices for couples on a tighter budget. Both offer stunning views of the incomparable coastline, as well as the chance to explore the crystal clear waters while scuba-diving or snorkeling amongst the coral reef.
Both venues offer an entry-level package designed for the bride and groom only, which starts at $499. Your Riviera Maya elopement includes help from a wedding planner, setup and decorations, and a romantic dinner on the beach. Of course, this package can be upgraded to include guests. Wedding ceremony venues include scenic gardens and serene beachfront.
Intermediate Riviera Maya Wedding Packages
Dreams Resorts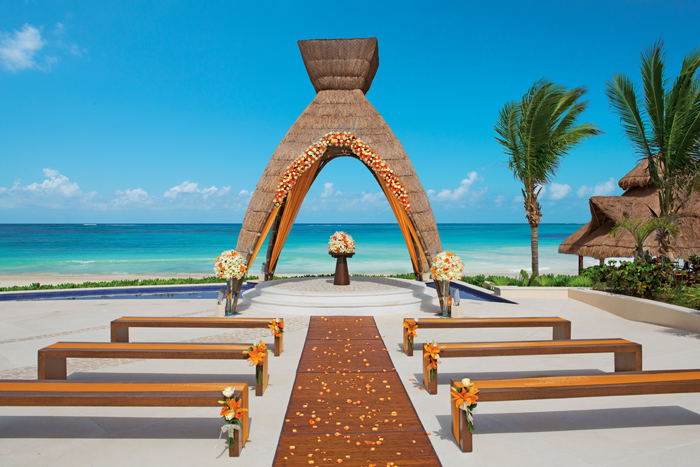 Dreams Riviera Cancun
Now, moving onto mid-ranged wedding package prices in Riviera Maya, we're starting with the Dreams Riviera Cancun and Dreams Tulum all-inclusive resorts. Dreams Riviera Cancun grants access to the world's second-largest manmade coral reef, making it an ideal place to snorkel, dive and check out a marvelous array of marine life. It also boasts a great wine cellar, stocked with a selection of premium wines from around the world – ideal for romantic-minded couples. Dreams Tulum, on the other hand, is an eco-friendly resort featuring an amazing 44-acre garden, offering nature lovers lush, green scenery to enjoy in addition to the picture-perfect beaches.
Both resorts offer a starter Riviera Maya wedding package priced at $999 for 10 guests. This includes a symbolic ceremony, a cake, and even a free room the night before the wedding. This becomes complimentary when you book 7 nights in particular rooms or 5 rooms booked for at least 3 nights.
Each resort features a number of venues, with Dreams Riviera Cancun offering 6 venues and Dreams Tulum offering 7 – which can hold anywhere up to 250 people. Dreams Tulum's extra venue is a cute, Spanish-style chapel which holds up to 40 people, making it ideal for a smaller, religious ceremony.
Iberostar Tucan
Iberostar Tucan
Next, there's the incomparable Iberostar Tucan with moderately priced rooms, unique for its setting against a lush jungle, containing a trail leading to Mayan ruins, as well as a breathtaking beach on the south of Playa Del Carmen. Riviera Maya wedding package rates start at $999 for 10 guests, featuring a minister (or judge or priest), wedding planning services, venue set up, and a champagne toast. Naturally, upgrade options are available to cater to your tastes and preferences. Iberostar Tucan destination weddings offer 3 venues, which can accommodate up to 150 people – this even includes a jungle venue!
Luxury Riviera Maya Wedding Packages
Lastly, if you want to make your special day truly sensational, and have the budget to do so, Rivera Maya offers an unparalleled choice of luxury wedding packages at breathtaking resorts.
Moon Palace Golf and Spa Resort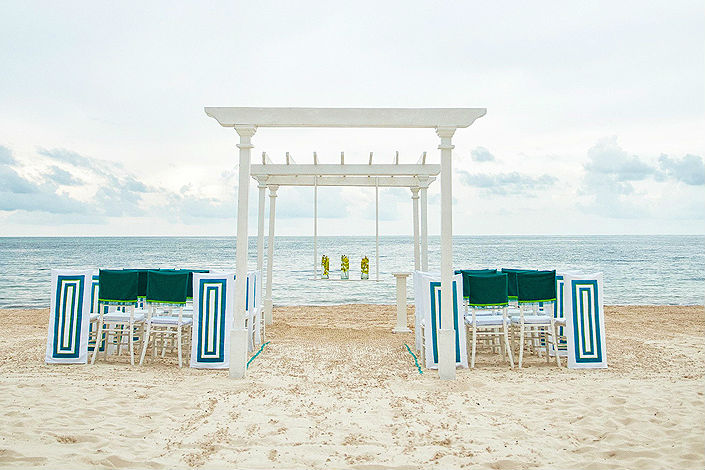 Moon Palace Golf and Spa Resort
There's no better place to begin than the Moon Palace Golf and Spa Resort. As its name suggests, it features a specially-designed, 27-hole Jack Nicklaus Signature golf course. Then, after working up an appetite through golfing or one of the many other activities on offer, you can head to one of 16 restaurants on site, or stop to enjoy one of their 16 bars. The resort is also split into two: Sunrise, which is more family-friendly, and Nizuc, which is more suited for couples.
The Moon Palace's entry-level package, featuring a symbolic ceremony, minister, and cake, amongst a host of other extras, is completely free! This is, however, if you book a minimum of 14 nights in total at the resort and may still require taxes and fees.
Playacar Palace Riviera Maya Wedding Packages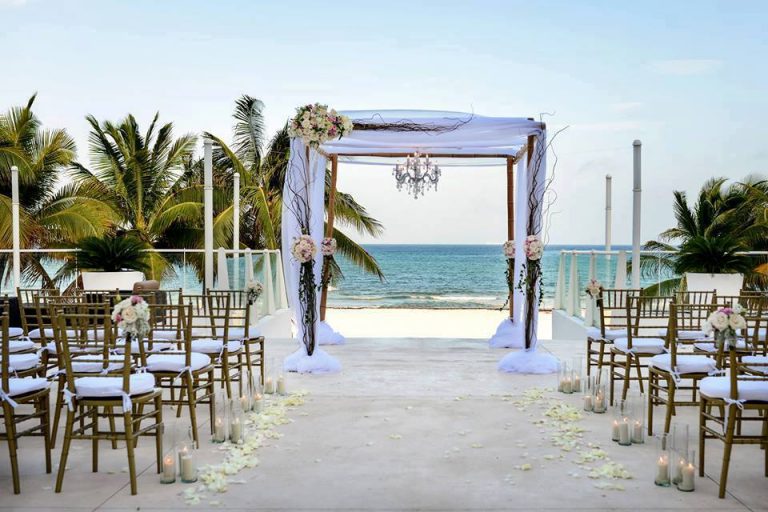 Playacar Palace Weddings
Then, we come to the Playacar Palace , situated a few minutes from Playa del Carmen's, cosmopolitan 5th Avenue. This resort is renowned for its peace, quiet, and serenity, making it perfect for smaller, more intimate ceremonies. But if you'd like excitement, downtown Playa del Carmen is just a short trip away. Many of the opulent rooms here offer ocean views, with some even bringing the ocean to you, with direct access to the beach from your front door. Playacar Palace's entry-level package allows for 30 guests and offers a dedicated wedding coordinator, ceremony decor, chairs and much more.
Want to learn more about Riviera May Wedding Package Prices? Check out our full section on the area so you can see more of the gorgeous resorts on offer: