One of the most beautiful locations that you can choose to have a destination wedding is the island of Turks and Caicos. Turks and Caicos weddings are just different than any other option you may have because it is a sign of luxury, adventure, and of course, love. This is a gorgeous location that will have plenty of options that fit the style of wedding that you want while still having that truly authentic feeling you just can't get anywhere else. One thing of note is that flight options to Turks and Caicos may be much more expensive than some of the larger Caribbean islands.
Turks and Caicos is actually a string of islands that are part of the British Overseas Territory. Located Southeast of the Bahamas, the weather is almost always gorgeous and filled with sights your guests won't soon forget. However, there are few all-inclusive options, so you may want to be thoughtful about where you want to have your wedding. One thing to know is that you should absolutely take advantage of the scenic sights and natural beauty of the islands – which is why so many people choose a Turks and Caicos wedding at a resort where they know they will be well taken care of – a word to the wise, however: don't just go anywhere. Not all options are created equally.
But where should you hold your Turks and Caicos wedding? Here are our top picks:
Beaches Turks and Caicos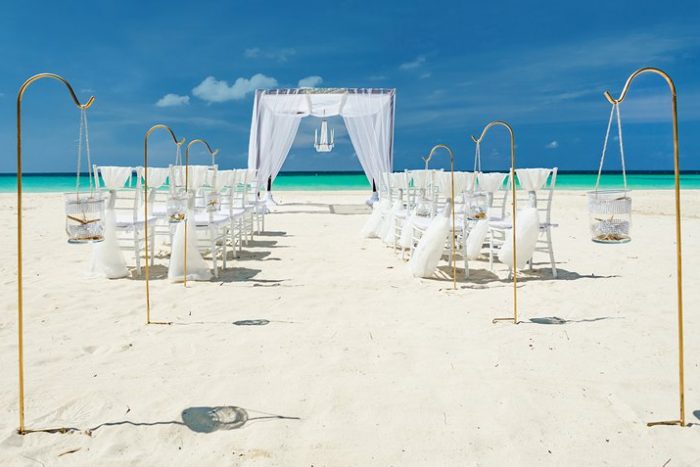 Beaches Turks and Caicos
One of the best options for over-the-top Caribbean weddings is Beaches Turks and Caicos. This all-inclusive resort is the height of luxury for families, couples, adults, and small weddings. It is perfect for guests of any age, with different activities and amenities that will entice even the most stubborn wedding guest to get out and have fun. At the end of the day, this resort is built for a Turks and Caicos wedding with kids, whether they are your own kids or your guests. There is a Sesame Street Camp, a water park, and special kids' activities that they can sign up for (and hopefully give their parents a break at the same time.) For the adults, there is a 3-hour catamaran cruise where you can swim with sea turtles. You can also go scuba diving, enjoy the absolutely massive spa, eat in the over 20 restaurants, lounge at one of 12 bars, or spend the day by the pools.
Even better, for the bride and groom, the wedding will be curated to everything that they like. Since this is the largest resort on the island, you can expect to have all of the possible amenities and some of the best staff at your disposal. Beaches and Sandals resorts typically offer two venues for wedding ceremonies, a garden or gazebo, and a beach location.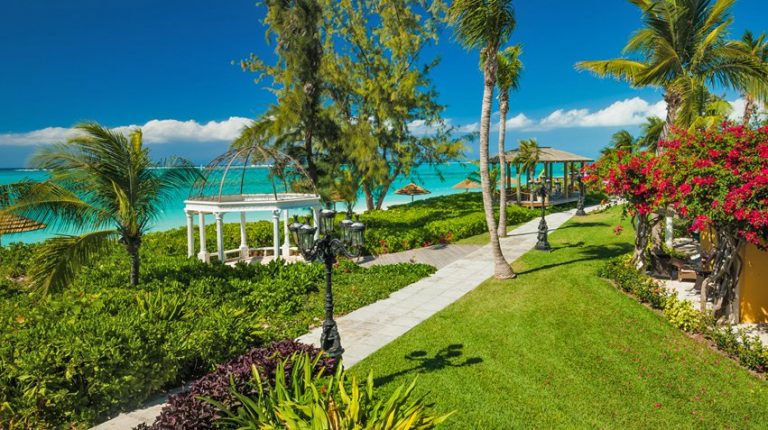 Wedding gazebos at the complex.
If you do choose to have your wedding at Beaches Turks and Caicos, you will get a complimentary wedding package with a-la-carte options. When you have more guests coming or you spend more, you gain amazing perks. Along with the venue, you will get a wedding planner and manager, help with marriage documents, pre-recorded music, a 1-hour cocktail reception, a romantic honeymoon dinner, complimentary photo, a free gift registry, and 1 bouquet and 1 boutonniere – and that is all just with the basic package. As an added bonus, this venue only hosts one wedding per day – meaning you will get all of the special attention.
Ocean Club West Weddings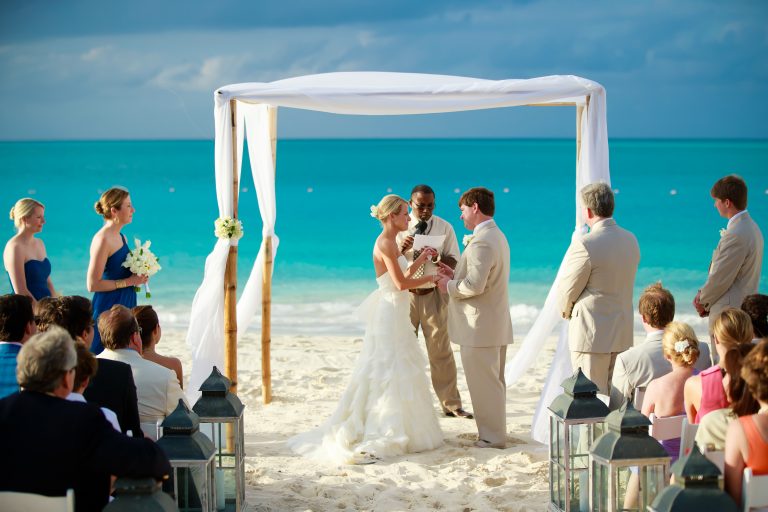 Ocean Club West
Ocean Club West is a smaller, quainter residence. It has a more unique feel to it. Nevertheless, it isn't just a hotel, it is a residence for you while you are getting married. Your room will be a fully equipped condo where you can truly feel like you are at home while still getting absolutely pampered.
This particular Turks and Caicos wedding destination have some of the most natural beauty that we have ever seen. The Ocean Club West has a stunning freshwater pool that is meticulously cared for, absolutely breathtaking views of the Caribbean sunsets, and a fantastic 18-hole Provo Golf Club, recognized as one of the premier courses in the Caribbean. The thing that sticks with most people about this resort isn't what it looks like or how luxurious it is, it actually has to do with the upbeat and positive vibes of the staff – everyone will be treated like royalty.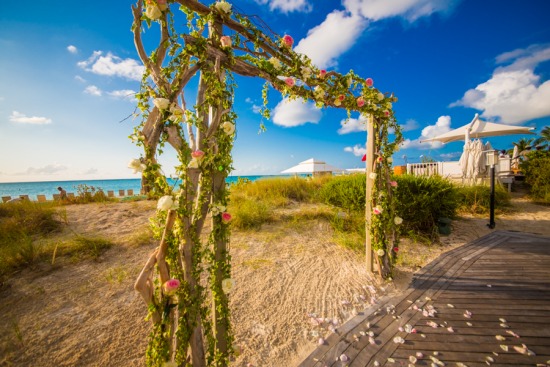 Ocean Club West archway
With your wedding package, you will get a complimentary 3-night honeymoon for the bride and groom. For that, you will have access to the "Wedding in Paradise" package, a wedding ceremony at the setting of your choice (garden or beach), a personalized wedding planning option, a Minister or Justice of the Peace to perform your wedding ceremony, a Bougainvillea bridal bouquet with a matching boutonniere for the groom, choice of a wedding cake or champagne toast at your ceremony, conch shell and bougainvillea decoration, white linens, processing of all legal documentation, and obtaining and mailing of marriage certificate.
If it is just the bride and the groom, the resort can also provide witnesses. One thing to note is that ceremony venue size is maximized at 100 guests, and it may be hard to book the number of rooms available to host that many guests as it's a smaller resort and occupancy rates are high.
Turks and Caicos Weddings Are One Of The Most Beautiful Choices A Couple Can Make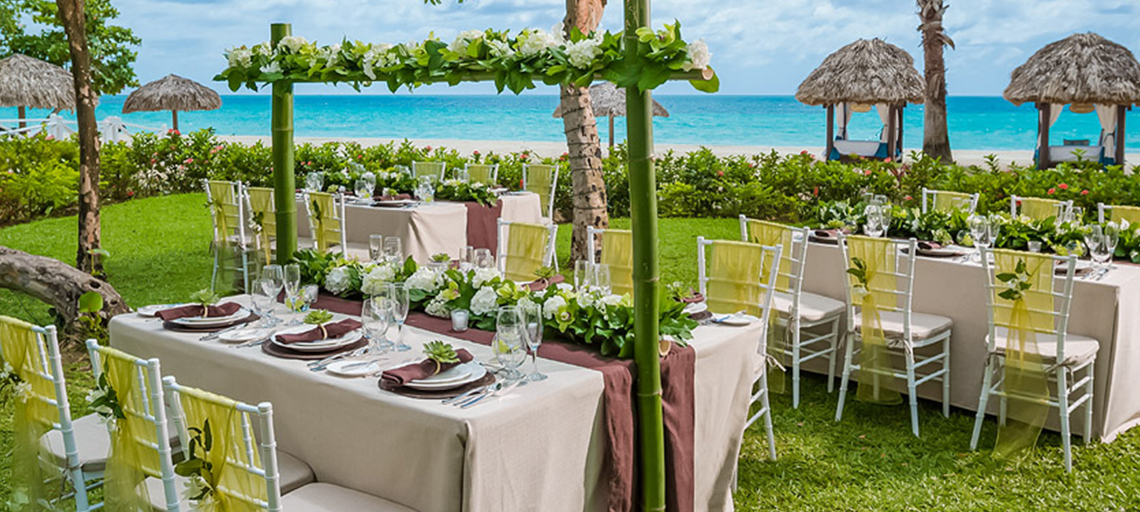 What type of Turks and Caicos wedding do you want to have? Whether you simply want to elope with just the two of you or you want to have a full-out celebration with family and friends from all over the world, these two options are sure to fit your needs.
Contact an agent today to learn more about Turks and Caicos weddings: