Are you interested in having your wedding at a hotel on the beach? Beach Wedding Hotels are plentiful in number for the sheer reason that so many people want to have their weddings at these beautiful destinations and having it at one of our all-inclusive resorts is one of the simplest (and most cost-effective) ways to do so.
If you are looking to have your wedding at the beach, follow today's post for helpful tips and hints.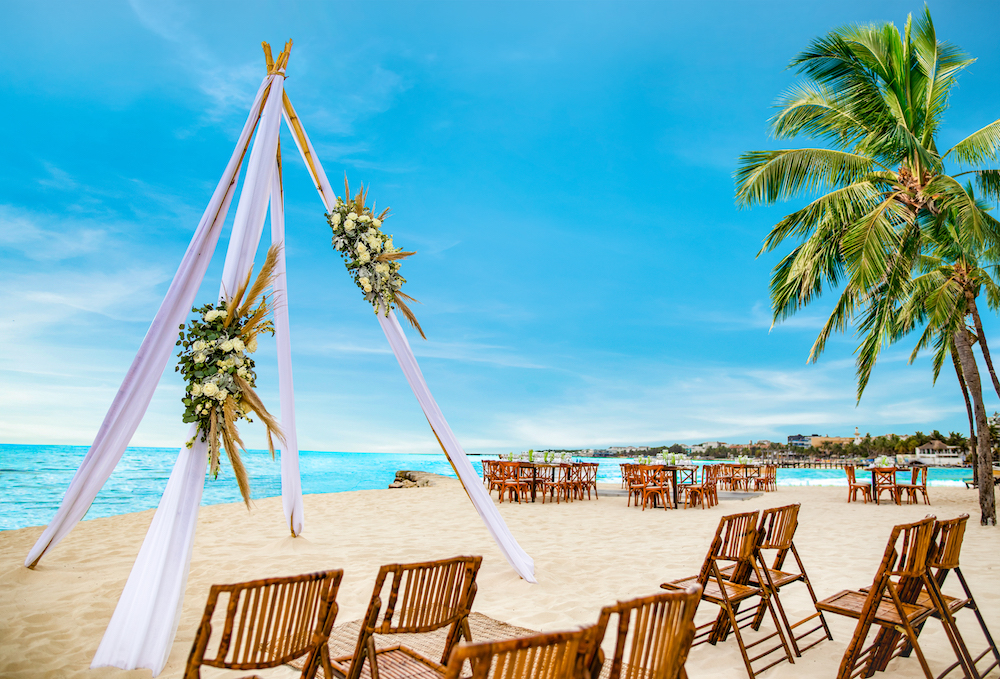 Why Have Your Beach Wedding At A Hotel?
Having your wedding at a beach hotel is perfect for a few different reasons. However, the main reason is convenience. When you have your beach wedding at a hotel, you will have access to wedding planners, facilities, local merchants, and more that you may not have access to if you are trying to stay in a private venue, for example. These hotels host weddings almost every single day of the year, which means they have a ton of experience when it comes to what you need from your wedding day. They will be able to not only help you plan the wedding of your dreams but make the entire process stress free and more enjoyable.
Having your beach wedding at a hotel will also make it easier for your guests. They won't have to worry about where they will stay, getting transportation, or even figuring out what part of the beach you are on – everything will be streamlined and easy for them thanks to our personalized travel arrangements.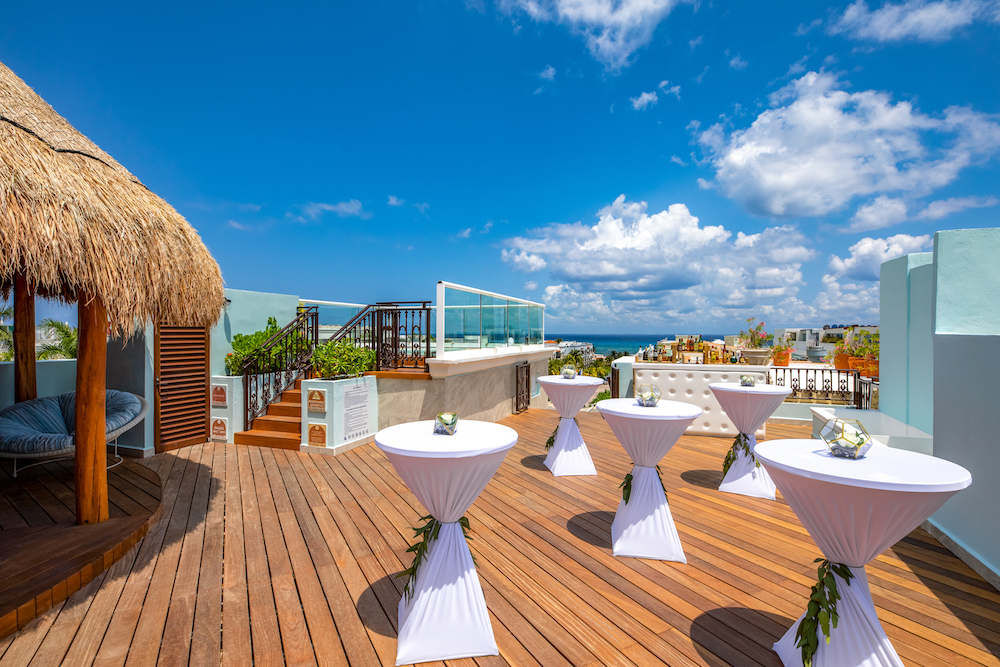 What Beach Should I Have My Wedding At?
Choosing the perfect beach wedding destination can be an extremely tough decision if you are not familiar with what each hotel and destination has to offer for your special day. Each beach and hotel has its own rich culture, amenities, faults, highlights, cuisine, and atmosphere. There are so many options to choose from: Mexico, the Caribbean, Central America, or Hawaii offer an array of wedding venue options that might be exactly what you need.
If you are considering a beach wedding ceremony, the color and texture of sand may be something you take into consideration (like the dark sands of Costa Rica) – or maybe that doesn't matter to you at all. The transparency of the ocean differs with each body of water you are located at, so if you want that beautiful clear water, you may have to narrow down some of your choices. If you want a truly private beach, that could limit your options as well. We can provide you with many different options that fit your needs.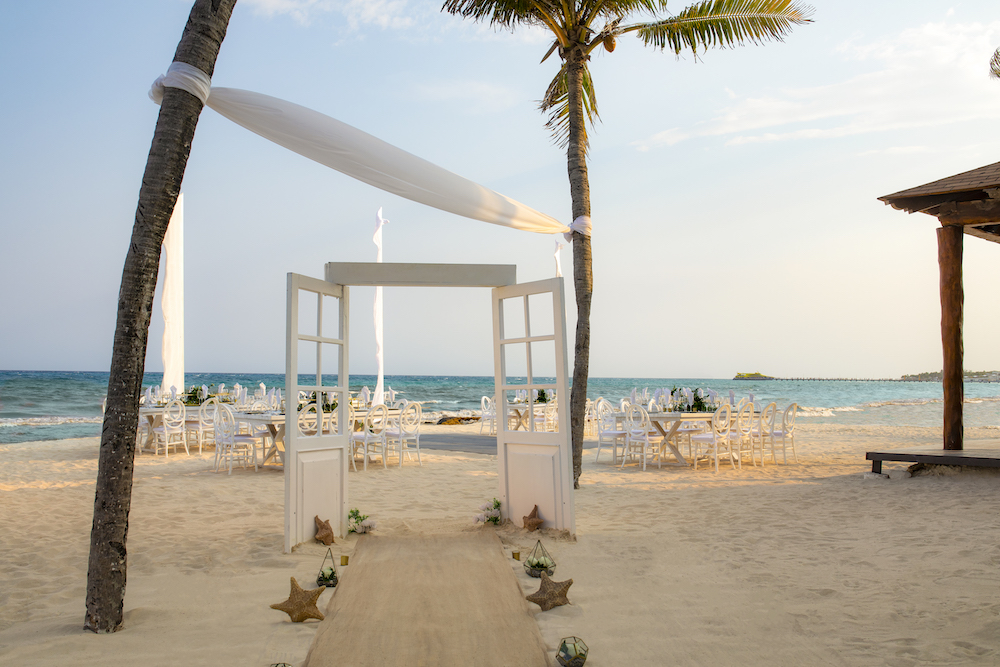 Tips For Selecting Beach Wedding Hotels
There are a few things you may want to look at when selecting beach wedding hotels. These include:
– The number of people you think will realistically come.
– Do you want children there?
– Does it matter how many activities there are for your guests?
– Do they offer the type of ceremony that you want?
– How many ceremonies does the hotel hold each day?
– What is included in each package?
These are just a few of the questions you will want to answer when selecting beach wedding hotels.
Our Choices For Some Of The Top Beach Wedding Hotels
Here are some of our choices for the top beach wedding hotels:
Beach Wedding Hotel In Puerto Rico: Wyndham Grand Rio Mar Beach
For a beach wedding hotel in Puerto Rico, the Wyndham Grand Rio Mar Beach is a contemporary choice for those who want to have a wedding that offers some activity. There are so many options for people who want to have the wedding of their dreams. You can host up to 320 guests here, so you will not have to cut your guest list. You can also choose from a religious ceremony or a non-denominational ceremony. For the fees, you get access to outside wedding planners and vendors. It also caters to vow renewals.
Beach Wedding Hotel in Jamaica: Sandals Royal Caribbean
Sandals is a well-known name that also happens to offer one of the most romantic beach wedding hotels you can find. It is a sprawling complex that offers a lot of personalization and details that you might not be able to get anywhere else. You can make your own choice of where on the property to have the wedding – and there are no bad choices.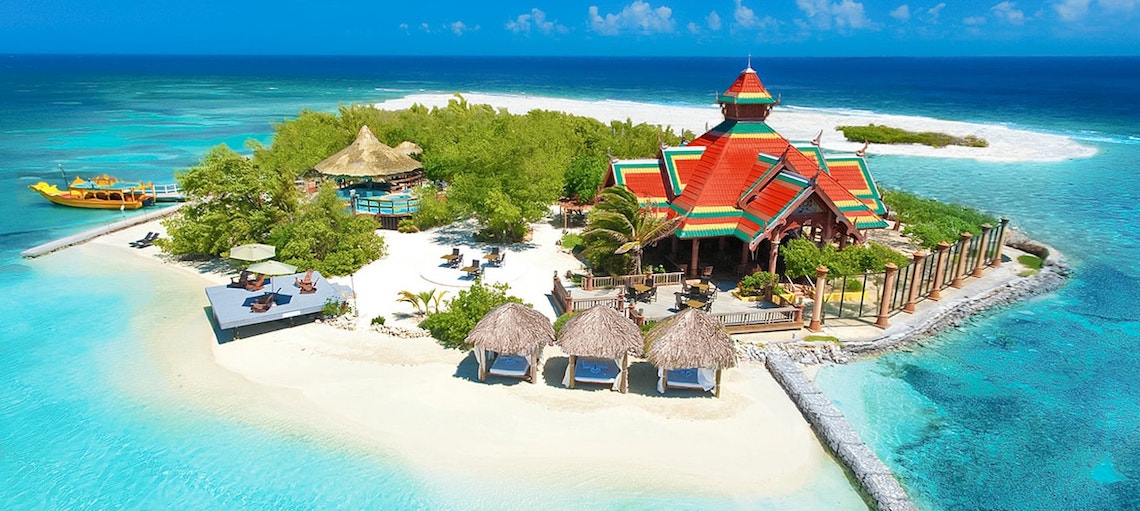 Sandals Royal Caribbean
Beach Wedding Hotel in Playa Del Carmen: Allegro Playacar
The Allegro Playacar is a beautiful, budget-friendly beach wedding hotel option. It has Polynesian-style villas so you feel like you are truly living in the lap of luxury. It also has entertainment options, great food choices, and it is a little smaller and cozier than some of the other options for beach wedding hotels. Allegro's wedding packages may include ceremony music, a wedding cake, sparkling wine toasts, and late checkout for the married couple.
Beach Wedding Hotel in Curacao: Renaissance Curacao
For younger couples who have family and friends that want to gamble and dance the night away, the Renaissance Curacao is a fantastic option. It has a lot of energy and culture here as well – you will get a true experience as you've never had before. The resort encourages you to get out and enjoy the island, which is perfect for those that want to spend a bit more time in paradise.
Beach Wedding Hotel in Turks and Caicos: Ocean Club West
Another smaller, more personalized location, Ocean Club West offers a residence for you to stay at while you get married. With a fully equipped condo, you will feel like you are starting your life as a married couple in the best way. There are plenty of amenities for guests, including pools, a golf course, trips, entertainment, and food. Ocean Club West is a smaller, quainter residence, and it has a more unique feel to it.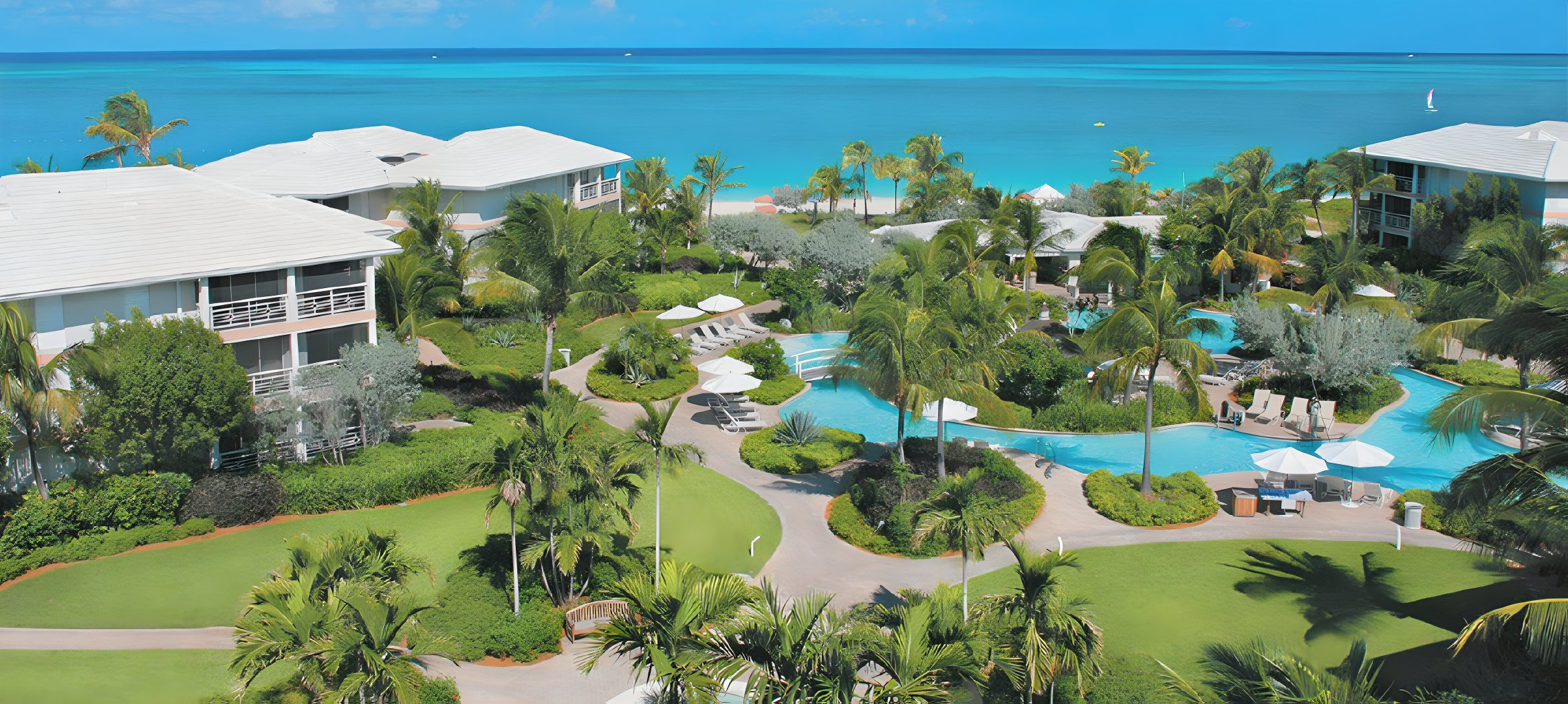 Ocean Club West
To explore all of our beach wedding hotel destinations, click the button below: