Destify offers numerous incredible wedding packages at many different esteemed hotels and resorts that uphold the highest standard of accommodations and services. RIU weddings present a multitude of packages and resorts, that can meet any budget while still offering the ceremony of a lifetime.
RIU Hotels and Resorts exemplify what leading the tourism industry in Mexico and the Caribbean means, not only in terms of hotel staff and services, but in destination wedding preparations, set up, and execution. This article provides a closer look at RIU wedding resort's superb ceremony packages, in addition to specific hotels and resorts that stand out through their quality of accommodations and wedding package upgrades.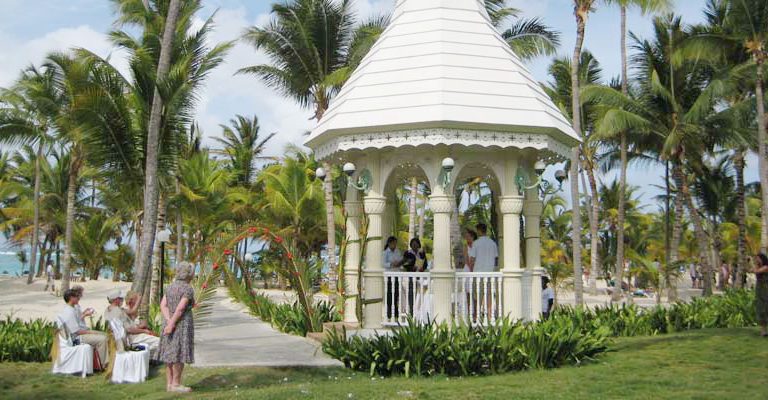 An intimate wedding gazebo at RIU Bambu.
RIU Weddings
There are four primary wedding packages offered by RIU, in addition to one free package. The Free package offers everything needed for a simple wedding but is only offered at certain resorts. The Classic wedding package includes the services of a professional wedding coordinator and minister or judge, ceremony decor, floral bouquet and boutonniere, recorded music, semi-private dinner reservations, wedding cake and sparkling wine, romantic room decorations, a surprise gift, and a discount on spa services. The Royal Package includes everything from the Classic Package in addition to a complimentary room upgrade subject to availability, RIU T-shirts for the wedding couple, and a romantic couples massage.
The Caprice Package adds in bags of petals for the ceremony, late checkout subject to availability, breakfast in bed the morning after the wedding, and a manicure, pedicure, and hairstyle for one member of the wedding couple. The Indulgence Package ups the ante with a framed wedding photo, slippers for the wedding couple, a private romantic dinner for two, a semi-private cocktail reception the night before the wedding, and a spa pedicure, exfoliation, and aromatherapy for the couple. Enjoy your RIU Classic Wedding, or RIU Palace wedding, feeling absolutely refreshed.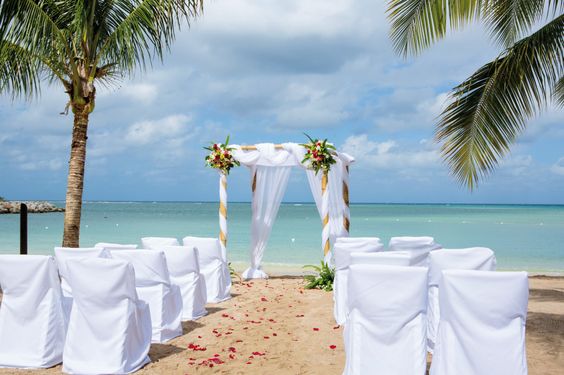 A wedding setup at RIU Montego Bay.
RIU Wedding Resorts
Among RIU's most esteemed properties is RIU Santa Fe. This recently renovated all-inclusive exemplifies all that is standard-setting in tourism as well as foods, wedding accommodations, and so much more. It's situated on the pristine Playa el Medano and boasts impressive entertainment options, several fine restaurants, and showcases the beauty and nightlife of Cabo San Lucas. In addition, it's located nearby the famous Arch of Cabo San Lucas and the Cabo Pulmo National Marine Park.
Located next door to the RIU Santa Fe is the brand-new adults-only RIU Baja California. Guests will be delighted to experience the new age of RIU resorts here, with contemporary decor, and infinity pools that spill over onto a gorgeous stretch of Cabo beachfront. Wedding guests can expect a quieter atmosphere, but should they choose to explore more lively entertainment, they have access to RIU Santa Fe's nightclub and exciting new pool parties too. RIU Wedding couples can choose from two ceremony venues at this resort, the beach or gazebo, both modern choices for an elegant wedding.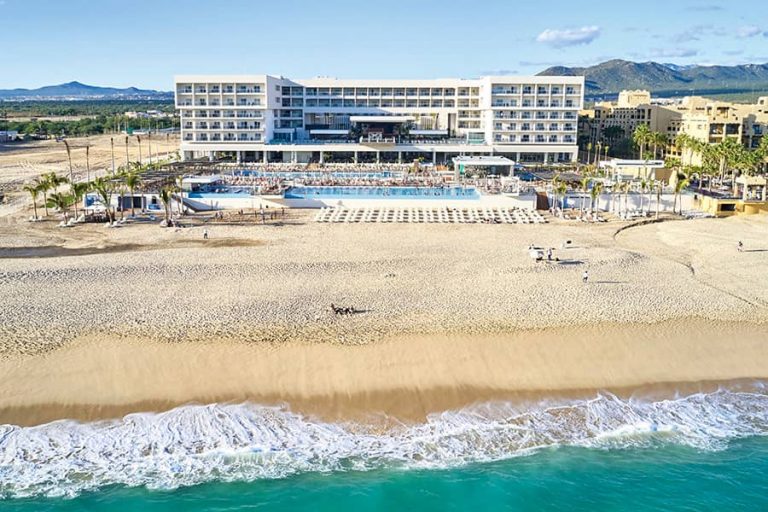 The brand-new RIU Baja California.
That's not all RIU has planned for 2019, as RIU Palace Vallarta and RIU Montego Bay are undergoing their own renovations, which will result is brand new resorts, with upgraded rooms, decor, restaurants, pools, and so much more!
To explore all of our RIU Wedding resorts, follow the button below: