The island of Barbados is a hidden tropical treasure that is perfect for your low-key caribbean destination wedding. Let's open that treasure chest and take a peak at the top 10 Barbados wedding packages!
Lovely colonial architecture, pristine beaches, excellent prices, and breathtaking vistas all combine to make the ideal Barbados destination wedding venue. Check out our special Barbados wedding packages to make the most special day in your life even more enchanting.
Barbados is an independent English Commonwealth so you can indulge in some royal pastimes such as cricket and afternoon tea. During the months of December through April, the temperatures are perfect for your dream Barbados destination wedding package. Below are the Top 10 Barbados Destination Wedding Packages, designed for every budget. You can see more of the smaller Caribbean Islands we offer here.
Accra Beach Hotel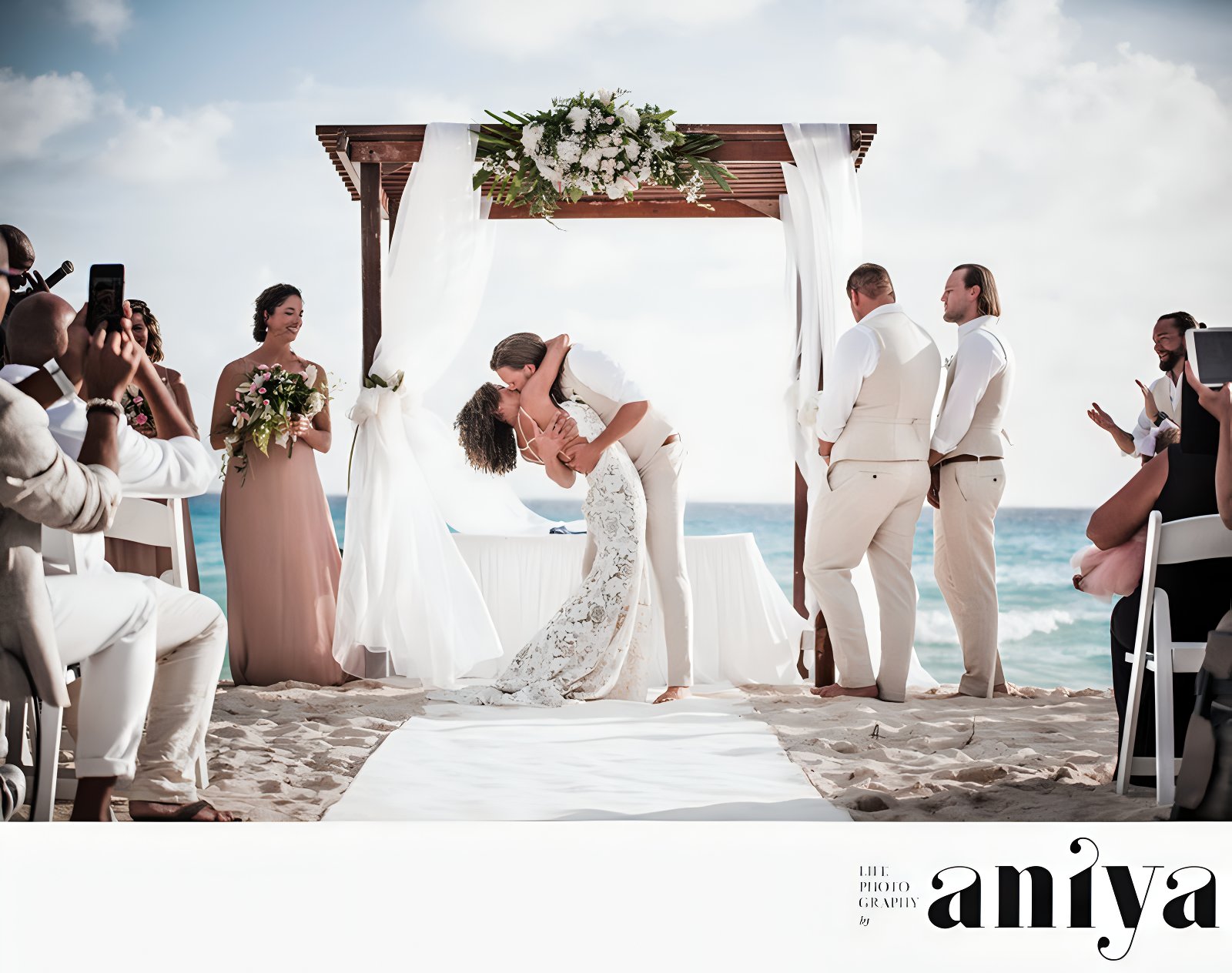 Surround yourself with azure waters at this breathtaking 6,500 acre, 221-room beach resort. It has everything you need to make your Caribbean destination wedding fantasies come true. Experienced Barbados wedding packages can include breathtaking outings for your entire wedding party.
While staying at the Accra Beach Hotel, don't forget to explore one of its nearby wonders, the Harrison's Cave. Its clear streaming waters and pools make for a memorable honeymoon experience.
The "Destination for Two" package is a beachfront honeymoon package for the wedding couple at a cost of $1,000 – $2,500, depending on the type of room and length of stay. One Accra Beach Hotel wedding package includes a bouquet and boutonniere, a beautiful wedding arch and a single-tiered cake with a bottle of sparkling wine.
The upgraded "Tropical Beach" package welcomes further guests and other amenities. Individual room rates can range from $70 to $140 per person per night, offering a budget-friendly option for your Barbados wedding guests.
Crystal Cove Barbados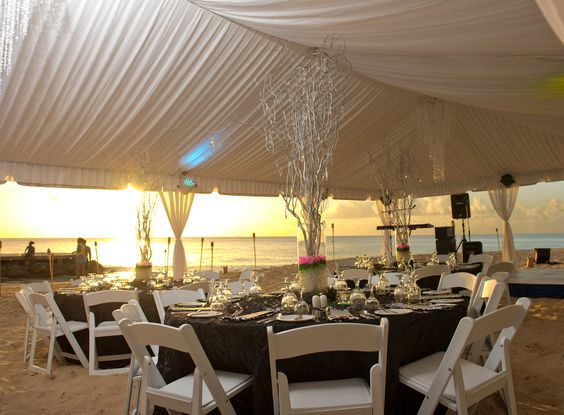 Located along the Platinum Coast, Crystal Cove Barbados offers a breathtaking setting for the most unforgettable wedding photographs. Enjoy an ideal island-style décor for your Barbados destination wedding at the 88-room Crystal Cove Resort.
The Resort's basic all inclusive wedding package welcomes two witnesses. An upgrade to the Beautiful Bliss Package includes an additional eight guests. Luxury accommodations range from $230 to $340 per person per night, and luxurious offerings are standard throughout.
Ocean Two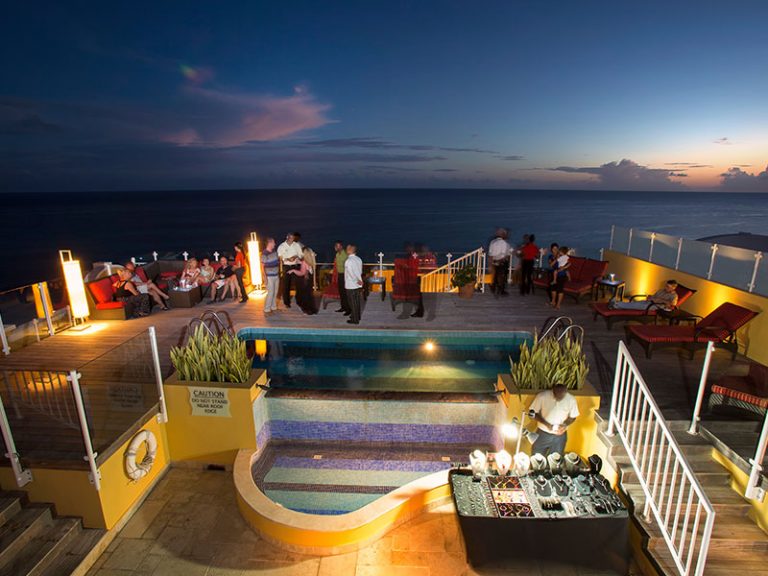 Pamper yourself and your guests with an exquisite Barbados destination wedding at Ocean Two. Enjoy a welcome cocktail, the help of an experienced wedding planner, and a spectacular roof deck ocean view ceremony location. While at Ocean Two, you can indulge in their incredible spa services too. After you and your guests arrive, Ocean Two does the rest.
The Basic Wedding Package at Ocean Two ranges from $960 to $2,640 and will accommodate 12 or more guests. Your Barbados wedding package can include your marriage license if necessary, a beautifully decorated wedding arch, an officiant, one-tiered wedding cake, and a bottle of wine. The all inclusive beach wedding packages also includes seating for your guests and a bouquet and boutonniere. Enjoy the free champagne the next morning to cap off your celebrations.
Sandals Barbados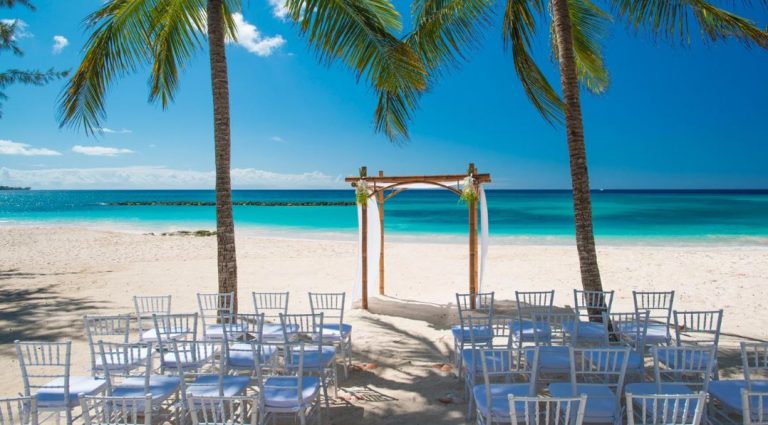 White sands and clear, blue ocean define the 280-room Sandals Barbados. It's your ideal Barbados destination wedding location, with a resort that keeps romance and wedding couples in mind. Your basic wedding package is complimentary with a minimum three-night booking. Enjoy a complimentary massage, manicure, cocktail reception, and wedding cake, followed by a romantic breakfast in bed the following day.
The longer you stay, the more perks you can accumulate. Customize your wedding by choosing your free add-ons, such as photography or wedding décor. Rooms range from $350 to $500 per night per night, and include all dining and drinks across the resort's many delicious a-la-carte restaurants and bars.
Starfish Discovery Bay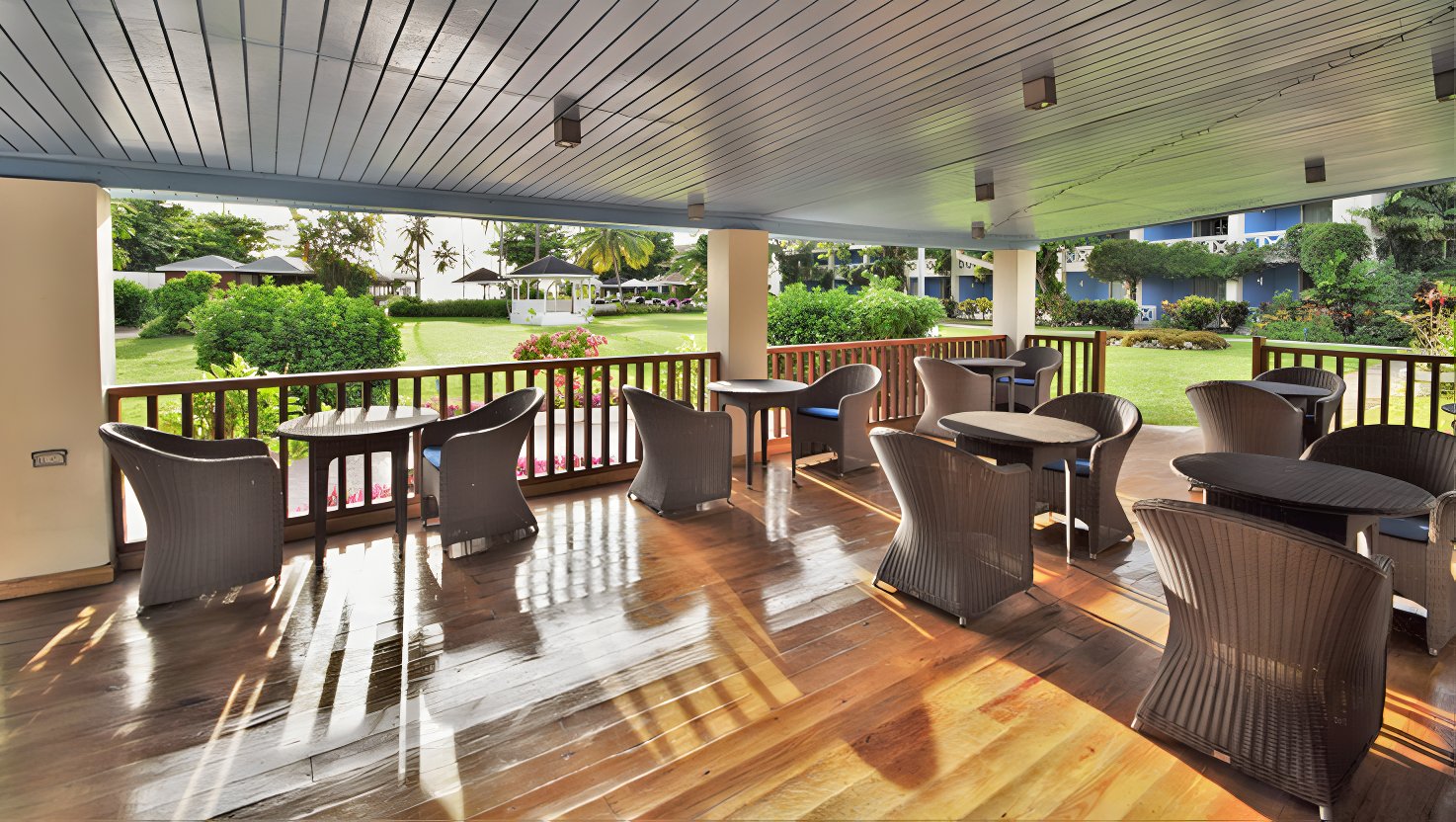 Mix some white sand with azure waters amongst an impeccable resort and you have the Starfish Discovery Bay. Throw in some incredible dining options, as well to complete your Barbados destination wedding. A basic wedding package is $299 for the couple, along with a wedding bouquet, boutonniere, and special wedding dinner. This can be upgraded to $1,099 to invite guests and further add-ons.
Sandals Royal Barbados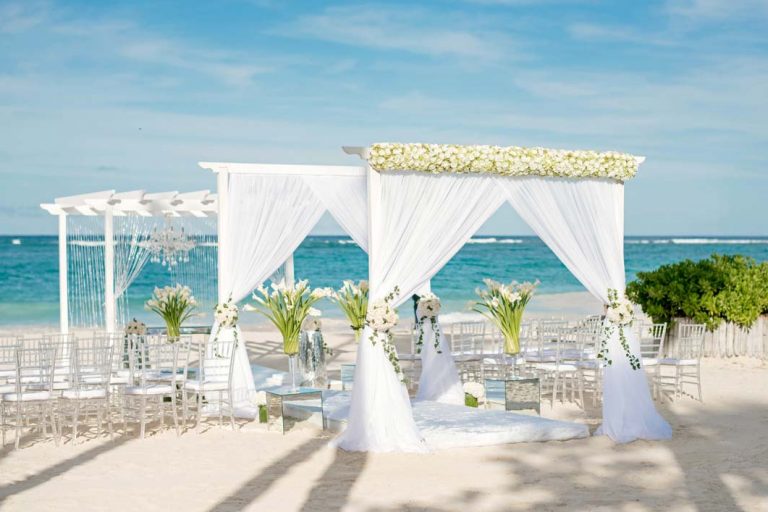 Sandals Royal Barbados offers genuine luxury, and elegance for your destination wedding at a renovated and contemporary resort. Choose between a rooftop pool or a pristine private pool for relaxation, and there are more than a dozen elegant dining options to enjoy. Say your "I dos" to the sound of the ocean. Choose between multiple reception venues, after delight your guests with some fun at the Sandals bowling alley.
Your Barbados destination wedding package is complimentary with a three-night minimum stay for you and 10 guests. This includes a cocktail reception with food and a two-layer wedding cake. Make your Sandals Royal Caribbean stay longer and add additional perks such as décor items and a wedding photographer. Customize your Barbados destination wedding your way, amongst an elegant colonial-inspired resort.
Sugar Bay Barbados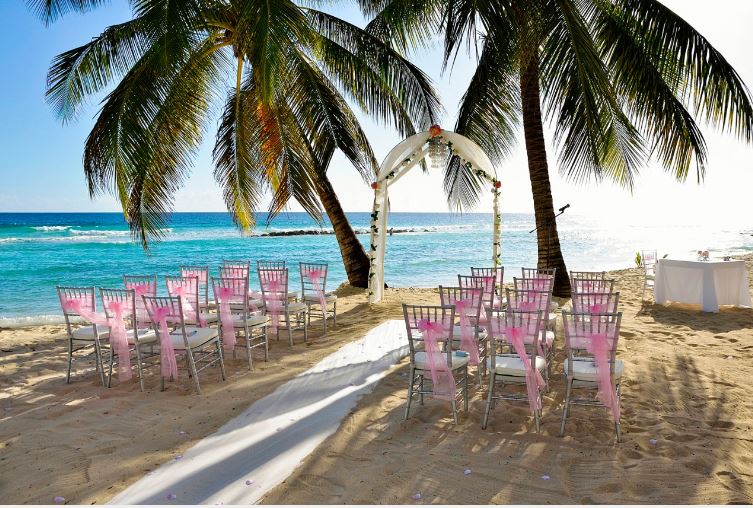 You'll find tranquility and nature's sheer magnificence at the 138-room Sugar Bay Barbados resort. Let go of all stress as you enjoy the ultimate in Barbados wedding packages. The basic wedding package is highly affordable and welcomes up to 50 guests. It's complimentary if you book the Honeymoon Suite with an ocean view for a minimum of seven nights.
An expert experienced in Barbados wedding planning will welcome you with cocktails, arrange for an officiant and a wedding license. Enjoy delightful extras such as bouquet, boutonniere, wedding cake, and a reception toast. Wedding hair and makeup are a free indulgence at the Sugar Bay Barbados, included in the cost of your wedding.
The Club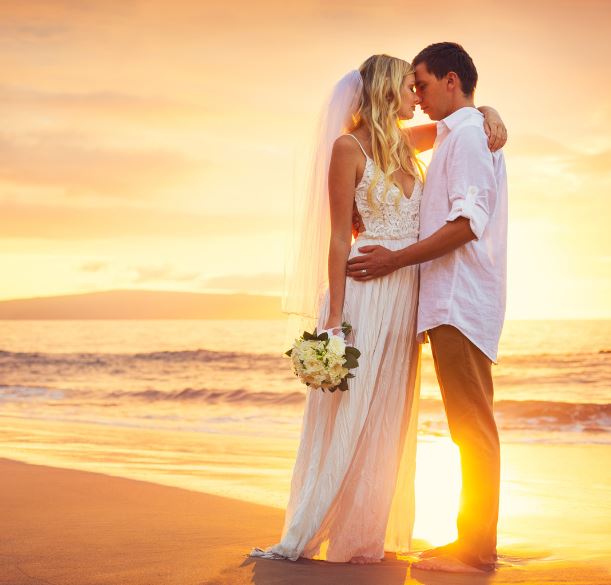 The all-inclusive The Club Barbados defines Barbados destination wedding romance. Wedding packages are dependent on the number of guests and desired services. Your basic package includes witnesses, if needed, champagne, a wedding cake, bouquet, and boutonniere. A wedding coordinator will help with any additional needs.
You pay once for everything, then forget about costs as you concentrate on celebrating the most important day of your life surrounded by tropical splendor. Three beautiful acres that the resort rests on lets you enjoy all of the activities a Barbados destination wedding has to offer.
The Crane Barbados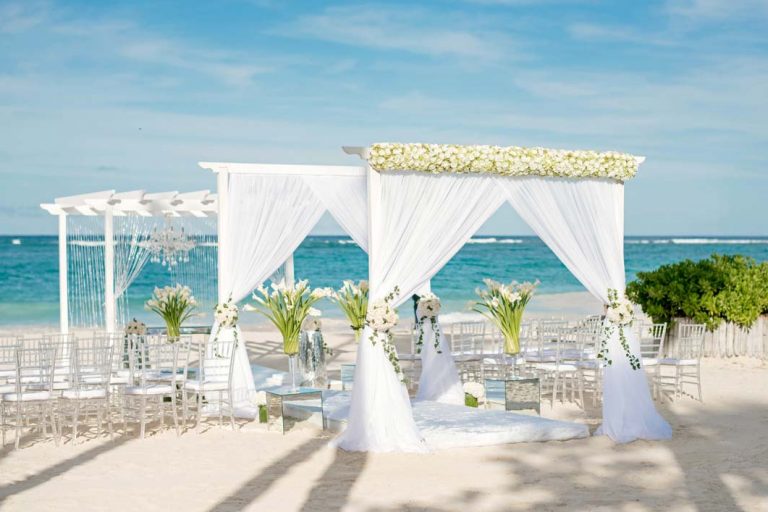 The Crane Barbados Resort has been offering unique hospitality since 1887. The Resort's long romantic history provides the perfect beginning for your wedding and will set the scene for the rest of your lives together. Wedding packages begin at $750 with the Silver Package and includes the help of a wedding planner, a religious officiant, and license.
The basic Barbados wedding package can be upgraded for additional guests and services that will turn your wedding ceremony into a showstopping event. The Gold Wedding Package begins at $1,300.
In addition to the services provided in the Silver Package, it includes the bouquet, boutonniere and a discount at the relaxing resort spa. Enjoy a wedding rehearsal package for $200 to prepare for the big day. The Crane offers the ultimate in all-inclusive luxury, situated on one of the finest beaches in the country, making this one of the top 10 barbados wedding packages.
Turtle Beach Resort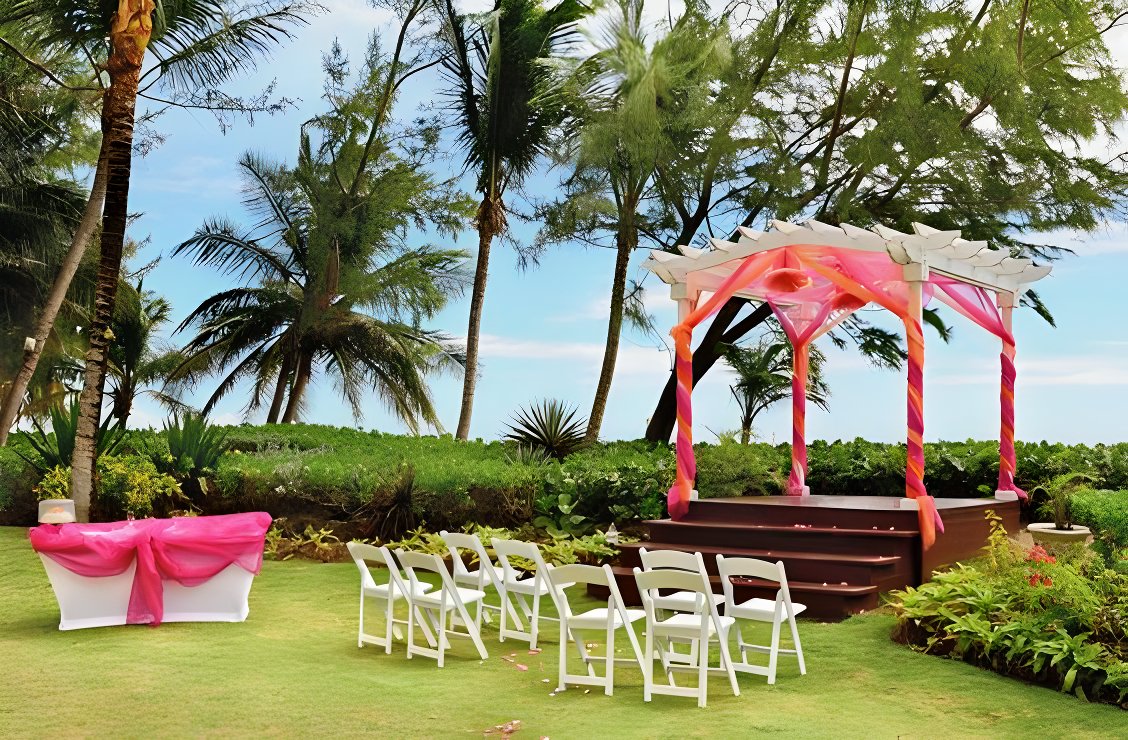 Turtle Beach is a part of the Elegant Resorts chain, where elegance and the natural splendor of the ocean create your dream wedding in Barbados. Wedding packages range from free to $2999. For $799, the basic package includes 2 guests, the assistance of a wedding planner, an officiant and marriage license fee.
You'll also receive a bouquet, boutonniere, champagne for a toast, and a wedding cake. In the morning, relax while breakfast is served in bed.
The Beautiful Bliss package accommodates 8 guests. Both include a restaurant reservation for your post-wedding celebration. Depending on the number of rooms booked, wedding packages may be complimentary.
You've seen the Top 10 Barbados Destination Wedding Packages, are you ready to get married in Barbados? See what all of our Barbados wedding packages have to offer: