The famous resort city of Cabo San Lucas, located on the southern point of Mexico's Baja Peninsula, has quickly become one of the nation's most popular locations for travel as well as destination weddings. Resorts in Los Cabos range from charming and quaint to lavish and opulent and offer a wide spectrum of accommodations, services, and facilities. It can be difficult to select which property to celebrate your momentous day at, particularly at a location so peppered with terrific options. Per our high standards of Mexico wedding ceremony setups, provisions, and planners, we've put together a list of the top 5 Los Cabos wedding resorts. Let's get started.
Grand Fiesta Americana Los Cabos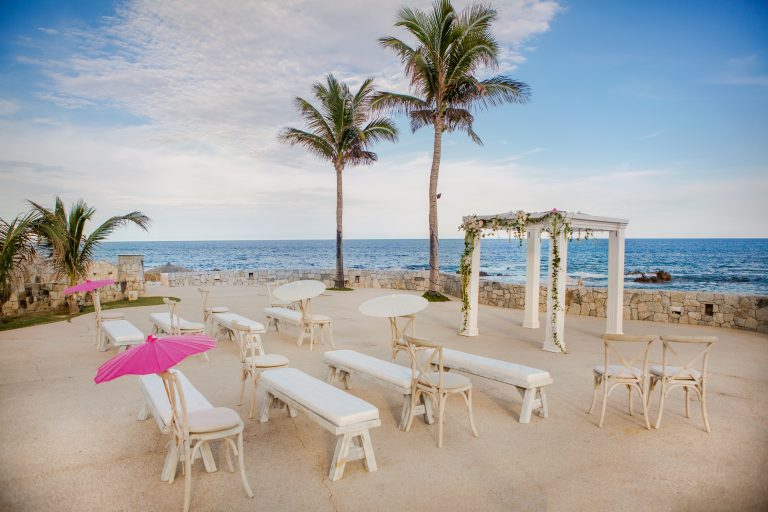 Grand Fiesta Americana Los Cabos
The first property on our list of the top wedding resorts in Cabo San Lucas is Grand Fiesta Americana Los Cabos. This brilliant resort sits along the divide of the Mexican desert and the Pacific Sea and has been designed to maximize views of the mountains and the water. As one of the Baja Peninsula's most distinguished properties, Grand Fiesta Americana provides its guests with a wide range of activities to invigorate and soothe, from a Jack Nicklaus-designed golf course to a world-class spa that incorporates fine wines into treatments. There are several pools including one that is adults-only, which is beautifully incorporated into the architecture.
The entry-level wedding package comes with numerous add ons and benefits. Your wedding gazebo will be decorated with elegant linens and fresh tropical flowers, with fine white garden chairs and an aisle runner of the same theme. You'll also have a romantic, intimate dinner under the stars, followed by a wine tasting with a professional sommelier and finished with a reflexology massage.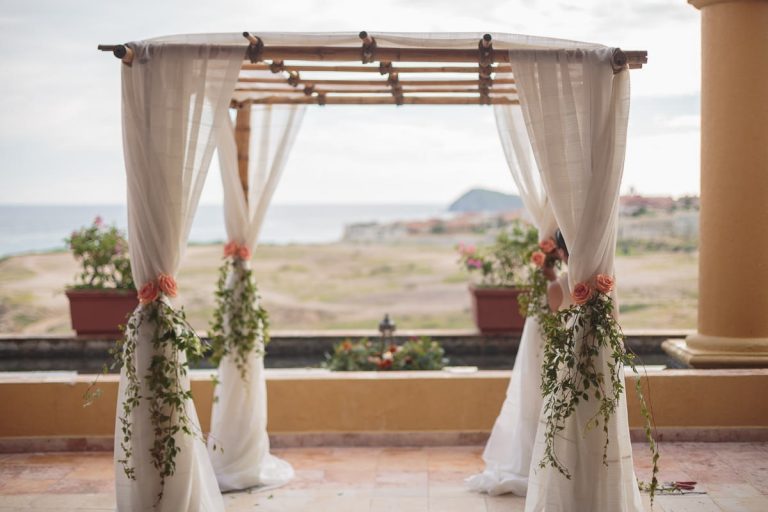 Grand Fiesta Americana Los Cabos
Ceremony venues options are of the highest standard at Grand Fiesta Americana. Your wedding venue choices are spectacular between the grand ballroom, a picturesque beach setup, two gorgeous terraces that showcase the beautiful green golf course and an area of sea where whales breach, and the most opulent option of the imperial suite. Each venue offers its own theme and vibe to ceremonies and can seat between 180 and 900 guests. Grand Fiesta Americana takes full advantage of its stunning location and makes no mistake in providing among the best wedding experiences in Cabo San Lucas. For these reasons, it starts our list.
Villa del Palmar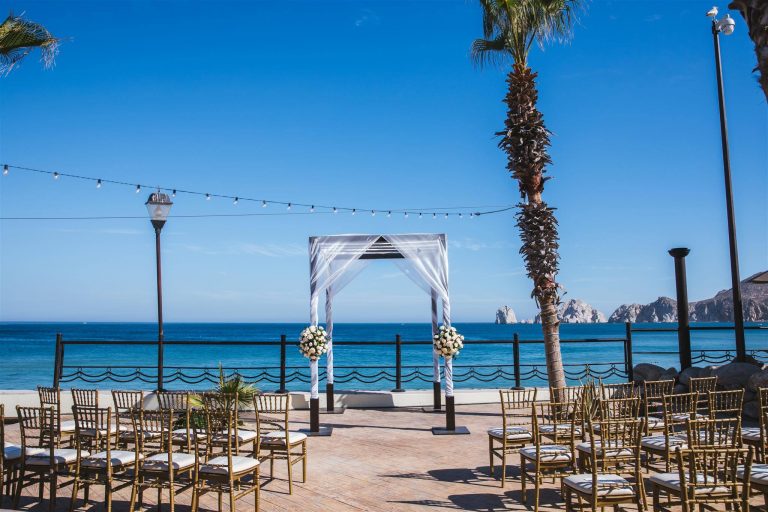 Villa del Palmar
Next on our list of the top Cabo San Lucas wedding resorts is Villa del Palmar, located in the heart of Cabo on Playa el Medano. It provides guests with simple access to downtown Cabo San Lucas as well as offers a huge range of relaxing and exciting activities to enjoy onsite. Villa del Palmar teaches mixology almost every day, runs a state-of-the-art spa and treatment center, and has loads of water and beach sports equipment ready to be used. The chefs at Villa del Palmar are also recognized for putting out some of Baja California's very best dishes and have become a major selling point for the resort. Rooms are charming and comfortable, with their own private balcony or terrace and more. The resort grounds are sprawling and are lovely for quaint walks, as they feature beautiful stone crafting along the outsides of the buildings, as well as fountains and lush tropical plants.
Wedding packages at Villa del Palmar have some incredible inclusions and are quite the deal for their costs. The entry-level package includes welcome gifts including a bottle of house wine, romantic wedding night amenities, a 15% spa discount, and a romantic turndown service. Not to mention it includes a lovely beachside wedding setup, complete with a decorated huppa, classy bamboo seating with cushions, and decorative linens.
Between the quality of accommodations and facilities, well-recognized chefs and kitchen, and premier wedding inclusions, this resort has everything necessary to provide you and your loved one with the unforgettable Cabo San Lucas wedding of a lifetime.
Grand Velas Los Cabos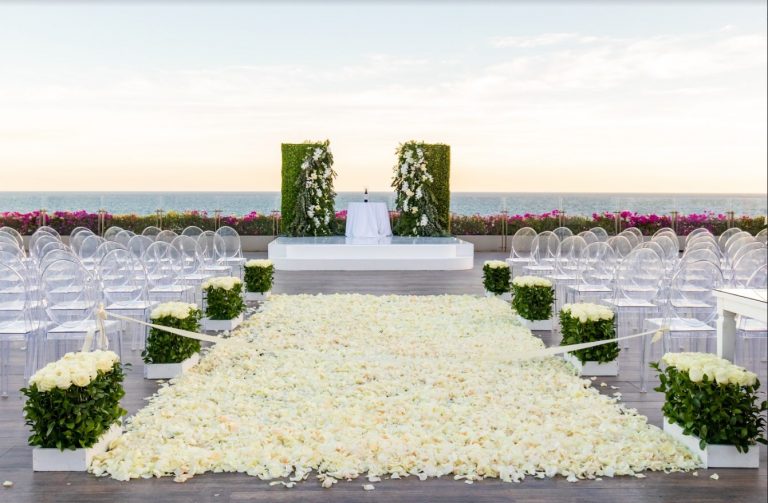 Grand Velas Los Cabos
Continuing our list of Cabo San Lucas' top wedding resorts is Grand Velas Los Cabos. This property is widely seen as the height of luxurious resorts in Cabo San Lucas, as it boasts distinguished contemporary architecture and decorated beautifully with tropical trees and plants of Los Cabos to achieve an atmosphere that is irreplicable. The resort staff is jovial and dedicated to assisting you with anything you may need. Close in proximity to both Cabo San Lucas and San Jose del Cabo, this establishment will allow you and your guests to enjoy the nightlife and more immersive cultural experiences of the area, respectively.
Grand Velas does not offer pre-determined wedding packages but tailors each and every wedding to the couple. Through discussing your vision and expectations, their expert wedding coordinator can help you put together the commemoration of your dreams. Some popular inclusions are couples massages, private airport transportation, and an intimate beachside dinner for two. Wedding ceremonies can take place on the oceanfront terrace, the beach, or in a private garden. Each venue showcases a different incredible aspect of the resort, from spectacular views and picturesque settings to lush tropical foliage and elegant designs.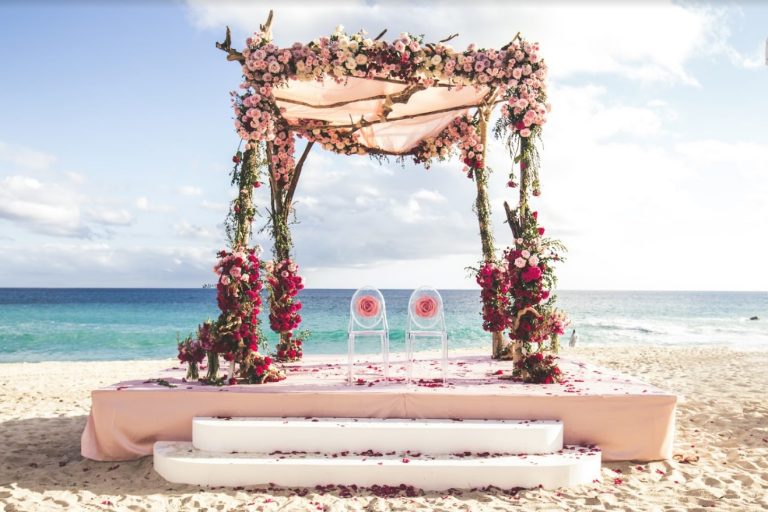 Grand Velas Los Cabos
Every kind of theme is achievable at Grand Velas, between lavish and romantic, to intimacy and tranquility. Between the flexibility and customization of Cabo San Lucas wedding packages, several excellent wedding venue options, and being an expansive, visually stunning property all around, Grand Velas Los Cabos easily secures a spot on our top Cabo San Lucas wedding resorts.
ME Cabo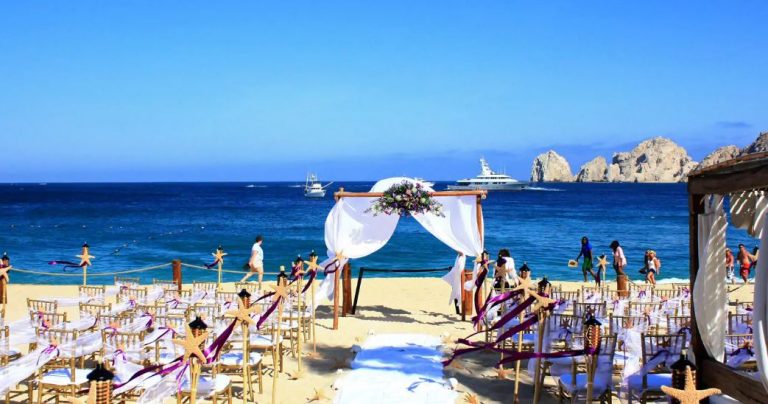 ME Cabo
Another spectacular property on Playa El Medano is ME Cabo by Melia Resorts. A visually pleasing, adults-only paradise, ME Cabo offers an excellent combination of decadence and indulgence with a devoted wedding coordination team, as well as premier accommodations and facilities. The property is within a minute's walk of downtown Cabo San Lucas, where guests can enjoy the culture, marina, shopping, and famous nightlife. Despite the closeness in proximity to the bustling city, the resort manages to remain tranquil and comfortable. If these points weren't convincing enough, ME Cabo has collected the World Travel Award for Mexico and Central America's Leading Resort on two occasions. The expectation for delivery at this resort is of the highest standard, and it certainly does not disappoint.
Wedding packages at ME Cabo are fully customizable when meeting with your professional Cabo San Lucas wedding coordinator. The entry-level package includes perks such as a romantic room decoration, private romantic dinner, and customizable floral centerpieces. The package is intended for just the couple, but an upgraded wedding package can accommodate up to 50 guests.
However, for couples seeking their own private experience, ME Cabo is among the best places in the world, let alone Mexico, to take advantage of. Wedding ceremony setups are magnificent, with a beach chuppah decorated with fine linens and fresh tropical flowers. Between the incredible reputation and maintenance of such by ME Cabo and their wedding customization options, there is no way we could exclude this property from our top wedding resorts in Cabo San Lucas.
Hyatt Ziva Los Cabos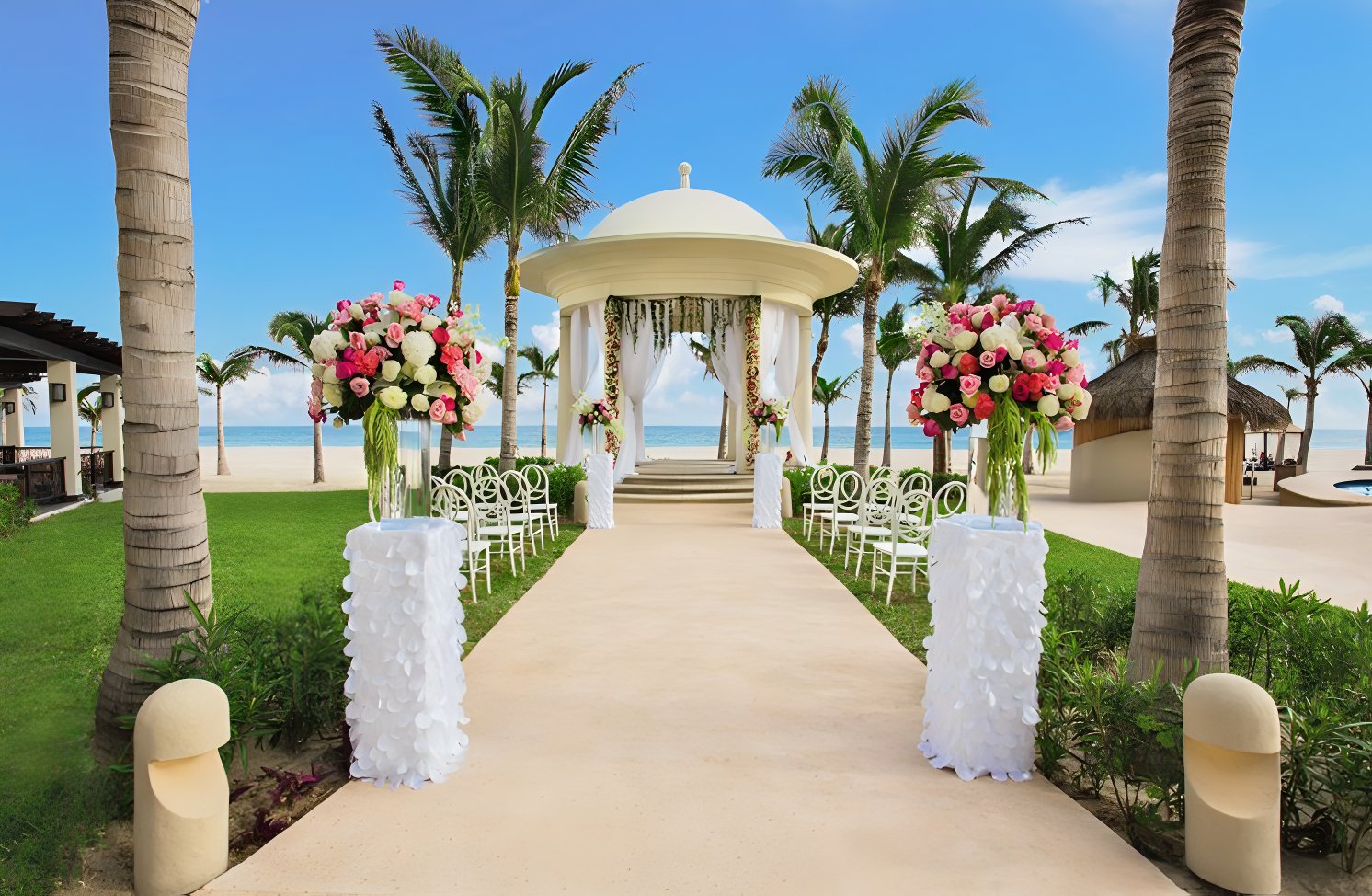 Hyatt Ziva Los Cabos
Closing out our list of these top wedding resorts is the Hyatt Ziva Los Cabos. Just outside of Cabo San Lucas in San Jose del Cabo, this resort sits on beautiful white sands with remarkable views of the peninsula as well as the Sea of Cortez. Elegance and top-tier amenities and accommodations take center stage at this establishment, with a state-of-the-art spa and recreational facilities and several peaceful pools spread throughout the grounds. The resort recently underwent major renovations to the lobby and gym, as well as additions that include two new restaurants and a terrace that showcases the most breathtaking views possible.
The brilliant accommodations will keep you and yours in a blissful state for the duration of you Cabo San Lucas wedding, as rooms include views of the resort surroundings or the sea, and swim-up suites are available to further your relaxation. There are fire pits encircling the central resort lagoon, separate kids and adults pools, and drink and snack options spread throughout.
Wedding packages and ceremonies at Hyatt Ziva are incredible. The entry-level package covers 10 guests and includes perks such as a romantic beachfront dinner, a couples massage, premier gazebo, aisle, and chair decorations, suite decorations with flower petals. A dedicated wedding coordinator will work with you through every step of the process to ensure that your Los Cabos wedding celebrations are exactly as you and your partner envisioned them. Additionally, the wedding package is complimentary when booking a certain number of guests. By all these terrific inclusions, Hyatt Ziva Los Cabos earns the final place in our list of the 5 best wedding resorts in Cabo San Lucas.
Cabo San Lucas is a brilliant destination wedding location and a bustling city full of prime resort options. We hope this list of the top 5 Los Cabos wedding resorts helped you in your wedding planning process, or at least gave you an idea of what your dream wedding might look like.
Interested in learning more about Cabo San Lucas wedding resorts? Click the link to explore: