Puerto Vallarta destination weddings are consistently ranked among the most gorgeous weddings you can have – and for many reasons. Located on the Pacific side of Mexico, the natural wonders of the area contribute to your dream Mexico wedding. The backgrounds of your wedding photos can highlight everything from the famed sunsets to the deep, blue waters just off the coastline.
One of the great things about a Puerto Vallarta destination wedding is that you can still get everything you want – a wedding on the beach, a wedding inside, a party that goes all night long, or something small and intimate. Since Puerto Vallarta is so popular as a destination, it is also far more accessible for family and friends to actually make it to your ceremony – and it will be in a place people actually want to go with numerous resort options to explore.
The question remains, however, with so many wonderful options for Puerto Vallarta destination weddings are many resorts, how can you be sure that you are picking the best possible location? We suggest you start by following our list below:
Barcelo Puerto Vallarta: The Destination Wedding Choice for Younger Groups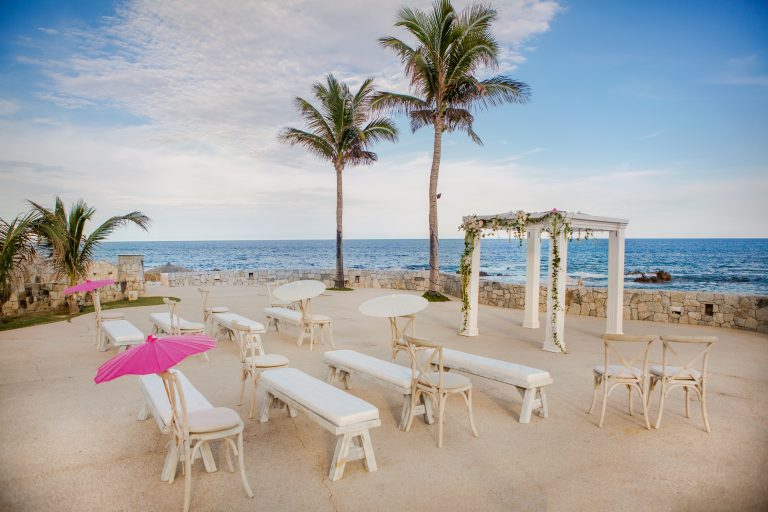 Barcelo Puerto Vallarta Weddings
If your wedding group is young (or young at heart) and you want to spend time celebrating together, then Barcelo Puerto Vallarta Weddings are the way to go. There are plenty of adventures on-site, from cocktail making classes, board games, handicrafts, pinatas, scavenger hunts, hiking, and of course, natural views. The large size of the resort allows for wedding groups of almost any size.
For those who are interested in an authentic experience, the Mexican inspired flare of the hotel is unbeatable and unlike anything else. Of course, the ceremony itself will be elegant and luscious and at an affordable price point too. The backdrop of the lush Sierra Madre mountains, overflowing waterfalls, and natural vegetation will ensure your Puerto Vallarta wedding photos will be something you treasure for the rest of your life. Since the resort only hosts one wedding per day, you get the care and attention that you will want for your special day.
Family Friendly Puerto Vallarta Destination Weddings: Dreams Villamagna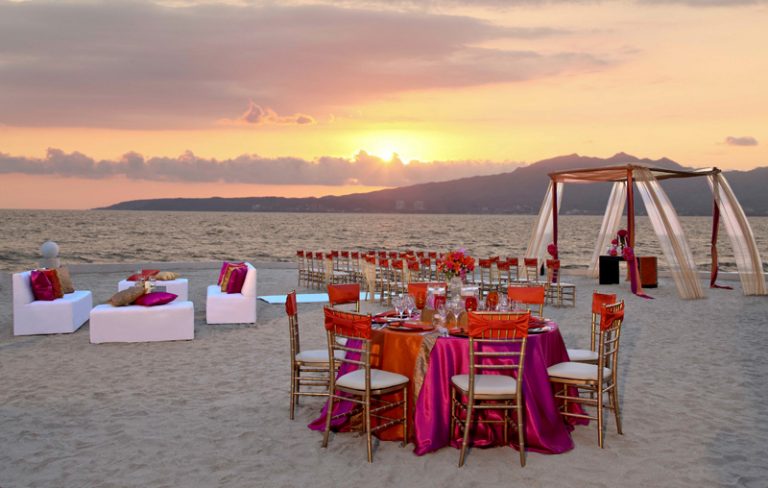 Dreams Villamagna
Located right on the soft sands of Banderas Bay, the Dreams Villamagna in Puerto Vallarta is elegant, beautiful, and the perfect place to create a truly remarkable wedding. The natural beauty here is the only décor you will need – and if you choose to host your reception on the rooftop terrace, you will have 360-degree views of the entire area.
For those who want to relax before (and after) their big days, this resort has the largest collection of pools in the region. For extra luxury, book a suite and get an exterior whirlpool just for the two of you on your balcony, the perfect place to capture those signature orange sunsets Puerto Vallarta is known for.
You won't have to worry about your guests getting bored either: the hotel offers complimentary bicycle tours through Nuevo Vallarta, the beautiful community the resort is located within. As an added bonus for those who do travel, there are babysitting services, activities for kids and teens, and special events nightly.
Grand Velas Riviera Nayarit Resort: Best For Adults Only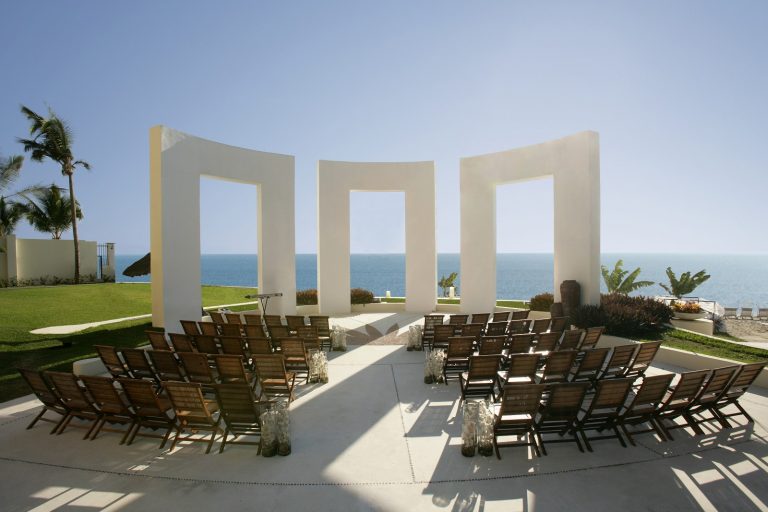 Grand Velas Riviera Nayarit
The absolutely stunning Grand Velas Riviera Nayarit Resort is truly just that: grand. Every single room in this hotel is a suite and the steep price tag is worth it for the amount of luxury you'll receive. Sitting along the Puerto Vallarta coast, you will be able to spend your days looking into the bluest waters of the Banderas Bay, walking on soft white sand beaches, and hiking through lush green fairways.
This is truly a world-class experience, with some of the best dining venues in Mexico, a swim-up bar, a nightclub, and more. Puerto Vallarta destination weddings held at Grand Velas need to be at least 20 people or larger, and you can expect the best in decor and ceremony venue options. It is important to note that while the hotel does allow children to stay, there are some sections that are adults-only and there aren't as many events catered to children.
Hyatt Ziva Puerto Vallarta: All-Inclusive & Private Puerto Vallarta Destination Weddings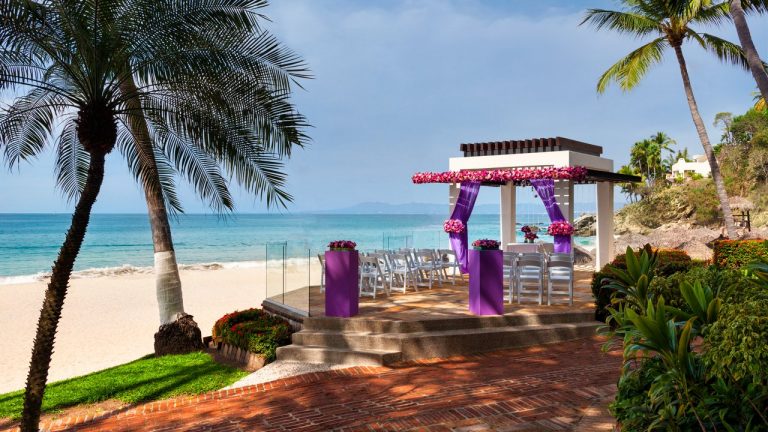 Hyatt Ziva Puerto Vallarta
For those looking to have a destination wedding in Puerto Vallarta that is a bit more private, the secluded beaches at the Hyatt Ziva Puerto Vallarta will surely fit the bill. Every single aspect of this resort will have you feeling like you stepped into a fairytale, from the vibrant gardens to the pristine beaches.
If you aren't looking to have a grand wedding ceremony, but instead would prefer something small and dreamy, this is your best possible option in Puerto Vallarta destination weddings. (Of course, there also options to have grand weddings of up to 500 people within the hotel). Still, you won't only be confined to the hotel as the surroundings offer exploration, swimming, cultural, and artistic ventures for your entire group.
Marriott Puerto Vallarta – Perfect For Everyone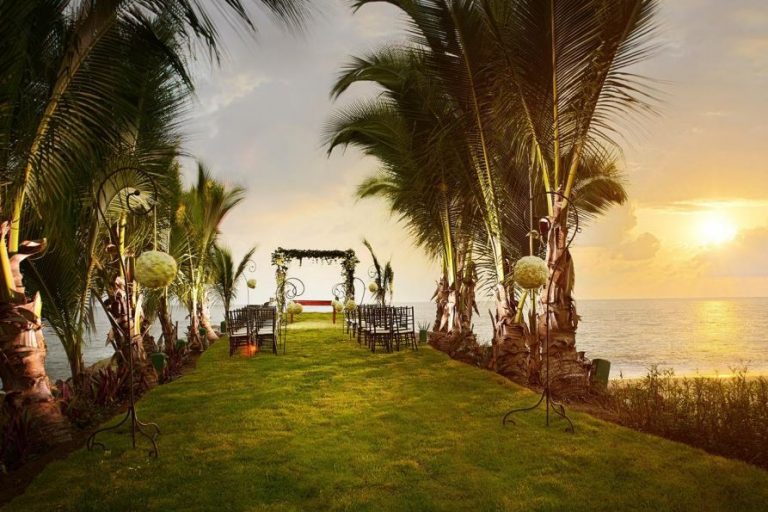 Marriott Puerto Vallarta Weddings
If you are looking for a Puerto Vallarta destination wedding with a name that you trust, make sure to consider the Marriott Puerto Vallarta Weddings Resort and Spa. Located on the white sands of the Banderas Bay, it delivers exactly what you'd expect from such a well-known name.
For those who have families that are coming into Puerto Vallarta for the wedding, sometimes it is a good idea to consider a brand that they trust. You won't be making concessions either: there are location options for your ceremony and reception that are top notch. Even better, for animal lovers, the Marriott Puerto Vallarta Resort and Spa is home to a turtle sanctuary, which guests of all ages will love.
Sunscape Puerto Vallarta – Economical Option For A Puerto Vallarta Destination Weddings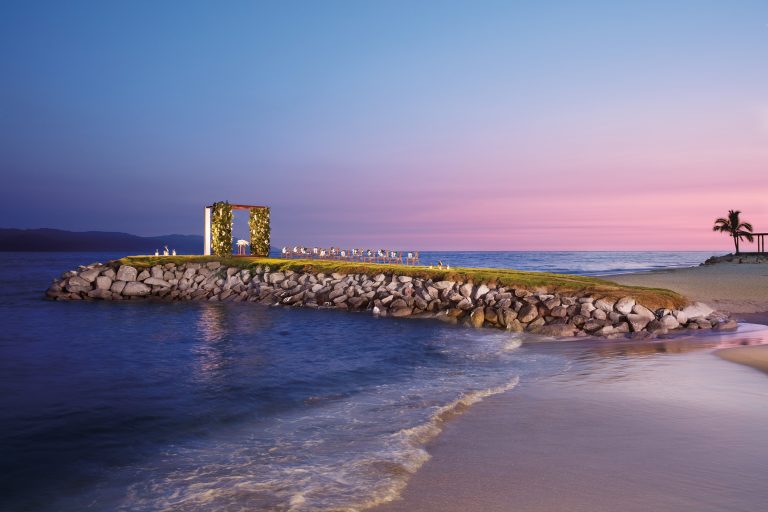 Sunscape Puerto Vallarta Weddings
If you are trying to plan your Puerto Vallarta destination wedding on a budget, the Sunscape Puerto Vallarta Weddings will answer all of your prayers. You will still have all of the same options that you do at other resorts, but you (and your guests) won't have to shell out as much. Wedding ceremony venues and decor menus are top-notch, and you can choose to host private or semi-private dinner receptions based on your wedding package selections.
If your guests are using this a double for a vacation, you cannot pick a better location. The El Malecon promenade, spanning over 2,800 feet throughout the historic district of Old Vallarta, is only minutes away from the resort and offers a variety of restaurants, bars, shopping, and nightlife options. But that's only if you should choose to leave the resort, as there are plenty of options: from wine, tequila, and coffee tastings to exploration adventures and several a-la-carte restaurants.
For more information about Puerto Vallarta destination wedding locations, ceremonies, and another other information, contact us today.