There are few things that can beat celebrating a beautiful destination wedding in Cancun, but adding a terrific activity to your vacation can certainly help. Cancun's resorts feature so many ways to explore, adventure, and ultimately relax. We feel it'd be foolish not to take advantage of all the area has to offer. For today's blog post, we've put together a list of 5 Exciting Cancun Activities to enhance your destination wedding experience.
1. Xcaret Park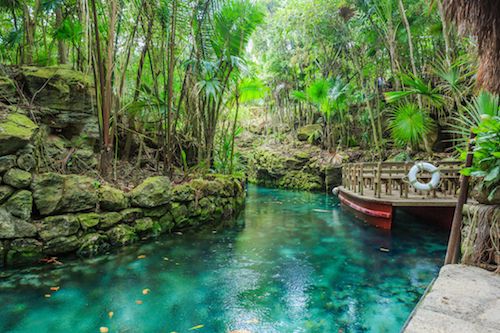 A cenote at Xcaret Park.
Starting off our list of 5 Exciting Cancun Activities is Xcaret Park, a nature park nearby in Playa del Carmen that offers guests numerous ways to enjoy the natural surroundings, marine life, and traditional Mexican dishes. Xplor Fuego is a nighttime excursion that includes 7 zip lines, an ATV drive through a circuit of caves and jungles, and the chance to paddle through an underground river, amongst many other activities. Xel-Ha is a soothing experience that involves snorkeling, rope games, and jungle hikes. Xoximilco is a water-themed party that includes carnival-style games, a Mexican gondola ride, and an open bar.
Where to Stay: Hotel Xcaret
Staying at the Hotel Xcaret makes this entire experience even more enhanced, with direct access to the exciting nature park, free of charge for any guest staying on-site. The hotel provides guests with premier amenities and cozy accommodations and upholds a high level of service. Hotel Xcaret offers numerous ways to unwind, delve into adventure, or let loose with your friends and family. Plus, the wedding ceremony venues are jawdropping, from cave-like reception halls to lagoon beachfront options. It is an easy choice to start off our list of 5 Exciting Cancun Activities.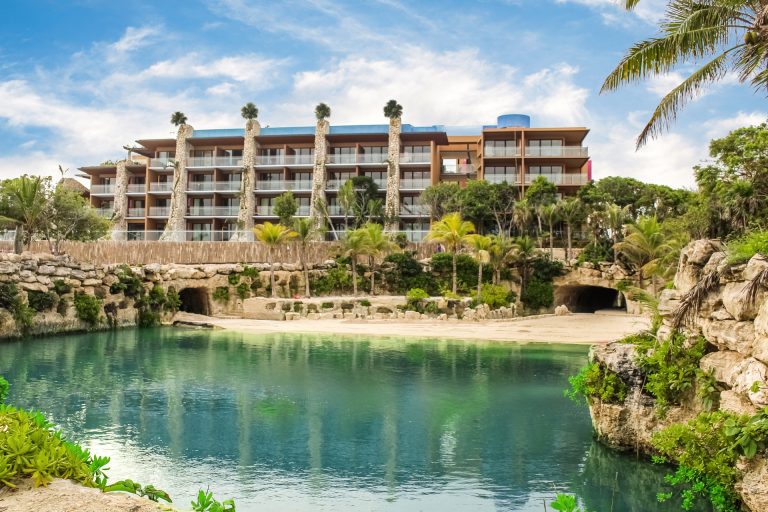 Hotel Xcaret
2. Exploring Local Nightlife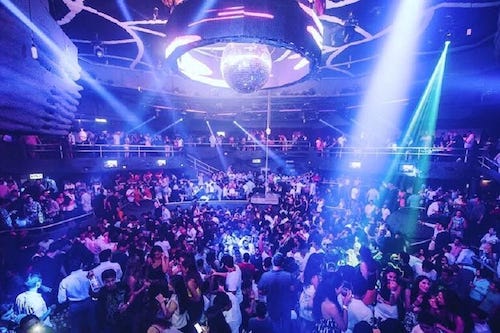 A scene from a Cancun nightclub.
One of Cancun's biggest draws is the energy and fun that can be had in the hotel zone at its bars and clubs, which is why exploring Cancun's nightlife is next on our list of 5 Exciting Cancun Activities. The hotel zone spans nearly 7 miles and is loaded with lavish nightclubs, elegant lounges, authentic cantinas and much more. Whether on the beach, a pavilion, or even in a Skydeck suite, there is no shortage of ways to live it up in the hotel zone.
Where to Stay: Secrets the Vine
Secrets the Vine is a perfect location to stay if you're trying to get the most out of Cancun's night scene during your destination wedding vacation. It's centrally located just south of El Rey and offers immediate access to many establishments such as Chicabal Club, H Roof, and Wet Cancun. The staggering amount of options and the fun that can be had among the white sands of the hotel zone is why its nightlife lands on our 5 Exciting Cancun Activities list. And with Secret's dedicated wedding department you'll have access to professional services for the duration of your vacation.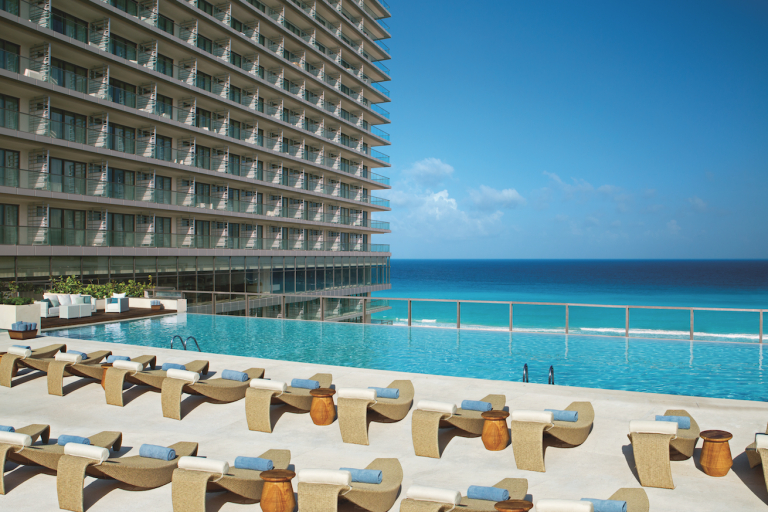 Secrets the Vine
3. Rooftop Reception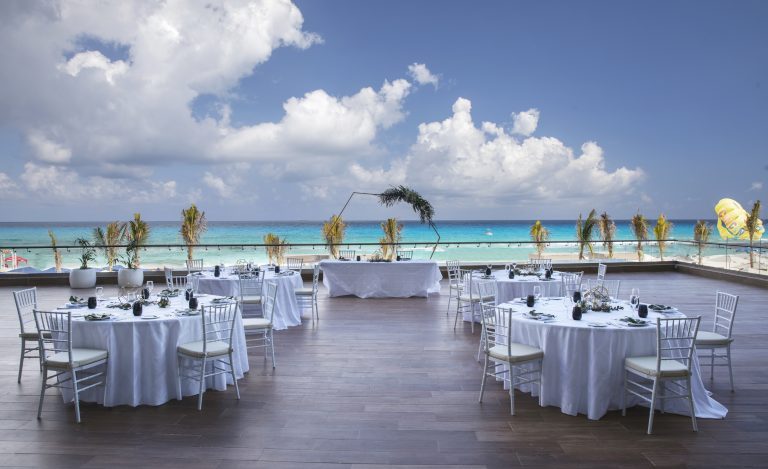 A rooftop reception at Royalton Suites Cancun.
A rooftop wedding reception can add a magnificent level of romance, class, and energy to your Cancun destination wedding. Our list of 5 Exciting Cancun Activities continues with the event that can make your special day unforgettable for all who attend. The light of a breathtaking Caribbean sunset will catch both the water and the Cancun skyline just perfectly, and leave you and your loved ones completely stunned as you dance and laugh into the night.
Where to Stay: Royalton Suites Cancun
A perfect location for a rooftop wedding reception is the recently opened Royalton Suites Cancun. Located in a central part of the hotel zone, Royalton Suites Cancun rises 18 stories high and features a rooftop that has a massive pool, several chic bars, a grass terrace with stylish furnishings, and much more. It has the potential to enhance any Cancun destination wedding with unbeatable views, which makes it an easy choice for this list.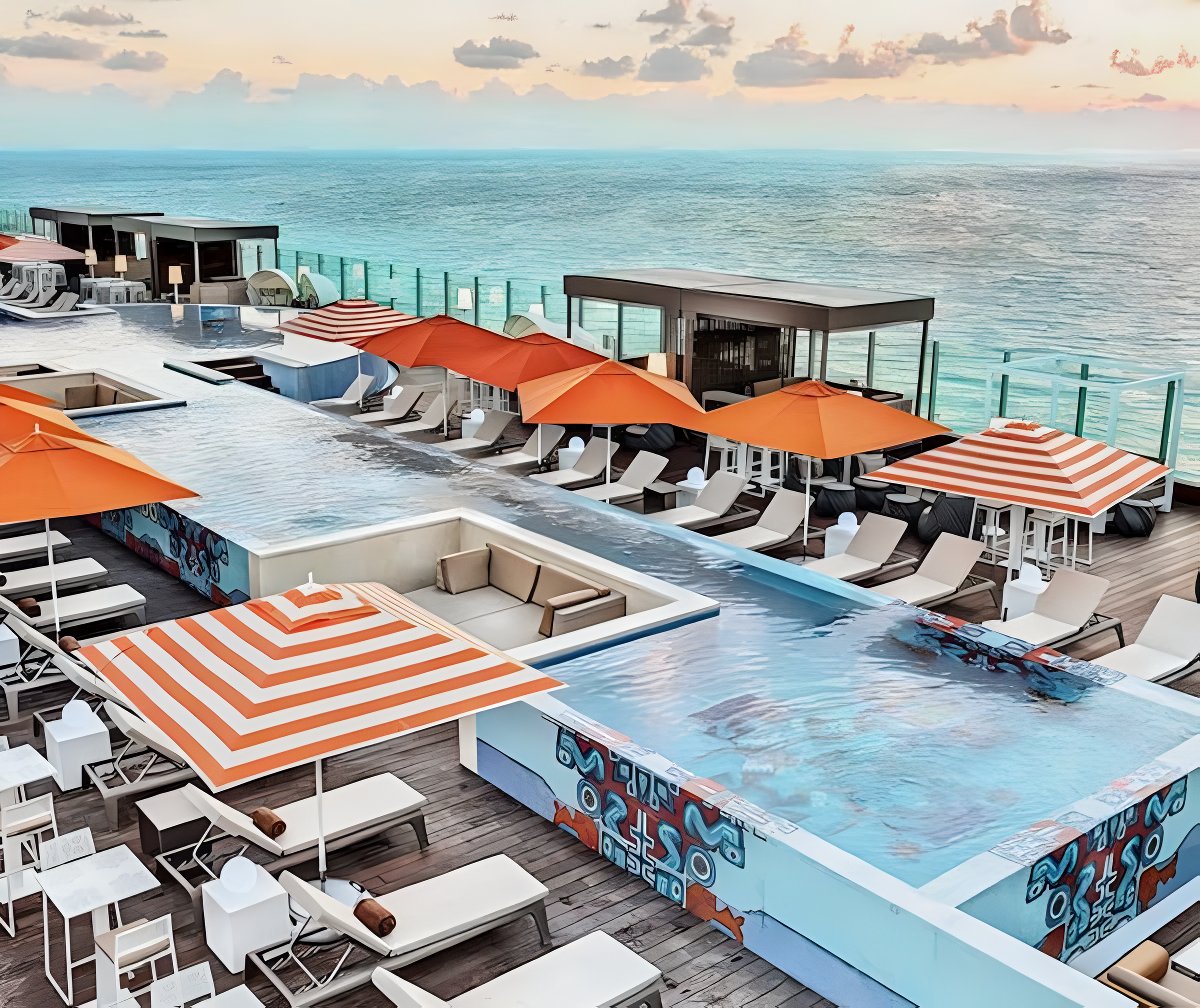 The rooftop club at Royalton Suites Cancun.
4. Snorkeling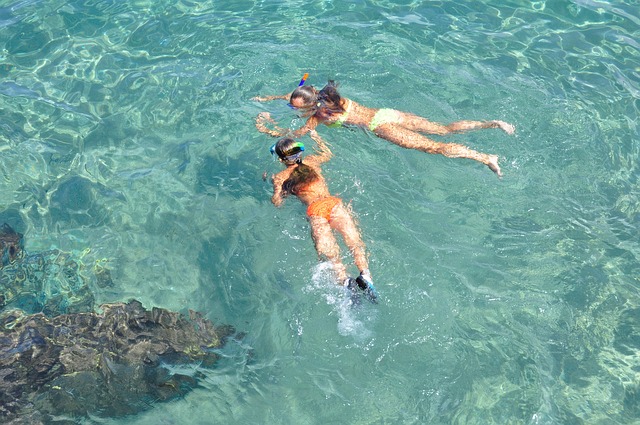 Snorkeling in the Caribbean.
Among the most popular and inclusive activities that the Caribbean offers is snorkeling, and there are few better places on earth to do so than the island of Cozumel. Just offshore from Cancun's hotel zone and Playa del Carmen, Cozumel features stunning coral reefs and loads of marine life under the clearest of Mexican Caribbean waters. It's an activity that adds an additional level of whim and unforgettable memories to any Cancun destination wedding.
Where to Stay: Sunscape Sabor Cozumel
Sunscape Sabor Cozumel is a brilliant property located on the white sands of Cozumel's western side. Thatched roofing and charming villas line the coast at this budget-friendly resort in addition to incredibly fine traditional and international dishes. The offered amenities are ideal when coming back from a day out exploring the coral reef with your snorkeling group. Wedding guests will be enthralled by your ceremony too, with venues made to capitalize on the Caribbean views.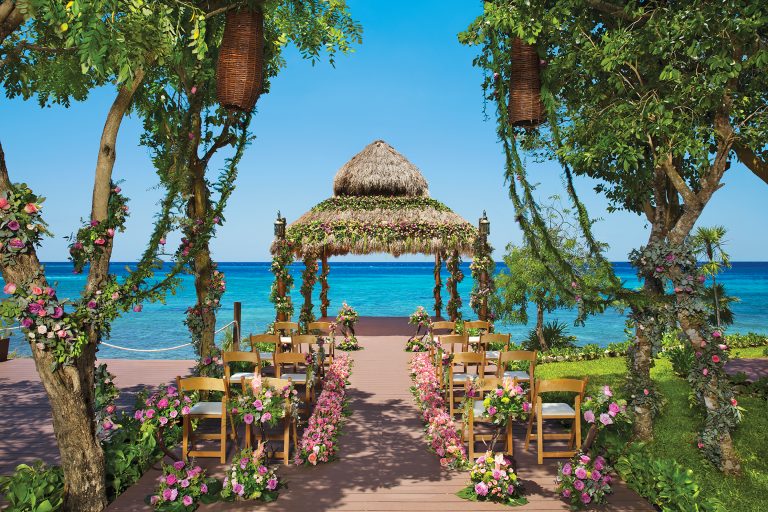 Sunscape Sabor Cozumel
5. Cenotes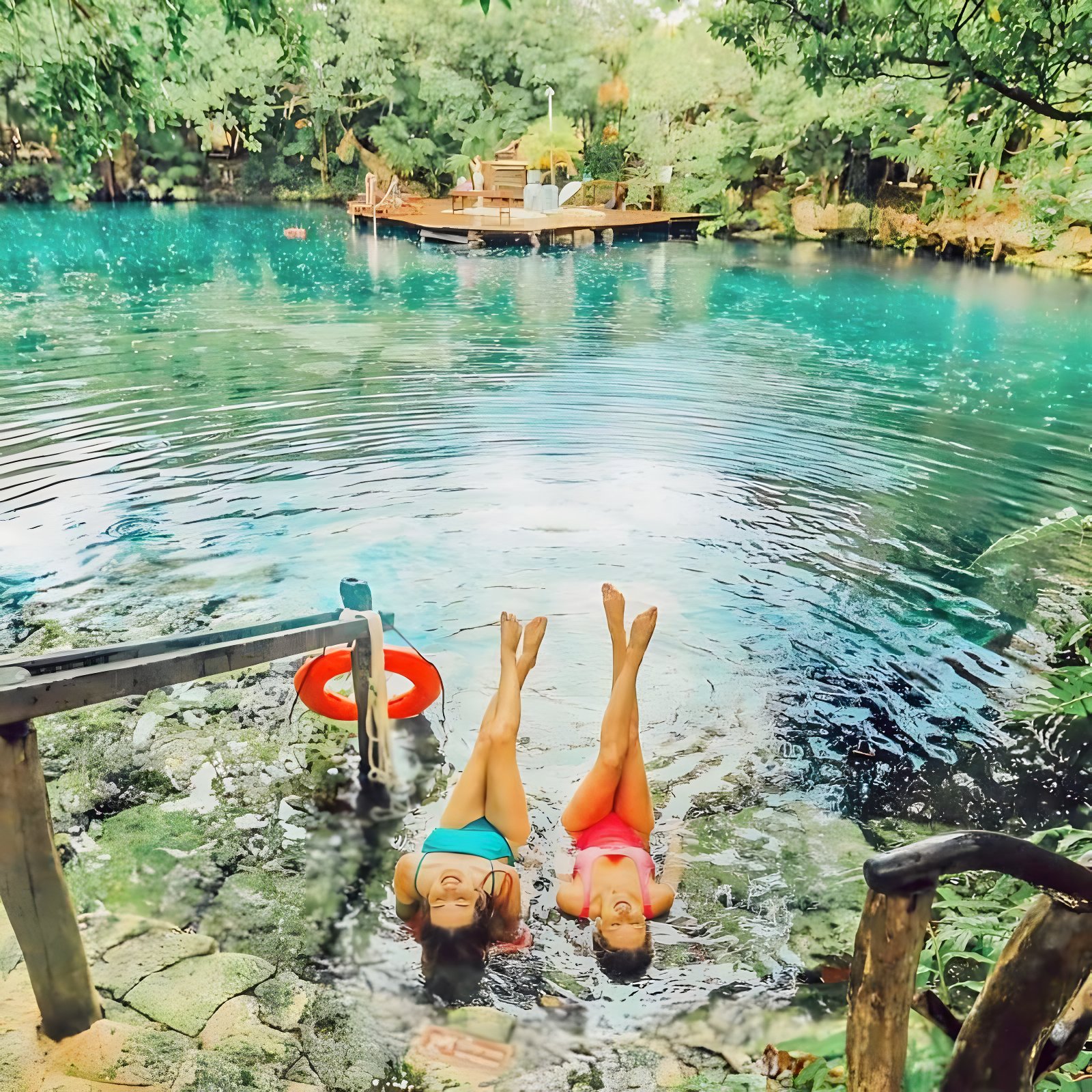 A cenote at Sandos Caracol Eco-resort.
Concluding our list of 5 Exciting Cancun Activities is delving into explorable cenotes, which Cancun has plenty of. Few experiences can compare to dropping blindly into a cool, crisp cavern with your loved one, family, best friends, or all of the above. It's an experience hailed in the Caribbean and will add a sense of wonder and spontaneity to a Cancun destination wedding. Tours are available to see these brightly colored marvels of the world.
Where to Stay: Sandos Caracol Eco-Resort
Sandos Caracol Eco-Resort is a beautiful property located just south of Cancun and Puerto Morelos which, believe it or not, has several cenotes on site. You and your wedding guests can enjoy unlimited access to the natural swimming holes, the tropical surroundings and more during your Cancun destination wedding when you stay at Sandos Caracol Eco Resort. We've even had past couples utilize the on-site cenotes for their "trash the dress" photoshoots.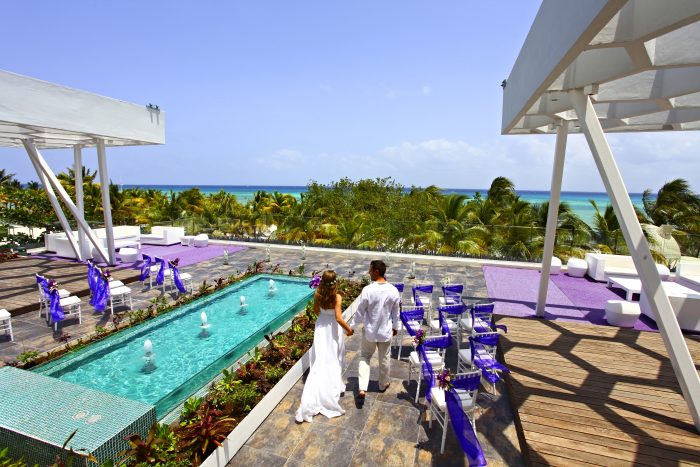 Sandos Caracol Eco-Resort
Still interested in learning more about Cancun and weddings? Follow the link below to see more of our resorts in Mexico: