Check out our updated list here!
Affordable Cancun wedding packages are an excellent way to create memories that will last a lifetime, especially if you're looking for an unforgettable Mexico matrimony. If you're unsure of what wedding package is right for your wedding, then read on!
We will explore five different affordable Cancun wedding packages and their features. You'll be able to find the perfect destination wedding with all-inclusive prices for you and your fiancé if you follow this blog post!
What is the average price for a Cancun destination wedding?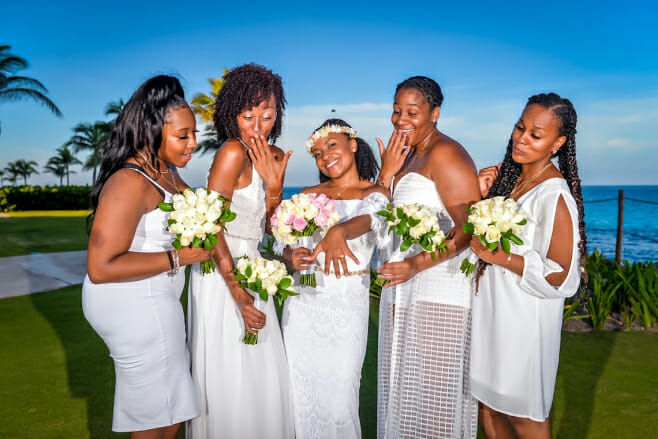 The average wedding in Cancun costs $15,000 to $20,000. However, there is a bevy of all-inclusive resorts that provide affordable Cancun wedding packages for as little as $999. Even better? Some destination wedding packages become complimentary with a few simple booking requirements.
Don't you just love wedding deals? No matter which affordable all inclusive wedding package you choose, you'll find sweet, all-inclusive bliss. Complete with oceanfront luxury amenities, these Mexico wedding packages deliver high-end destination weddings that'll make you and your bank account sing:
Secrets the Vine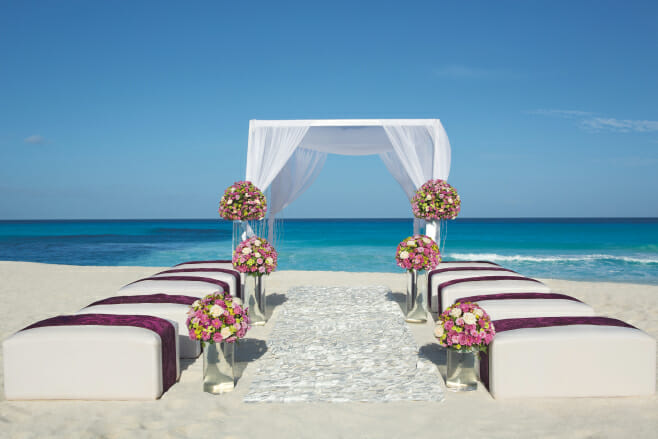 Wedding Packages Cost: Free – $3,799
Secrets The Vine in Cancun is located on the Yucatán Peninsula's coast, along one of the Caribbean's most beautiful sections of white sand beach, suitable for an adults-only destination wedding celebration. The Vine Cancun wedding is all about the breathtaking vistas, with incredible sunset and sunrise views from every suite and infinity pools that look out over vast lengths of the ocean.
Each Secrets The Vine Cancun wedding ceremony setting was arranged with photography in mind, and the resort was designed by the world-famous Rockwell group. The resort gets a lot of its influence from wine! You and your wedding guests can schedule a wine tasting with a sommelier to try some of the 3000 bottles available. The resort sits in the heart of Cancun's hotel district, offering a nice combination of on-site and off-site activities for your guests.
We are pleased to be one of AM Resort's valued partners, allowing us to provide additional benefits to our couples! Romantic continental breakfasts in bed, spa treatment discounts, and free romantic dinners are just a few of the options for all destination weddings. Here is one of Secrets the Vine's most affordable Cancun wedding packages:
Example Wedding in Paradise Package: $999+ (Complimentary with booking requirements)
Symbolic wedding ceremony
Wedding organization and personal touch of on-site wedding coordinator
Preparation and ironing of couple's wedding day attire
Complimentary room for one member of the wedding couple the night before the wedding (complimentary room upgrade also based on availability and upon request)
Bouquet(s) and/or boutonniere(s) for wedding couple
Ceremony wedding cake, cocktail hour, and sparkling wine toast (for up to ten guests)
Special turndown service the night of the wedding
15% off spa treatments (spa boutique purchases not included)
Newlywed Package
Welcome letter
Fresh fruit
Bottle of sparkling wine
Breakfast in bed with mimosas (reservations must be made in advance with concierge)
Late checkout for the couple (based on availability and upon request)
Free anniversary nights and anniversary packages (stay a minimum of five paid nights over first anniversary date and receive two additional nights free, or stay four paid nights over first anniversary date and receive one additional night free)
Fully private wedding reception
Majestic Elegance Costa Mujeres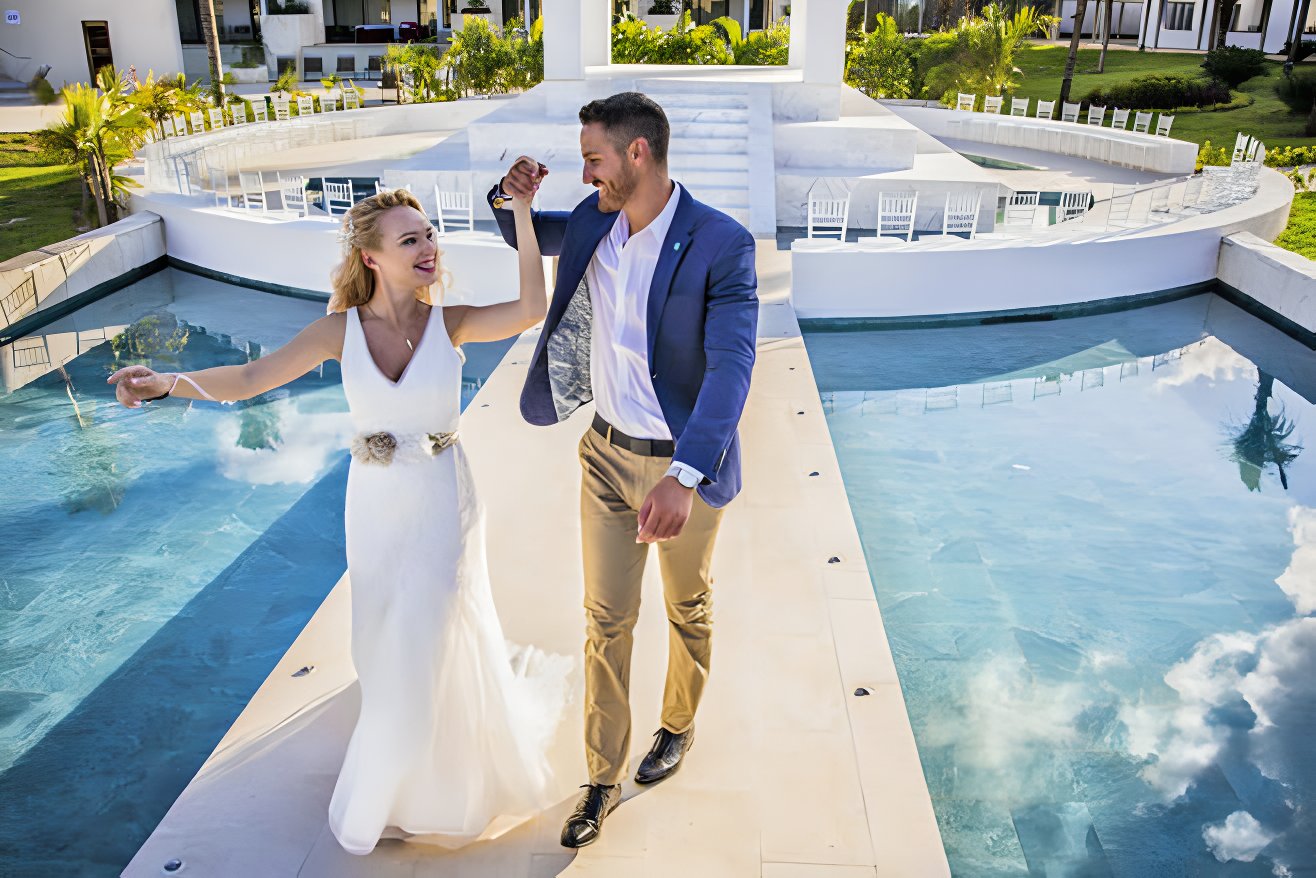 Wedding Packages Cost: Free – $1,250+
With the opening of Majestic Elegance Costa Mujeres, Majestic Resorts has added Mexico to its list of destinations. This 570-room all-inclusive resort is excellent for clients looking for a sophisticated and opulent holiday with a wide range of facilities and services.
This stunning 5-star all-inclusive resort is surrounded by the most breathtaking scenery, making it an excellent destination for Caribbean fans and first-time visitors to the Yucatán Peninsula's Costa Mujeres. "Sophisticated and sumptuous" are two terms that perfectly describe this new residence.
The resort is more adult-oriented, with over 70% of the rooms in the Elegance Club (Adults Exclusively 18+) dedicated to adults only, and the remaining rooms in the Family Section (All Ages).
Need a hand with that wedding planning? Majestic has you covered with your own personal wedding planner. Don't let the "complimentary" tag fool you. This destination wedding offer is more than just your basic Cancun wedding package.
Example Free Wedding Package: Complimentary
Majestic Elegance Costa Mujeres an experienced wedding planning team
Symbolic ceremony venue
Room upgrade
Early check-in and late check-out
Services of a civil judge or priest
Wedding cake
Tropical bouquet and boutonniere
Bag of rose petals
Ironing of bride's dress and groom's tuxedo
Sound system and ceremony translation
Marriage certificate
Champagne toast
10% discount on hair and makeup
Handcrafted welcome sweets
Bridal boudoir refreshments
Semi-private wedding reception in a specialty restaurant
Romantic breakfast in bed for the couple
Romantic candlelight dinner for the couple
Complimentary couples massage before OR after your wedding night
Two bottles of champagne in room during stay
Hyatt Ziva Cancun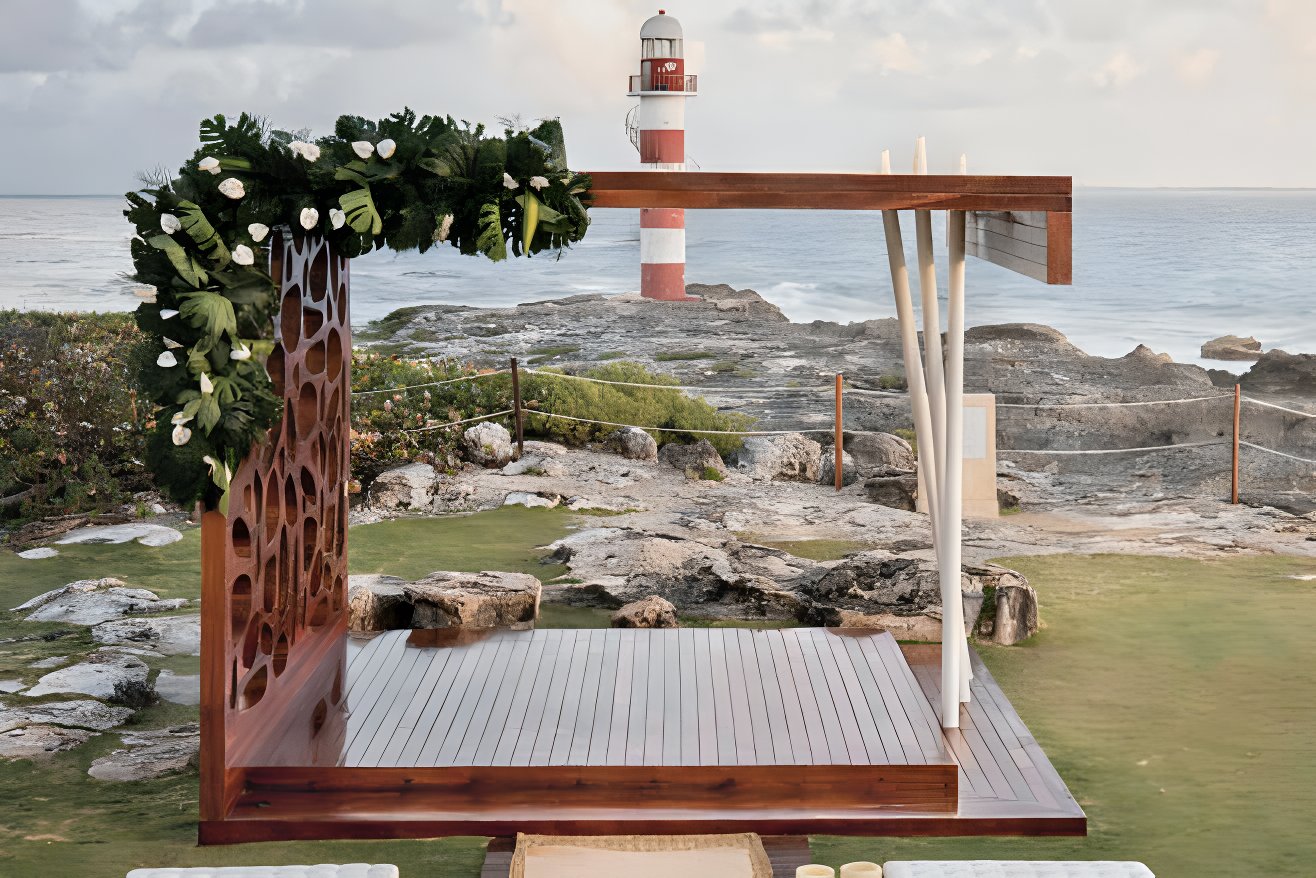 Wedding Packages Cost: Free – $17,289+
The high-quality, all-inclusive wedding you'll receive if you choose Hyatt Ziva Cancun cannot be overstated. It's a haven for all guests, as well as an excellent setting for your Cancun vacation wedding. Allow the property's magnificent lighthouse to serve as a breathtaking backdrop, or walk the aisle at the Cliffside Gazebo while seeing crystal clear seas.
Say "Yes" to spectacular terrace views at the famous Sky Terrace, replete with scrumptious dining, after saying "I Do" at a world-class wedding hotel zone. Discover the affordable Cancun wedding packages of your dreams, complete with a private dinner reception, free wedding booking, and wedding party hairstyling:
Example Intimate Elegance Wedding Package: $2,149+
Symbolic marriage Ceremony and certificate, performed by a Secular Bilingual Wedding Officiant
Bridal floral Bouquet and Boutonnière for the Groom
Signature Wedding cake
Special decoration of the Couple's room
Complimentary wine delivered to the Couple's room
Late check-out for the couple up to 3:00 p.m. (applies for the Couple, subject to availability)
Onsite services of a professional Wedding Specialists
Complimentary online bridal registry and Wedding website
Ceremony table with white linen and folding Wedding chairs
Sound system for the Ceremony and private reception
Massage for the Wedding Couple (25-min each one)
Romantic dinner for the Couple
Hard Rock Cancun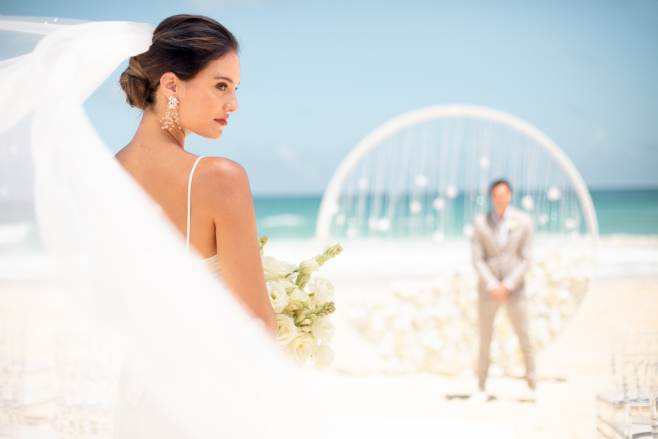 Wedding Packages Cost: Free – $5,000+
Are you and your wedding party ready to rock your elegant destination wedding? The Hard Rock Hotel Cancun is the beach wedding getaway for you. This venue pays homage to its Hard Rock Hotel roots while also perfectly blending it with a Mexican aesthetic.
You will be able to enjoy the neighboring Cancun beaches as well as a range of activities, such as championship golf, if you choose to hold your wedding or reception here. At this all-inclusive resort, couples and guests will have a memorable experience.
Couples can pick from five primary spaces at the Hard Rock Hotel Cancun. There are not just indoor settings to pick from, but also uncovered outdoor situations. Couples can invite up to 1,000 of their loved ones to join them because of the large size. After the wedding, couples and guests can extend their stay at the resort by choosing from over 600 rooms and suites.
For the utmost in luxury, the stylishly designed suites have everything from Egyptian cotton linens to hydro spa pools. Private balconies are available in the rooms and suites for you to enjoy the views. Check out this affordable Cancun wedding package below, inspired by the gold shores of the Yucatán:
Example Complimentary Wedding Package: Complimentary
Symbolic ceremony location
White ceremony structure
White ceremony podium with a golden manzanita branch and a gold mirrored vase filled with white roses
32 white avant-garde chairs
Themed one-tier, aisle runner wedding cake for 32 persons
Bridal bouquet
Groom's boutonniere
Justice of the Peace or minister to perform legal, symbolic, or vow renewal ceremonies
Honeymoon Wishes wedding website and wedding registry
CD system available during the ceremony
Hard Rock Cancun wedding planner
Witnesses, if required
Complimentary Honeymoon Package
Royalton Splash Riviera Cancun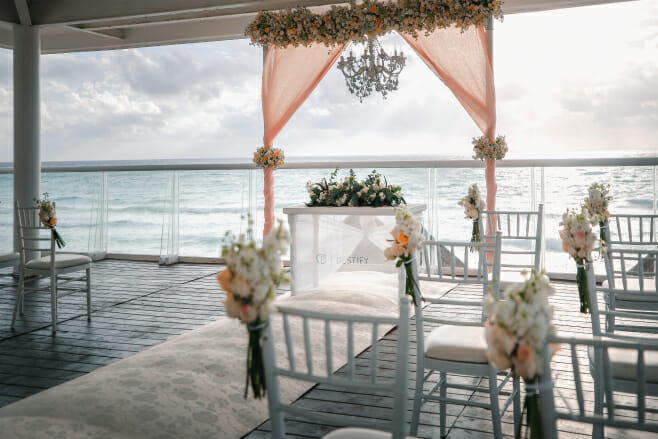 Wedding Packages Cost: $999-$11,999+
Royalton Splash offers a picturesque backdrop for a dream wedding, located in the idyllic Riviera Maya region of Cancun, Mexico. The resort boasts pristine white sand beaches, crystal-clear turquoise waters, and lush tropical landscapes, creating a romantic ambiance that sets the stage for an unforgettable ceremony.
Royalton Splash Riviera Cancun is an all-inclusive resort, ensuring that both the wedding party and guests can indulge in a wide range of amenities without worrying about additional expenses. From elegantly appointed accommodations to gourmet dining options and top-notch entertainment, the resort offers a luxurious experience for everyone.
The resort's experienced wedding planning team takes care of every detail, ensuring that your special day is flawless. They offer a variety of wedding packages tailored to different preferences and budgets, including customized décor, professional photography, floral arrangements, and more. Their expertise and attention to detail guarantee that your wedding will be a seamless and stress-free experience.
Example Luxury Wedding Package: $999+
Personal wedding planner & onsite St. Lucia wedding coordinator
VIP welcome & late checkout for bride & groom (based on availability)
Bride & groom room upgrade (based on availability)
Getting Ready" refreshments & fruit platter for the bride & groom on the wedding day
10% discount on spa services for entire wedding party
Choice of wedding venues
Symbolic ceremony
Chairs included
Sound system for ceremony
1 tropical bridal bouquet
1 tropical groom's boutonniere
Ceremony table with linen & tropical centerpiece
Sparkling wine toast
Private dinner at one of the restaurants (2 hour)
Personalized menu cards
1-tier wedding cake
Curious about our expansive list of Mexico wedding resort offers and affordable Cancun wedding packages? Follow the button below to explore our Destify Top Resorts: