The average price of a Cancun destination wedding is by far the most popular question we get asked, and it's usually from a little panicked. Did I mention that this is for a destination wedding? This isn't your typical backyard BBQ or church ceremony, but instead an all-inclusive romantic paradise with white sand beaches and turquoise waters.
Destination weddings are on the rise these days due to their affordability and convenience. However, couples often wonder how much they'll have to spend on such a big event. In this blog post we're going to break down everything you need to know about what the average cost for an all-inclusive Cancun destination wedding!
How much does it cost to get married in Cancun?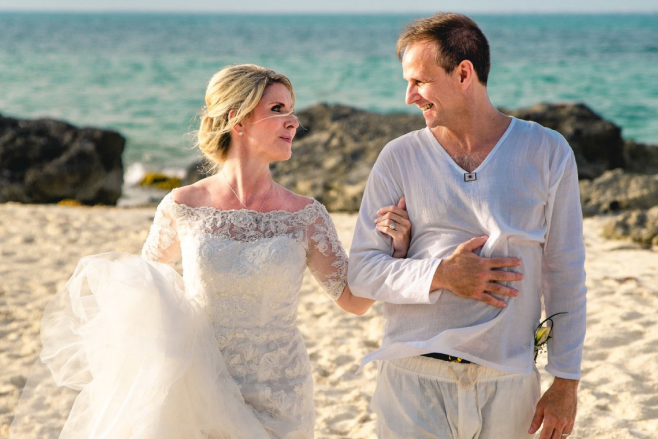 We're so glad you asked! Cancun weddings can vary in price, depending on several factors. Generally, you should expect to pay anywhere between $500 to $10,000 on your Cancun getaway.
However, there are many factors that go into figuring out that final price. Take a look at the breakdown:
How Much is a Cancun Wedding Package?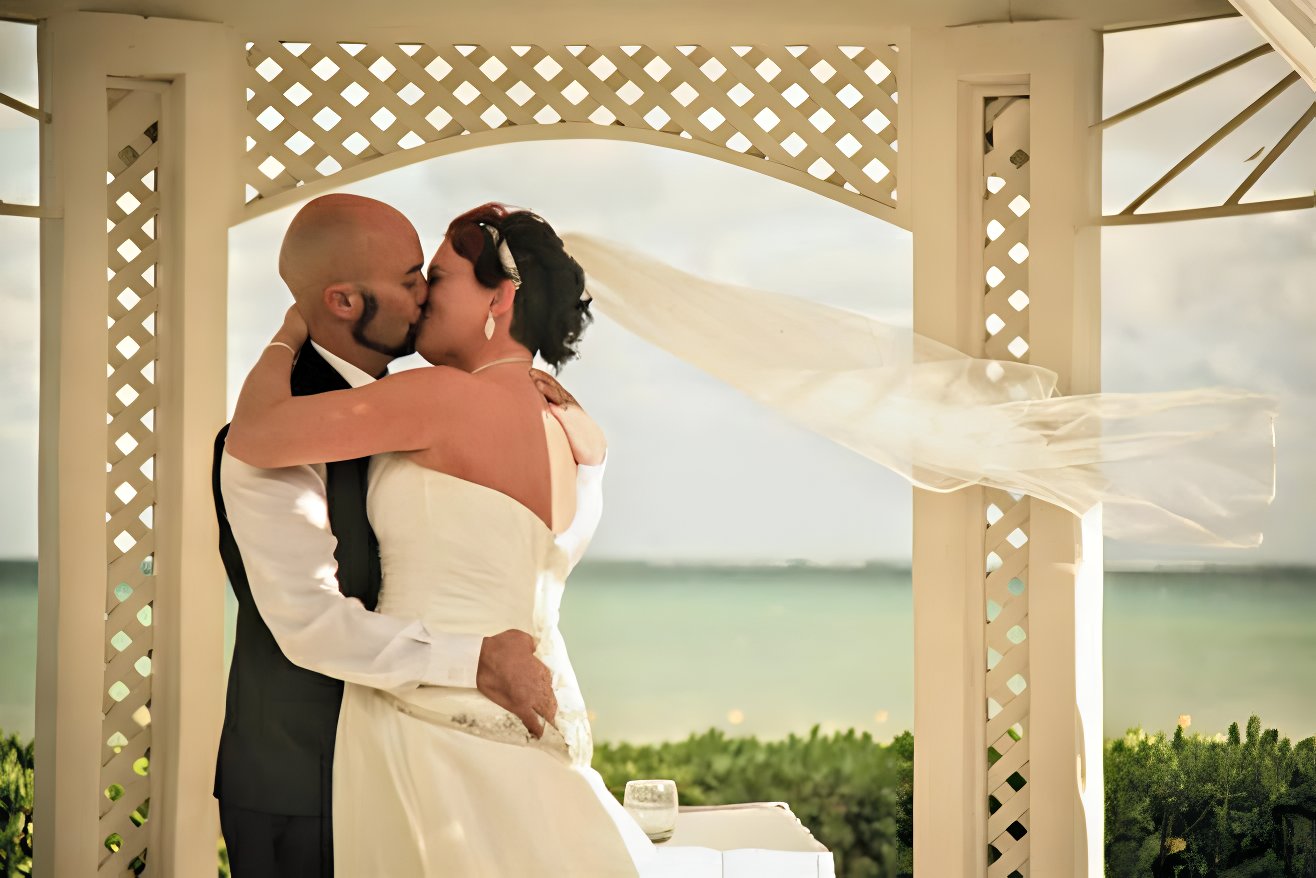 There are many different Cancun wedding packages. The more luxurious the package, the higher your destination wedding costs will be. Don't forget to think about these extras too! Extras such as getting married at sunset or having a romantic dinner for two on the beach add to how expensive wedding packages in cancun Cancun can be.
Typically, all inclusive beach wedding packages will range between Free (you read that right!) and $11,999. As mentioned above, there is a bevy of wedding packages that vary in terms of perks and pricing, however, most collections are all-inclusive. So yes, that dream golden-hour aisle you've always wanted is included at no additional cost.
Number of Guests Attending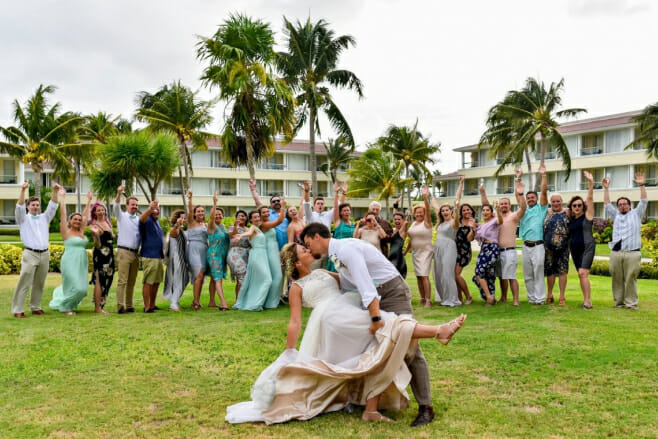 Having your dream destination wedding with your longtime gal pals and family in attendance? Worry not. Your all-inclusive resort will deliver budget-friendly rooming options, along with personalized service along the Riviera Cancun. When you factor in your average Cancun wedding party room block, suites are available starting from $120 to $400 (depending on which luxurious resort you choose).
Tip of the Day: Let a Destify wedding specialist connect with you with the right beach resort perfect for your wedding celebration budget.
Cancun Wedding Photographer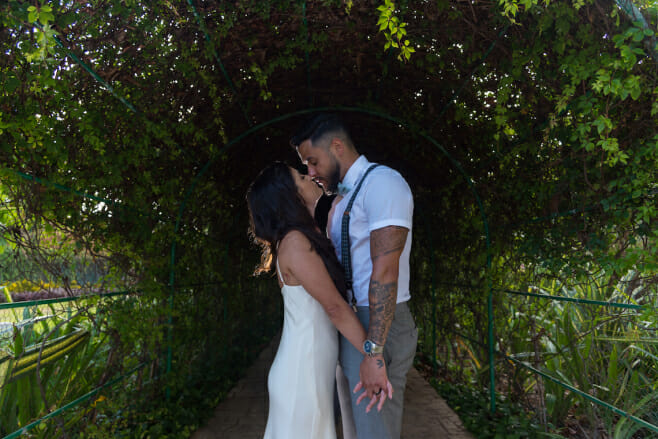 Cancun weddings are not just for couples that have a lot of money, but also those who want more from their wedding photos. Having an experienced photographer is certainly going to cost you. But it's worth it!
The memories captured in your Cancun wedding photographs will be the most cherished of your life. Your Mexico wedding destination photos will be the only physical reminder of your special day, so you want to make sure they're beautiful!
Cancun Wedding Planning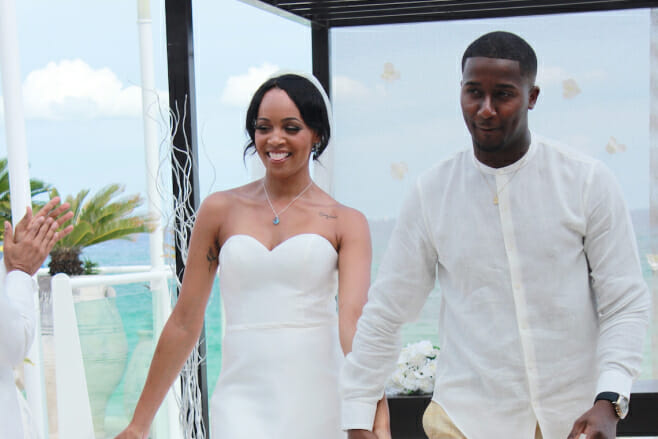 Many people don't realize how much time and effort goes into planning a Cancun wedding. Not only do you have to plan for all the details, but you also have to make sure everyone is communicating with each other and things are going smoothly.
That's where Destify comes in clutch. Cancun destination wedding planners like Destify can be a great help when choosing from any one of the seemingly endless array of elegant wedding ceremony locations. Hire a wedding planner today!
Other Cancun Wedding Costs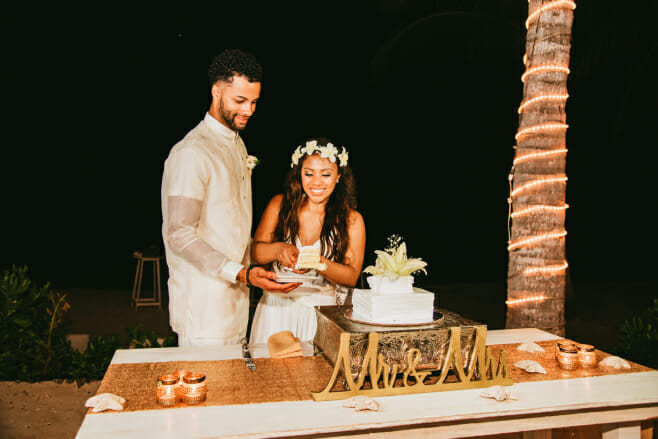 It's not just about the big costs of having a Cancun wedding; you also need to think about the smaller costs such as travel and accommodation. After your wedding booking, it's important to consider how important it is to stick to your budget. Cancun destination weddings can be an affordable option for couples – it just depends on your priorities! A destination wedding could even save you money!
Cancun Wedding Budget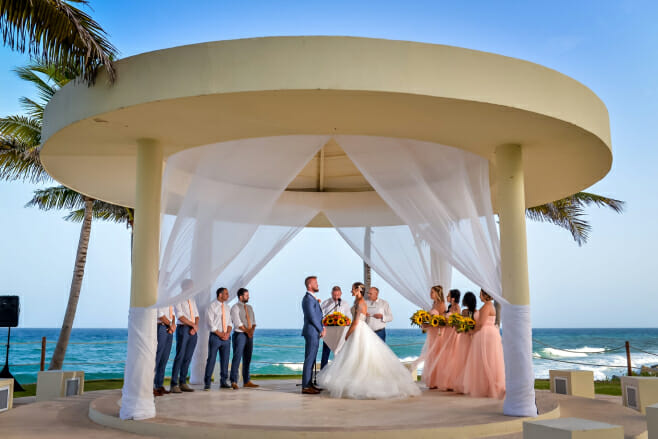 If you have a destination wedding budget, don't forget that you do not have to break the bank in order to have a Cancun destination wedding. You can still have an incredible Cancun destination wedding on any budget!
Example Cancun Destination Wedding Packages
There are many destination wedding packages to choose from, but here are a few examples of what the basic all-inclusive wedding package features, as well as which resorts should be at the top of your list:
Dreams Vista Cancun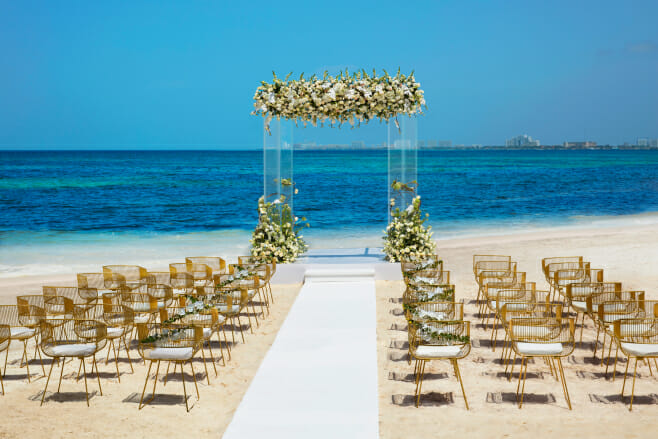 Wedding Packages Cost: Free – $11,999
North of Cancun's Hotel Zone, the newly constructed Dreams Vista Cancun provides guests a variety of adjacent attractions, dining, and entertainment options. The family-friendly resort offers roomy quarters with a contemporary aesthetic and a tropical vibe your wedding group will love. The Dreams Vista Cancun wedding gives your guest list an unforgettable experience, with the white sand beach just minutes away and ocean views from every suite.
Don't be fooled by the high room rates. While the resort's prices are on the rise, the resort's customizable all-inclusive wedding packages make it worthwhile. Dreams Vista Cancun promises a beautiful wedding week without breaking the bank, thanks to complementary packages and apparently infinite activities. Simply put: Dreams Vista Cancun will give you your dream wedding!
Example Wedding in Paradise Wedding Package: $999 (Free with booking requirements)
Symbolic ceremony
Wedding organization and personal touch of on-site wedding planner
Preparation and ironing of couple's wedding day attire
Complimentary room for one member of the wedding couple the night before the wedding (based on availability and upon request)
Bouquet(s) and/or boutonniere(s) for the wedding couple
Wedding cake, sparkling wine toast, and fully private wedding reception (for up to ten guests)
Special turndown service the night of the wedding
15% discount on all spa treatments (Spa boutique purchases not included)
Newlywed Package
Welcome letter
Fresh fruit
Bottle of sparkling wine
Breakfast in bed with mimosas (reservations must be made in advance with concierge)
Late checkout for the couple (based on availability and upon request)
Free anniversary nights
Mystique Blue Holbox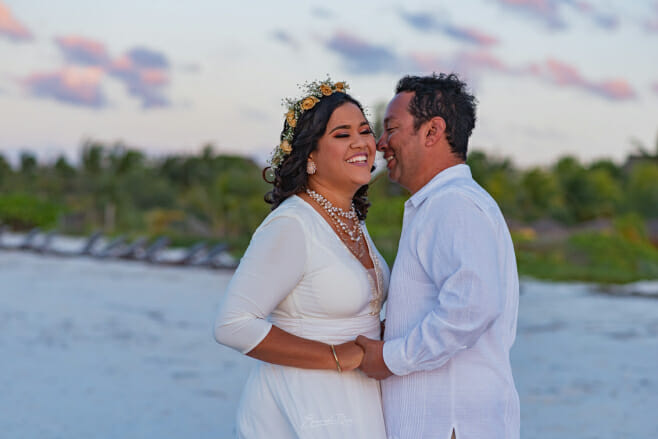 Wedding Packages Cost: Starting at $849
The Mystique Blue boutique resort is located on the secluded island refuge of Isla Holbox, far from the ordinary. Your vacation wedding could take place on a modern and luxury hideaway on Yum Balam's modest paradisiac 26-mile island.
With a nature reserve rich in marine life and migratory birds, there's lots to see and do before your wedding ceremony. In addition, wedding guests will be treated to genuinely extraordinary gourmet meals. A wedding at Mystique Blue Holbox is ideal for couples who want a modest, intimate celebration.
The resort provides a truly luxurious eco-friendly retreat, designed with the destination in mind, made to maximize every last beachfront view. À la carte packages are designed for Mystique Blue Holbox wedding couples to purchase as little or as much as they would like, from cocktail hours to a private dinner reception complete with Caribbean Sea wedding venues.
Example Entry-Level Wedding Package: $849
Symbolic ceremony
Welcome amenity
Complimentary room upgrade for wedding couple
Chairs for wedding guests
Mystique Blue Holbox wedding ceremony table and linen with tropical centerpiece and private cocktail hour
Bridal bouquet and Groom boutonniere
15% discount for wedding couple on spa treatments, restaurant menus and bottles
Isla Mujeres Palace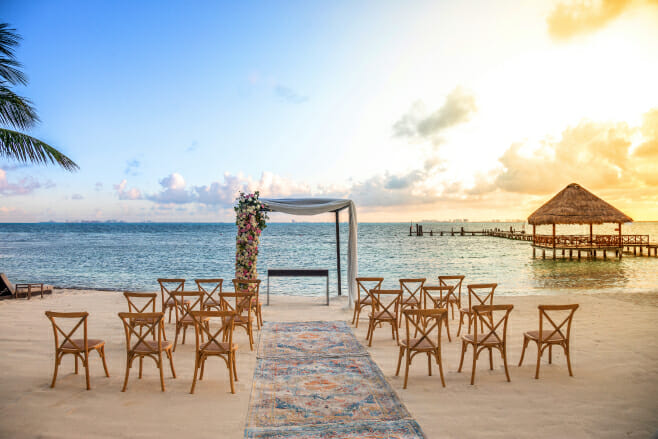 Wedding Packages Cost: Free – $4,300
Isla Mujeres Palace destination weddings offer an exclusive and exquisite event, set on tiny dunes off the coast of the Mayan Riviera. This adults-only all-inclusive offers many of the amenities found at larger resorts while retaining a tranquil atmosphere thanks to private beaches and a small number of accommodations. Any visit at Isla Mujeres Palace is obviously relaxing, yet it can also be anything one wants it to be with beach club perks available 24/7.
The Palace's island location results in spectacular sunsets over glistening Caribbean Sea, which will create a fantastic backdrop for your destination wedding photography. Because it is a smaller resort, the personnel at Isla Mujeres Palace is more attentive and trained to make your stay as comfortable as possible. Guests at the Isla Mujeres Palace wedding will enjoy surrounding attractions such as Dolphin Discovery and the Garrafon National Park, both of which are just a short drive away.
Example Pure Paradise Wedding Package: $1,600
Services of an on-site wedding specialists and wedding teamWedding ceremony location
Minister to perform symbolic ceremony
Witnesses if required for wedding party
Palm leaf aisle markers
6 antique benches
8 white Chiavari chairs
5 round taupe velvet stools
5 Taj Mahal velvet stools
2 gold pedestal stands with floral arrangements: monstera leaves, date palm leaves, white gerberas, driftwood
Audio system available for ceremony
Sparkling wine during the ceremony
1 semi-private dinner reservation for up to 30 guests with standard restaurant décor
Breakfast in bed the morning after the ceremony for bride and groom
Honeymoon Wishes wedding website and bridal registry
Complimentary Honeymoon package
Paradisus Cancun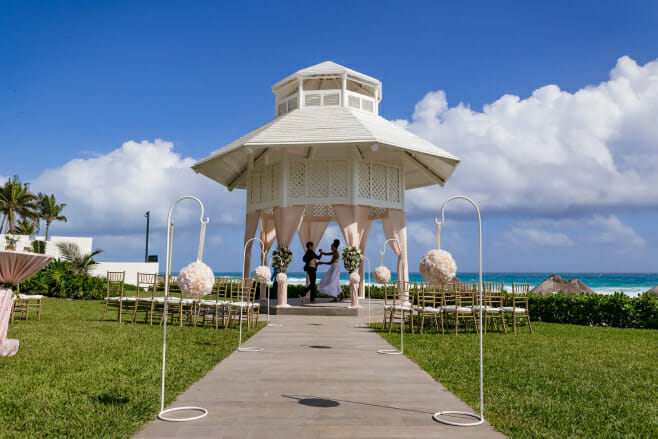 Wedding Packages Cost: $499 – $2,000
Paradisus Cancun, in picturesque Mexico, is recognized for its stunning beach as well as its eye-catching pyramid architecture. Your vacation wedding could include sweeping ocean views, beach relaxation, and photo opportunities in lush tropical gardens. The many activities provided at the Paradisus Cancun wedding venue will delight your guests, from snorkeling to riding the wave on the on-site FlowRider machine.
The beach is truly expansive, providing an infinite amount of area for enjoyment or the ideal location for your Paradisus Cancun wedding. The resort takes pride in its many amenities, which include wine tastings in private dining rooms, a nightclub, and a nine-hole golf course. Book a Royal Suite with butler service for additional opulence. From romantic turndown services to dinner reservations, they can assist you.
Example Entry-Level Wedding Package: $499
Symbolic Paradisus Cancun wedding ceremony
Ceremony table
6 chairs with white covers
1 bouquet and 1 boutonniere
Sparkling wine wedding toast
Semi-private dinner
One-tier wedding cake
10% spa discount
Sparkling wine and rose petal turndown service on wedding night
On-site wedding coordinator with hundreds of wedding celebrations under their belt
Curious about our expansive list of Mexico wedding resorts? Ready to be wed in Mexico? Follow the button below to explore our Destify Top Resorts: