Get your appetite ready. Perhaps the biggest problem while choosing your destination wedding menu is deciding which all-inclusive cuisine fits your ceremony the best. It's a fun problem to have right? At every Destify Top Resort, you'll find cocktail hour canapés to full reception courses that'll have your guests raving for years. Without further ado, let's visit some of our top recommendations on what to serve at your destination wedding.
What is the best food to serve at a wedding?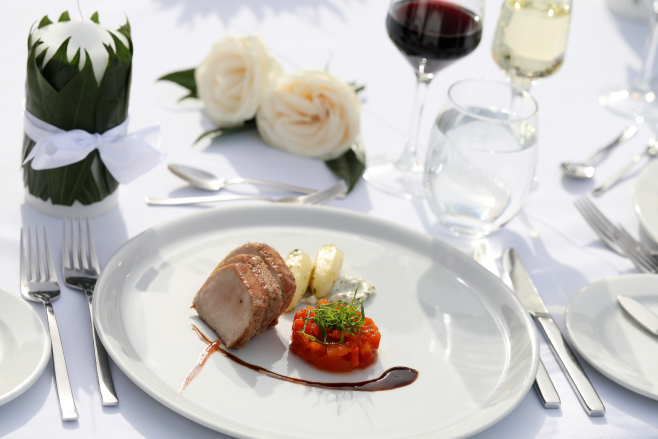 From plated dinners to food stations, destination wedding weddings can feature the finest dishes, all with their own regional flair. Take a look at some choices available for Royalton Negril's all-inclusive cocktail hour wedding menu:
Cocktail Hour
Cold Canapés
Melon prosciutto brochette
Seafood ceviche
Smoked salmon and cream cheese rolls
Mini crab tartlets
Brie cheese canapes
Mini caprese salads
Classic tahini and pita bread
Tuna tartar with sesame oil
Hot Canapés
Tempura shrimps
Ham croquettes
Teriyaki beef brochettes
Coconut fish fingers
Chicken satay
Classic spring rolls
Spinach and cheese quiches
Argentinean empanadas
After a dazzling cocktail hour filled with delectable canapes, we move to the reception menu. Here's a sample menu of enticing reception catering options:
Hors D'oeuvres
Cold
Seafood vol au vent served with chipotle pepper and tequila sauce
Fresh salmon with avocado and passion fruit sauce
Hot
Chicken quesadillas Vallarta style
Mini potato tostadas served with pearls of calamari ink
Appetizers
Roasted pear salad with candied walnuts, bleu cheese, and balsamic reduction
Grilled sea scallops over toasted bread, bacon, anchovies dip, and coriander vinaigrette
Cold cantaloupe soup with prosciutto and green cantaloupe pearls
Main Course
Surf and sky: chicken breast with shrimp, gratin potato, vegetables with star anise, orange liqueur, served over choron sauce
Surf and turf: beef filet and shrimp, broccoli mousse, foie grass butter, vegetables, served with red and white wine sauce
Dessert
Chocolate mousse with puff pastry and red fruit soup
Opera cake with coffee sauce, Oreo cookies, and chocolate
How much does food cost at a wedding?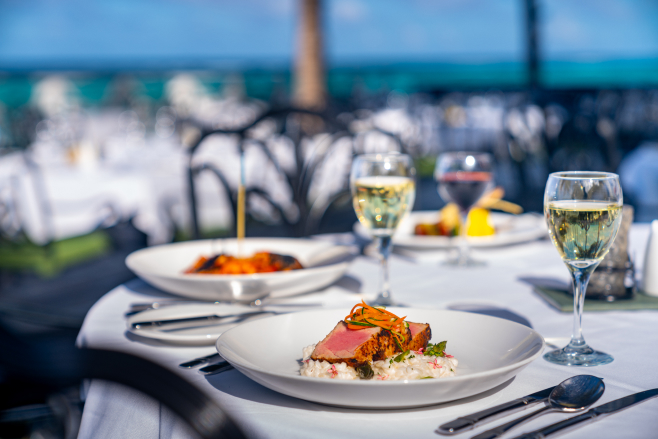 According to the Knot, "The average wedding catering cost was $9,170 (or, on average, $70 per head)." However, many couples deem food (and professional catering) a worthy expense. 56% of couples listed a destination wedding menu and beverage service as the most important priorities while wedding planning.
What is the most budget-friendly food to serve at a wedding?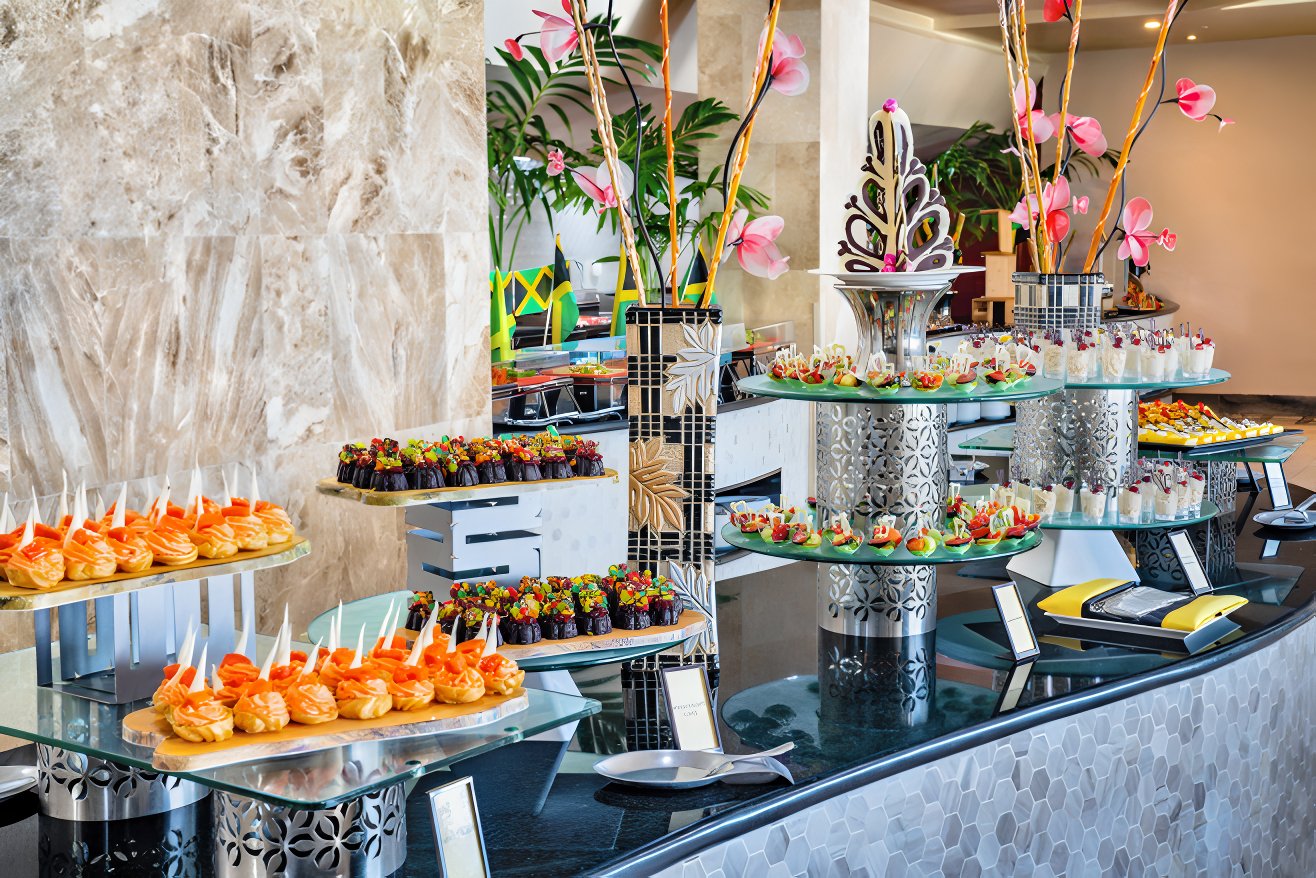 If you're looking to save a few more bucks here and there, consider hosting a semi-private reception rather than private after your ceremony. In fact, it may be included as part of your destination wedding menu package. You'll only have to worry about paying for finger foods at the cocktail hour should you choose any. You also have the option to continue the night at on-site nightclubs or lounges afterward.
Still interested in serving more substantial plates? Limit your reception meals to food stations or heavier appetizers. With themed areas such as prime rib cutting stations or expanded salad bars, you can still offer delectable options with a luxurious flair.
Destination wedding catering will elevate your cocktail hour and reception. With mouthwatering options available via all-inclusive packages, you don't have to worry about breaking the bank to serve the best cuisine. The only "problem" you'll have is choosing between Beef Wellington and grilled mahi-mahi or even open bar and closed bar. No matter what you choose to serve at your destination wedding, you're set up for success!
Want to learn more about how to plan your dream reception? Follow the button below to discover the best destination wedding receptions: