Destination weddings have the ability to offer couples a budget-friendly option for their big day, without skimping on luxury for your ceremony, while also adding the bonus of giving your guests a vacation. Each destination wedding is different, sometimes the couple takes up the majority of the costs or other times the parents of the couple will follow tradition and cover much of the expenses.
One of the major concepts of choosing a destination wedding instead of a local wedding is that you can plan it exactly how you'd like, and it doesn't have to follow any certain rules. In this blog post, we're going to feature the most common scenarios in "who pays for what" for an all-inclusive wedding. These are not guidelines or mandatory rules, they're simply the most common scenarios our travel agents run across.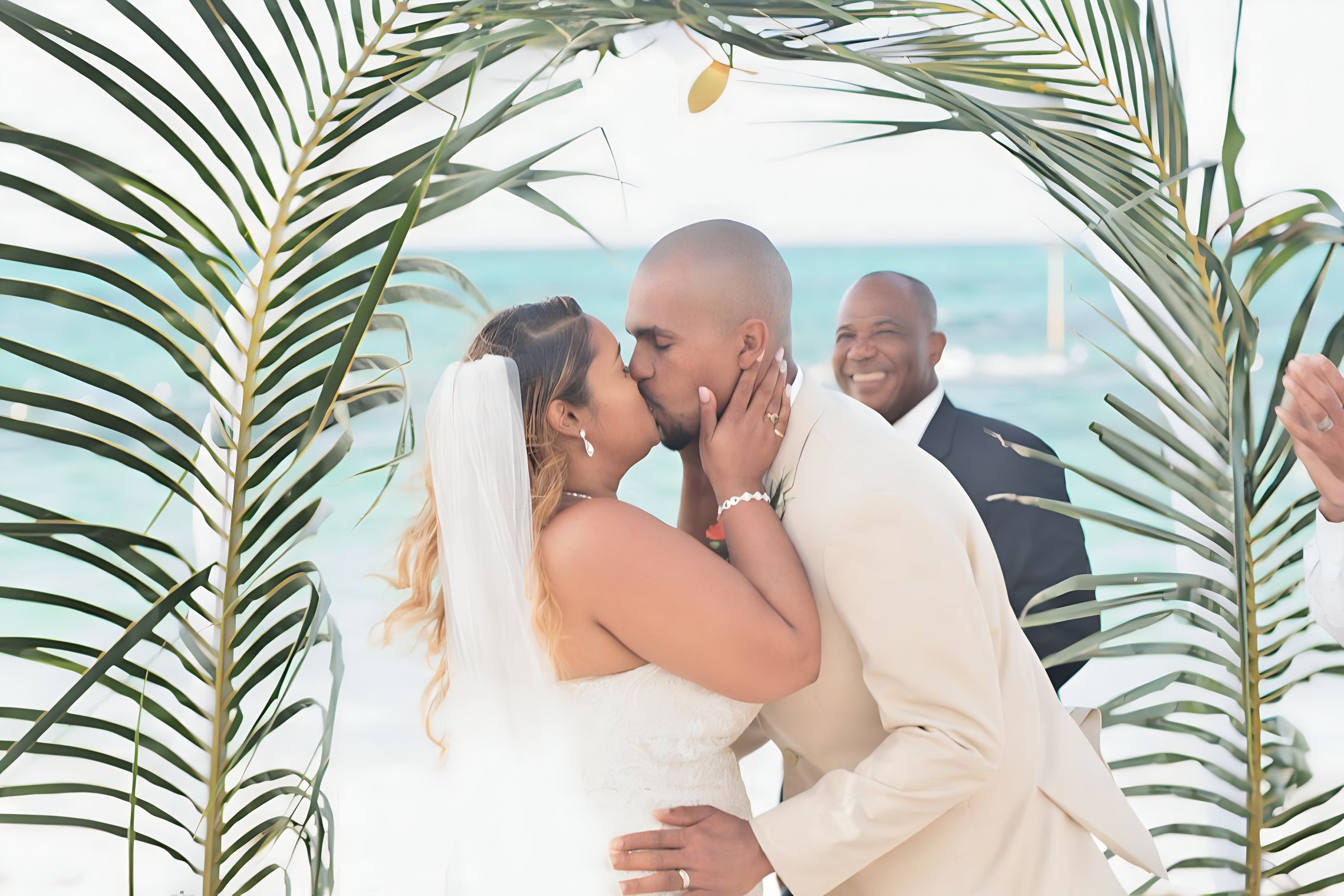 Destify Couple Renelle and Toney
The Couple
Most commonly, as the hosts of the destination wedding, couples tend to pay for the wedding package and reception. We've extensively covered everything that could be included in a wedding package on the blog, and you can very easily find one package rate that will include your ceremony, cocktail hour, and dinner reception. Paying for your own wedding package can also mean paying for any additional decor you desire, whether as part of the resort's wedding menu or if you go with outside vendors. This includes floral packages, centerpieces and more. If you want additional features for your reception, like lighted dance floors or DJ's, that costs extra too.
Although you will have a wedding coordinator assigned to you, you can still utilize your resort to plan further events for your guests during your time on vacation. Consider paying for welcome receptions or shuttle transfer from the airport to the resort for guests if budget allows. If you're footing the bill for your wedding and reception, and do not have the ability to request financial assistance from either set of parents, then you should also know you'll be paying for your travel and room accommodations too.
Typically you can host rehearsal dinners or farewell brunches at your resort free of charge, by using your resort's restaurants, which vary from breakfast buffets to steakhouses. Your resort will have hair and makeup artists available, which may be included in a package, or can be purchased separately. Lastly consider the gifts you would like to purchase for your attendees, from cute gift packages upon their arrival or special mementos for the parents and your wedding party.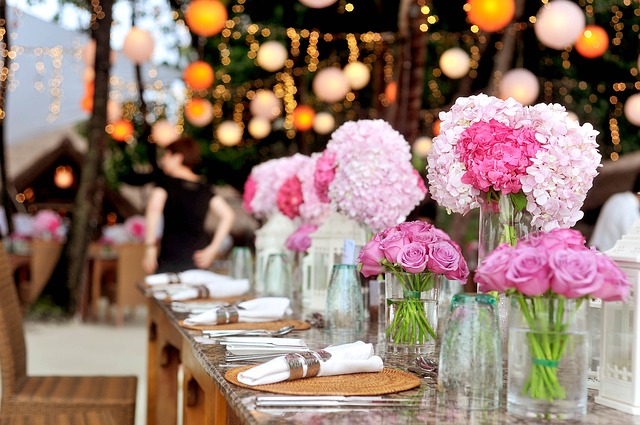 Your Wedding Party
Although destination weddings aren't as strict or traditional as local weddings there are several purchases your bridesmaids and groomsmen can expect to pay for your wedding. Firstly, by hosting a destination wedding, it's common for your wedding party to pay for their own travel and room accommodations. They're also expected to pay for their wedding-wear, accessories, and hair and make-up (unless the bride chooses so). Attire is different for each wedding, with some couples opting for formalwear and others choosing more casual selections. It's important to consider your bridal party's budget.
It's also a handy tip to suggest bringing any extra cash needed should your wedding party want to shop or eat away from the resort or partake in any excursions. Before your wedding, if any members on either side of the couple are planning a bachelorette/bachelor party or bridal shower, they will often pool together to cover these costs, but if travel is required it's not uncommon for the bride and groom to chip in a little. Be considerate of your bridal party, think about what they're paying in order to fill some of the most important positions in your wedding!

Your Guests
By hosting a destination wedding it's likely that some of your invited guests won't be able to make it. This is a pro or con depending on the couple, as sometimes the reason a couple chooses to host a destination wedding is too cut down on large guest lists and to make their wedding a more intimate affair. There's already the prebuilt-in notion for guests that it's totally okay if they can't attend.
Your guests are expected to pay for their travel and room accommodations. By working with a travel agency you can set aside low deposits which guarantee rooms for your guests after its paid. The great thing about all-inclusive resorts is that their room categories are tiered for different budgets, and our agents can help you choose your resort with your guest's budgets in mind in the first place. Your guests should also expect to pay for whatever they may choose to make this trip their own vacation, from resort outings to hitting the local nightlife.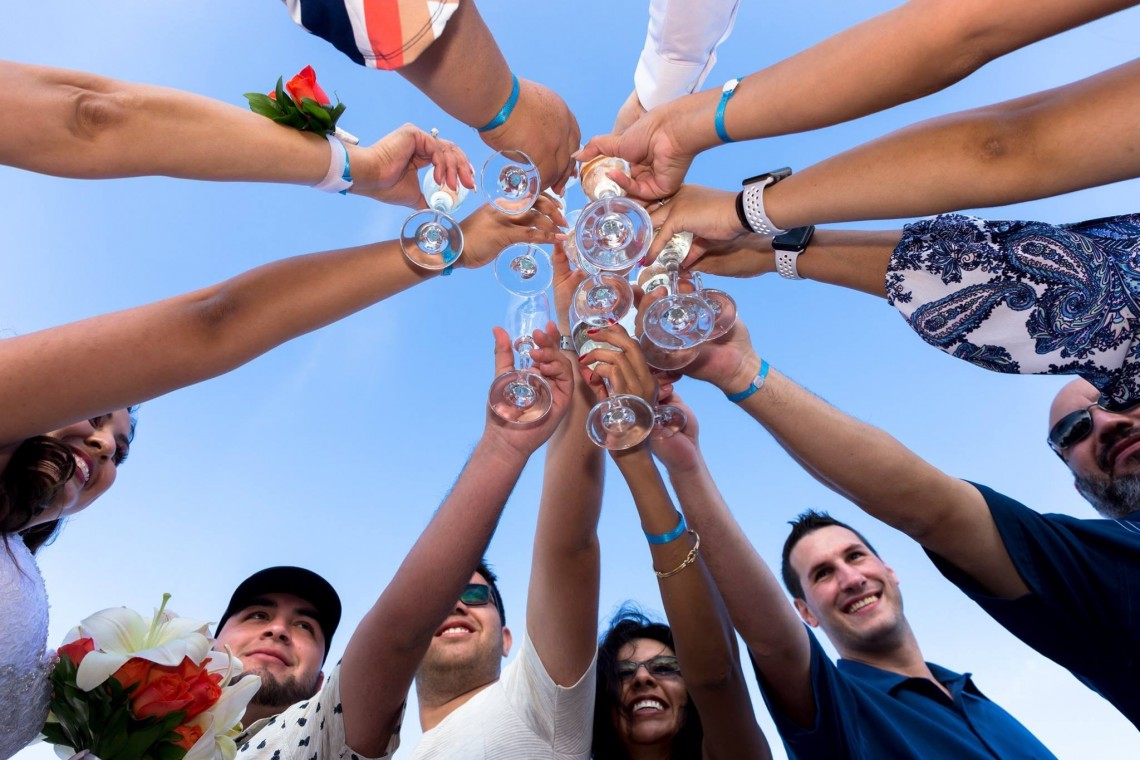 A photo from Leslie and Jose's wedding.
Group Excursions
The last topic to consider with "who pays what" for a destination wedding is a fun one! The topic covers whether you want to host any group excursions or activities for your entire wedding party. Your hotel, or an outside party, would be happy to coordinate a group activity for you, from catamaran cruises to snorkeling trips. Some couples choose to purchase the excursion for their guests as a thank you for attending, a great example is a celebratory sailing trip where everyone can enjoy the ocean while doubling as a welcome reception. Group excursions are a great optional activity to add to your wedding itinerary also, you can book it for yourself and announce the activity at your wedding party. Then they can choose to sign up and pay for themselves if they're interested, just make sure you get the invite out before your excursion fills up.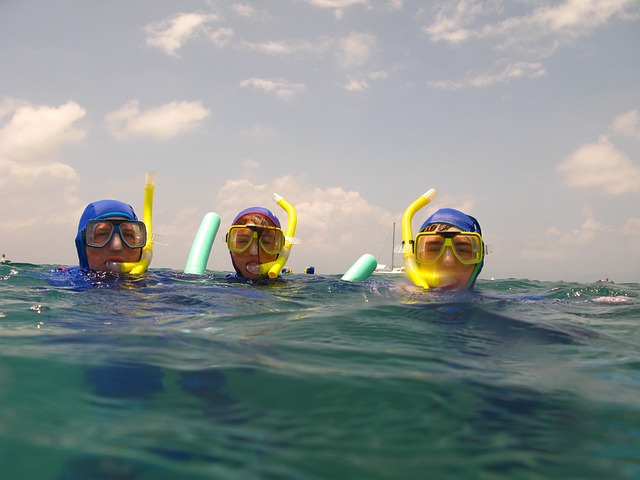 Want to learn more about how much your wedding may cost? Use our wedding calculator to get a real estimate: