Who said luxury has to cost an arm and a leg? The potential cost of a destination wedding can scare many people away, but there is a staggering variety of economical options for your dream wedding in paradise. Enter our Top 5 Affordable Mexico Destination Wedding Resorts: a collection of five-star properties equipped with the hottest benefits and venues in the nation. Not only are they gorgeous, but they also offer excellent all-inclusive packages and accommodations to maximize your budget. Let's start in Riviera Maya:
UNICO 20°87° Riviera Maya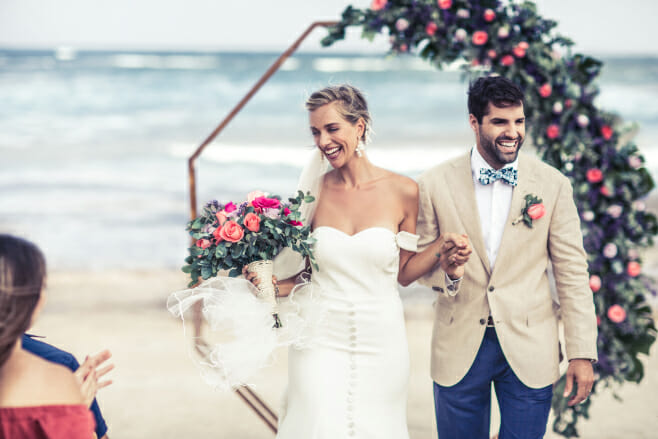 UNICO is the perfect resort for couples seeking a high-end destination wedding with specifically tailored options for smaller budgets. Designed by celebrity wedding planner Marylen Exposito, UNICO's wedding packages offer the finest boho-inspired decor and perks, all while maintaining affordability. The entry-level package is free for 32 guests and includes all the essentials for a stunning destination wedding, from a ceremony location with chairs, bouquet and boutonniere, a minister, cake, an on-site coordinator, and more.
When it comes to venues, take your pick from the breezy and beautiful beach, sophisticated gazebo, or romantic El Patio Terrace. They are all outdoors and situated amidst wonderful scenery. However, if you want the true Riviera Maya wedding experience, we strongly recommend choosing the gazebo.
Destify's Pick: Framed with lush tropical foliage, this venue features awe-inspiring seascapes, all under the shade of a handcrafted wooden structure. Marrying contemporary elegance with natural beauty, the gazebo is our top pick to round out your affordable Mexico destination wedding.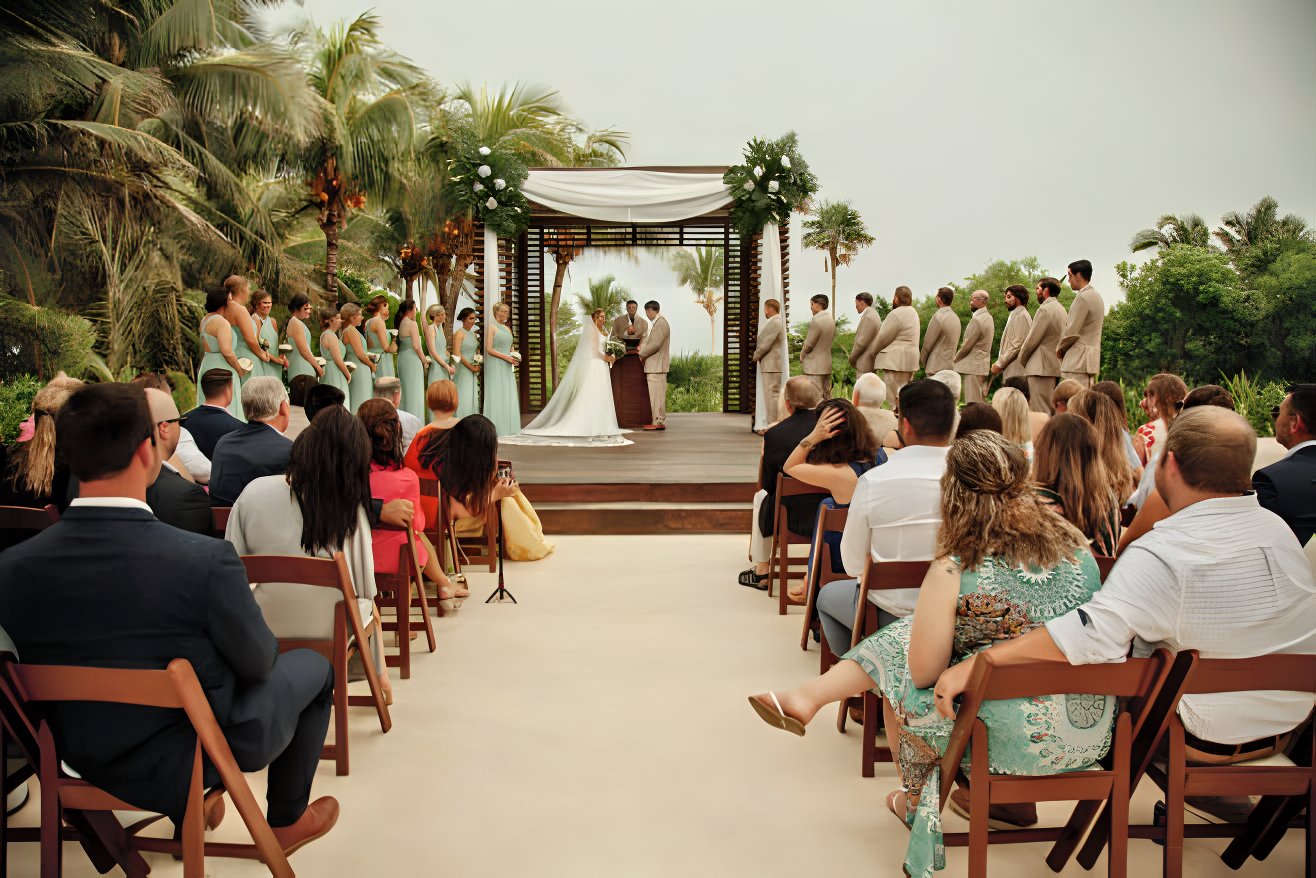 Royalton Riviera Cancun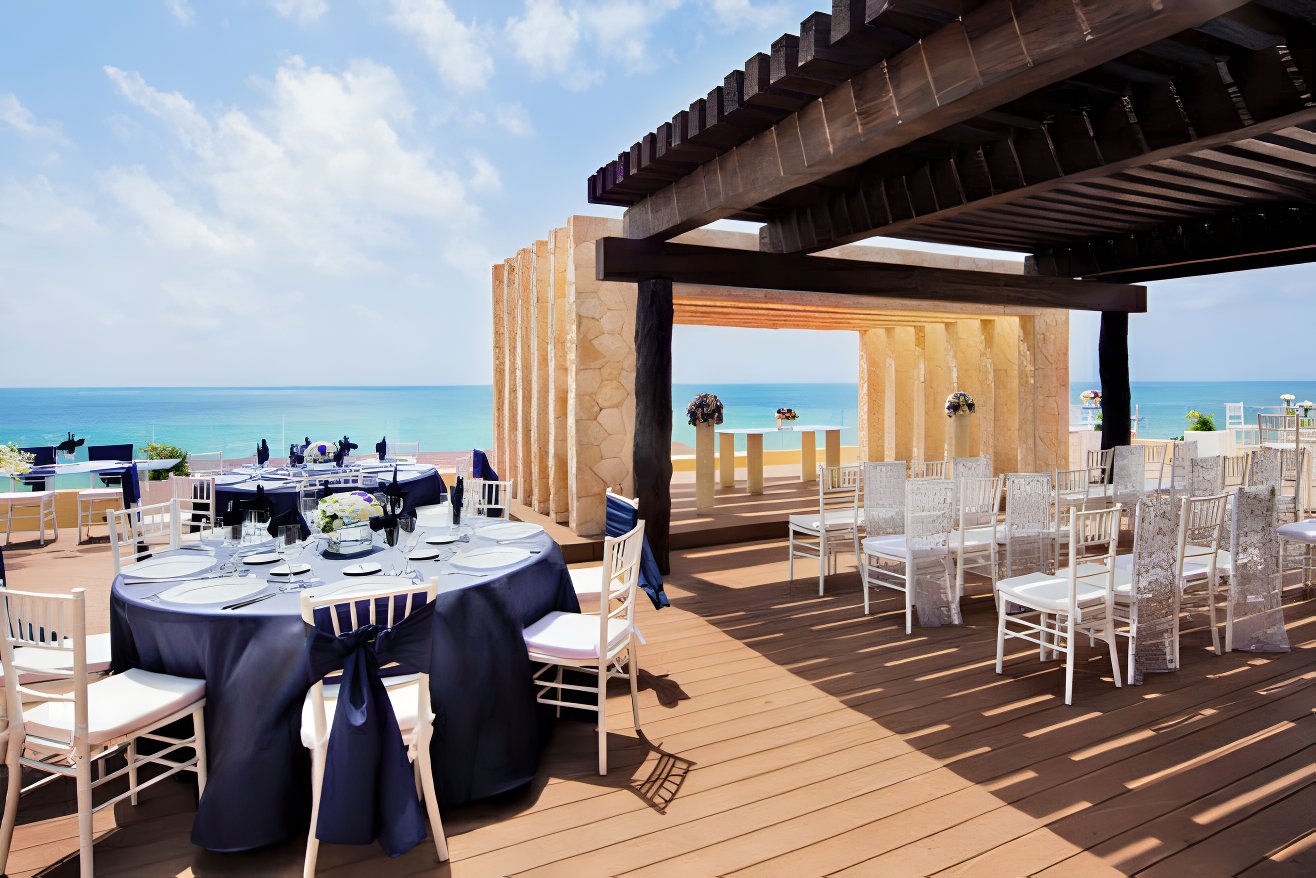 Our next pick for affordable Mexico destination wedding resorts is in the expansive and serene Royalton Riviera Cancun. Located in the heart of the famous tourist city, the resort is no stranger to perfect weddings and relaxing vacations – not to mention budget-friendly wedding packages starting at complimentary!
From the golden sands of the private beach to the breezy Royalton Sky Wedding terrace, couples are spoiled when it comes to choosing a venue. Harness the resort's luxurious surroundings at the oceanview gazebo, where an intricate lattice of fine metal adorns every ceremony.
Destify's Pick: Our ideal wedding day at Royalton Riviera Cancun? A classic beachfront ceremony complete with an exciting reception at the optimally spaced poolside terrace.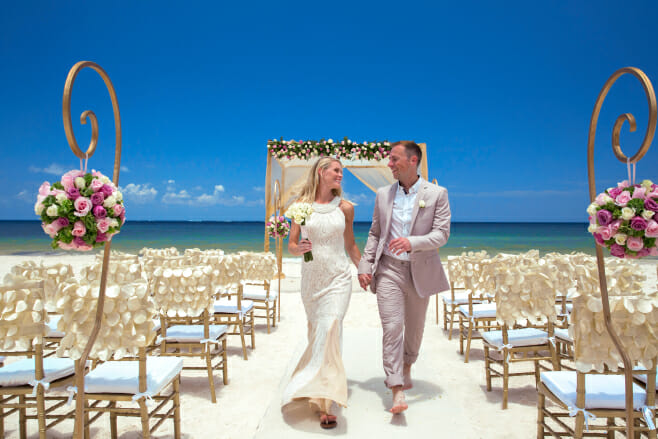 Dreams Vista Cancun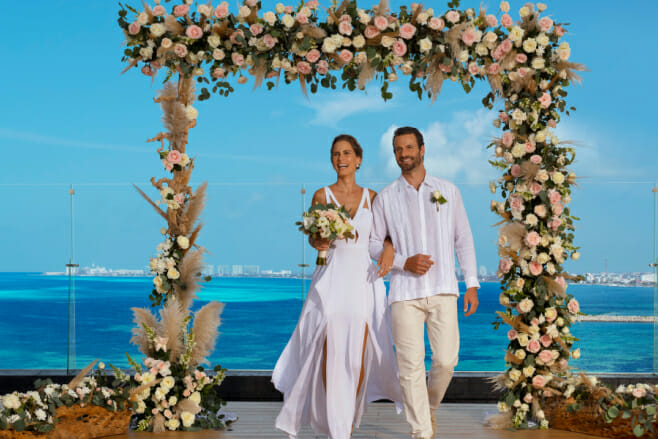 Just north of the city's main hotel zone, Dreams Vista Cancun is a spacious and intimate Mexico destination wedding property that has been pleasing couples since its grand opening in 2020. With breathtaking scenery and beach areas available, it's easy to see why guests flock to this oasis with consistency.
This all-inclusive property features seven incredible venues complete with customizable wedding packages for every budget. Say "I Do" overlooking the serene Cancun skyline at the Grand Vista Terrace. Feeling adventurous? Infuse your ceremony with crisp Caribbean Sea breezes and waves at the Ocean Deck Palapa. Each spot has its own unique flair to accommodate your vision — offering indoor, outdoor, beach, and contemporary environments.
Destify's Pick: We're suckers for rooftops and decks. Isolated from the hum of fellow tourists, the Preferred Deck prioritizes seclusion, letting you and your guests enjoy the stunning ocean panorama beyond the altar.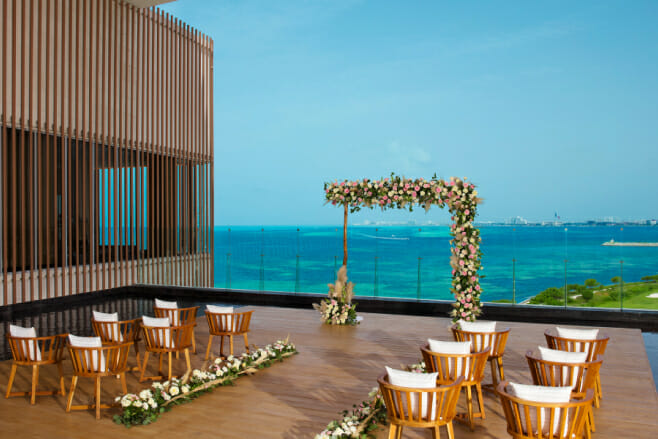 Dreams Riviera Cancun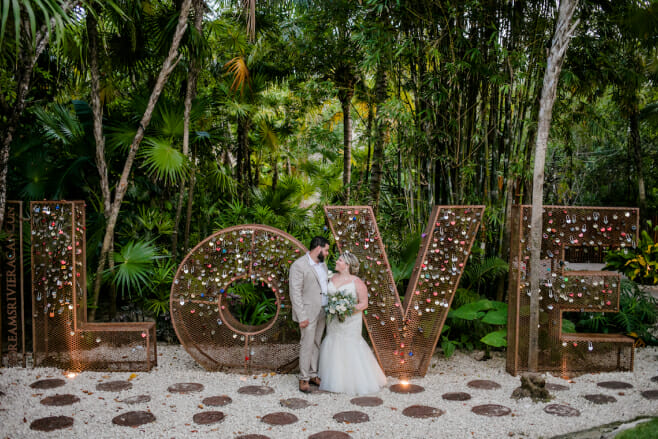 All you need is love, love…specifically the LOVE wedding sign at Dreams Riviera Cancun. Dreams Riviera Cancun is another affordable, yet striking resort for your Mexico wedding. The resort is chock full of entertainment, beautiful wedding spots and ocean views, so you'll have everything you need for the perfect wedding and vacation. Along with economical room rates, the resort's all-inclusive wedding packages showcase the finer things in life, including private dinners and revitalizing spa treatments for you and your significant other.
So, what separates this Mexico resort from the rest? Well, the property boasts a whopping 12 wedding venues, all ranging in presentation and vibe. We know, a lot to choose from right? However, we're happy to report that this wide range of venues can actually make planning much easier! Whether you're opting for an emerald garden matrimony or a seascape aisle, Dreams Riviera Cancun has quite literally a space for everyone – all with an unshakable contemporary flair.
Destify's Pick: Our Destify Couples speak for themselves. Ringing in half of our featured Dreams Riviera Cancun Destify Couples, the gazebo is our top choice – showcasing Mayan-inspired architecture and incredible views of the Caribbean.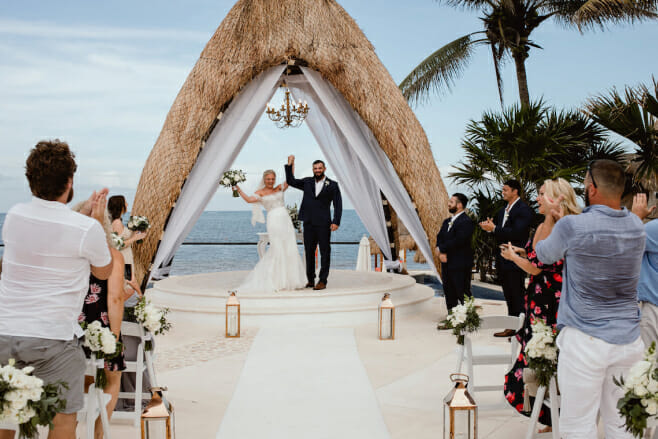 Breathless Cabo San Lucas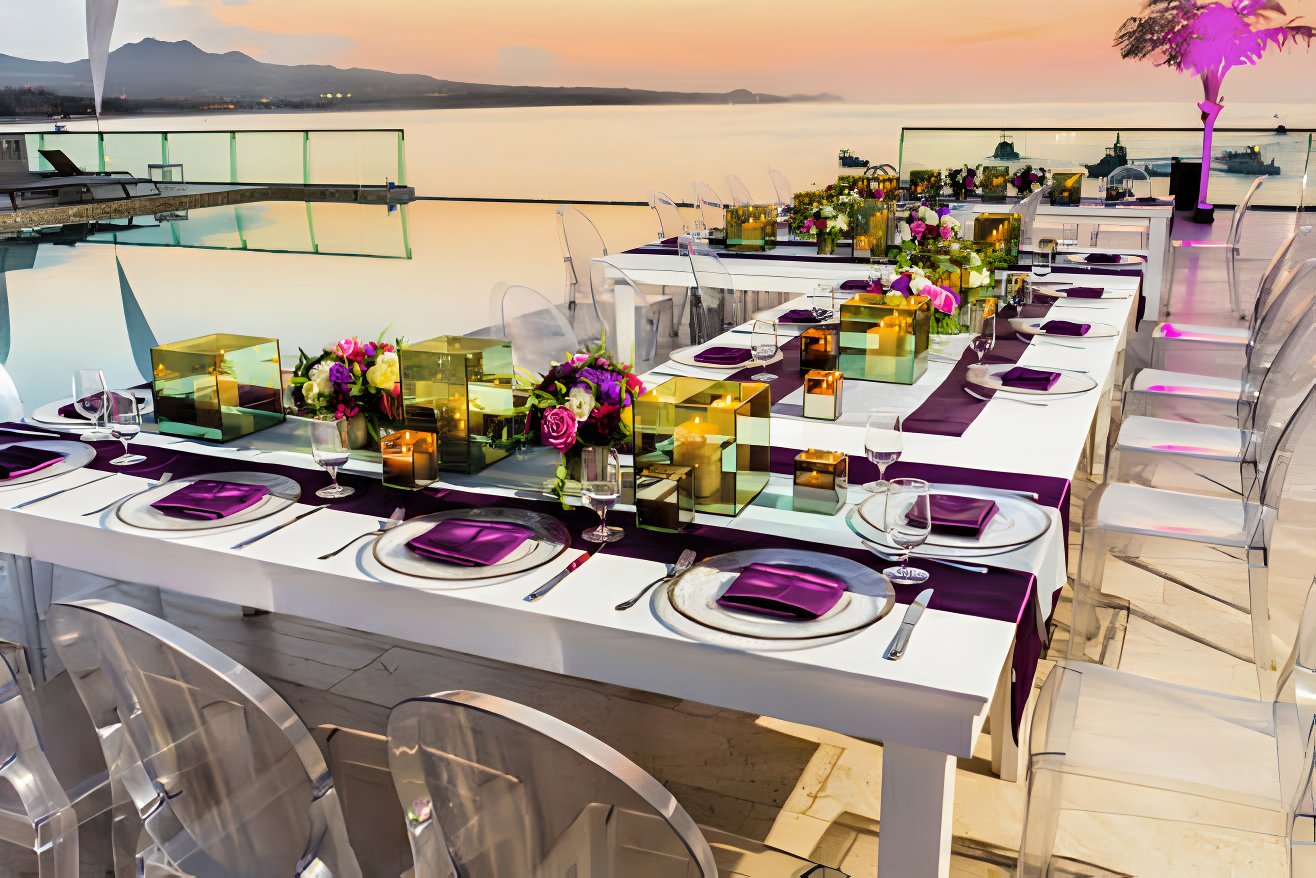 Another affordable, stunning resort is the Breathless Cabo San Lucas. The name says it all, and you will truly feel breathless taking in the tropical views or enjoying the resort's themed parties and extravagant amenities – thank you economical all-inclusive packages!
Take your pick of eight beautiful venues with a luxurious and tropical feel. Bursting with upscale serenity, Breathless Cabo San Lucas guarantees cost-effective destination weddings no matter what your budget is. Every destination wedding package comes with your choice of outdoor and indoor venues, all teeming with chic decor. For outdoor options, consider the Freestyle Pool Area, Pool Side, Foam Terrace, Beach, and Purple Rooftop Lounge. Or, if you'd prefer, head inside at the gourmet Spoon and Ocote Restaurants, or the spacious Ballroom.
Destify's Pick: Stop the search, we've found the hottest Pacific Ocean seascape venue in Mexico! Overlooking the resort's largest infinity pool and sun-soaked beaches, the Purple Rooftop Lounge offers couples the star treatment they deserve…with crystal glass walkways and furniture welcoming all to their day of love.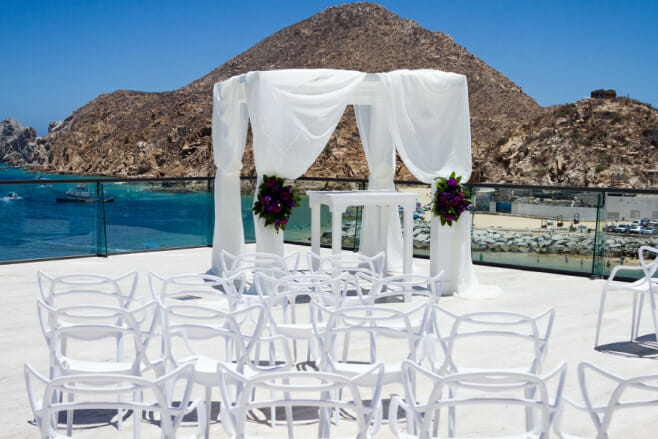 Yes, it's true, you can tie the knot in Mexico without breaking the bank! Even better? We've barely scratched the surface. While these resorts have cracked our top 5, a bevy of Mexico properties are poised to both make your destination wedding dreams come true and save you money in the process.
Ready to start budgeting for your boda de ensueño en México? Follow the button below to connect with our Destify Booking Coordinators today: