We've recently expanded the honeymoon experience on Destify, and have added exciting and exotic new locations to our destinations. Go further into your research with this guide to all-inclusive honeymoons. Our honeymoon packages feature some of the most beautiful resorts in Mexico, the Caribbean, and beyond. You can expect romantic inclusions, stunning locations, and some of the most beautiful beaches in the world.
All-inclusive Honeymoons for Any Budget
Whether you're working with a tight budget or a greater expendable income for your destination honeymoon, you can expect the best from our lineup of honeymoon experiences. Perhaps the best perk of choosing an all-inclusive resort for your honeymoon is that many of your inclusions will be built into the cost of your room rate, and you'll know this figure from the get-go. You could choose to add a honeymoon package onto your destination wedding if you're having one, or it's easier then ever to travel to a gorgeous resort now, even after your wedding date.
You'll find the most affordable honeymoon resorts in Mexico, which offers romantic offerings on both the Pacific or Caribbean coasts. These locations are central, and easy to reach, so you can expect affordable travel costs. The same can be said for the island-nations of Jamaica and the Dominican Republic. For more exotic locations and a bigger budget, consider the smaller Caribbean islands, like Saint Lucia or Antigua.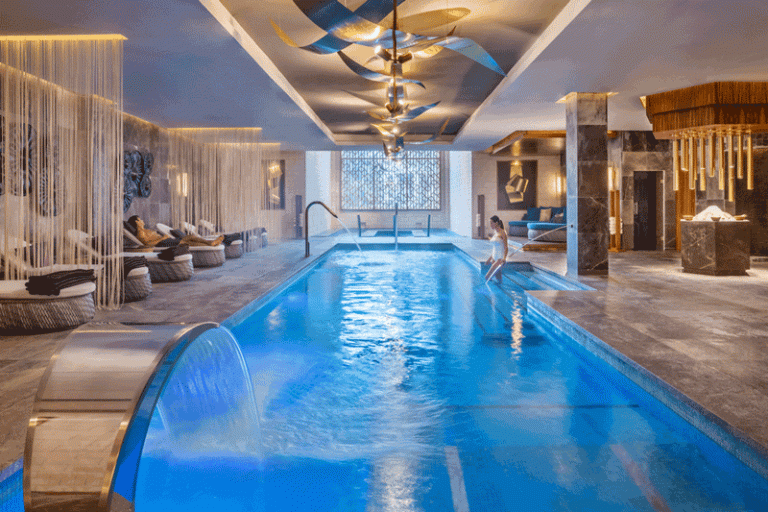 The spa at Hyatt Zilara Cancun.
What You'll Get With Your Honeymoon Package
By choosing an all-inclusive resort for your honeymoon, you'll have many of the necessary inclusions needed for an unforgettable trip built-in. All of your food and drinks will be covered in the room rate, and you'll have access to delicious a-la-carte restaurants that range from French to authentic Caribbean cuisine. You'll be able to relax the day away at world-class spas, infinity pools, or even beachside cabanas.
Your honeymoon package may also include intimate add-ons too, like complimentary massages, candlelit dinners on the beach, spa treatments, or even free room upgrades based upon availability. Higher-tier honeymoon packages may also include cruises, catamaran rides, free anniversary nights, and private airport transfers to get you to and from the resort.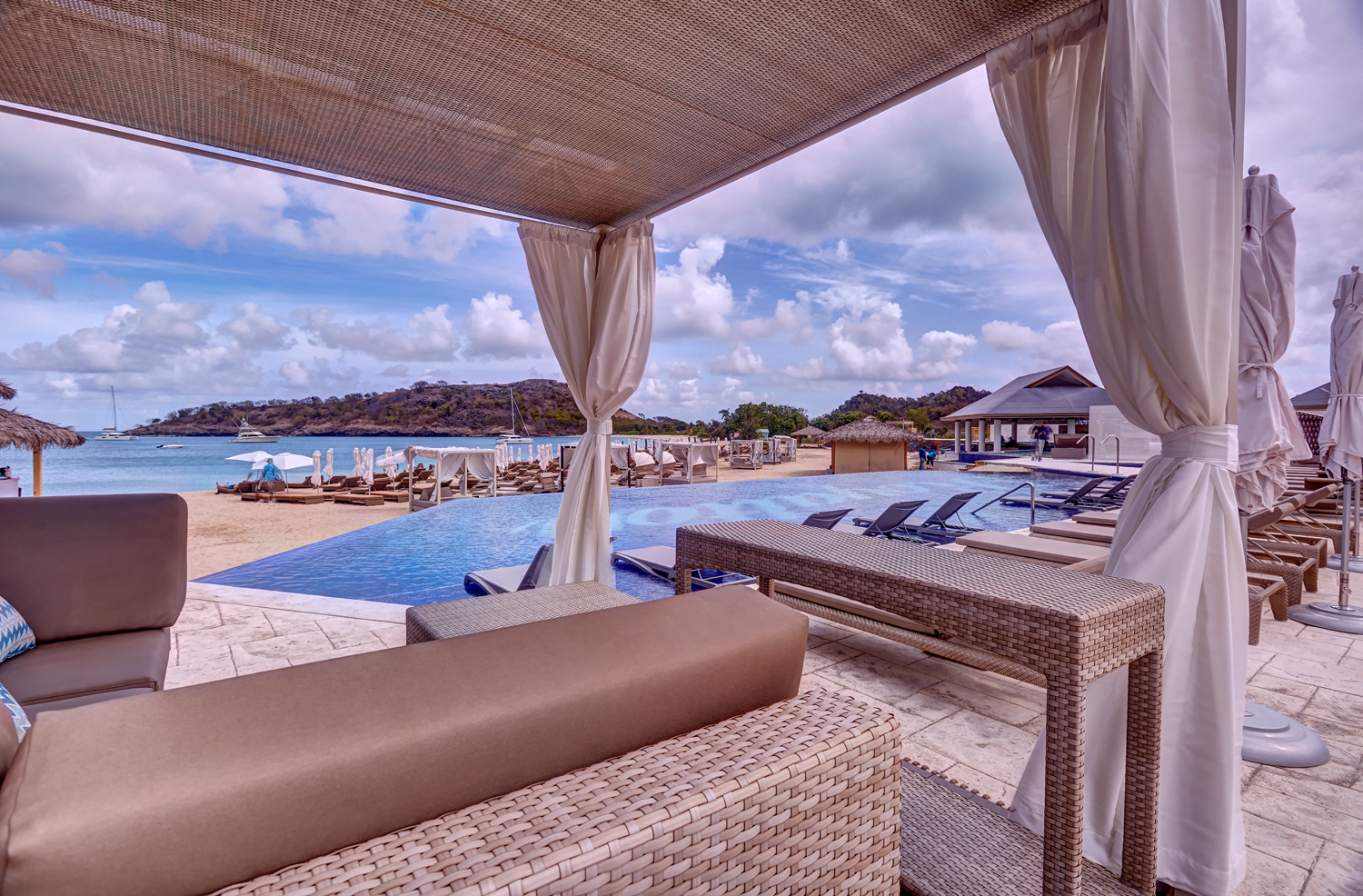 Royalton Antigua
What to Expect From Your Honeymoon Destination
No matter which type of couple you may be, from avid beach-bums to nature lovers, our honeymoon destinations offer something for everyone. In Costa Rica, you can stay at the Secrets Papagayo adults-only resort, where you'll be closeby to adventurous excursions to partake in throughout the day, and at night you'll enjoy a private beachfront dinner, with romantic turndown service and a dessert menu in your room after your meal. At Royalton Antigua, you can expect an exclusive Caribbean beach, dual rain showers and a soaking tub in your room. And your own butler can arrange reservations to a-la-carte restaurants like the Calypso Caribbean restaurant on-site.
In Mexico, you'll find that resorts pull out all of the stops, at an economical price, for your perfect honeymoon vacation. Celebrate life as newlyweds with rose petals, sparkling champagne, and other decors in your suite at Hyatt Zilara Cancun, along with a private candlelit dinner for two in an oceanfront gazebo. At El Dorado Maroma couples will enjoy honeymoon suites with outdoor showers, a chef's special gourmet breakfast, a beachfront sky massage 2-for-1 offer, and so much more during your stay.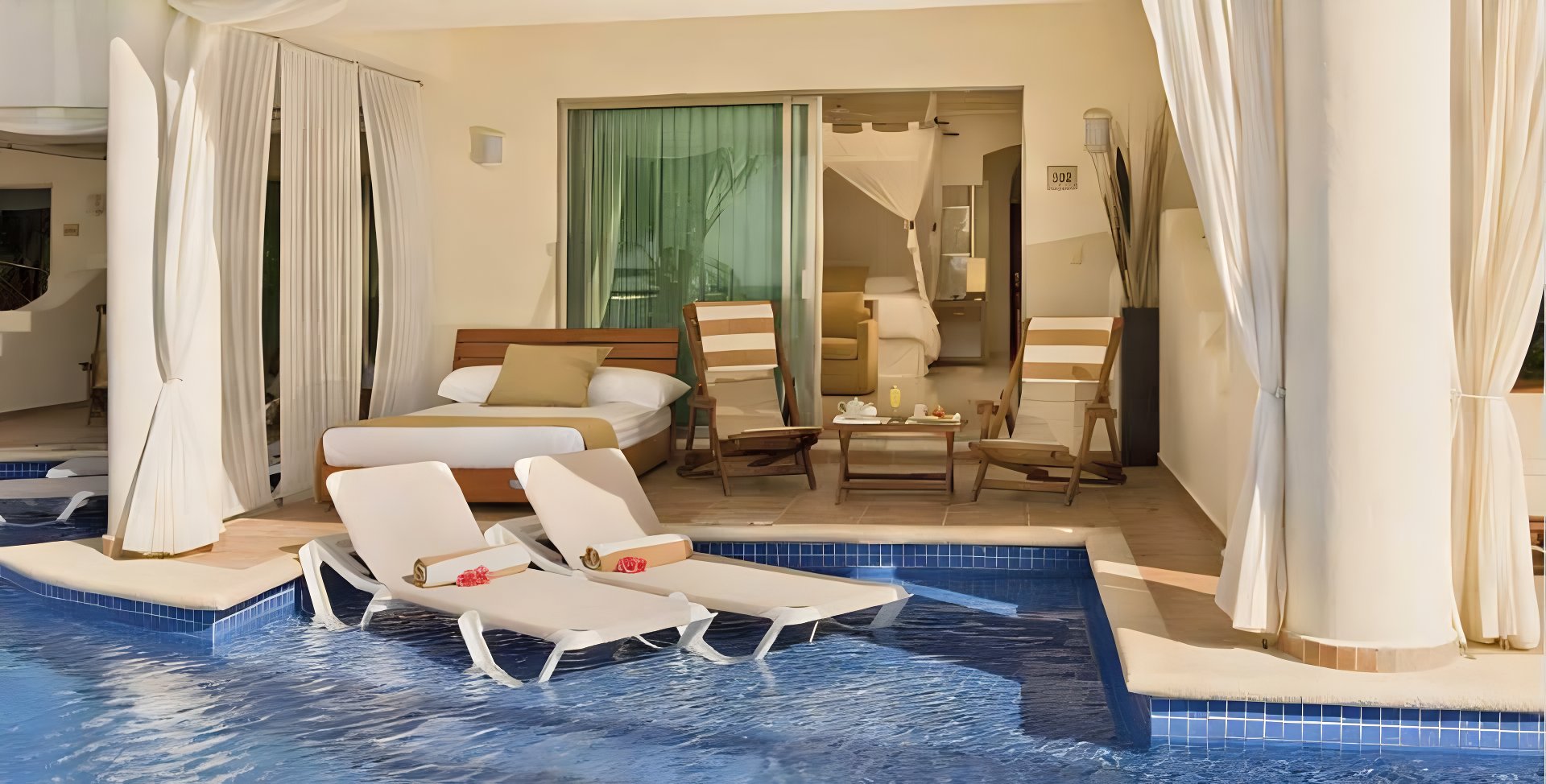 A honeymoon suite at El Dorado.
What You'll Get with Destify
At Destify, we are travel experts, and each couple will receive a dedicated agent who will help you research and choose your perfect resort. They can offer insight to any of the countries you're interested in, and who will help you find the best package rates. They'll utilize your budget to select the best resort for your vacation, and may even be able to find additional benefits for your trip, like room upgrades, romantic turndown service, or club options.
If you would like to request a quote directly, click here. If you're planning a destination wedding with Destify, you can even add honeymoon nights onto your wedding, at your chosen resort or even at another one in the area so you can have two amazing experiences in one trip.
Want to learn more about all of our honeymoon locations? Click the button below to begin exploring: