Ah Mexico, the land of golden-sand aisles and lavish wedding perks – hello beachfront cabanas and delectable cuisine! For couples shopping for their Mexico forever-after, "How much is this?" and "Can we afford this package?" are often the first things that come to mind. Yes, it's time to have the money talk. No, you don't have to let your wedding dreams be dreams because of money. It's time to let those financial stressors sail down the lazy river, we're taking you on a tour of the best Mexico wedding resort for every budget. Hop in, it's time to save some moolah!
Wyndham Alltra Playa del Carmen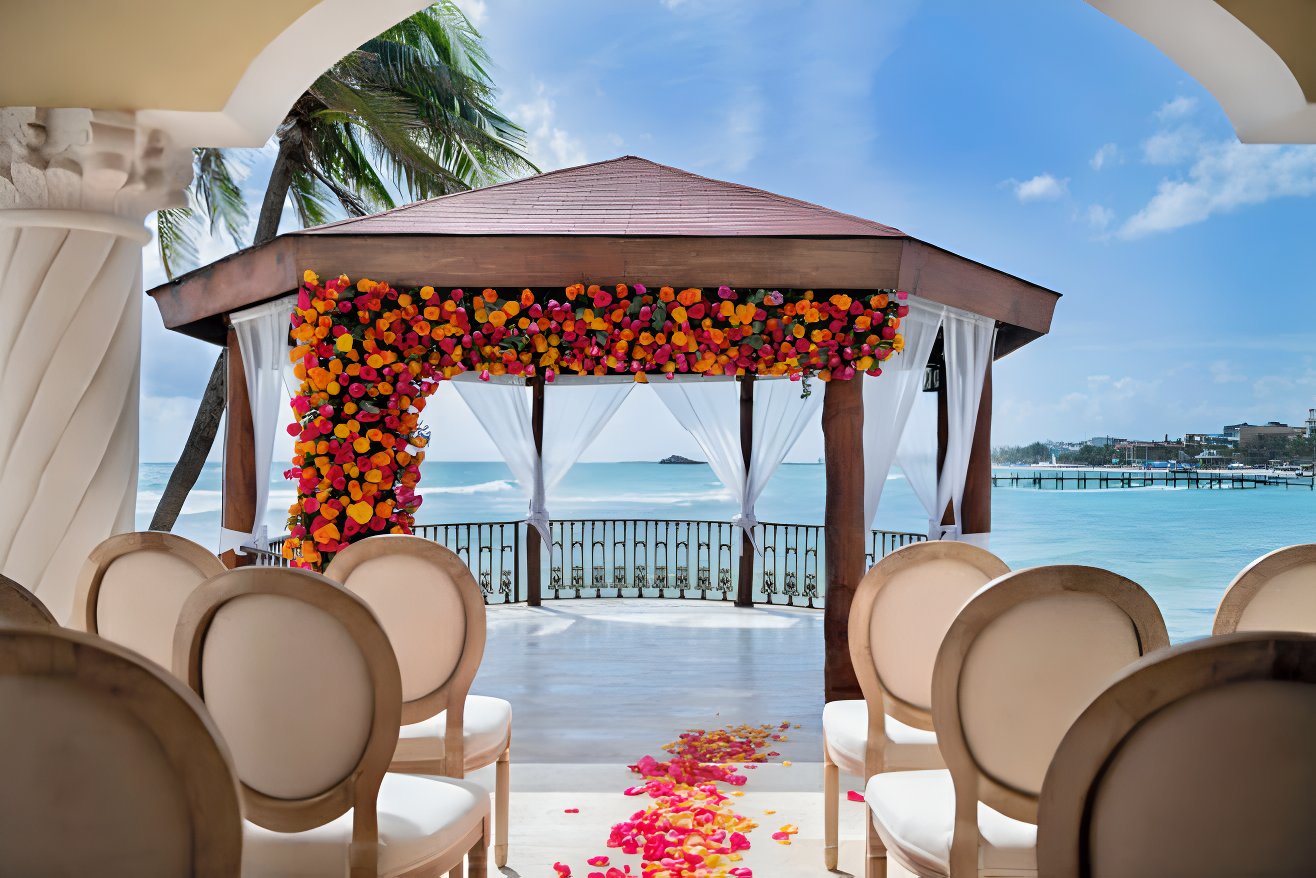 Wedding Packages Cost: Free – $8,236
Room Rate: $120 – $230
The adults-only Wyndham Alltra all-inclusive resort is located on a sun-drenched beachfront in the center of Playa del Carmen. Your Mexico destination wedding can take full advantage of the azure oceans, unique culture, and coastal beauty. There's much to enjoy for all wedding guests at the Wyndham Alltra Playa del Carmen wedding, from wine tastings to action-packed aquatic sports.
24-hour room service is included for everyone, so consider breakfast in bed! The "Sweet Suites," which are developed particularly for couples, will make your Wyndham Alltra Playa del Carmen wedding even more romantic. Aside from the wedding ceremony, there's great music all night, a private immaculate beach, and all-inclusive activities like tequila tasting and windsurfing.
Royalton CHIC Cancun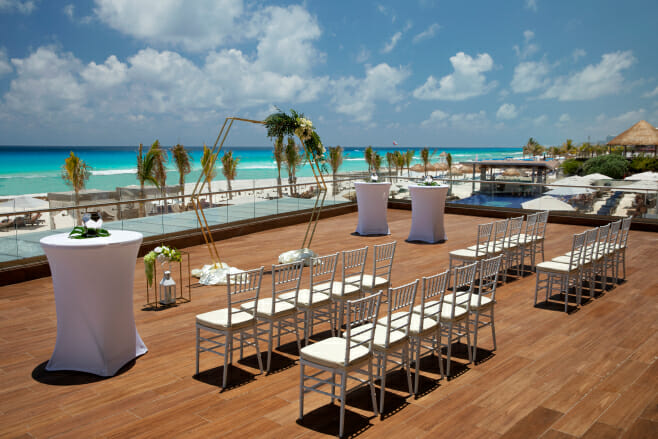 Wedding Packages Cost: Free – $10,900
Room Rate: $130 – $270
At the new Royalton CHIC Suites Cancun highrise resort in Mexico, the sky is truly the limit for your adults-only destination wedding. Your guests will enjoy jaw-dropping ceremony sites, crystal blue waters, and nighttime parties beneath the stars, all while staying in a stylish tower with exceptional service and panoramic views of Cancun. From the personalized assistance of the Royalton CHIC Suites Cancun wedding department to the second you rest your head against the signature-made DreamBed, every minute of your wedding will be hand-tailored.
Book a table with the C/X Culinary Experience, where artisan chefs cook meals with music accompaniments, for an extra charge, for a really unique dining experience. The beautiful beach at the Royalton CHIC Suites is ideal for a stunning wedding ceremony, and available in all of the resort's many Cancun wedding packages. The resort comes alive at night, with everything from nightly entertainment to the X/S Disco at the Sky Club, which offers sunset views over Cancun.
Iberostar Paraiso Beach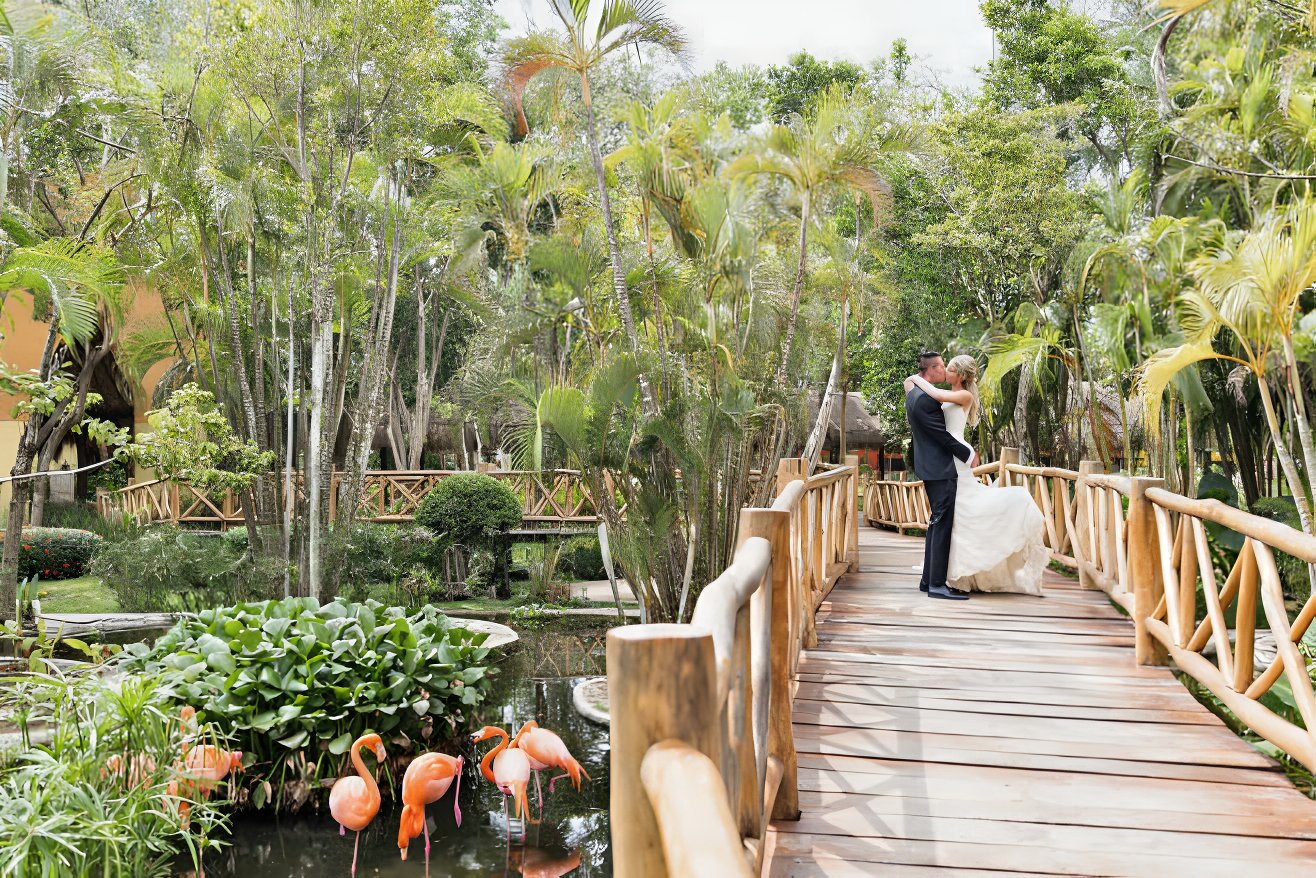 Wedding Packages Cost: $999 – $2,899
Room Rate: $130 – $220
The Iberostar Paraiso Beach resort is located on the Playa de Punta Maroma beach, which is a mile-long length of magnificent waves and velvet sand perfect for walking or holding your wedding ceremony. Iberostar Paraiso Beach weddings include one of the Riviera Maya's largest pools, which weaves its way through the resort between "islands" with themed cabanas where you can lay back and enjoy. To make your Iberostar Paraiso beach wedding as stunning as possible, the resort boasts Mexican colonial-style design with an authentic Mayan flavor, surrounded by spacious ground covered with native flowers and plants.
Local fauna such as swans, peacocks, flamingos, and lizards may be spotted all over the Iberostar Paraiso Beach resort, making for unusual wedding photo opportunities. This resort has a private romantic jacuzzi concealed beneath a waterfall. An 18-hole golf course, target shooting, archery, yoga courses, and scuba diving instruction are among the resort's many romantic alternatives.
Hyatt Ziva Los Cabos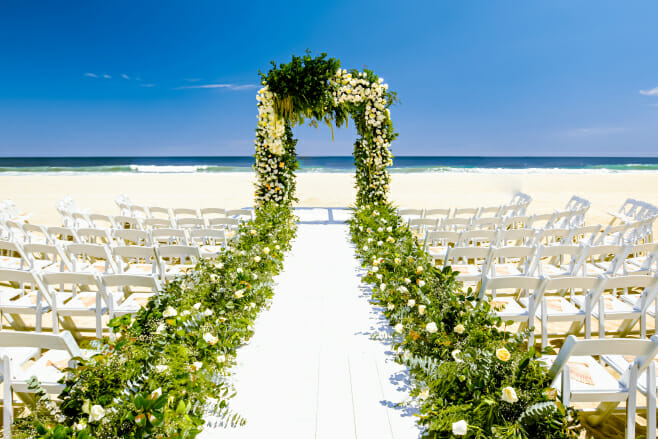 Wedding Packages Cost: Free – $16,999
Room Rate: $175 – $285
Hyatt Ziva Los Cabos, located on Mexico's Pacific coast, is a wedding location with breathtaking views of the dynamic and colorful Cabo San Lucas. This resort, which overlooks glistening blue waters and one of the world's most spectacular sunsets, is an ideal location for your wedding. In the unique and gorgeous location of Baja Sur, you and your guests will experience a peaceful and romantic ambiance.
The gorgeous wedding resort offers approximately 35,000 square feet of event space that can be tailored to your specific requirements. The Sea of Cortez will shine in the background as you tie the knot on the white sands of Central Beach, Zaffiro Beach, or Hacienda Beach. These stunning settings can also be outfitted with chairs and tables for cocktail hours and receptions on the water. A white gazebo, surrounded by lush and languid palm trees, is also a wonderful location for marrying the love of your life.
Hard Rock Vallarta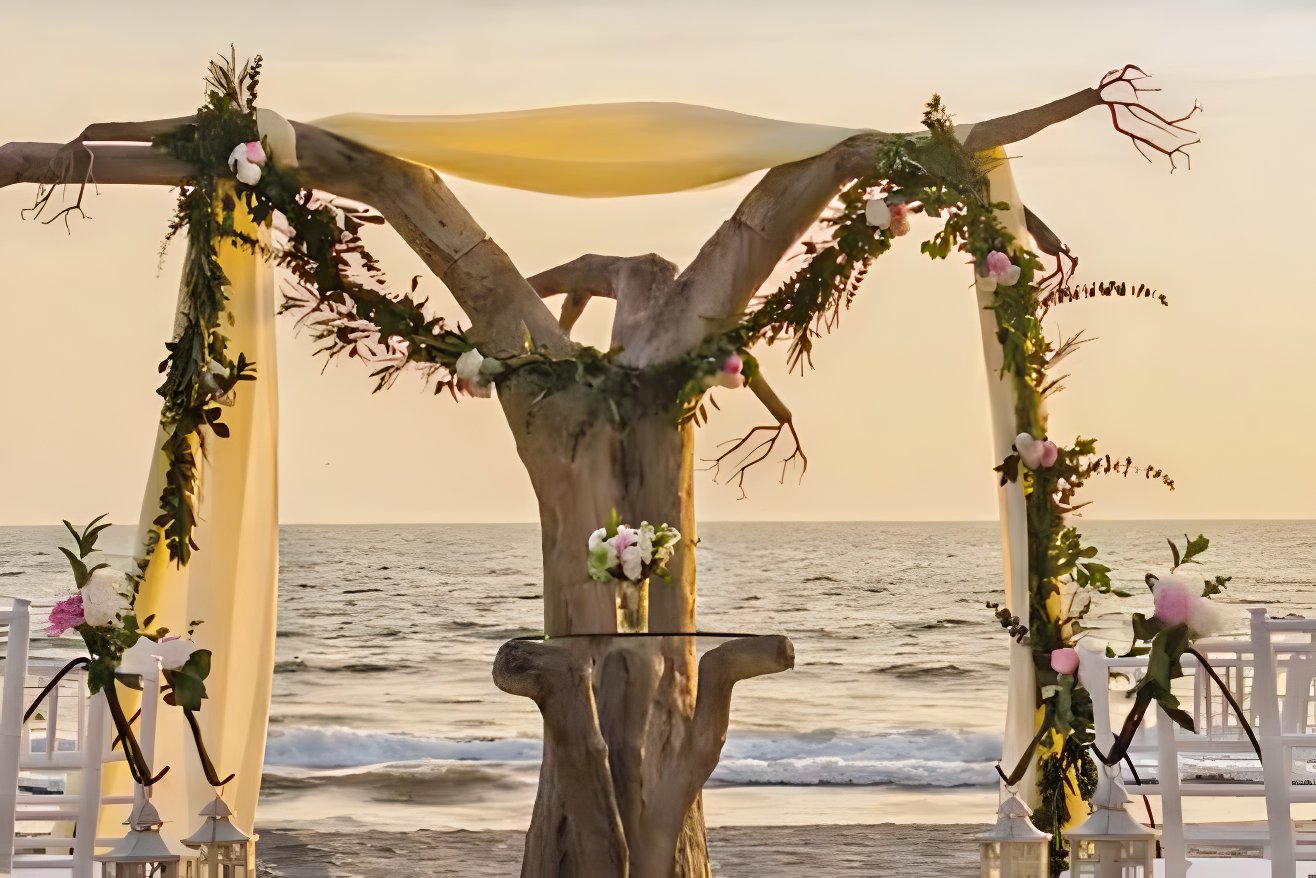 Wedding Packages Cost: Free – $4,500
Room Rate: $175 – $240
From the moment you walk into the soaring and captivating lobby, the Hard Rock Hotel Vallarta will transport you and your wedding guests to paradise. The tropical vegetation and pools, which are located in a quiet enclave, lead immediately to the jaw-dropping Vallarta beaches, making it an ideal site for a Hard Rock destination wedding in Puerto Vallarta.
Your Hard Rock Vallarta wedding will be the perfect blend of peace and flair, nestled in the ritzy enclave of Nuevo Vallarta and showcasing stylish decor throughout. The stunning stretch of white sand beach is the perfect setting for a Hard Rock Vallarta wedding celebration. The premium rock spa is the perfect place to pamper any bride and groom before or after their wedding.
Found a Mexico wedding resort perfect for your budget? Follow the button below to get started on securing it with a Destify Booking Coordinator today: