Music is as much a part of your wedding day as flowers and cake – it just wouldn't be the same without it! And with the tropical vibes found in the beautiful locations we offer, you music lovers out there are going to want to build the perfect destination wedding playlist!
Musical taste is totally subjective, we get it. What you like is often unique to you and your partner's ears. And from the procession to the after-party, you've got quite the robust playlist to start curating. 
No need for a record scratch! Let us help inspire you and help you pick the right music for each part of your destination wedding.
Pre-Ceremony Songs
The pre-ceremony time is like an orchestra tuning up for the main event. It's a prelude to the ceremony where the guests start to take their seats, and so the music played during this time is meant to establish ambiance and vibe. 
Typically, you'll want these songs to be gentle and relaxed a not as grand as the main precession song choices.
Here's a few suggestions from our team!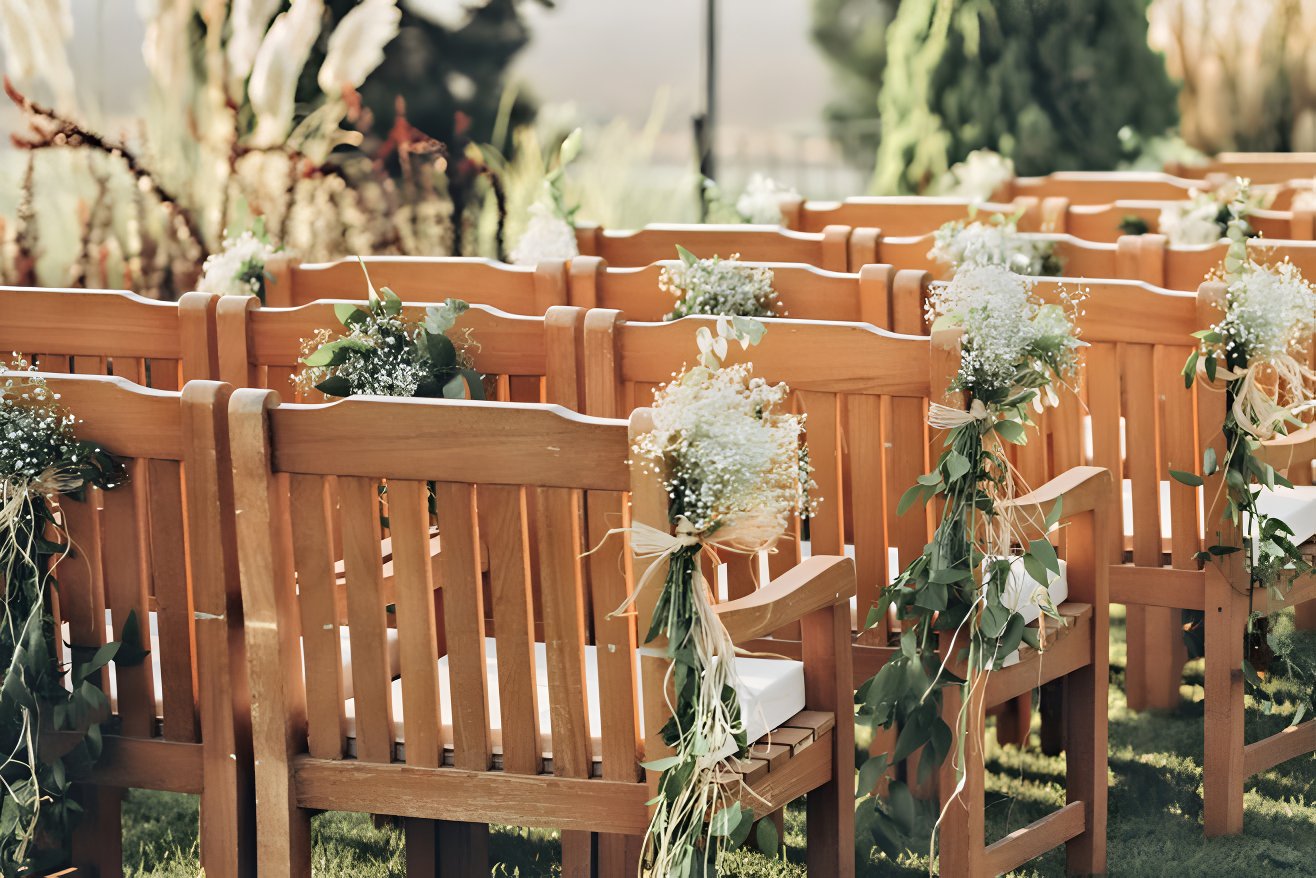 1) "A Case of You," by Joni Mitchell
Lyric Highlights: "I remember that time that you told me, you said/Love is touching souls."
Why: Joni Mitchell's gentle acoustic guitar, coupled with her enchanting, somewhat husky voice, casts the ideal joyful, romantic atmosphere. 
2) "Invisible String," by Taylor Swift
Lyric Highlights: "And isn't it just so pretty to think/All along there was some/Invisible string/Tying you to me?"
Why: You think we wouldn't invite Taylor to the wedding? This low-key cut of Taylor's is the ideal combination of sweet and chill, a great tune to get your guests in the right mindset for your upcoming ceremony.
3) "What a Wonderful World" by Louis Armstrong
Lyric Highlights: "The colors of the rainbow/So pretty in the sky/Are also on the faces/Of people going by"
Why: An oldie but a goodie, an obvious pick but always an appropriate one for a wedding day. Not only is it the best day in the lives of the people getting married, but it's also a day of joy and positivity for the attendees. Coupled with "Wonderful World's" appreciation of the beauty and majesty of the natural world, the lush greens and blues found at the gorgeous resorts we at Destify have partnered with, this Louis Armstrong tune is an easy pick for any wedding ceremony prelude. 
Processional Songs
The processional is when the magic begins. Walking down the aisle is the first thing you think of when you think 'wedding,' so the music choices should be significant, romantic, and maybe even especially unique to you and your entourage (think your ring bearer's favorite tune!)
We've got some suggestions to help get your creative juices flowing for the perfect processional picks!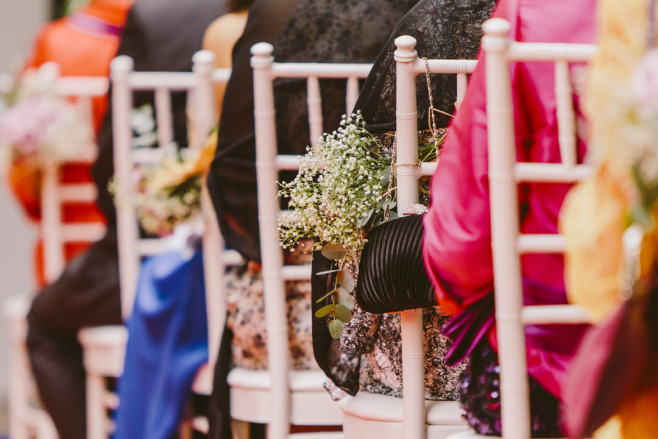 1) "Stay With Me," by Sam Smith 
Lyric Highlights: "I don't want you to leave, will you hold my hand?/Oh, won't you stay with me?"
Why: Sam Smith and their backing singers deliver their impassioned, evocative bellows on the chorus of this song, forming a stirring, moving, and emotional environment. Tell your guests to get their tissues ready, is what we're saying.
2) "Space Song," by Beach House 
Lyric Highlights: "Somewhere in these eyes/I'm on your side"
Why: The hazy guitars and synthesizers, the whispery, dreamy vocals, the idealistic and touching lyrics – those gourmet ingredients come together in a dynamic, fantastical indie hit. If you weren't already on a destination wedding in a tropical paradise, this song would already feel like it was transporting you to a dream world. 
3) "First Day Of My Life" by Bright Eyes
Lyric Highlights: "But you're much more brighter than the sun is to me/Reaching this itch in my soul"
Why: This folky, indie cut is cute beyond words. Telling the charming tale of love at first sight, and signifying that indeed, the day you marry your sweetheart is the first day of the rest of your life.
Bride Entrance Song
Here we are. The showstopper, the heart-strings-tugger, the climax of an already enchanting day – hand in hand with Dad, it's time for the bride to stroll down that aisle(maybe a white sand-lined aisle, at that).
Like everything on this list, your personality and favorites will come before anything we recommend. 
But if you're scratching your head for ideas? Let us help you scratch that itch with some wedding entrance song recommendations.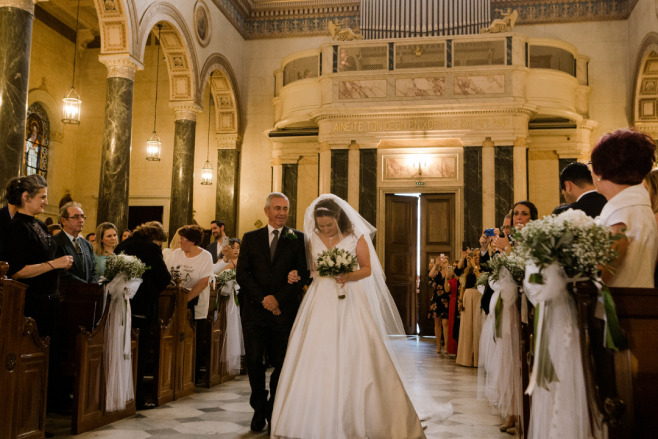 1) "Somewhere Over The Rainbow" by Israel Kamakawiwo'ole
Lyric Highlights: "And the dreams that you dreamed of/Dreams really do come true, ooh-ooh"
Why: Your wedding day is that dream come true! Again, this is another obvious pick, but Israel Kamakawiwoʻole's rendition of this Wizard of Oz tune has earned its popularity. Gentle, joyful, and at peace, this tune belongs on a destination wedding playlist.
2) "At Last" by Etta James
Lyric Highlights: "My heart was wrapped up in clover/The night I looked at you/I found a dream, that I could speak to/A dream that I can call my own"
Why: Etta James has a voice that makes the heart soar. And the way she croons here about a love finally, in her (your) life? You could do a heck of a lot worse for an aisle walking melody.
3) "Here Comes the Sun" by The Beatles
Lyric Highlights: "Here comes the sun, doo-doo-doo-doo/Here comes the sun, and I say/It's alright"
Why: Just like with Ms. Swift, there's not a fat chance The Beatles wouldn't make an appearance at this party. As a buildup to saying 'I Do,' this song works as a terrific signifier of the beauty to come, both in the ceremony and in your lives.
Reception Songs
We've all shed a few tears of joy, so now it's time to cut some cake and hit the dance floor!
The 'tempo' of the evening is up to your own personal tastes, whether you feel your group are a bunch of non-stop partiers or they like to take things a little slower. 
You'll want to mix in soulful, feel good tracks with dancy, upbeat cuts for a truly killer soundtrack to your reception.
Here's a few ideas to get your list started!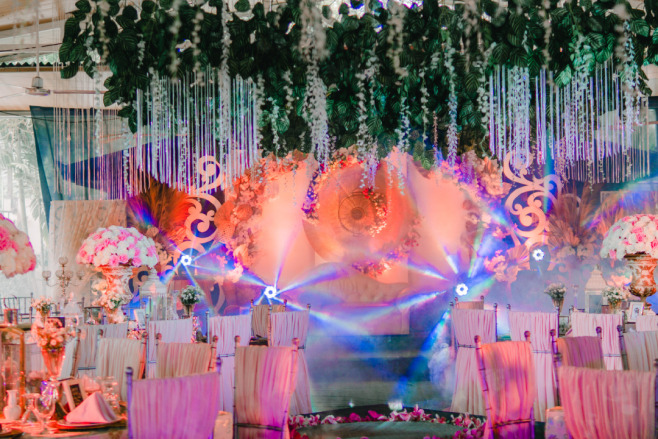 1) "This Must Be The Place" – Talking Heads
Lyric Highlights: "Share the same space for a minute or two/And you love me till my heart stops/Love me till I'm dead/Eyes that light up, eyes look through you"
Why: Emotional, a little somber, and charged with infatuation, this Talking Heads melody was written after a chance meeting with the lead singer's future wife, and works as a tremendous mid-tempo, romantic ballad for couples to groove.
2) "Cuz I Love You," Lizzo
Lyric Highlights: "I thought I was love-impaired/But baby, baby/I don't know what I'm gonna do/I'm crying 'cause I love you, oh/Yes, you"
Why: This track is bombastic, fun, and full of liveliness! Lizzo sings her heart out on this one, a tune that is sure to get your guests moving on the dance floor.
3) "Just The Way You Are" – Bruno Mars
Lyric Highlights: "When I see your face/There's not a thing that I would change/'Cause you're amazing/Just the way you are"
Why: Bruno Mars brings equal parts idyllic romance and fiery energy to this track, a great tune for any after-wedding dance floor.
First Dance Songs
Another biggie, the first dance on your wedding day is personal and intimate, a testament to the officiated love between you and your partner in front of your friends and family.
Slow and passionate, fast and fun, fresh and modern, or a classic tried and true love song – you can't go wrong with this choice. But, we can at least point you in the right direction.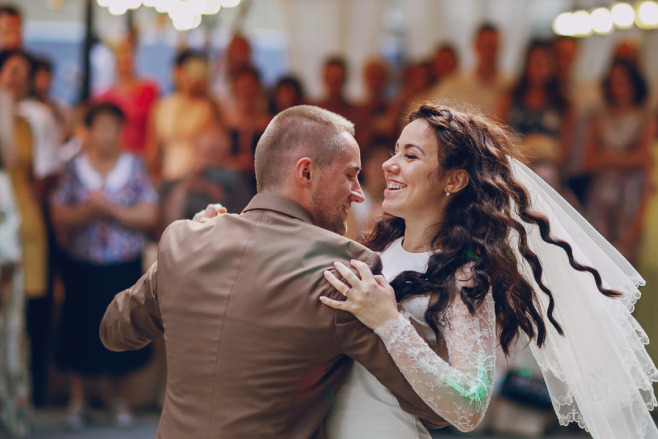 1) "All of Me," by John Legend
Lyric Highlights: "Give your all to me/I'll give my all to you/You're my end and my beginning."
Why: John Legend's voice is enchanting, sentimental, and perfectly captures that feeling of being head over heels for someone else. 
2) "The Way You Look Tonight," by Frank Sinatra
Lyric Highlights: "There is nothing for me but to love you/And the way you look tonight."
Why: Frank Sinatra is another of the usual suspects on this list, and with good reason. His nostalgic croon is an old reliable voice that works in any period and setting. This song, in particular, is a mid-tempo ballad that would make a perfect first dance.
3) "Can't Take My Eyes off You," by Frankie Valli
Lyric Highlights: "I love you, baby/And if it's quite alright/I need you, baby/To warm the lonely night"
Why: If you want a track with some range that rockets from syrupy slow to passionately quick, one that truly captures the dynamic, all-encompassing experience of true love, look no further than this Frankie Valli track.
Last Dance Songs
All good things must come to an end, and your last dance songs can make your wedding day come to a brilliant, unforgettable one. 
Whether you're going for a quiet, sweet conclusion to your special day, or a lively jam to send your guests to bed with an audible fireworks show, we've got some excellent tracks in mind for that last dance playlist.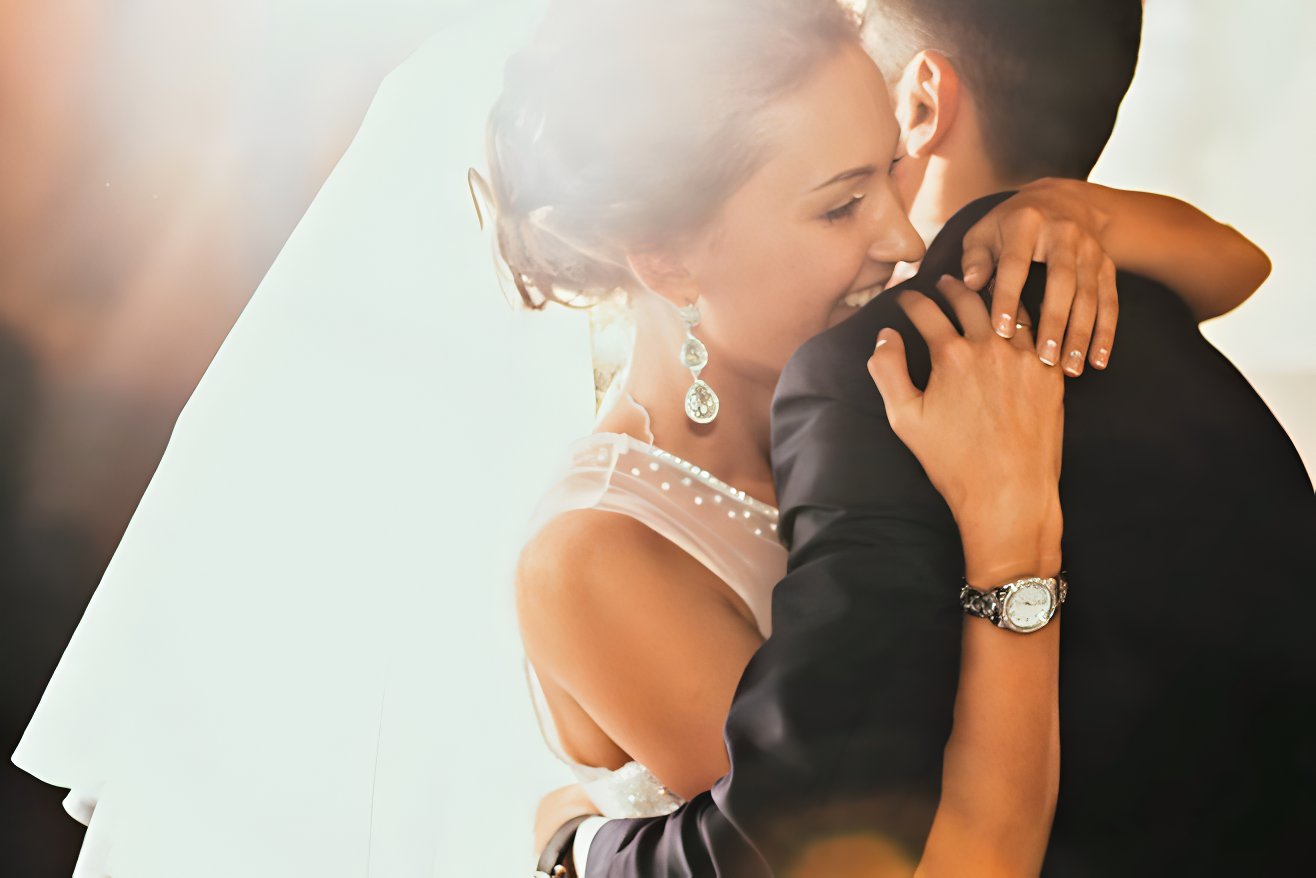 1) "Sweet Caroline," by Neil Diamond
Lyric Highlights: "Sweet Caroline/Good times never seemed so good/I'd be inclined/To believe they never would"
Why: A fan-favorite party tune for guests of all ages, Sweet Caroline simply always works. Even if your guests have been on their feet all night on the dance floor (and/or making stops at the open bar), you can rest assured that the moment this song gets going, everyone will be there to join you in a last dance.
2) "One Love" by Bob Marley
Lyric Highlights: "One love/One heart/Let's get together and feel alright"
Why: A perfect groove for a tropical destination wedding, Bob Marley's gentle, earnest voice and lyrics would leave your guests feeling fine, a zen-state vibe ideal for the rest of their post-wedding stay.
3) "Can't Help Falling in Love" – Elvis
Lyric Highlights: "Take my hand/Take my whole life, too/For I can't help falling in love with you"
Why: Another classic, another sure-bet winner for a passionate, romantic last dance. If you chose something a little more upbeat and fun during your first dance song, this would make a great, fairy-tale like ending to your reception.
Songs for Your Stay at an All-Inclusive Resort
The knot may be tied, but your big day is just one moment of your stay – your destination wedding playlist should fit the fun and vibes you'll experience during the rest of your tropical getaway!
Whether you're lounging by the pool, taking morning strolls along the beachfront, or hitting up any of the number of gourmet restaurants present at the hundreds of resorts Destify has partnered ourselves with, a great playlist, whether just for you and your new spouse or your whole guest list, is the right way to keep the positive vibrations alive and well.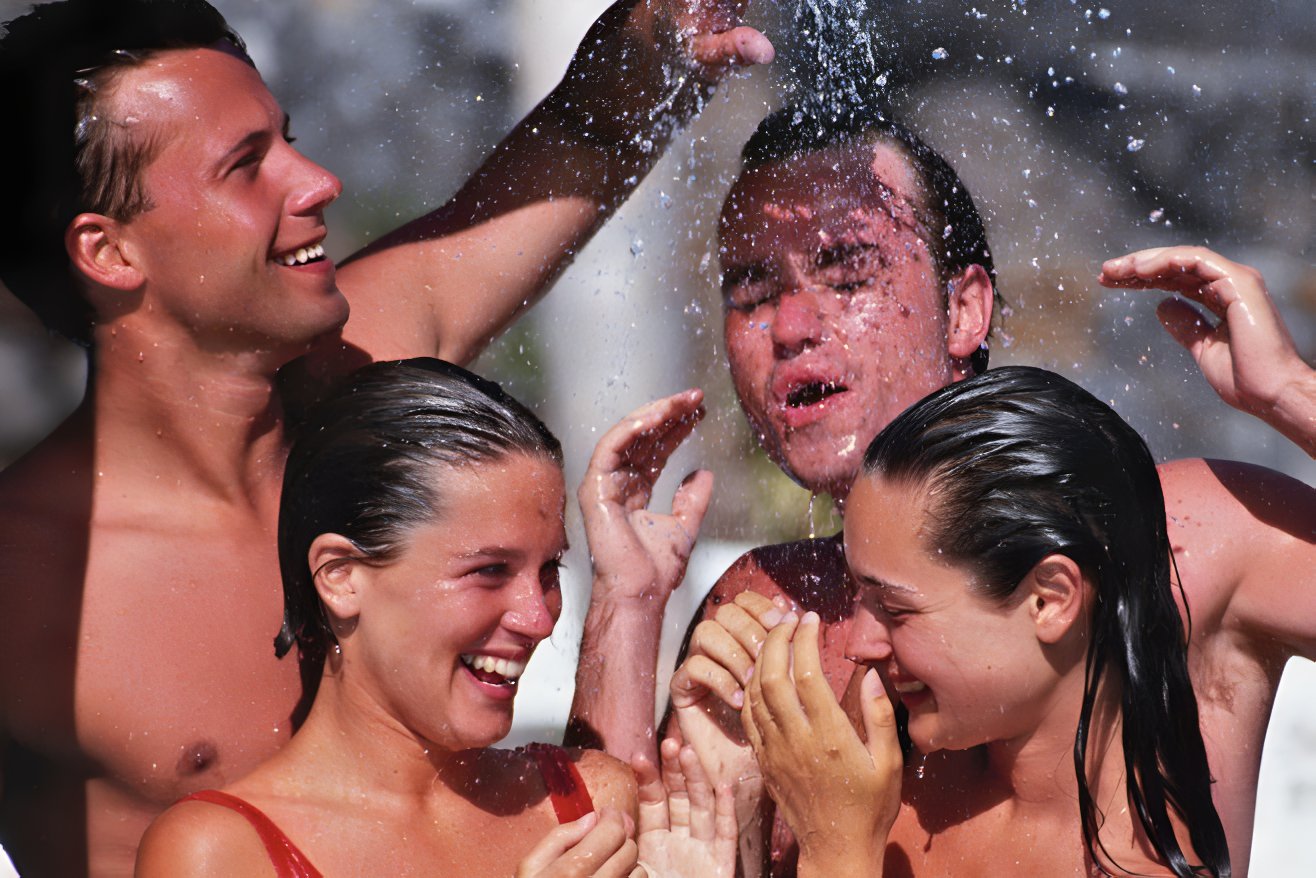 1) "Kokomo," The Beach Boys
Lyric Highlights: "To get away from it all/Bodies in the sand/Tropical drink melting in your hand/We'll be falling in love/To the rhythm of a steel drum band."
Why: When in Rome, do as the Romans do. When on the beach? You can figure the rest out. This sunshiney track is sure to keep you smiling and appreciative of the one-of-a-kind destination you've decided to hold your wedding at.
2) "Island in the Sun," by Weezer
Lyric Highlights: "We'll run away together/We'll spend some time forever/We'll never feel bad anymore"
Why: Tropical, vibrant, and youthful, this 90's rock hit is guaranteed to soundtrack your white sand surroundings perfectly. 
3) "Watermelon Sugar," Harry Styles
Lyric Highlights: "Tastes like strawberries on a summer evenin'/And it sounds just like a song/I want more berries and that summer feelin'/It's so wonderful and warm"
Why: This fresh Styles cut was the embodiment of many people's recent summers. And in the forever-warm tropics of paradisiacal places like Mexico, Jamaica, and many other beautiful getaways? This track keeps that youthful, passionate sensation humming.
Soundtrack's Ready, Time To Press Play!
Music is in the eye (er, ear) of the beholder, but we hope that our suggestions have helped you along in crafting the destination wedding playlist that sings to your soul.
And if you've got a craving for some of the song choices we've listed, you can check out our public playlist here:
Ready to press play and book the destination wedding of your dreams?