Marriott Hotels recently announced the exciting addition of an adults-only resort adjacent to the picturesque Royalton Blue Waters in Montego Bay, Jamaica. This new establishment aims to provide an exclusive and sophisticated getaway tailored specifically for adult guests. With its stunning beachfront location and luxurious amenities, this resort promises to be a haven for relaxation and indulgence.
Nestled amidst the breathtaking beauty of Montego Bay, this new adults-only Hideaway resort offers a serene and tranquil atmosphere that caters to the discerning needs of adult travelers. Set against a backdrop of azure waters and pristine white sands, guests can unwind and bask in the Caribbean sun. The resort's strategic location next to Royalton Blue Waters ensures easy access to a diverse range of dining, entertainment, and recreational activities, providing guests with an array of options to enhance their stay with unique exchange privileges for adult guests.
Exploring Hideaway at Royalton Resorts
The Marriott adults-only resort in Montego Bay embodies sophistication and elegance, with tastefully designed and well-appointed accommodations. Upgraded and renovated rooms and suites are crafted with the utmost attention to detail, boasting modern and upscale amenities that guarantee comfort and convenience. Guests can expect impeccable service from the attentive staff, who are dedicated to ensuring a memorable and personalized experience for each individual.
When it comes to dining, this new resort aims to take guests on a culinary journey of flavors and tastes. The resort offers a variety of exquisite dining options, ranging from internationally inspired menus to authentic Jamaican cuisine. Whether guests desire a romantic candlelit dinner by the beach or a vibrant social gathering at one of the resort's bars, the culinary team at this Marriott adults-only resort promises to satisfy every palate and create unforgettable dining experiences.
Furthermore, the resort boasts an impressive range of amenities and activities designed to cater to the desires of adult travelers. From a rejuvenating spa offering a comprehensive menu of treatments and therapies to fitness facilities equipped with state-of-the-art equipment, guests can relax, rejuvenate, and maintain their well-being. Additionally, the resort arranges exciting day trips and excursions that allow guests to explore the natural beauty and cultural richness of Montego Bay and its surroundings.
Royalton Resorts Destination Weddings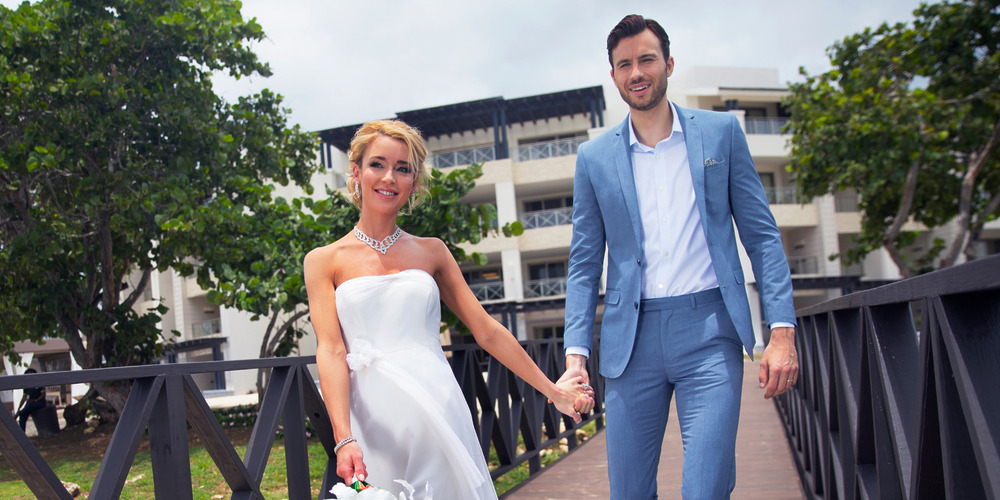 At Royalton Resorts, couples can choose from various idyllic destinations including Mexico, Jamaica, Cuba, Saint Lucia, and the Dominican Republic. Each location offers its own charm, natural beauty, and cultural experiences, ensuring that couples can find the perfect backdrop for their dream wedding.
The resorts strive to make the planning process as seamless as possible by offering dedicated wedding coordinators who assist couples in every step of organizing their special day. From the initial consultation to the ceremony and reception, these coordinators work closely with the couple to ensure that their vision is brought to life. They provide expertise, guidance, and a personalized approach to help organize all the necessary details, from decorations and flowers to music and culinary preferences.
Couples can choose from a range of wedding packages designed to suit their preferences and budgets. The packages offer a variety of options, including beach or garden ceremonies, intimate gatherings, or grand celebrations. Whether the couple desires a small and intimate ceremony with just close family and friends or a lavish celebration with a large guest list, Royalton Resorts can accommodate their wishes.
In conclusion, the opening of the Marriott adults-only resort next to Royalton Blue Waters in Montego Bay brings a new level of sophistication and luxury to the already vibrant and popular destination. With its prime location, luxurious accommodations, delectable dining options, and many amenities, this new establishment promises to elevate the adult vacation experience, creating lasting memories for those seeking an exclusive and indulgent getaway.