Every new year brings a certain number of newly opened hotels and resorts, and this is especially true in popular tourist destinations throughout the Caribbean and Mexico. While some properties reopen to guests after a full renovation, others are thoughtfully built from the ground up. In either scenario, new hotel openings give travelers the chance to try out a travel experience hardly anyone else has.
Where are most of the new hotel openings taking place this year? There are quite a few new hotels and resorts opening throughout the country of Mexico, yet other popular spots for new properties in 2023 include the Bahamas and the Dominican Republic. Plenty of other lesser-known Caribbean destinations will also see new hotels open in 2023, including Aruba, Barbados, and Bonaire.
If you're looking for a place to visit that's virtually unexplored, you're in the right place. Read on to find out which new hotels and resorts across the Caribbean and Mexico are opening throughout 2023.
Opening Date: February 15, 2023
Punta Cana Weddings

Perfectly situated on a palm-studded beach in Cabeza de Toro near Punta Cana, Dreams Flora Resort & Spa offers the perfect getaway for the whole family.

Dreams Flora:

Read more

Venues: 4
Family Friendly
20 Minutes

Package Costs:

$

999

–

$

3,799
Dreams Flora is an exquisite, luxurious resort in a pristine tropical paradise. Situated on a secluded island, it offers an idyllic escape from the hustle and bustle of everyday life. The resort is a testament to elegance and sophistication, designed to provide guests with an unforgettable vacation experience.
Accommodation at Dreams Flora is nothing short of exceptional. Guests can choose from luxurious rooms and suites, each meticulously crafted to provide the utmost comfort and relaxation. From spacious oceanfront villas with private pools to elegant suites with panoramic views, every accommodation option exudes opulence and style.
The resort boasts many amenities and activities to cater to every guest's needs and preferences. The world-class spa offers indulgent treatments and therapies for those seeking relaxation, while the infinity pools provide a refreshing retreat. Fitness enthusiasts can enjoy state-of-the-art facilities, including a fully equipped gym and outdoor sports courts.
Food lovers will be delighted by the diverse culinary experiences at Dreams Flora. The resort features multiple gourmet restaurants, each specializing in different cuisines worldwide. From fine dining establishments offering fusion creations to casual beachfront eateries serving fresh seafood, there is something to satisfy every palate.
Dreams Flora also caters to families. It offers a dedicated kids' club with engaging activities and supervised care for children of all ages. The resort's pristine beaches provide ample opportunities for water sports, including snorkeling, kayaking, and paddleboarding. Excursions to nearby attractions and cultural sites can also be arranged, allowing guests to explore the heritage of the surrounding area.
In the evenings, the resort comes alive with entertainment and nightlife options. Live music performances, themed parties, and shows create a vibrant atmosphere, ensuring something exciting is always happening at Dreams Flora.
The staff at Dreams Flora is committed to delivering impeccable service. Whether arranging personalized experiences, organizing special celebrations, or providing local recommendations, the dedicated team goes above and beyond to create a memorable stay.
Dreams Flora is more than just a resort; it is a sanctuary where dreams come to life. It offers a harmonious blend of nature, luxurious accommodations, and exceptional service. Discerning travelers seeking an extraordinary and unforgettable escape, look no further.
Opening Date: May 19, 2023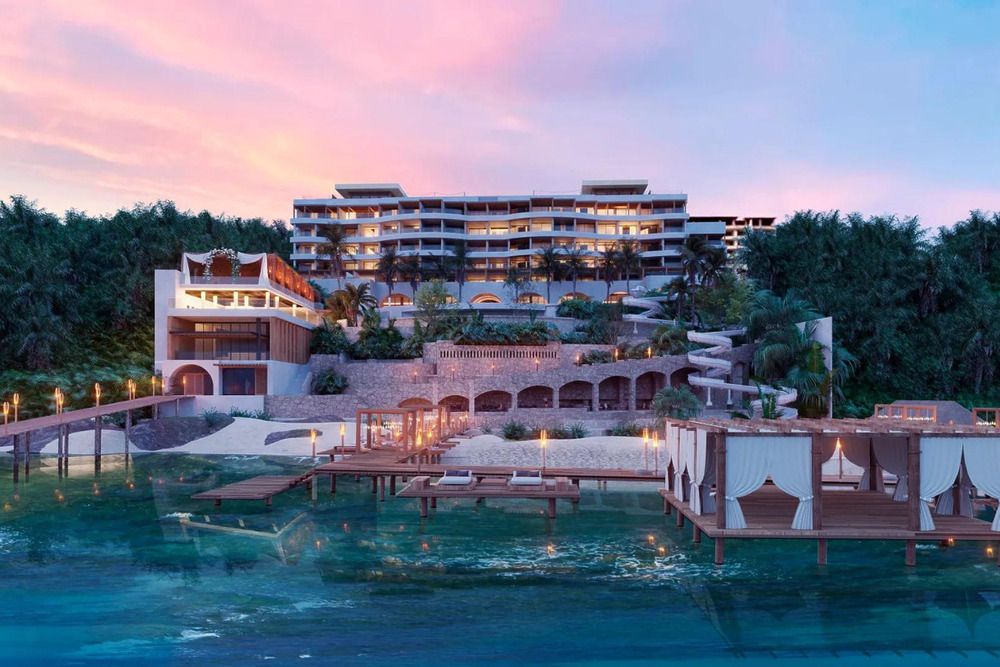 Secrets Impression Isla Mujeres is a brand-new, ultra-luxurious resort located on the stunning Isla Mujeres, just off the coast of Cancun, Mexico. This adults-only sanctuary is designed to provide an exclusive and intimate escape for couples and honeymooners seeking romance, relaxation, and indulgence.
As you step into Secrets Impression Isla Mujeres, you are greeted by a chic and sophisticated ambiance. The resort boasts contemporary architecture, stylish interiors, and upscale decor. Utilizing the unique and reclusive surroundings of the island, the resort also offers breathtaking views of the turquoise Caribbean Sea.
Accommodations at Secrets Impression Isla Mujeres are the epitome of luxury. The resort features spacious suites, each meticulously designed to provide comfort and privacy. From intimate oceanfront suites with private plunge pools to expansive penthouses with panoramic views, every room is appointed with high-end amenities, plush furnishings, and modern conveniences.
At Secrets Impression Isla Mujeres, indulgence knows no bounds. The resort offers a variety of gourmet dining options, ensuring an unforgettable culinary experience. Guests can savor delectable dishes prepared by world-class chefs at the resort's specialty restaurants, which feature a range of cuisines, from international favorites to local flavors. Additionally, the resort offers a selection of bars and lounges where guests can enjoy handcrafted cocktails and fine wines in an elegant setting.
Secrets Impression Isla Mujeres boasts a world-class spa for those seeking relaxation and rejuvenation. Guests can immerse themselves in a tranquil oasis, indulging in luxurious treatments, massages, and therapies designed to enhance their well-being. The spa facilities include serene treatment rooms, hydrotherapy circuits, and a serene relaxation area.
The resort offers a host of activities and entertainment options to keep guests engaged and entertained. There is something for everyone, From live music performances to themed parties to cooking classes and water sports. Guests can lounge by the infinity pool, soak up the sun on the private beach, or partake in exciting excursions, such as snorkeling, scuba diving, and yacht tours.
Service at Secrets Impression Isla Mujeres is unparalleled. The resort's dedicated staff is committed to providing personalized attention and meeting every guest's needs. From arranging romantic dinners on the beach to organizing surprise celebrations, the team goes above and beyond to create unforgettable moments and lasting memories.
With its secluded location, luxurious amenities, and attentive service, Secrets Impression Isla Mujeres sets the stage for a truly enchanting and intimate escape. It is a haven where couples can revel in each other's company, unwind in paradise, and create cherished memories that will last a lifetime.
Re-opening Date: January 20, 2023
Punta Cana Weddings

On a protected cove in Punta Cana, you will find the adults-only Sanctuary resort, a Spanish castle getaway.

Sanctuary Cap Cana:

Read more

Venues: 8
Adults-Only
15 Minutes

Package Costs:

$

799

–

$

16,500
Sanctuary Cap Cana is a luxurious resort located in the beautiful Cap Cana area of the Dominican Republic. It is a top-tier vacation destination known for its Caribbean surroundings, exceptional amenities, and unparalleled service. The adults-only resort is a luxury all-inclusive resort for Marriott International and the Luxury Collection, expanding their Caribbean footprint.
The 4-month renovations at Sanctuary Cap Cana have transformed the resort into a luxurious and sophisticated destination. The new additions and enhancements have created a more inviting and enjoyable experience for guests. All guest rooms and suites were refurbished as part of the renovation. The new rooms feature a modern design with a touch of luxury. They are also equipped with all the amenities guests need for a comfortable stay.
The resort's art and décor were also enhanced as part of the renovation. New pieces of art were added throughout the resort, and the décor was updated to create a more modern and sophisticated look. The spa and fitness facilities were also enhanced as part of the renovation. The spa was expanded, and new treatments were added to the menu. The fitness facilities were also updated, and new equipment was added.
The resort boasts an array of dining options, with several gourmet restaurants and bars offering a wide range of international cuisines. Whether you're craving a sumptuous steak, fresh seafood, or traditional Dominican fare, there is something to satisfy every palate. Guests can also enjoy 24-hour room service for those who prefer to dine in the privacy of their accommodations.
The Sanctuary Spa is a haven of tranquility for those seeking relaxation and rejuvenation. With a comprehensive menu of treatments and therapies, guests can indulge in massages, facials, and body scrubs, all performed by skilled therapists using premium products. The spa also features a hydrotherapy circuit, sauna, and steam room to enhance the wellness experience.
Sports enthusiasts will find plenty of activities to enjoy at Sanctuary Cap Cana. The resort offers a variety of water sports, including snorkeling, kayaking, and paddleboarding, allowing guests to explore the crystal-clear Caribbean waters. There are also tennis courts, a state-of-the-art fitness center, and a championship golf course designed by Jack Nicklaus for those looking to stay active during their stay.
Opening Date: October 12, 2023
Tulum Weddings

Secrets Tulum Resort & Beach Club offers a picturesque, romantic adults-only retreat nestled in a lush green mangrove.

Secrets Tulum:

Read more

Venues: 4
Adults-Only
74 Minutes

Package Costs:

$

999

–

$

3,799
Secrets Tulum is a luxurious resort in the coastal town of Tulum, Mexico. Nestled between the lush Mayan jungle and the crystal-clear waters of the Caribbean Sea, this exclusive retreat offers an unforgettable vacation experience for couples and adults seeking relaxation, romance, and indulgence.
The resort boasts a contemporary design that creates a relaxed tropical ambiance. The architecture showcases elements of local Mayan culture, incorporating thatched roofs, stone accents, and vibrant artwork throughout the property.
Accommodations at Secrets Tulum are designed to provide the utmost comfort and privacy. Guests can choose from various spacious suites, each elegantly furnished with modern amenities and thoughtfully appointed with plush bedding, a private balcony or terrace, and a luxurious bathroom. Some suites even feature swim-out access to a semi-private pool, allowing guests to take a refreshing dip right from their doorstep.
The resort offers a range of dining options, ensuring something to satisfy every palate. Guests can indulge in gourmet cuisine at the à la carte restaurants, serving dishes from around the world, including Mexican, Italian, Asian, and more. For a casual dining experience, there are also several cafes and bars where guests can enjoy light bites and refreshing drinks.
For those seeking relaxation and rejuvenation, Secrets Tulum features a world-class spa offering a variety of indulgent treatments inspired by ancient Mayan rituals. Guests can pamper themselves in a tranquil setting, from soothing massages to invigorating body scrubs.
For the more active guests, Secrets Tulum provides a range of activities and amenities to keep them entertained. The resort features multiple swimming pools, including a large infinity pool overlooking the ocean, where guests can soak up the sun or take a refreshing swim. There is also a state-of-the-art fitness center for those who wish to maintain their exercise routine and various water sports and recreational activities on the beach.
Additionally, Secrets Tulum offers a host of services and amenities designed to enhance guests' overall experience. These include 24-hour room service, concierge assistance, nightly entertainment, themed parties, and access to nearby attractions and excursions, such as exploring ancient Mayan ruins or snorkeling in cenotes.
Opening Date: June 1, 2023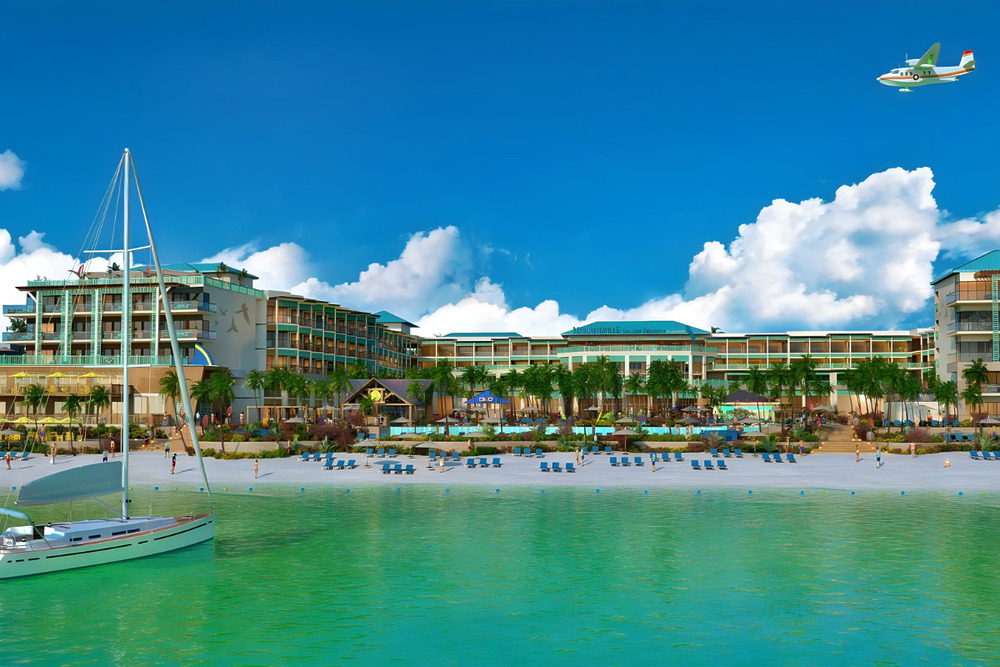 Margaritaville Island Reserve Riviera Maya is a captivating and vibrant resort in Mexico's stunning Riviera Maya region. Inspired by the laid-back and carefree spirit of Jimmy Buffett's iconic Margaritaville brand, this resort offers guests a slice of paradise to escape from the everyday hustle and bustle.
Nestled along the pristine white sands of the Caribbean coastline, Margaritaville Island Reserve Riviera Maya boasts a breathtaking beachfront setting.
The resort features luxurious accommodations designed with comfort and style in mind. Guests can choose from various rooms, including spacious suites and charming beachfront villas. Each room is tastefully decorated with a coastal-inspired theme, featuring vibrant colors, natural textures, and modern amenities. Some accommodations offer private pools or direct beach access for an extra touch of indulgence.
Margaritaville Island Reserve Riviera Maya takes pride in providing exceptional dining experiences. The resort offers a variety of restaurants and bars, each offering its unique atmosphere and culinary delights. Guests can savor various international cuisines, from Mexican classics to Caribbean fusion dishes, all prepared with the freshest ingredients and served with a dash of Margaritaville's signature flair. Of course, a visit to the resort would only be complete with sipping on refreshing margaritas and tropical cocktails expertly crafted by talented mixologists.
The resort also features many amenities and activities to keep guests entertained. A large swimming pool surrounded by lush palm trees and sun loungers invites guests to dip and soak up the sun. For those seeking relaxation, a tranquil spa offers a range of rejuvenating treatments and therapies. Fitness enthusiasts can use state-of-the-art gym facilities or participate in yoga classes held in serene settings. Water sports, beach volleyball, and other outdoor activities are available for those seeking more active pursuits.
Margaritaville Island Reserve Riviera Maya is renowned for its lively entertainment options. Guests can enjoy live music performances, themed parties, and engaging shows that celebrate the vibrant spirit of the Caribbean. The resort's laid-back and friendly staff ensures every moment is filled with joy and fun, creating an atmosphere encouraging guests to embrace the Margaritaville state of mind.