Wedding season is upon us, and if you're looking for a destination that will truly wow your guests, look no further than Mexico. Mexico is home to some of the most stunning scenery in the world, from the white sand beaches of the Riviera Maya to the colonial charm of San Miguel de Allende.
Whether you're looking for an intimate ceremony for close family and friends or a lavish affair with hundreds of guests, Mexico has a destination wedding location to suit your every need.
Keep reading to discover 10 of the most stunning Mexico destination wedding locations, complete with breathtaking views and luxurious amenities.
Table of Contents
Mexico is For Lovers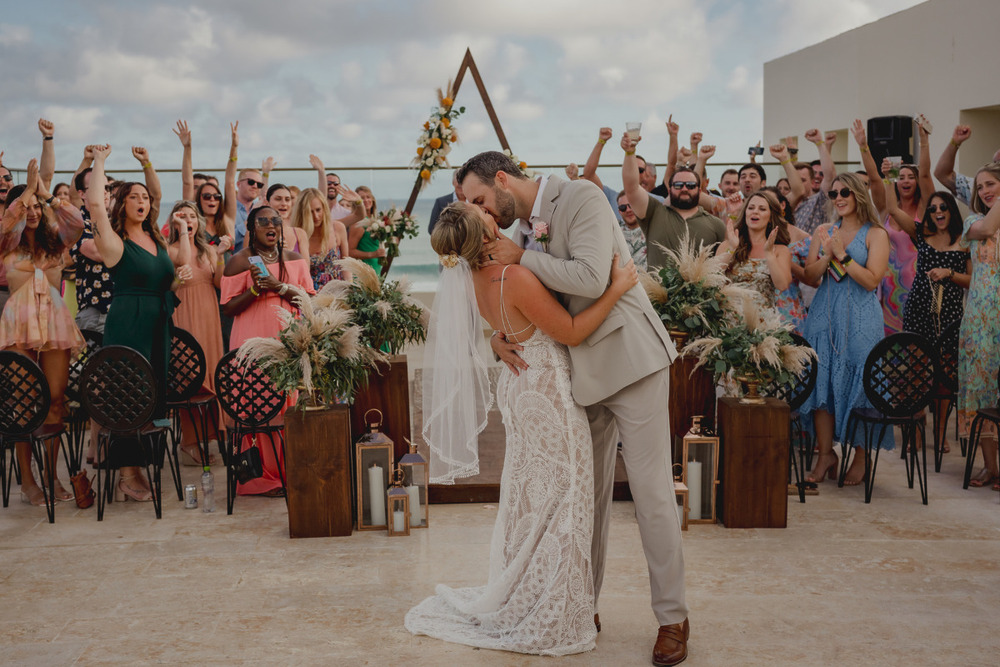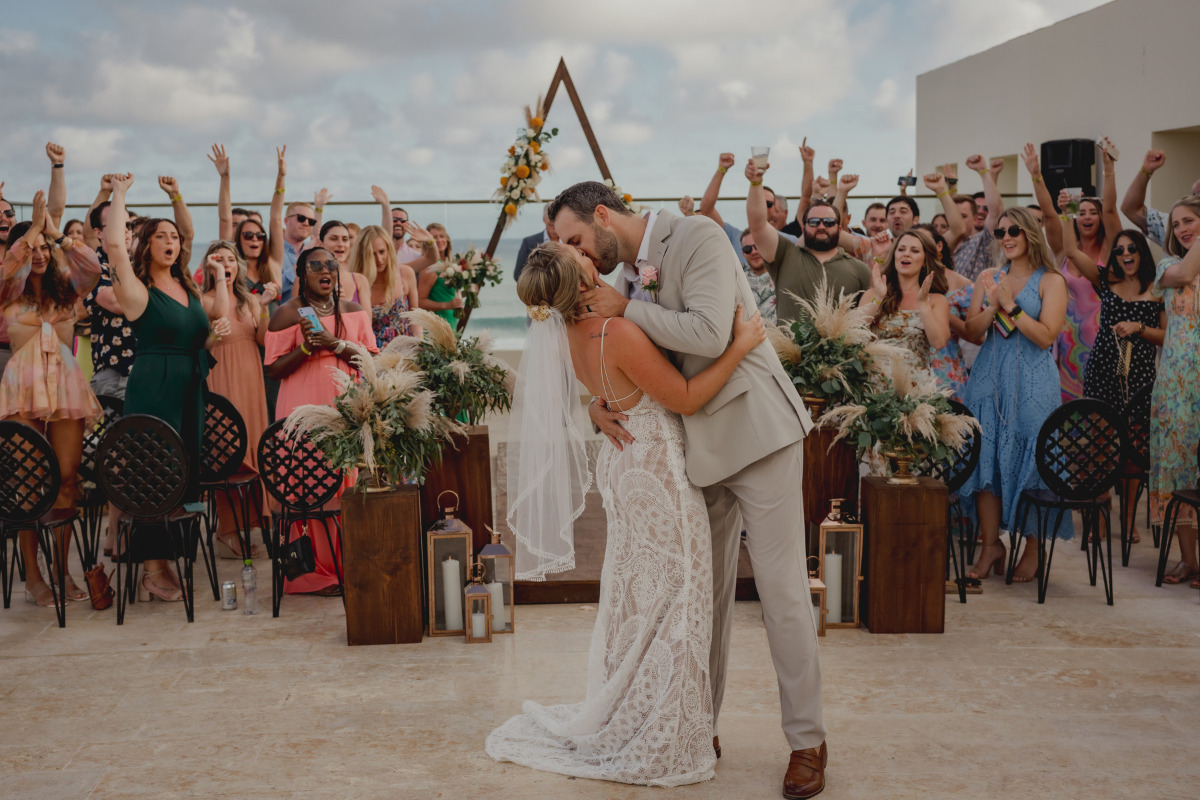 Mexico has it all if you're looking for a beachfront ceremony, a traditional hacienda wedding, or a mountaintop vow exchange.
For those dreaming of a beach wedding, there are plenty of options along the country's stunning coastlines. Cabo San Lucas, Cancun, and Playa del Carmen are popular destinations for couples looking to say "I do" with the waves lapping at their feet. These locations boast white sand beaches, turquoise waters, and year-round sunshine, making them perfect for a tropical wedding.
For those wanting a more traditional wedding at their Mexico destination wedding location, the country's haciendas offer a stunning backdrop of colonial architecture, lush gardens, and colorful decor. Haciendas are historic estates that have been converted into event spaces, and they offer a unique glimpse into Mexico's rich history and culture.
If you're looking for a more adventurous wedding experience, consider exchanging vows atop one of Mexico's stunning mountains. The country is home to charming mountain towns, such as San Miguel de Allende and Oaxaca, offering breathtaking views and a cozy atmosphere.
No matter what your dream wedding entails, Mexico has a destination that will suit your every need. With its warm hospitality, delicious cuisine, and stunning scenery, it's no wonder that Mexico is such a popular choice for couples looking to tie the knot.
The History of Mexico Destination Weddings
Destination weddings in Mexico have a long and fascinating history. From the pre-Columbian period to the modern era, Mexico has been popular for couples seeking a romantic and exotic wedding location.
In Mayan culture, weddings were viewed as a sacred and significant event. The couple would exchange vows in a traditional ceremony, often performed by a shaman or priest. The ceremony involved rituals such as the exchange of gifts, a presentation of offerings to the gods, and the sharing of sacred drinks. Mayan weddings were usually held in a temple or a sacred location, such as a cenote (natural swimming hole).
Spanish missionaries introduced the Christian wedding ceremony to Mexico during the colonial era. Mayan culture's traditions and rituals were integrated into the new Christian wedding ceremony. These weddings were often held in the local church with the reception following in the courtyard of the bride's family home.
In the mid-20th century, Mexico started to become a popular tourism destination for Americans and Canadians. With its beautiful sandy beaches, warm weather, and rich history and culture, Mexico became an ideal location for destination weddings.
The first destination wedding in Mexico was held in Acapulco in 1954, when Elizabeth Taylor and Mike Todd exchanged vows in a small ceremony with just a few guests. This wedding set the trend for Mexican destination weddings and the idea of a romantic beach wedding in Mexico became increasingly popular.
In the 1980s, the Mexican government invested heavily in developing the country's tourism industry, including its wedding industry. The government created incentives and programs to attract more foreign couples to have their weddings in Mexico. This led to an increase in the number of resorts, wedding venues, and wedding planners in Mexico, making destination weddings in Mexico more accessible and affordable.
Today, Mexico is known as one of the top wedding destinations in the world, with a variety of options to suit different styles and budgets. Couples can choose from beautiful beaches, charming colonial cities, luxurious resorts or rustic haciendas to exchange their vows with a touch of Mexican flair.
How We Came Up with Our Favorite Mexico Destination Wedding Locations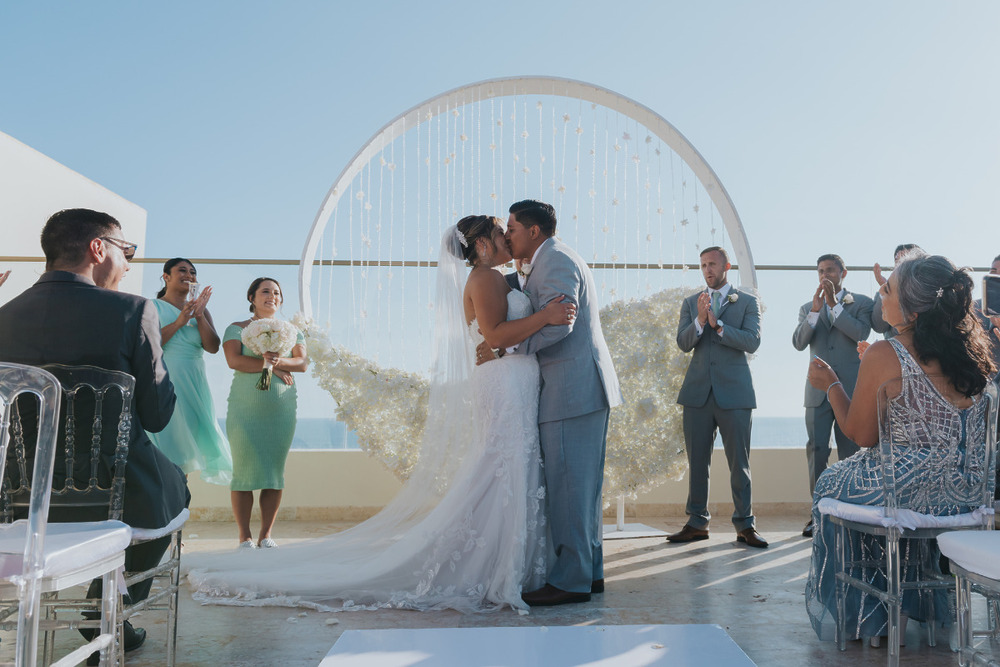 Choosing a wedding location involves careful consideration of several factors such as budget, accessibility, climate, facilities, scenery, and culture. Mexico offers a vast range of stunning wedding locations that accommodate different preferences and needs.
People come up with their favorite Mexico wedding destinations through research. They scour the internet for inspiration, check out wedding blogs, read reviews and recommendations from other couples, and look through photos and videos to get a visual sense of what to expect from different wedding locations in the country. Luckily, we did this for you.
Another way they come up with their favorite Mexico destination wedding locations is through personal experiences or recommendations from family and friends. Attending a wedding in Mexico or hearing stories of great wedding experiences from people they know can inspire them to look further into that location as a potential wedding destination.
In addition, couples may choose a location based on their interests or hobbies. For example, if they love the beach, they may choose a wedding location that offers a picturesque beachfront wedding ceremony. They may choose a location with colonial architecture and cultural heritage if they are into historical sites.
Cancun, Mexico
With its turquoise waters and sprawling beaches, Cancun is a popular destination for beach weddings. Many resorts feature Cancun wedding packages that include everything from decor to catering, making it a hassle-free option for couples. Mexico destination wedding locations include the beach or in a beautiful gazebo overlooking the ocean. Some resorts also offer underwater weddings for the adventurous couple. 
Besides the beautiful beaches and warm weather, Cancun offers a variety of activities for guests to enjoy during their stay. From snorkeling and diving to exploring ancient Mayan ruins, there is something for everyone. The nightlife in Cancun is also lively, making it a great option for couples and their guests looking to dance the night away.
Overall, Cancun is a top choice for couples looking for a picturesque beach wedding with a wide range of activities and amenities for their guests.
Tulum, Mexico
Tulum is known for its bohemian beauty and laid-back vibe and is a top Mexico destination wedding location. Its white sand beaches and crystal-clear waters create the perfect backdrop for a beachfront ceremony. Couples can choose from a variety of venues, from boutique hotels to luxury resorts.
Tulum is also a popular destination for eco-friendly weddings. The town has a strong commitment to sustainability and many venues offer environmentally conscious options. Outdoor settings like jungle clearings and cenotes (natural swimming holes) provide a unique and stunning location for a wedding ceremony. Tulum also offers a range of activities for guests to enjoy, from exploring ancient Mayan ruins to snorkeling in the coral reefs.
Los Cabos
Cabo San Lucas is a popular destination for couples looking for a luxurious and picturesque wedding venue. From oceanfront villas to five-star resorts, there are plenty of options to choose from in this glamorous destination.
Los Cabos is widely recognized as one of the most scenic and breathtaking destinations in Mexico, primarily known for its stunning beaches, crystal clear waters, and a wide range of recreational activities, making it an ideal location for a destination wedding. Destination weddings in Los Cabos are rapidly becoming popular amongst couples who seek to create magical moments and memories that will last a lifetime.
Los Cabos offers a perfect blend of natural beauty, luxurious amenities, and tranquil landscapes. The stunning views of the ocean and dramatic sunsets make Los Cabos a unique and romantic Mexico destination wedding location to exchange their vows. Los Cabos offers couples numerous options to celebrate their special day, from intimate beach weddings to grand ceremonies in expansive resorts.
Puerto Vallarta
With its colonial architecture and scenic beaches, Puerto Vallarta is a popular Mexico destination wedding location for romantic weddings. Couples can exchange vows in a charming colonial church or on a sandy beach, with the Sierra Madre mountains as a stunning backdrop.
The city also offers a variety of luxurious resorts and villas that cater to destination weddings. Many of these venues provide customizable packages including catering, floral arrangements, music, photography, and other services to make the celebration special.
Puerto Vallarta has a wide range of options for couples who prefer a beach wedding. Some of the most popular beaches for weddings include Playa Conchas Chinas, Playa de Oro, and Los Muertos Beach. These beaches offer breathtaking views of the Pacific Ocean and scenic sunsets, creating the perfect backdrop for a romantic ceremony.
San Miguel de Allende
San Miguel de Allende is known for its colonial charm and stunning architecture, making it a popular wedding destination for those seeking a romantic and historic venue. Choose from grand haciendas or intimate boutique hotels for the perfect wedding celebration.
Aside from its beautiful venues, San Miguel de Allende also boasts a vibrant culinary scene, picturesque streets, and a lively art scene, providing your guests with plenty of activities to do before and after the big day.
Many couples opt for an outdoor ceremony in one of the city's many stunning gardens or courtyards, followed by a delicious food and drink reception. Traditional Mexican dishes like tamales and chiles rellenos, as are the margaritas and tequila cocktails, are a must-try.
No matter your vision for your special day, San Miguel de Allende offers a magical setting for a romantic and memorable wedding celebration.
Sayulita
Sayulita is a bohemian beach town on Mexico's Pacific coast. It's an ideal Mexico destination wedding location for couples who want a laid-back and rustic wedding, surrounded by nature and the ocean. The town has become increasingly popular as a wedding destination over the years, drawing couples from all over the world who are enchanted by its charming streets and gorgeous beaches. Sayulita offers a range of wedding venues from beachfront hotels and private villas to rustic ranches and garden settings.
Whether you prefer an intimate ceremony with just the two of you or a big celebration with friends and family, Sayulita has something to offer everyone. You can choose to exchange your vows on the beach, under a palapa, or in a lovely garden overlooking the ocean. Many couples also opt for a bohemian-style wedding with colorful decorations, vibrant flowers, and a festive atmosphere.
In addition to the incredible scenery, Sayulita has plenty of activities for you and your guests to enjoy during your wedding week. You can surf, paddleboard, or swim in the ocean, take a yoga or meditation class, explore the local markets and shops, or simply unwind and relax in paradise.
Playa del Carmen
Playa del Carmen has a lively atmosphere and a long stretch of white sand beach, making it perfect for couples who want a fun and festive wedding celebration. There are plenty of chic venues to choose from, including contemporary hotels and glamorous beach clubs.
For those who prefer to be closer to town, the Playacar Palace and the Royal Playa del Carmen offer luxurious amenities and sophisticated wedding packages that can be customized to fit any couple's needs.
In addition to its beautiful beaches and glamorous venues, Playa del Carmen also offers a wide range of activities for just one Mexico destination wedding location, from snorkeling and scuba diving to exploring nearby Mayan ruins and nature parks.
Bahia Mita
Bahia Mita is a breathtaking destination with stunning beaches, dramatic cliffs, and picture-perfect sunsets. Couples can choose from cliffside villas, luxurious resorts, or even private yachts for an unforgettable wedding celebration.
Located on Mexico's Pacific coast, Bahia Mita is a serene and peaceful paradise that offers an intimate and romantic setting for couples looking to tie the knot. With its turquoise waters, white sand beaches, and lush tropical foliage, this Mexico destination wedding location is nothing short of magical.
For couples who want a more adventurous wedding celebration, Bahia Mita is the perfect place to go snorkeling, surfing, or even whale watching. The nearby tropical rainforest offers hiking trails, waterfalls, and plenty of opportunities for exploring the region's natural beauty.
Couples can also explore the local culture and cuisine by visiting nearby villages and attending traditional festivities. From street vendors selling fresh coconut water to upscale restaurants serving world-class cuisine, Bahia Mita has something for everyone.
Cozumel
Cozumel is a laid-back island paradise with crystal-clear waters and colorful coral reefs. Couples can exchange vows on a secluded beach or on a rooftop terrace overlooking the ocean, surrounded by tropical vegetation and stunning views.
The island is known for its world-class scuba diving and snorkeling sites, diverse marine life, and underwater caves. The great thing about this Mexico destination wedding location is that newlyweds can explore the island's natural beauty and cultural attractions, such as ancient ruins, eco-parks, and local markets.
Various wedding packages available can accommodate small and intimate gatherings or larger celebrations with family and friends. Couples can choose to have a traditional religious ceremony in a chapel or opt for a symbolic ceremony on the beach or in a garden. Many resorts offer all-inclusive wedding packages, including everything from the ceremony and reception to the photographer and floral arrangements.
Cozumel also has a vibrant nightlife with plenty of restaurants, bars, and clubs to explore. Couples can enjoy a romantic dinner at a waterfront restaurant or dance the night away at a beachfront nightclub.
Riviera Nayarit
Riviera Nayarit is a hidden gem on Mexico's Pacific coast, with secluded beaches, lush jungles, and towering mountains. Couples can choose from a variety of venues, from elegant beachfront hotels to rustic eco-lodges for a truly unique and unforgettable wedding experience.
Some popular wedding venues in Riviera Nayarit include the Four Seasons Resort Punta Mita, St. Regis Punta Mita Resort, and the eco-friendly Wyndham Alltra. Many of these properties offer packages that include everything from the ceremony to the reception, making it easy for couples to plan their dream wedding without the stress of a DIY approach.
Outdoor activities like surfing, and whale watching, and the area's cultural attractions provide plenty of options for post-wedding adventure. With its stunning natural landscapes and luxurious accommodations, Riviera Nayarit is a perfect Mexico destination wedding location for couples looking for a romantic time.
Final Thoughts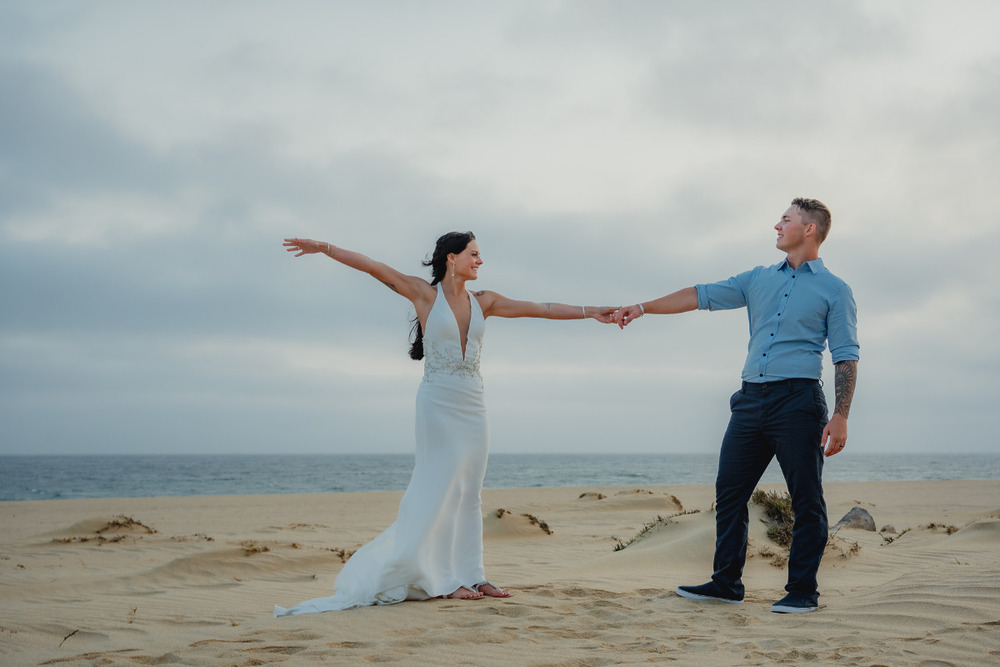 Ultimately, the choice of a wedding location is personal and depends on individual preferences and needs. Mexico offers many unique wedding locations, each with its charm and beauty that can make for an unforgettable wedding experience.
The history of destination weddings in Mexico has been shaped by its rich cultural heritage, tourism industry, and the demand for romantic and exotic wedding locations. From Mayan rituals to Elizabeth Taylor's epic beach wedding, Mexico has always offered a dreamy and unforgettable setting for couples to tie the knot.