Marival resorts offer all-inclusive luxury in some of the most gorgeous locations that Mexico has to offer. For destination wedding couples looking for affordable opulence, look no further than Marival resorts!
Mexico travel is more popular than ever, and picking the perfect resort for your destination wedding might be hard.
With our experience in sending thousands of couples to their daydream-worthy destination weddings in Mexico, we're here to put a stop to that analysis paralysis!
Get ready to tour the elegant properties Marival offers in Mexico.
Puerto Vallarta Weddings

Situated between the Pacific Ocean and the Sierra Madre Mountains is Marival Armony Luxury Resort and Suites. This elegant establishment balances opulence and natural wonders on a level that's nearly unmatched.

Marival Armony:

Read more

Venues: 5
Adults-Only
40 Minutes

Package Costs:

$

1,099

–

$

14,145
Marival Armony Luxury Resort & Suites is an adults-only hotel located in Punta de Mita, Nayarit, Mexico.
Location
Marival Armony is located on a secluded stretch of beach in Punta de Mita, known as Destiladeras Beach. It's surrounded by lush tropical vegetation and the one-of-a-kind Sierra Madre mountain range, offering guests a serene and peaceful atmosphere that intertwines natural beauty with high-end luxury.
Accommodations
The hotel offers a range of luxurious accommodations, including suites, villas, and residences, each with its own unique design and style. The rooms are spacious and elegantly furnished, offering stunning views of the ocean or the surrounding tropical gardens.
Dining
Marival Armony has several restaurants and bars that serve a wide range of international cuisine, including Mexican, Asian, Italian, and Mediterranean.
Also, the hotel has a rooftop lounge with panoramic views of the ocean.
Activities
The hotel offers a range of activities for guests, including water sports, yoga classes, cooking classes, and cultural excursions. The hotel also has a large infinity pool, a fitness center, and a spa.
Sustainability
Marival Armony is committed to sustainability and eco-friendliness. The hotel has implemented several green initiatives, including using solar power, recycling, and reducing waste.
Our Favorite Wedding Venue
We recommend getting married at the distinct Vent space! Situated on the top of a cliff, the Vent offers wedding couples a view worthy of the first day of the rest of their lives together!
Puerto Vallarta Weddings

Overlooking the peaceful seas of Bahia de Banderas, Marival Emotions offers an unforgettable destination wedding for all lovebirds.

Marival Emotions:

Read more

Venues: 6
Family Friendly
20 Minutes

Package Costs:

$

1,050

–

$

14,435
Marival Emotions Resort & Suites is a family-friendly luxury resort in Riviera Nayarit, Mexico.
All-inclusive
Marival Emotions Resort & Suites is an all-inclusive resort that offers a wide range of amenities and services, including unlimited food and drinks, water sports, and entertainment.
Family-Friendly
The resort caters to families and offers a variety of activities for all ages, including a kids' club, a teen club, and a water park.
Multiple Accommodations
Marival Emotions Resort & Suites offers a variety of accommodations, including suites with private pools, ocean-view rooms, and family rooms.
Exceptional Dining Experience
The resort has several restaurants, bars, and cafes that offer a wide range of cuisine options, from Mexican to Italian, Japanese, and more.
Environmental Commitment
The resort has implemented several environmentally friendly practices, including water conservation, recycling, and energy efficiency, which makes it unique in terms of sustainability.
Our Favorite Wedding Venue
The lush flora of Nuevo Vallarta envelops wedding couples and their guests in this verdant Garden space! For a space equal parts grand and intimate, look no further!
Puerto Vallarta Weddings

As the largest all-inclusive resort in Vallarta, this beachfront resort is sprawling with a fun and upbeat atmosphere. A Marival Nuevo Vallarta wedding is perfect for couples desiring an entertaining, family-friendly destination wedding.

Marival Distinct:

Read more

Venues: 4
Family Friendly
20 Minutes

Package Costs:

$

1,150

–

$

13,845
Marival Distinct Luxury Residences is a luxury resort located in Nuevo Vallarta, Mexico.
Spacious and Luxurious Accommodations
Marival Distinct Luxury Residences offers large, fully equipped suites that are more like apartments than hotel rooms. They feature modern décor, high-end appliances, and a private terrace or balcony.
Exclusive Access to a Private Beach Club
The resort has its own private beach club with a large infinity pool, beachfront restaurant, and bar. Guests have exclusive access to this area, which provides a more intimate and tranquil experience.
Gourmet Dining Options
The resort has several restaurants, including a gourmet French restaurant, a seafood restaurant, and a steakhouse. All the restaurants offer high-quality, delicious cuisine, focusing on fresh, locally sourced ingredients.
All-inclusive Package
Marival Distinct Luxury Residences offers an all-inclusive package, including all meals, snacks, beverages, and many activities and entertainment options.
Personalized Service
The resort prides itself on providing personalized service to each guest. The staff is attentive and friendly, and they go to ensure guests have a comfortable and enjoyable stay.
Our Favorite Wedding Venue
Taste the salty sea air and feel the ocean breezes kiss you as you say 'I do' at Marival Distinct's beach wedding venue. You've never seen the panoramic seascapes like you have at Nuevo Vallarta!
Conclusion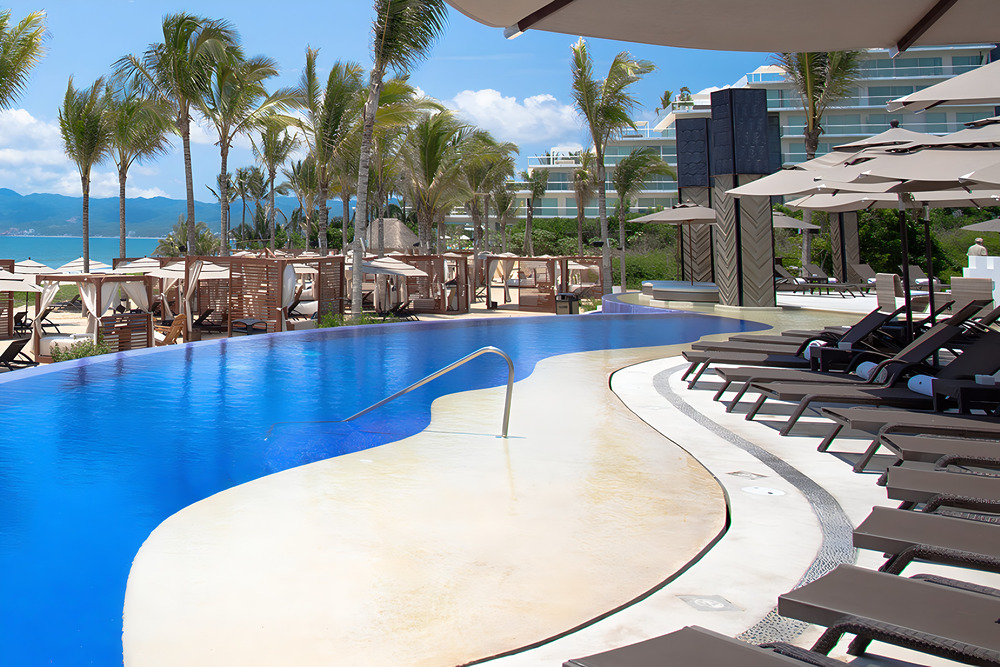 Marival resorts are some of our favorite all-inclusive partners in Mexico.
They're stylish, budget-friendly, and lavish, and they guarantee to set the stage for your spectacular destination wedding day in paradise!