If you are thinking of planning a large destination wedding in Montego Bay, Jamaica, you have selected one of the best locations to do so. Destination weddings have become the most popular section of the wedding industry in the last few years, and there are many locations in Montego Bay (and elsewhere across Jamaica) that cater to those needs. Gathering all of your friends and family in such a beautiful location is certainly appealing, and given that Jamaica is relatively accessible and economical, it is likely you will have many people RSVP to your wedding.
Planning any wedding may feel like a daunting experience, but with Montego Bay, it doesn't have to be. It is also less expensive than planning a wedding at home. Plus, there are many all-inclusive wedding packages and some resorts offer free weddings if you meet certain group requirements.
Of course, there is also an added bonus of having a super relaxing wedding. You and your guests will be able to sip your drinks on the beach before watching you walk down the aisle, and party the night away amongst the Reggae-inspired nightlife. In general, there is a more laid-back atmosphere that wedding guests will appreciate.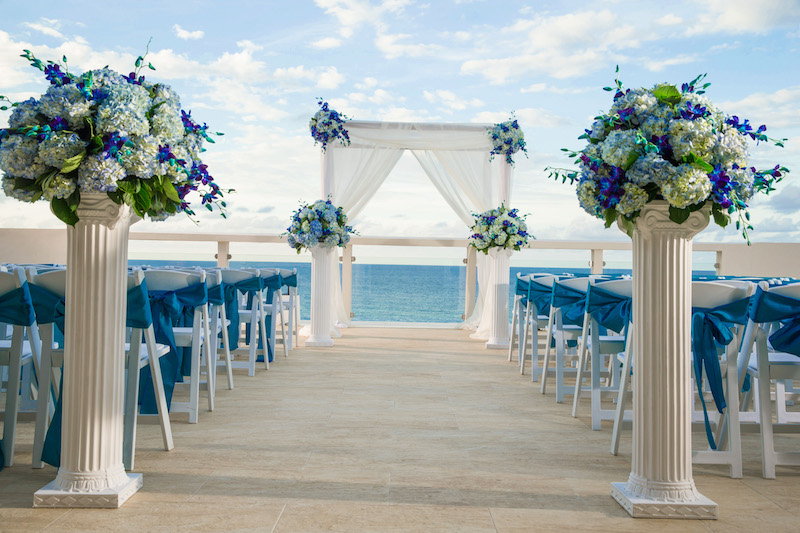 A ceremony at Hyatt Ziva Rose Hall.
Things To Consider When Planning A Large Destination Wedding
There are some very basic things you need to consider when you are planning a large destination wedding. Primarily, you need to ensure that the venue you choose will be big enough for your party. The larger your wedding gets, the fewer options you may have. Even so, Jamaica is a popular location for destination weddings, so there are plenty of resorts that can host up to 500+ guests for your wedding. Still, you want to consider the types of people coming to your wedding and what they will enjoy – do they just want to relax with a drink or do they want adventure? Will they bring children? What types of amenities do they want?
Once you've established your numbers, you may also want to think about transportation. In a place like Jamaica, which has a booming tourist economy, there are plenty of flights onto the island. Some of the smaller Caribbean islands will have trouble getting everyone there on time for a price that they can afford, which is why Montego Bay is so ideal.
You may also want to consider the guests themselves. You absolutely want grandma to attend, but will she be okay walking on the sand to get to your wedding? How about the heat? Consider our seasonality guide for more insights.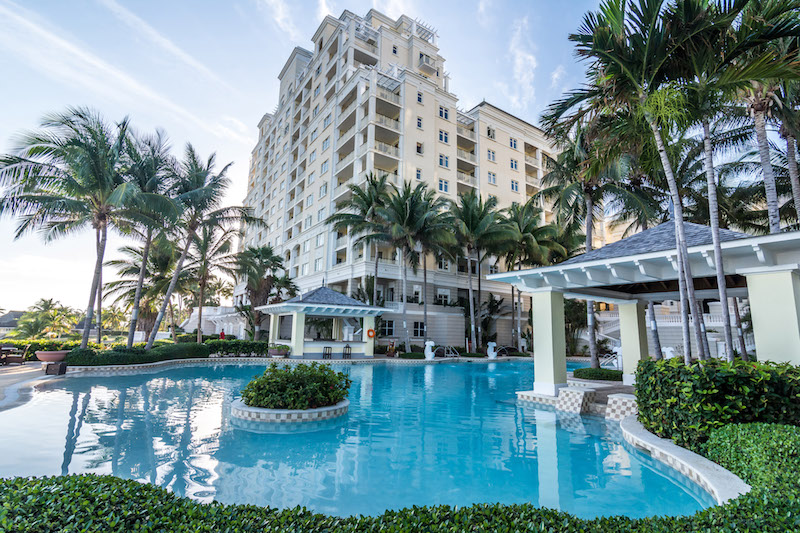 Jewel Grande, Montego Bay
Montego Bay, Jamaica Wedding Venues
Once you have selected a wedding location, the next step is to find the right venue for your Montego Bay wedding. You can do a bunch of homework to find the top venue in Montego Bay – and there are a ton of options, or you can use our trusted experts who know the area well. If you are looking for the best Montego Bay, Jamaica wedding venues, look no further – we have narrowed down some of the selections.
Destify Couple: Chanda and Cedric
Best Large Wedding Venues in Montego Bay, Jamaica
Here are our choices for the best venues to consider for a larger wedding in Montego Bay.
Large Weddings in Montego Bay, Jamaica with 100+ People:
Breathless Montego Bay, Grand Palladium Jamaica, Grand Palladium Lady Hamilton, Hilton Rose Hall, Hyatt Zilara Rose Hall, and Royalton Blue Waters.
Get Help Planning Your Large Montego Bay Wedding
No matter what, planning a large scale wedding is going to be an adventure in itself. You want to ensure that everyone has a good time, especially if they are traveling to be with you. With our all-inclusive resorts, you can expect a wedding department who will be with you every step of the way, and a wedding coordinator who will be there to help on-site for the duration of your stay.
The larger the wedding, the more perks you may be eligible for. Think free room upgrades, late checkout, and even free private events like welcome parties and cocktail hours. You may also qualify for free anniversary stays, so your magical time in Jamaica can happen again, and again.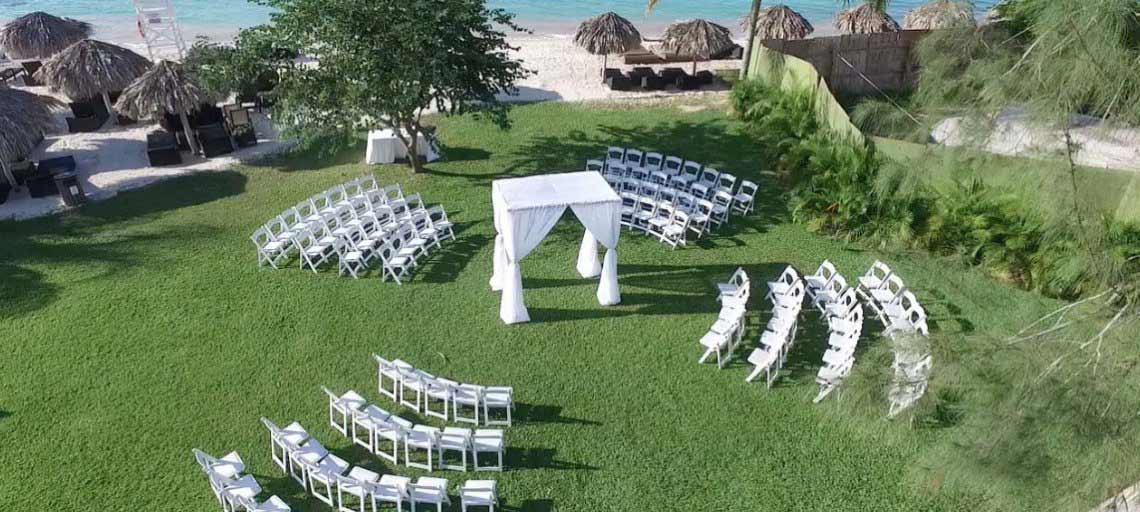 Breathless Montego Bay
Want to explore more of this beautiful island nation? Click the button below to begin exploring: