If you're browsing social media and come across a friend's destination wedding photo album, you might think: how much did that cost? From elegant resorts with immaculate venues to the finest beaches in the Caribbean, these wedding weeks are actually cheaper than one might expect. Using a few handy resources, here's our report on how affordable destination weddings can be.
How much does it cost to have a destination wedding?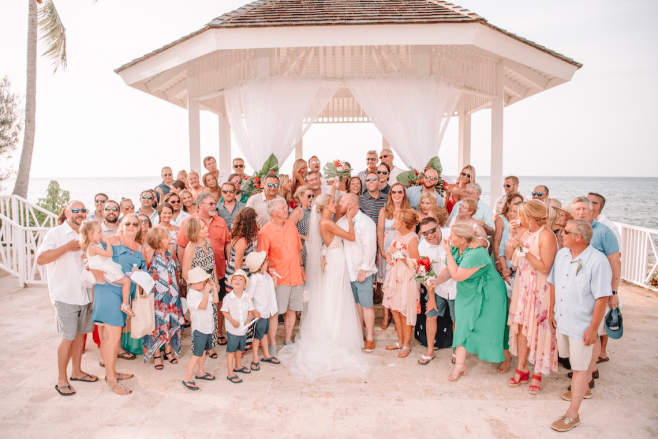 Destination weddings vary in price according to your budget. However, a smaller budget doesn't mean that you miss out on elegant amenities or add-ons. It makes sense to think that the more you include on the bill, the more expensive the cost. But it's important to realize that you can still host an unforgettable wedding without reaching deeper into your pockets.
Using the Destify Wedding Calculator, here's an example of how much a destination wedding would cost on an average budget:
Destination: Jamaica
Number of Guests: 20
Date: 6/18/2021
Package Type: Basic Package (Includes: Symbolic Ceremony, Ceremony Set Up, Sound System)
Add-Ons: Legal Ceremony, Semi-Private Dinner, Photography, DJ, Wedding Cake
Rooms: 30
Venue: Beach
Estimated Total: $4,410
Now, let's take a look at what a more expensive wedding would cost with a Luxury Package and more add-ons:
Destination: Jamaica
Number of Guests: 20
Date: 6/18/2021
Package Type: Luxury Package (Includes: Symbolic Ceremony, Ceremony Set Up, Live Music, Private Dinner)
Add-Ons: Legal Ceremony, Open Bar, Photography, DJ, Dance Floor, Fireworks, Updated Decor
Rooms: 30
Venue: Beach
Estimated Total: $8,790
With a difference of $4,380 between the two packages and their add-ons, the real question is: what kind of budget are you looking for? While the budget-friendly option doesn't include some add-ons, you're still celebrating in a tropical paradise with friends and family. The only real contrast occurs with how much you're willing to upgrade and include. With that being said, let's discover where you can find affordable all-inclusive packages.
What are the cheapest destination wedding locations?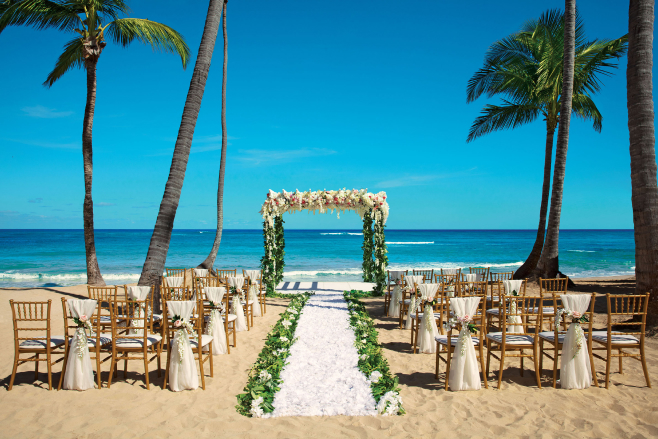 Realistically, this depends on which resort you choose to host your ceremony at. No matter where you go, whether that's Mexico, Jamaica, or the Dominican Republic, you'll find elegant resorts that offer customizable wedding packages. From complimentary to basic packages, there are affordable options for every budget. Here are our favorite budget-friendly locations:
With a plethora of family-friendly amenities, these resorts are your best budget-friendly options. Now, let's see who we should invite and how many guests you can expect to actually attend your wedding.
What percentage of invited guests attend a destination wedding?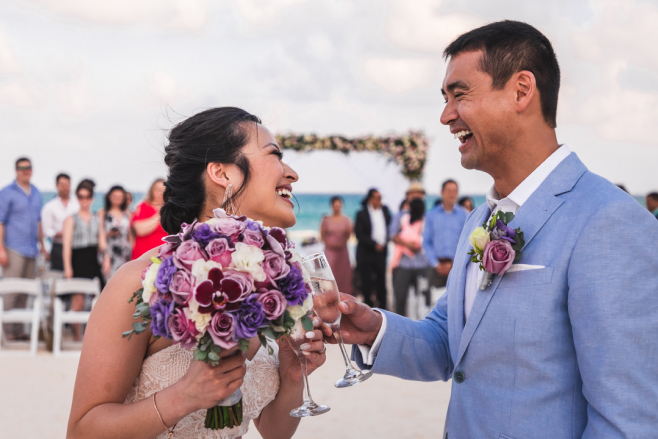 The ideal situation? Seeing an RSVP list filled with the word "Yes." While we'd love to see all of our loved ones at our ceremony, sometimes a destination wedding isn't doable for a few of your prospective guests. That doesn't mean that you'll have empty pews, however.
Utilizing a variety of online resources, we've calculated that between 50% to 75% of your invite list will attend your wedding. That gap may seem pretty big, but the final list boils down to several interchangeable factors:
Location
List size
Flight/accommodation rates
Simply put, destination weddings can be pretty cheap. Along with our above recommendations, we suggest this next essential step: research, research, research. Everyone's wedding week is different, make sure to find the right destination and add-ons that fit your budget. With complimentary packages and elegant amenities available for all, let your imagination run wild without worrying about your wallet.
Want to calculate your dream destination wedding? Follow the button below and find your ideal quote today: