How to Choose the Best Mexican Resort for Your Indian Wedding
Your wedding day is one of life's most important milestones, and you deserve a day that's a fantasy come true. If saying 'I do' in Mexico, a land famed for its vibrant culture and breathtaking landscapes, appeals to you, you are in the right place.
Top resorts in Mexico offer the perfect blend of luxury, tradition, and hospitality, ensuring your big day will be unforgettable. Loved celebrities have been known to tie the knot in these idyllic settings, choosing tasteful and chic venues that reflect their unique love stories. It's no lie that Mexico is one of our favorite destination wedding spots. When done right, Indian weddings in Mexico can be truly one-of-a-kind.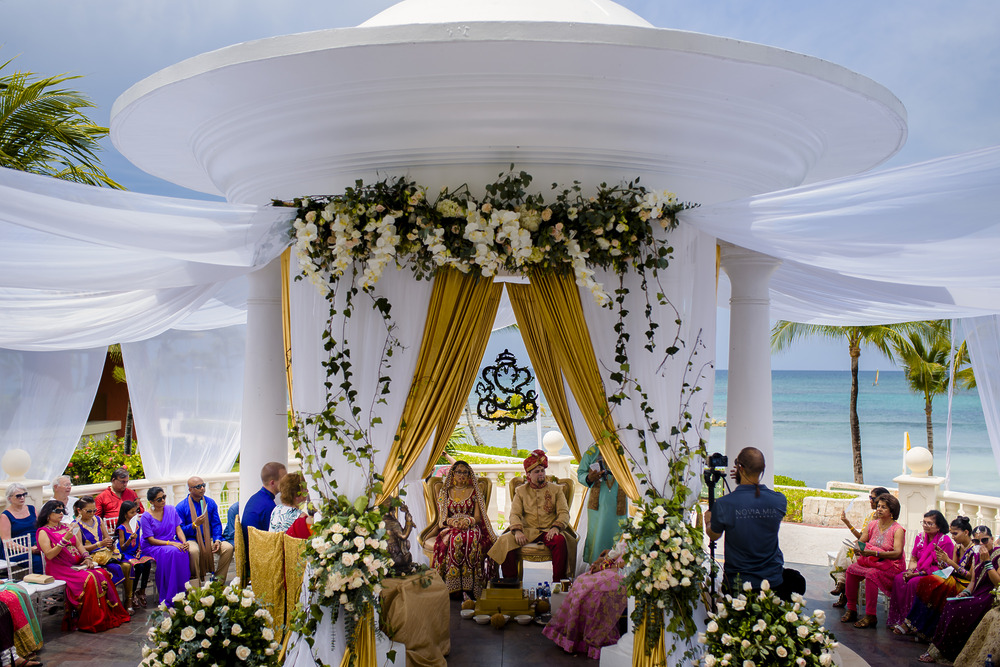 But how can you choose the ideal backdrop for your Indian wedding in Mexico? Read on as we take you through five extraordinary resorts that offer incredible packages for Indian weddings.
Top Resorts for Your Dream Indian Wedding in Mexico:
Cancun Weddings

This glamorous property meshes contemporary architecture with nature infused spaces, creating the destination wedding experience of a lifetime. From majestic cliffside gazebos to expansive gourmet cuisine, this Mexico sanctuary has it all.

Hyatt Ziva Cancun:

Read more

Venues: 8
Family Friendly
25 Minutes

Package Costs:

$

1,239

–

$

17,289
1. Hyatt Ziva Cancun: Where Luxury Meets Tradition
Nestled between the Caribbean Sea and the Nichupte Lagoon, the Hyatt Ziva Cancun is the epitome of luxury combined with tradition. This world-class resort specializes in all types of Indian weddings, be it Hindu, Sikh, or Muslim.
Situated just 20 minutes away from Cancun International Airport, you won't have to worry about long travel times, ensuring you can immediately dive into pre-wedding festivities. With several rooftop wedding venues in Cancun alone, this is a great option for larger weddings. When considering the cost of an Indian wedding in Mexico, Hyatt Ziva offers various packages that fit different budgets without compromising on quality, and they also make understanding wedding add on costs easy.
Tulum Weddings

Constructed near Mayan ruins, flanked on all sides by winding green foliage, and just minutes away from the breathtaking natural waterpark Xel-Há, this resort offers newlyweds and their guests the ideal setting to unplug and connect with the local culture — and with each other.

Dreams Tulum:

Read more

Venues: 12
Family Friendly
90-120 Minutes

Package Costs:

$

999

–

$

11,999
2. Dreams Tulum: Your Personalized Paradise
If intimate ceremonies surrounded by nature are your ideal, then Dreams Tulum is the place for you. Boasting secluded beach spots and elegant indoor venues, the resort offers flexible options tailored to your needs. From Sangeet by the sea to a lavish reception in a grand ballroom, Dreams Tulum has got you covered, and they make it easy to afford a destination wedding. Located away from the hustle and bustle of the city, it's an idyllic location for those planning an Indian wedding in Cancun Mexico, while desiring a more tranquil setting
Riviera Maya Weddings

With candlelit beach front dinners, nightly live entertainment, and beach and pool butlers, you can enjoy endless sun-filled days with your wedding guests and not have a worry in the world.

Generations Riviera Maya:

Read more

Venues: 10
Family Friendly
25 Minutes

Package Costs:

$

1,399

–

$

9,999
3. Generations Riviera Maya: The Epitome of Opulence
Generations Riviera Maya is your go-to resort if luxury is a non-negotiable aspect of your wedding. Known for its five-star services, the resort's team is culturally sensitive and highly experienced in hosting large-scale Indian weddings. Enjoy a stress-free wedding as the resort's expert planners take care of every minute detail.
From flower arrangements to catering and a collection of some of the best beach wedding venues in Mexico, every aspect of your wedding will showcase the grandiosity you desire. For couples mindful of cost, Generations Riviera Maya offers exclusive packages for an Indian destination wedding in Mexico without compromising on luxury.
Riviera Maya Weddings

Featuring an exclusive adults-only elevated experience, and stylish and wholly unique additions perfectly suited for music lovers, this all-inclusive hideaway sets the stage for a harmonious wedding and a melodious vacation.

Hard Rock Riviera Maya:

Read more

Venues: 19
Family Friendly
65 Minutes

Package Costs:

Included –

$

5,000
4. Hard Rock Riviera Maya: Make Your Wedding Rock!
Do you wish to imbue your wedding ceremony with an electrifying vibe? Then Hard Rock Riviera Maya is the place to be. From the moment you step in, the resort's energetic ambiance promises a rock-star experience.
Catering to the adventurous couple, the resort provides extensive customization options, including exclusive décor and live performances. Immerse yourself and your guests in an experience that combines tradition with high-octane excitement. It's the place to ensure your Indian wedding in Mexico is nothing less than legendary.
Riviera Maya Weddings

Sleek and contemporarily styled, this extravagant edifice has a slew of amenities and luxuries to offer guests of all kinds, from families on budgets, to couples seeking privacy and intimacy, to even those looking to upgrade their stay and indulge themselves in opulence.

Royalton Riviera Cancun:

Read more

Venues: 4
Family Friendly
18 Minutes

Package Costs:

$

999

–

$

11,199
5. Royalton Riviera Cancun: A Fairytale Setting
Your dream of a fairy-tale wedding comes true at the Royalton Riviera Cancun. With its all-inclusive packages, this resort provides a plethora of options for various events involved in an Indian wedding. Whether it's a cozy Mehendi ceremony by the pool or a grand reception in their opulent ballroom, you have an array of choices. The resort is committed to providing specialized services for Indian weddings in Mexico, making sure your big day is as exceptional as your love story.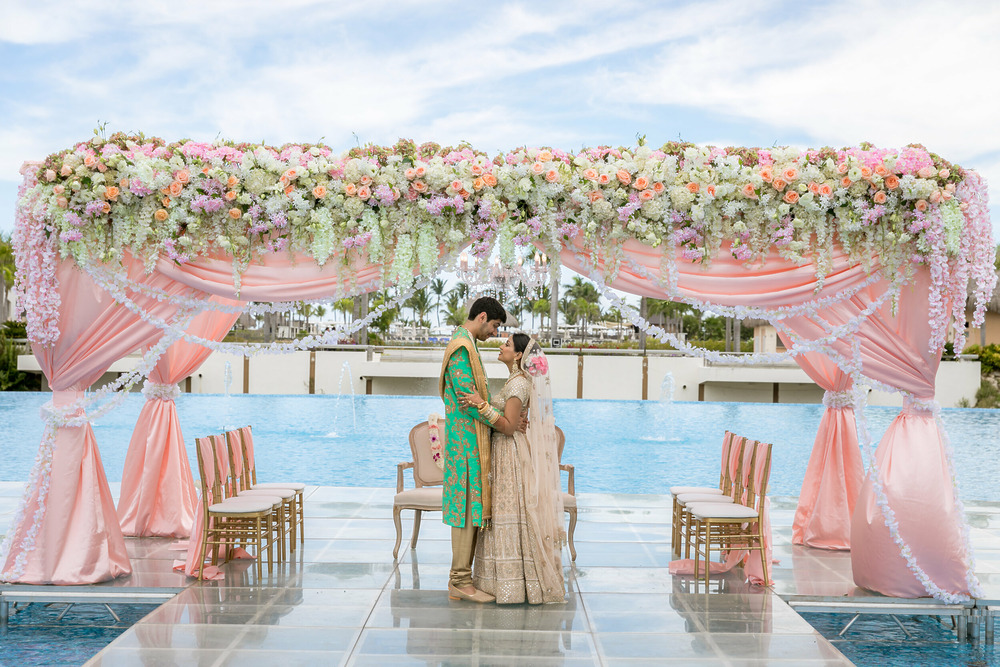 Unveiling the Ideal Resorts for Your Indian Wedding in Mexico
Each of these top-tier resorts brings its own charm to your special day, offering the authentic touches that make Indian weddings so spectacular. From traditional ceremonies to opulent celebrations, they provide the settings, services, and savoir-faire essential for creating unforgettable moments.
Tempted by Indian weddings in Mexico? Or want to learn more about what makes international destination weddings so great? Don't leave it to chance. Contact Destify today and turn your nuptial dreams into a beautifully orchestrated reality.