It all starts with a couple finding their perfect resort. A perfect resort can mean many things, it must meet their criteria of wants/needs that include everything from budget to location. Some couples want a simple ceremony that maximizes budget for both them and their guests, while other couples have the opportunity to choose what works for their ideas, and use their guest list as a component of that. In this post, we're going to break down some common considerations every destination wedding couple should think about when choosing a resort.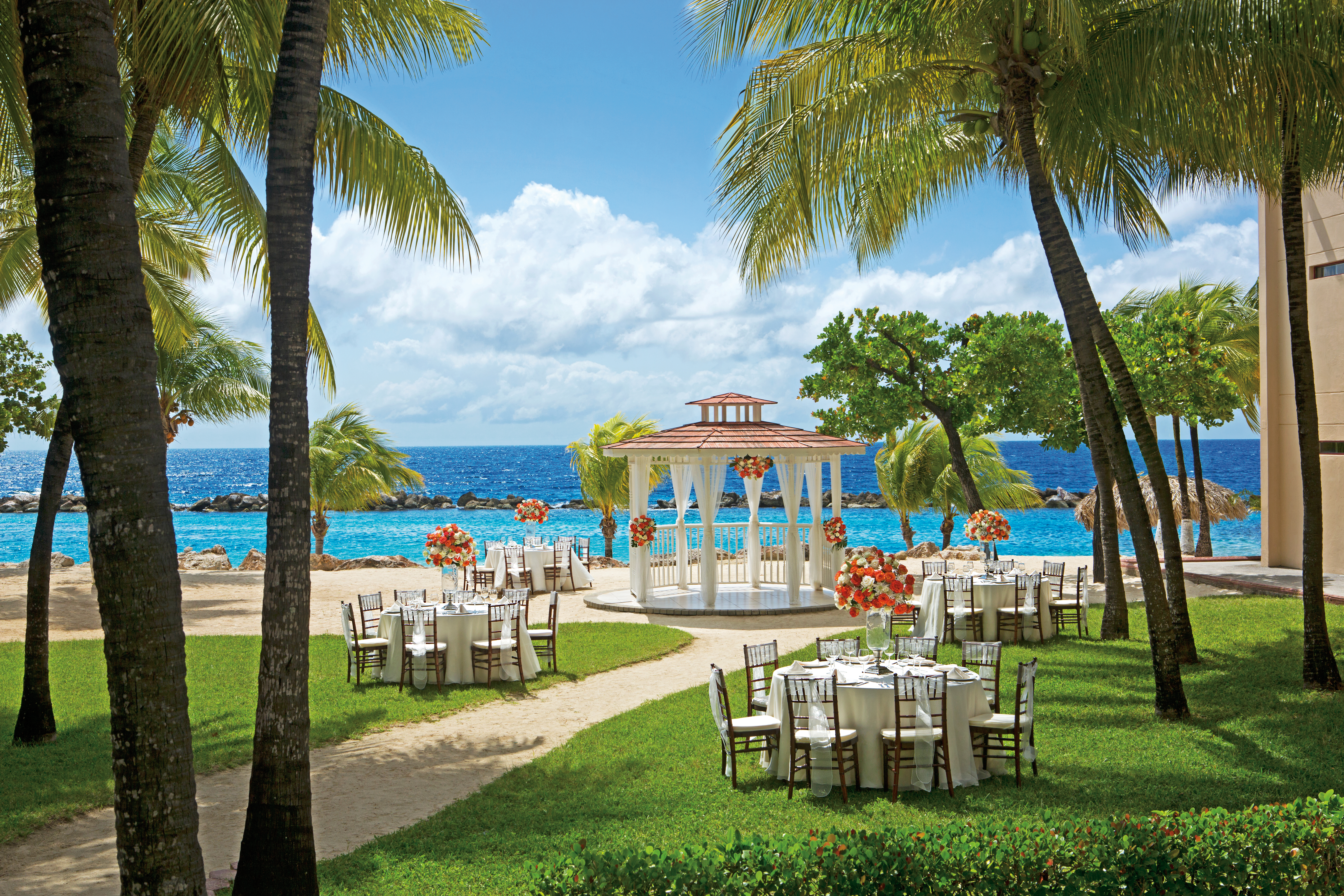 Sunscape Resort in Curacao
Passport or No Passport?
When it comes to destination weddings it's safe to say the most affordable way to host a destination wedding is in a Caribbean or Mexican location that offers group perks and discounted room rates. This requires a passport. Of course, it's possible to book a beautiful wedding in Puerto Rico or the US Virgin Islands, in order to circumvent the need for a passport, but booking wedding venues or resorts there can have extra costs attached.
At Destify we also book weddings in Hawaii, which works well for couples who desire a location where their guests won't need a passport in order to attend. However, most Hawaiian resorts offer minimal wedding packages and they are amongst the higher-end pricing tiers. You will likely have to pay for dinner receptions separately along with any other events you may plan on having. Many couples find that the additional cost a guest may have to pay in order to get their passport for the first time is far more affordable than everything else they would pay for a US-based wedding.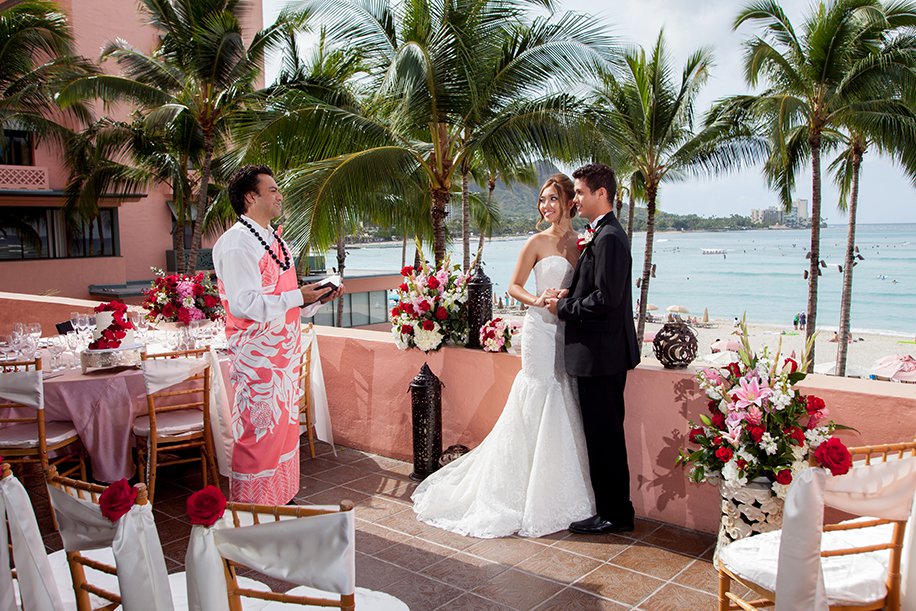 The Royal Hawaiian
How Do You Envision Your Backdrop?
The great thing about hosting a wedding in Mexico or the Caribbean is that you really can't go wrong with the backdrop for your ceremony. Just about every location promises stunning beaches and sweeping panoramic views. An easy way to choose is by selecting a resort that's aligned with how you imagine the background of your wedding photos to be. In Cancun, Jamaica and the Dominican Republic, you can expect long white sandy beaches, perfect for timeless wedding photos. There's also more to explore if you want to rent your photographer for longer, including Mayan Ruins and waterfalls.
Some couples desire something more exotic. In the Riviera Maya, Huatulco, and Costa Rica you can book a resort surrounded by lush jungle, sure to make for a vivid photoshoot. Just don't be surprised if some of the resort wildlife, including monkeys and peacocks, show up as uninvited wedding guests. In Los Cabos, you can find mountainous desert landscapes that will make for epic backdrops to your ceremony, and who doesn't want to visit the famous El Arco rock formation jutting out of the ocean? If you've got the time and money you can book site visits to make sure the resort is right for you. Many resorts offer discounts that can be applied to the wedding after your visit if you choose to host your wedding there.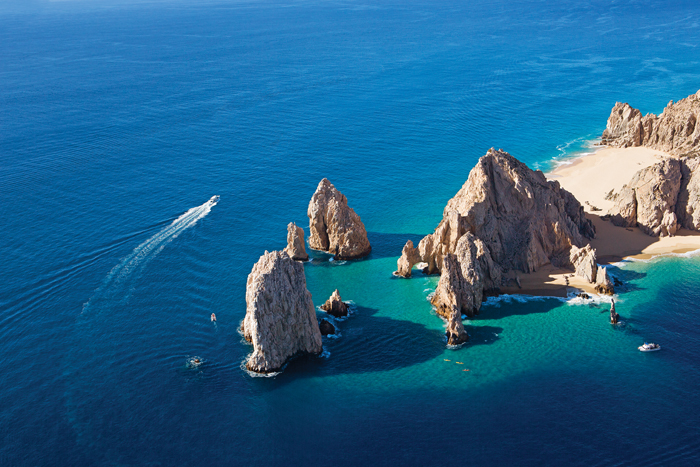 Los Cabos, Mexico
But What About Your Guests?
Before deciding on your resort it's a smart decision to have some of your guest list in mind. How many people are you inviting, and what type of people are they? Would they enjoy exploration or prefer a calm vacation, free to do nothing more than lounge at your chosen beach resort? By deciding on a resort you are also deciding on what your guests have access too, from dining to excursions. The same goes if you expect your wedding party to feature kids and families. Certain resorts are much more family-friendly and can include water parks and Kid's Clubs where they can be supervised while the parents get away.
It's very important to consider the budget your guests may be working with. For many guests, your destination wedding could double as their one vacation of the year. You must consider if a variety of room accommodations at different budgets would be helpful since they will be paying for their own rooms in addition to their plane tickets. Think about your destination in correlation to where most of your guests are traveling from. If you have a lot of guests coming from California it makes sense to host your wedding in beautiful Los Cabos or Puerto Vallarta. The Dominican Republic and Cancun are great locations for guests traveling from the Midwest or the Southern United States.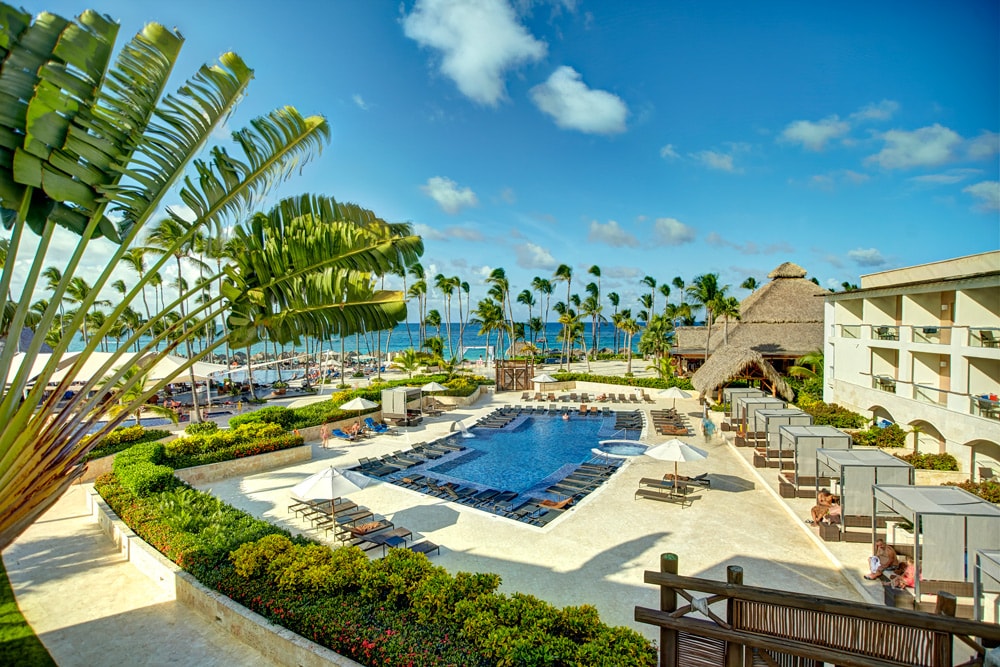 Royalton Punta Cana
How Do You Envision Your Resort?
Our resorts vary by size. There are large behemoth complexes that require shuttle service to explore, but we also offer small boutique venues that require booking months in advance in order to secure a certain amount of rooms. Different resorts work for different couples. Think hard about what a resort's size means for your wedding and for the rest of the vacation.
Large resorts like Hard Rock Punta Cana and Royalton Riviera Cancun feature a nearly endless amount of pools, and numerous activities to keep guests of any age preoccupied in their downtime. Some resorts feature everything from full-scale nightclubs and casinos, to world-class golf courses or even mini golf for families. A smaller resort may mean more attention from the service staff, along with being easier to navigate for your guests, but it may not have as many amenities. Some couples prefer smaller resorts as it leads to more spontaneous mingling with their guests.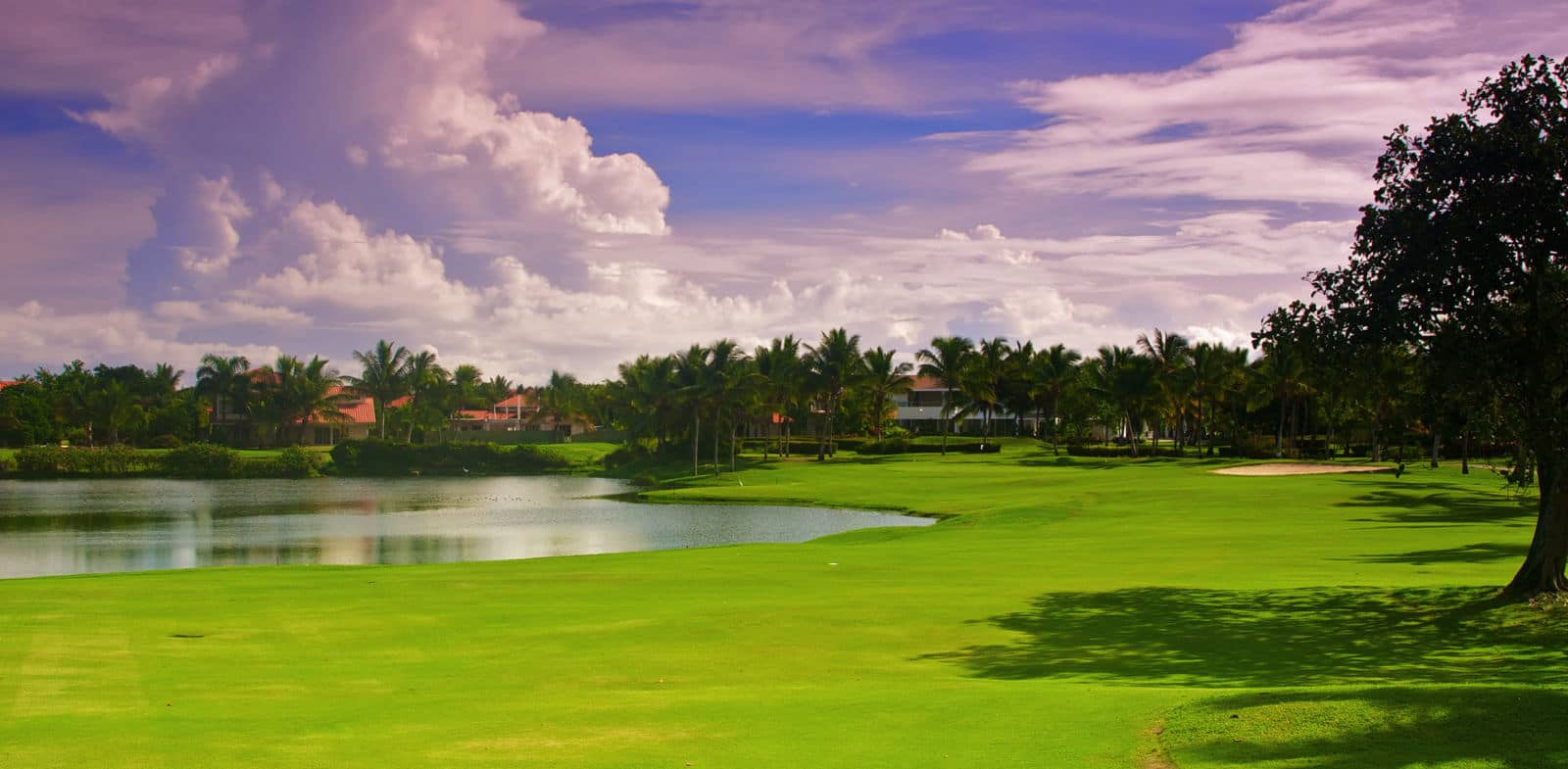 Guests of Paradisus La Palma in Punta Cana receive complimentary green fees.
How Public or Private Do You Want Your Ceremony?
Both large and small resorts differ in how public their ceremony venues may be. Some feature secluded gardens and rooftop venues ideal for couples who don't want any unsuspecting viewers. Beaches vary by resort. Some large resorts do their best to mark off a private plot for the ceremony section even if the rest of the beach is still mostly open to the hotel. Other resorts may not separate the beach ceremony location from the public.
Some brides are happy to have the attention while others would prefer only the wedding guests to be in attendance. One way to circumvent this is to book a terrace or rooftop venue that's specially designated for the wedding. Many resorts feature wedding gazebos that only the wedding party will have access too during the ceremony. Even if you have a beach ceremony with onlookers, you can still book a private reception at a resort's pool, restaurant or terrace in order to make sure you'll have plenty of privacy afterward.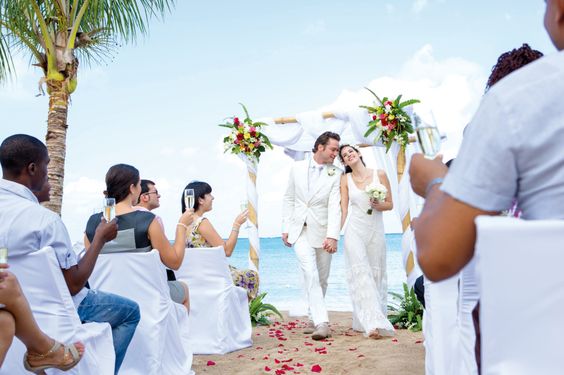 RIU Montego Bay
Ready to find the resort that's right for you? We're experts at helping narrow down your perfect resort in paradise, contact an agent today.