We hope you're feeling hungry because today, we're serving up a full-course meal of gourmet restaurants from Royalton Splash Riviera Cancun.
Pull up a chair, and let's dig in!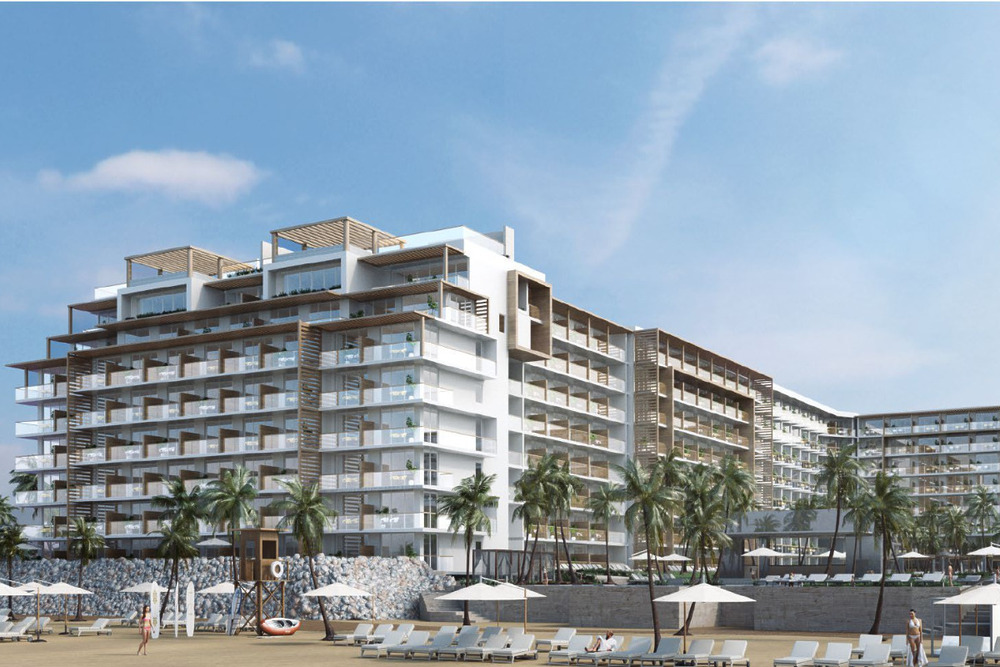 Score Sports Bar
Score Sports Bar offers a vibrant and energetic atmosphere where guests can catch up on their favorite sports games while enjoying delicious food and drinks. The bar features several flat-screen TVs strategically placed around the room so guests can watch games from different angles.
The bar serves a range of international drinks, including beer, wine, and cocktails, and features a variety of snacks, sandwiches, and other small bites that guests can enjoy while watching their favorite teams. The décor is modern and sleek, with comfortable seating and plenty of space for guests to relax and socialize.
Hours: 12:00 PM – 1:00 AM
Dress code: Resort Casual
The Cave
In this nearly-mystical setting with glittering lights and rocky surroundings that simulate a cave and underground lakes," The Cave is a restaurant that needs to be experienced to be believed.
The unique eatery serves various dishes, from braised lamb shank and cajun jambalaya pasta to deep-fried Korean barbecue rib mini tacos.
The restaurant's menu also offers several veggie and gluten-free options.
Hours: Dinner: 6:00 PM – 10:00 PM
Dress code: Evening Casual
Taj
Taj is a restaurant at the Royalton Splash Riviera Cancun resort in Mexico. It offers an upscale dining experience with an elegant ambiance and stylish decor inspired by traditional Indian design. The restaurant features indoor and outdoor seating options, and guests can dine al fresco on the terrace overlooking the resort's pool area.
Taj's menu is focused on authentic Indian cuisine, with a variety of dishes prepared by experienced chefs using fresh ingredients and traditional spices. Some popular dishes include tandoori chicken, lamb biryani, and butter chicken. Taj also offers a range of vegetarian and vegan options, including vegetable curry and chana masala.
The restaurant provides excellent service, with attentive and friendly staff knowledgeable about the menu and can assist guests with their dining choices. Taj is included in the all-inclusive package at the resort, so guests can enjoy a delicious meal without worrying about additional charges.
Hours: Dinner: 6:00 PM – 10:00 PM
Dress code: Evening Casual
Agave
Agave is a Mexican-themed restaurant in the Royalton Splash Riviera Cancun resort, Mexico. The restaurant features a vibrant and colorful décor with traditional Mexican elements such as mosaic tiles, bright textiles, and rustic wood finishes.
The menu at Agave offers a variety of traditional Mexican dishes, such as tacos, fajitas, enchiladas, and guacamole. There are also vegetarian and gluten-free options available. Guests can start their meal with an appetizer such as ceviche or queso fundido and then choose from a selection of entrees that range from seafood dishes like shrimp diablo to meat dishes like chicken mole.
In addition to the food, Agave also offers a selection of cocktails and tequilas. Guests can enjoy classic margaritas and more unique drinks like the jalapeño-infused El Diablo or the watermelon and basil-infused Paloma.
Hours:
Breakfast: 7:30 AM – 10:30 AM
Dinner: 6:00 PM – 10:00 PM
Dress code: Evening Casual
Grazie Italian Trattoria
The restaurant offers Italian cuisine and is open for dinner only. The menu features classic pasta, risotto, pizza, seafood, and steak options. Guests can enjoy their meals indoors or on the outdoor terrace overlooking the resort's pool area.
Grazie Italian Trattoria is highly regarded for its food quality, presentation, attentive service, elegant ambiance, and romantic atmosphere.
Hours:
Lunch: 12:00 PM – 4:00 PM
Dinner: 6:00 PM – 10:00 PM
Dress code: Evening Casual
Zen
Zen is a Japanese-themed restaurant with modern and elegant decor, with traditional Japanese elements such as bamboo walls and lanterns adding to the ambiance.
The menu at Zen features a variety of Japanese cuisine, including sushi, sashimi, tempura, and teppanyaki dishes. The teppanyaki experience is trendy among guests, as chefs cook the food right before you on a hot grill. The restaurant also offers a range of Japanese-inspired cocktails, sake, and other beverages.
Hours: Dinner: 6:00 PM – 10:00 PM
Dress code: Evening Casual
Rio
Rio features modern and chic decor that creates a comfortable and relaxing atmosphere for guests to enjoy their meals.
This Brazilian grill serves up flame-roasted eats on skewers, like pork, sirloin, chicken, and much more.
But don't worry if meat isn't your thing, Rio has plenty of tasty vegetarian options!
Hours:
Lunch: 12:30 PM – 3:30 PM
Dinner: 6:00 PM – 10:00 PM
Dress code:
Lunch: Resort Casual
Dinner: Evening Casual
Smoke BBQ
Smoke BBQ is a restaurant specializing in slow-cooked, smoked meats, often using traditional barbecue techniques such as smoking with wood chips or charcoal.
Guests are enthralled with signature dishes like BBQ Brisket Nachos and Pulled Pork Sliders.
Hours:
Lunch: 12:00 PM – 4:00 PM | For Diamond Club™ guests only
Dinner: 6:00 PM – 10:00 PM
Dress code: Evening Casual
Hunter Steakhouse
This unique eatery provides patrons with a lavish dining experience. Observe the cooks as they expertly prepare your steak in the open kitchen. This chic a la carte restaurant's on-site sommelier can also recommend a pairing from its spectacular Cava Wine Cellar*. For special occasions or private meals, the Cava Wine Cellar Dinner is offered ($).
Hours: Dinner: 6:00 PM – 10:00 PM
Dress code: Evening Casual
Ma Maison
Enjoy authentic French food in a relaxed yet elegant setting. Our talented cooks will prepare the delectable Vegan Mushroom Bourguignon and the traditional Lobster Thermidor, among other dishes, using classic French techniques.
Hours: Dinner: 6:00 PM – 10:00 PM
Dress code: Evening Casual
Gourmet Marche
This is the resort's main buffet restaurant, serving breakfast, lunch, and dinner. It features a wide selection of international dishes, including American, Mexican, Italian, and Asian cuisine.
Hours:
Breakfast: 6:30 AM – 11:00 AM
Lunch: 12:30 PM – 3:30 PM
Dinner: 6:00 PM – 10:00 PM
Dress code: Evening Casual